You might not have heard of Adam Smith, but you should have. The extremely talented chef started working in kitchens at 13 as a pot washer, before climbing the ranks to work in the five-star kitchens of Europe's most celebrated hotels, including The Ritz London and Paris' Le Meurice. In 2016 he moved to Ascot's idyllic Coworth Park, set among acres of leafy Berkshire countryside, and last year oversaw the hotel's flagship restaurant renovation to create Woven by Adam Smith. Just six months after reopening, the hard work paid off, and Smith was awarded with a Michelin star in the 2023 guide. 
"To be recognised by Michelin is the pinnacle within being in hospitality and a chef," says Smith. "But I don't think you can ever set out and say that's your main focus otherwise you'll lose sight of the true meaning and quality of your cooking. If you look at the diversity of restaurants which have Michelin stars across the country it just [highlights places] serving their own sector and doing an amazing job."
What strikes me during our hour-long conversation in one of the function rooms at Coworth Park is how incredibly humble Smith is despite his portfolio of achievements. The young chef from Birmingham joined The Ritz under John Williams (dubbed one of the best chefs the UK has ever produced) at just 16 years old, before winning the prestigious Roux Scholarship at 24. 
Despite his lengthy and shiny CV, another recurring theme during our conversation is Smith's desire to not reinvent the wheel. For him, it's about quality food and excellent hospitality with guests' needs at the forefront. "Our main focus at Coworth Park is to give our guests the best possible experience," says Smith. "I've been here seven years but it actually feels like seven months because there's so much we've done and want to do."
Smith describes the menu at Coworth Park as fixed but flexible, as guests are served the same pre-starters before picking choices for their three courses. Highlights include barbecued scallop with Yorkshire rhubarb, fallow deer with kohlrabi and black garlic. Make sure you leave room for the exceptional bread course — each slice thoughtfully and theatrically presented to elevate your dining experience. 
We meet on a Friday night when Smith is in the throes of preparing the kitchen for a full-house at Woven. Stealing a few moments away from sauteing, chopping and roasting, he opens up about a star-studded career which transformed a young Brummy lad into a Michelin-star chef — and his advice for anyone aspiring to do the same. 
Tell me a bit about your childhood.
I grew up in a working-class background in Birmingham. I didn't experience great food as a child but what I can always relate to is the moments shared with family and friends surrounding food. Cheffing wasn't something I wanted to do when I was younger. I thought about being a lawyer or going into the military but ended up getting a part time job as a kitchen porter when I was 13. I fell in love with the atmosphere, camaraderie and fast-paced nature of the kitchen.
Tell me more about that first job.
I wanted a part-time job so I could have some extra pocket money. There was a new restaurant near home which had opened so I applied for the kitchen porter's role and, as [happens in] this industry, many people left within the first few weeks so the head chef asked me to help by putting the starters on the plate or sorting desserts.
I played a lot of rugby and loved it, but I was never the best. I liked football but I was just okay at it. When I started working in kitchens, people around me told me how good I was and I grew to love it. I remember in food technology classes [at school] everybody else was making a traybake lasagne and I would cook a fillet steak, potato rosti and peppercorn sauce. My school friends took the mick out of me but now we all look back and laugh because it's what I do now. I'm very much all or nothing — and I've given everything to this [career] for the past 20 years.
How did you end up at The Ritz?
At school, I decided I wanted to be a chef and would go to catering college. That went down like a lead balloon, particularly with my father, after talking for years about joining the military police or being a lawyer.
I did a year at catering college but I wanted to work full time. One of the lecturers suggested I worked for John Williams, who had at the time just transitioned over to The Ritz, and got me a work trial. A couple of days later I jumped on the train to London as a 16 year old boy, walked into the kitchen of the Ritz and into a whole new world. I started full time a couple of weeks later.
I fell in love with the culture, the team and the adrenalin of the service. There were definitely hard and tough times but John Williams is like a father-figure to me and we still have a great relationship now. He taught me a lot of lessons, some were easier than others to take, but I learnt a lot from that. That's where I grew a passion for classical cooking and genuine hospitality.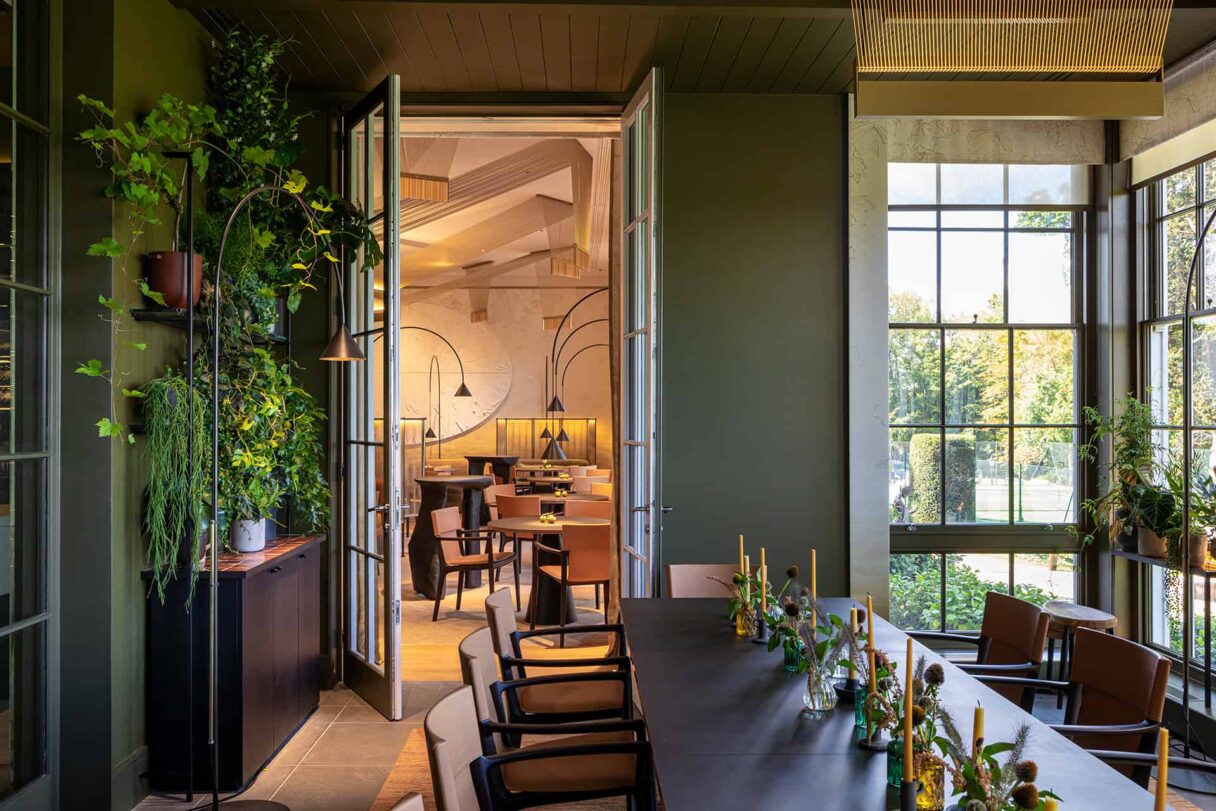 What were your highlights of cooking at The Ritz?
I grew up there. I worked very hard for positions in senior teams from a very young age; when I left there I was only 26. I was executive sous chef so I was number two in a brigade of 60 people and I was managing people who were a lot more senior than me. I matured not just as a cook but as a person and a leader. The Ritz had a profound effect on me.
How was your move to Le Meurice in Paris?
I won the Roux Scholarship in 2012 and then did three months at Le Meurice in Paris under three-Michelin star Yannick Alléno. It was a culture shock but I really enjoyed it. Yannick's book [4 Seasons at Table No 5, Le Meurice] is still one of my favourite books and I was inspired by him. I went from being number two at the Ritz to being a commis again — but I actually loved that because I could focus on cooking.
Do you prefer working in hotels to standalone restaurants?
Socially, I'm pretty awkward but at work I enjoy working with other people. The hotel environment is my home. Comfortable is the wrong word because hotels can be hard and frustrating places at times as you're dragged from pillar to post and your responsibilities aren't just for one restaurant but to oversee the whole food operation, but it's somewhere I've found my niche.
The best thing about our industry is that it's totally subjective and there's no one area that's better than the other. Some people want to cook in pubs, care homes, restaurants or contract catering and they're all great assets to our industry. I have just found the one I love is hotels.
Luxury to me is the soft rather than the hard. It's about how you make people feel but without being tacky and pretentious — and at the core is fantastic food. 

Adam Smith
What drew you to Coworth Park?
I'd [worked in] famous central hotels on Park Lane with big teams and [after The Ritz] I left for north Yorkshire to do the absolute opposite [and work] with a very small team while overseeing two restaurants. I learnt what I really liked and disliked in both of them.
The opportunity at Coworth came along and it had the best of both worlds for me. It had that five-star status, structure and discipline which I very much need, but it was still small enough so that I could cook everyday and do things that I enjoyed.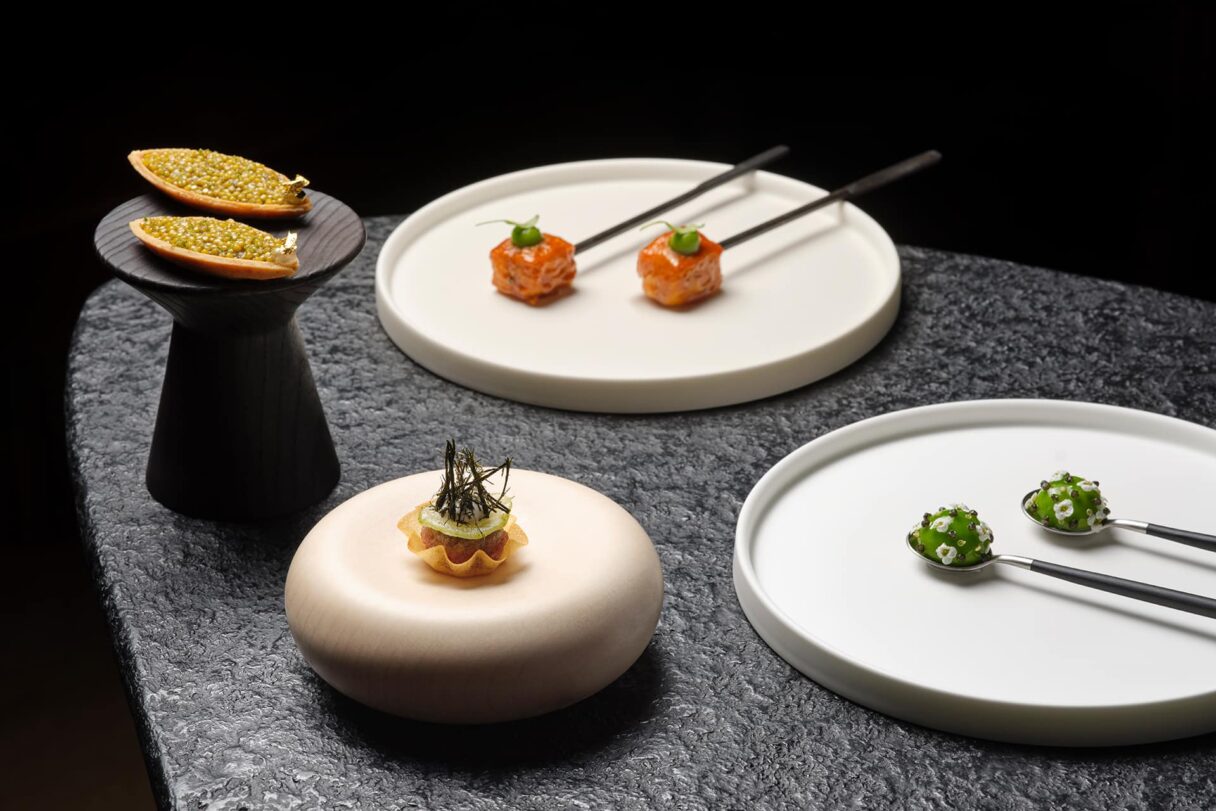 What sort of dining experience did you set out to achieve at Woven?
Covid and lockdown was hard but gave me a lot of time, which I've never really had before. I did everything in life very young: I had a very intense, high-pressure job, moved to London on my own and became a dad when I was 21. This was the first time in my life I had time to reflect and I felt Restaurant Coworth Park had become a predictable hotel restaurant. I wanted to create something unique [that] has its own identity.
On the food side of things, I felt straightjacketed by myself and my own perceptions of hotel restaurants. [The renovation] was a great opportunity to create a different kind of menu. It's a fixed price menu where some of it is set but you also have a choice — and I think that suits our style of cooking the best. I was finally at a stage in my career where I had the confidence to do what works for us and believe our guests will enjoy that as well.
The reception has been amazing and it's so reassuring that the vision we had has paid off. There's nothing about our dishes or flavours that are new but how we execute that is what makes it unique and personal to us. Luxury to me is the soft rather than the hard. It's about how you make people feel but without being tacky and pretentious — and at the core is fantastic food.
What's your favourite dish on the menu?
Probably the jellied eel. [It makes people think of an] east London pie shop, which I love but I can totally appreciate it's not to everybody's taste. We work closely with our front of house team and always ask our guests to try it, and most people love it.
What would be your advice to anyone trying to achieve a Michelin star?
It's a tricky one because there's no rule book. Be true and honest to yourself. You have to cook from the heart and what you believe is right. If you focus on your cooking and guest experience, rewards will naturally come afterwards.
What's your favourite London restaurant and chef?
I have loved The Ledbury and what Brett [Graham] has done for such a long time. I love how such a driven, focused and successful man is still so humble. It's inspiring. I visited Kricket in Soho recently and really loved it. What I love about London is the food scene is so diverse. There's something for everybody all of the time. I think we should celebrate that more.
Visit dorchestercollection.com
Read more: A complete guide to London's Michelin-starred restaurants
The post Meet the chef: Adam Smith of Woven at Coworth Park appeared first on Luxury London.