SINGAPORE: Joey Lim takes a Grab ride "99 per cent of the time" when she leaves home.
She checks out new restaurants and bars every week or fortnight with friends, and they spend about S$100 per person each time.
To keep fit, she has a personal trainer and goes to Muay Thai classes.
Two years ago, the 28-year-old moved to her own place, forking out more than S$1,000 each month on rent. There are also monthly insurance premiums of about S$300.
Each month, the freelance social media strategist and graphic and web designer spends almost S$4,500 all told.
Nurul Raiyhani, meanwhile, is paying off a S$15,000 student loan using her credit card each month. She mostly pays her credit card bill on time but has, on occasion, incurred late-payment charges.
She has also booked a S$300,000 three-room Housing Board flat with her fiancé, which will be ready in three years. They are paying the down payment using Central Provident Fund savings and cash.
But it is the smaller, everyday items that are testing the 27-year-old's resolve to save. Make-up products, for instance, can cost her around S$300.
"I'll try not to make it (a monthly affair), but it's becoming (so)," said Raiyhani, an account manager in an agency.
Online advertisements "promoting everything" are a distraction, and there is also peer pressure, she said. "Like your friends having the same make-up product, the same bag, and you kind of feel like you've missed out."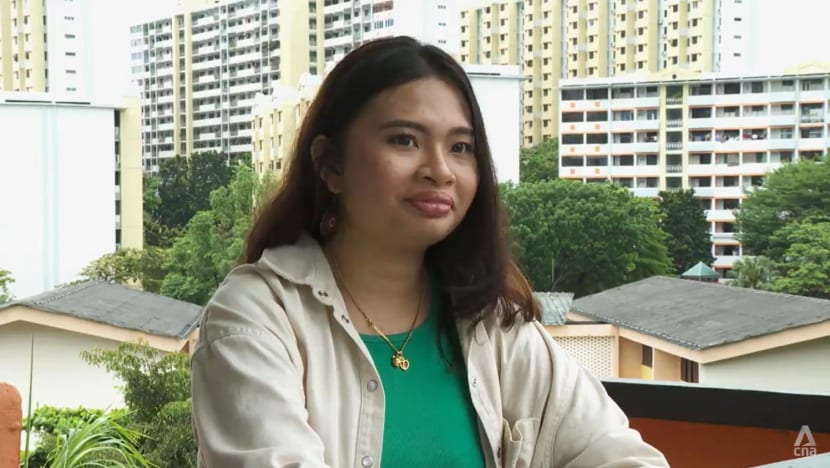 Lim and Raiyhani's spending choices, and the prevalence of schemes that increase the risk of millennials falling into debt, have triggered a lively discussion among viewers, with this episode of Talking Point notching up 288,000 views on YouTube since Monday.
The episode is part of the series Beyond Plain Sight, which looks at the plight of food delivery riders, the impact of living in public rental flats on children and how millennials in Singapore are faring amid high inflation.
Some viewers criticised the women's spending choices. "Millennials often complain about being (the) 'sandwiched generation', and that has partly to do with supporting their ageing parents who allegedly aren't financially literate enough to plan their retirement adequately," one viewer commented.
But I don't see millennials making wise financial decisions either, and this video is just a real example of this."
Others were more empathetic. Luxury or convenience is expensive in Singapore, viewer Mark opined. While he could be like his parents, who saved up even on a lower income, he would "feel miserable".
"We live in the age of social media, where you'll be constantly tempted to try something new, and these 'things' aren't cheap," he wrote.
Alluding to Raiyhani's use of "buy now, pay later" (BNPL) schemes, viewer Rohit Goswami said he made the same "stupid mistake" in the past when he used Grab's PayLater option to split his bills into smaller monthly payments.
"My bills snowballed till I regretted my decision," he wrote. "Sometimes it's best to be old-school (and) only pay for what you need with the money you already have."
WATCH: Millennials and Gen Z — Young and in debt. Why? (22:34)
Another viewer, Chinix, added: "When I was buying my new phone, I was considering BNPL too. But I felt like I (needed) to feel the pain, so I just paid (in) full. Definitely felt the pinch."
DrHannah, on the other hand, felt the episode insinuated that "all young people aren't good with money management and that we spend too much on unnecessary things", and wanted a discussion on "capitalism and corporate greed".
"There are many, many regular people who try their best to spend within their means and are still struggling, even more so in the past year or so. I'd count myself amongst these people," the viewer wrote.
RISING POPULARITY OF BUY NOW, PAY LATER
In a survey conducted by the Institute of Policy Studies and Talking Point late last year, 93 per cent of more than 860 Singaporean residents aged 21 to 29 polled said they were personally affected by rising costs.
Singapore's core inflation, which excludes accommodation and private transport, remained at 5.5 per cent in January and February. This is around a 14-year high.
The Monetary Authority of Singapore (MAS) has projected a core inflation rate of between 3.5 per cent and 4.5 per cent this year and headline inflation at between 5.5 per cent and 6.5 per cent.
Thirty-five per cent of the survey respondents said they have spent more than they have earned.
More than six in 10 respondents have used BNPL plans before, and nearly seven in 10 who have done so thought they have made more purchases each month compared to their pre-BNPL days.
According to the MAS, BNPL transactions amounted to around S$440 million in Singapore in 2021.
Although this figure is less than 0.5 per cent of the S$103 billion in credit and debit card payments, BNPL is growing in popularity, and there is concern that this relatively new payment option could land more people in debt.
Younger Singaporeans are "more at risk of getting into more debt" than previous generations, said Aurobindo Ghosh, a Singapore Management University (SMU) assistant professor and the director of the Citi Foundation-SMU Financial Literacy Programme for Young Adults.
"Part of the reason is wide accessibility of different instruments that they can get into debt with," he said. Although BNPL schemes have an interest-free period, fees are incurred if users do not pay on time, he noted.
A lot of the messaging in advertisements for BNPL service providers is "specifically geared towards younger consumers" and tries to make them feel they can "engage in self-indulgent spending", said Stephanie Lin, an assistant professor of marketing at Insead.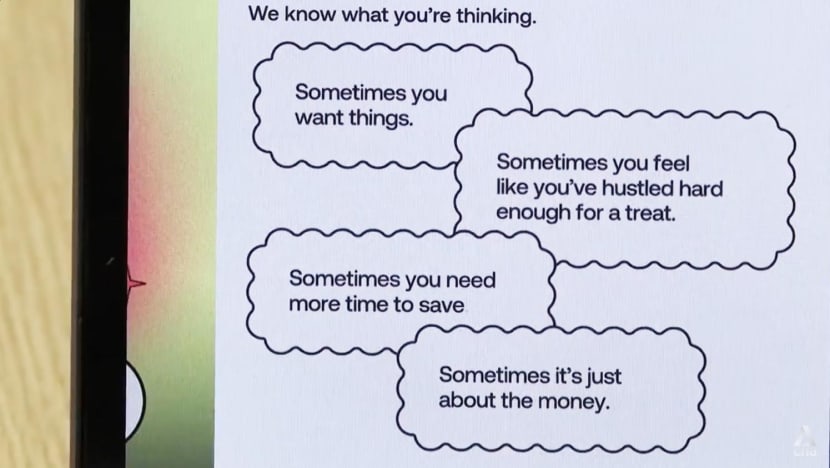 One way in which BNPL providers position themselves, she cited, is by equating themselves with responsible spending, "saying that if you use BNPL, you're spending responsibly or you're budgeting".
Bryan Quek, general manager of BNPL provider Atome Singapore, said there is not necessarily a conflict between sending a message about indulging or living in the moment to youths and not wanting them to overextend themselves financially.
It is in the firm's interest to ensure its users can make payments, and "we have to be quite controlled in terms of whom we're giving our credit out to", he said.
A code of conduct for BNPL providers was also introduced last year.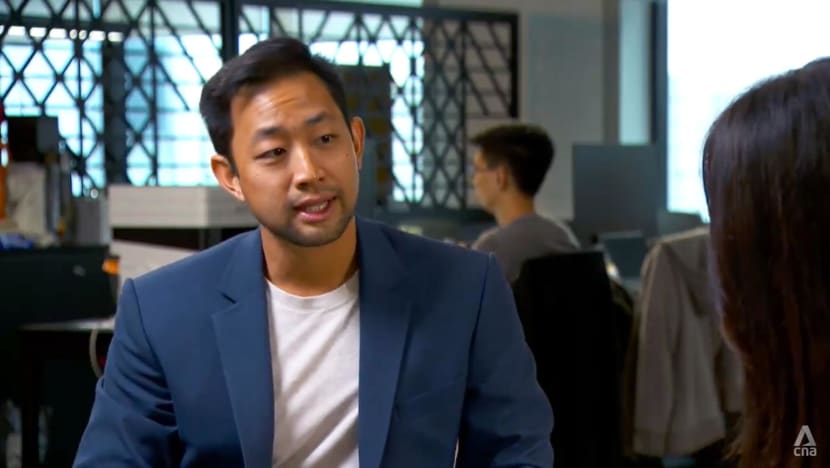 Raiyhani said BNPL helps her to split her costs, instead of paying for her purchases in one go or at the end of the month like when she uses a credit card.
"It's very seamless, convenient and very easy to use," she added.
DOING HER SUMS
In the end, the issue is about getting one's sums right and working towards one's financial and life goals.
In Lim's case, she does not "budget religiously" but saves on expenses by, for example, scouting for second-hand home appliances and furniture after she began renting. This saved her an estimated S$4,000.
She has picked up some tips as the co-founder of sav.finance, an Instagram account offering women tips on money, career and well-being.
Lim, who handles design for the account while her business partner dishes out the "adulting" advice, said she is learning alongside the account's 26,000 followers.
She sets aside nearly 20 per cent of her income. "I've done pretty well ever since I graduated," she said. "But recently, my dog fell sick, so he basically wiped out most of my savings."
She has spent close to S$20,000 so far on her pet's cancer treatments and is still paying S$1,000 to S$2,000 each month for its chemotherapy.
While she is "trying to cut down" on the S$700 to S$800 she used to spend monthly on Grab rides, she has "got used to the convenience" of this mode of transport.
"I can't imagine having to wake up two-and-a-half hours earlier," she said, though she added: "I'll take cabs, but I can eat hawker food most days.
"It's just different ways (in which) people live."
Living overseas may be an option too. Lim mentioned living "a couple of years" in a country with lower costs before moving to another.
She is considering the Indonesian island of Bali. "I'll be able to be comfortable there for a lot less," she said.
Watch this episode of Talking Point here. The programme airs on Channel 5 every Thursday at 9.30pm.