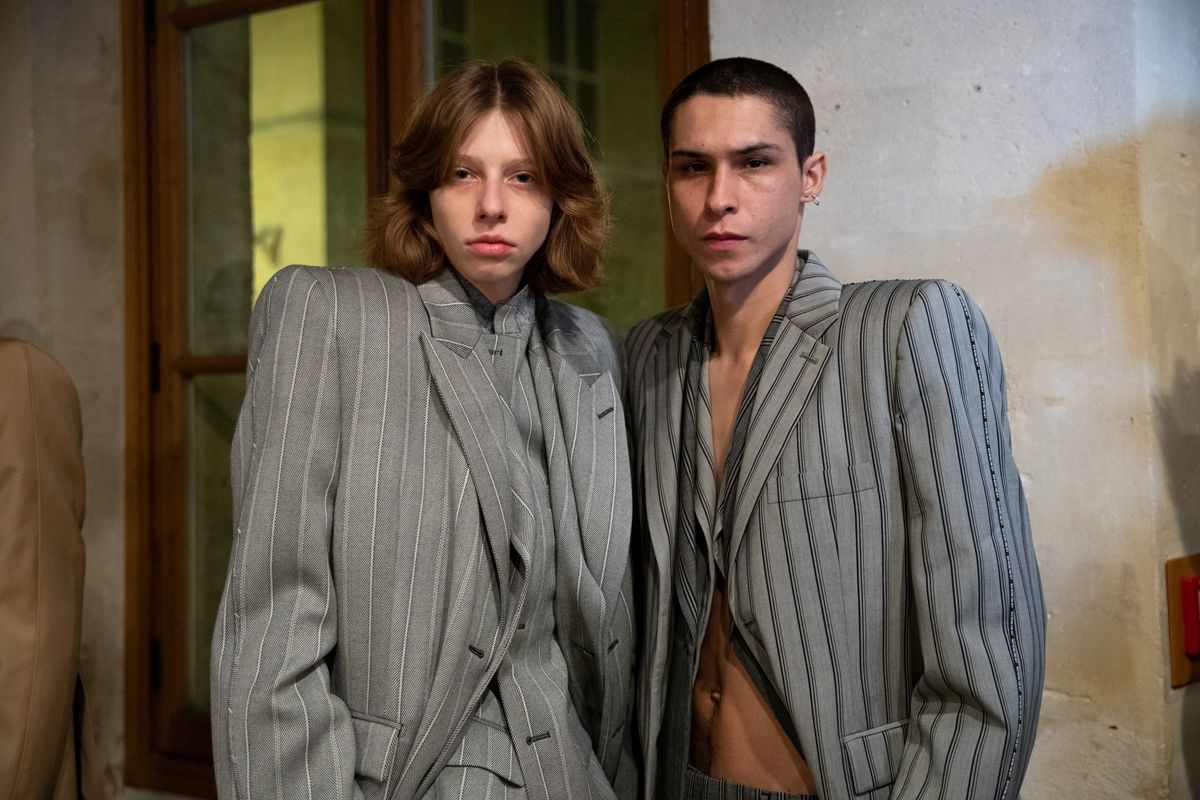 Following its Spring/Summer 2022 collection of 100 looks, VTMNTS scaled back with 60 looks for its debut Fall/Winter 2022 runway show and collection.
In 2021, Vetements unveiled its new craftsmanship-focused label with the launch of its Vetements-esque first collection. Now, the vowel-less Vetements label wants to make sure the industry is listening and recognizing this new era.
Under the management of the CEO-turned-creative director Guram Gvasalia, VTMNTS commands attention by reiterating Gvaslia's focus on "creativity and passion" and rejection of "huge logos" and "big conglomerates."
VTMNTS FW22 is sure to be remembered with its bruised stomping models, who strutted the runway aggressively — a straight-up rebellion against the industry's polished runway walks.
The harsh power-walking didn't even stop for the adorable, cuddly puppy — the FW22 runway's real star.
VTMNTS FW22 echoes the brand's gender fluidity with an all-gendered cast, including models rocking Y2K-inspired lowriding leather trousers with matching crop tops and jackets. Crops tops and lowriders for everyone – I'm here for it.
You also can't help but deliver an "ooh yes" to the model confidently showing off his black lace undies, peaking underneath the vintage bleached denim look.
Then, VTMNTS wants us to remember Eminem, apparently. The 2022 Super Bowl halftime show performer's stamps a black hoodie with the words "Remember Me!" scribbled on the sleeves, worn by a model clearly channeling prime 2000's Slim Shady with the blond hair.
Perhaps, a VTMNTS x Eminem collaboration is in the works (maybe it'll drop alongside his Air Jordan 3's…wishful thinking, I guess).
Considering VTMNTS' mission to create modern luxury for the young, cool kids, suits get the oversized treatment matched with edgy tearaway details, barcode trinkets, and ultra-layering techniques.
Then, there's the tracksuits, both separates and sets, bonding with classic outerwear — outerwear that isn't so traditional as you think.
Tan leather and blue denim enter a spliced relationship on a jacket matched with culotte denim trousers and square-toed leather boots, a clash of the classics.
Squared-toe shoes aren't going anywhere anytime soon, at least not to VTMNTS. The brand's FW22 footwear all boasted clean-cut squared toes.
For those against it (and VTMNTS aesthetic), you can find the brand's response on its boots, which read "FUCK OFF" in a bold typeface.
As Vetements marches on its journey (literally) to become Gen Z's Hermès, Guram Gvasalia may be on to something with VTMNTS, and the FW22 collection is a testament to that. While we wait to see what else Vetements' sibling label cooks up, let's enjoy their crop top revolution in the meantime.
Shop our favorite products