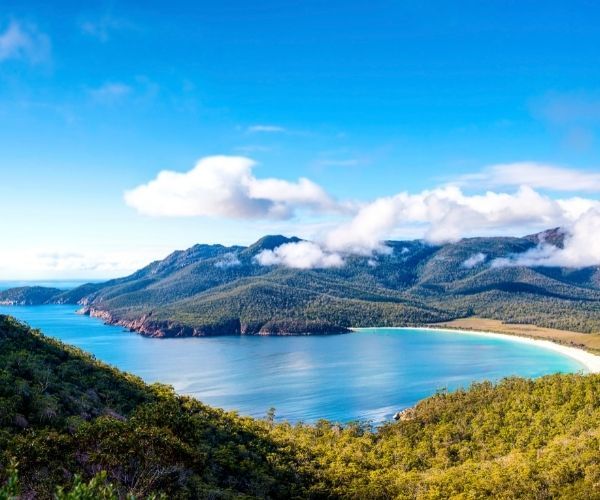 Tasmania has fast become one of the most fascinating destinations in Australia. Once you step foot on this island and discover its highlights, you will understand why. Widely known for having the cleanest air in the world, combined with some of the best scenery, wildlife, and rich history, this Australian destination is a must-visit.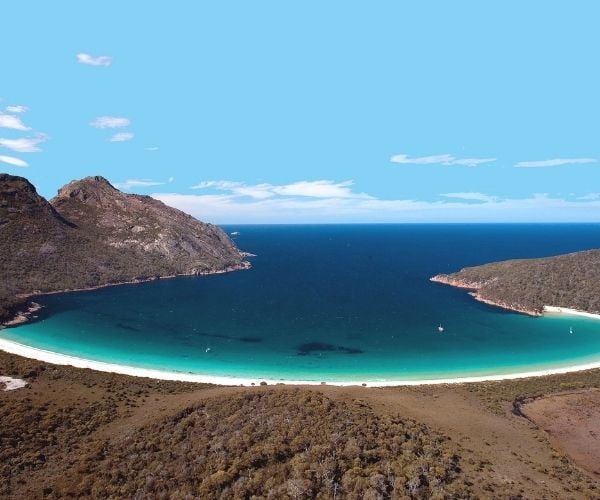 Hobart
Hobart is Tasmania's capital city and lies on the Derwent River, at the foot of Mount Wellington. The history of it being Australia's second-oldest city is told through the Georgian sandstone buildings and Victorian cottages. Keen travellers know that the best gems are hidden and Hobart is a treasure trove of Tasmania's produce, art, heritage and charm that is waiting to be unearthed.
Hobart is renowned for MONA, the Museum of Old and New Art. It is about a 15-minute drive from Hobart Centre and showcases the highlights of David Walsh's $110m private collection of art and antiquities, as well as hosting a busy exhibition program.
Salamanca Market
The Salamanca market is bustling with cultural and artistic inspiration. The historic sandstone warehouses form the background to the market, with the waterfront just alongside it. It is one of Hobart's biggest attractions and with over 300 stallholders, there is no shortage of local produce to be found here.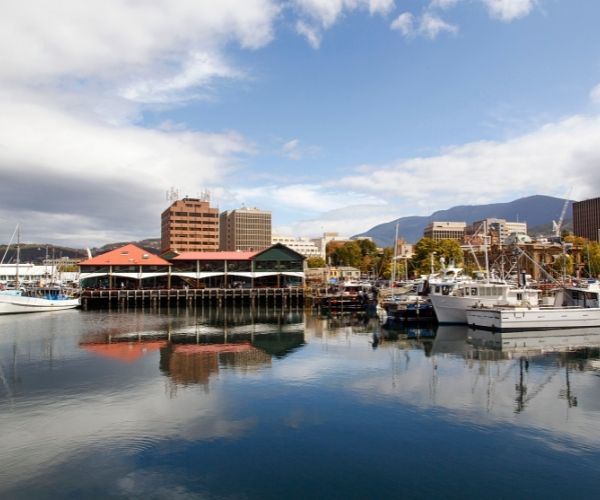 Sip on home-brewed coffee, browse handmade products, and sample gourmet food. You'll be sure to find a quirky collectors item or hand-crafted Tasmania woodwork or jewellery. The market is located at Salamanca Place on the Hobart waterfront between Montpelier Retreat and the Silos.
Food and wine
Hobart is a prime destination to indulge in Tasmanian organic produce. Fine dining restaurants and bars are lined across Hobart like a string of pearls and it is quickly gaining a reputation for being a culinary destination.Try Tasmanian truffles, oysters, blue warehou fish, and the Tasmanian beef.
For a distinctive casual fine-dining experience visit Fico restaurant. It is a mix of art deco and industrial design and has been named Best Restaurant Tasmania by Gourmet Traveller, Best Wine List Tasmania by Aus Wine List of The Year Awards and Hottest 20 In Australia by The Australian.
kunanyi / Mount Wellington
Located approximately 21 kilometres drive from Hobart, it is the highest peak in Hobart, and one of the best things you can do in this part of Tasmania. No other city in Australia has a panoramic view like this one. As you journey to the summit you pass through rainforest, glacial rock formations, and sub-alpine flora. Surrounded by nature, it is an ideal destination for hiking and cycling.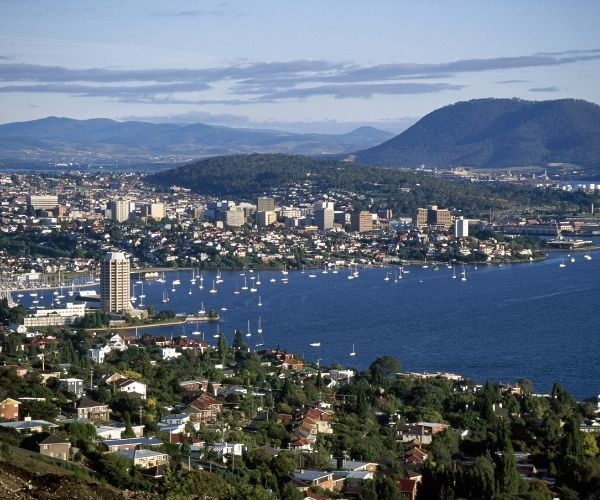 Port Arthur 
Port Arthur is a small town and a former convict settlement on the Tasman Peninsula. It is one of Australia's most symbolic heritage areas and an open-air museum. Ruins include the huge penitentiary and the remaining shell of the Convict Church, which was built by the inmates.
Bruny Island 
A trip to Hobart wouldn't be complete without seeing Bruny Island. Just 45 minutes away, it is a must. Bruny Island has rugged and dramatic landscapes, abundant wildlife and spectacular cliff top views. It is about 50 kilometres long but appears to be two islands with North and South Bruny joined by a narrow strip of land called The Neck. On one side there is a quiet channel and on the other side a rough ocean.
Explore on a day trip, overnight or stay for a few days. For an exclusive experience spend a few nights at Adventure Bay Retreat which is located on 33 acres of open bushland at Adventure Bay. This is a perfect spot to experience the local wildlife as you will be surrounded by wallabies including the white wallaby which is unique to the area. Discover the various walking trails, beaches and exquisite food sourced from the island.
Bicheno
Bicheno is a seaside village on the east coast of Tasmania, 185 kilometres northeast of Hobart. It is surrounded by clear blue water and white sand beaches making it the perfect place to base yourself to explore Tasmania. For the freshest fish visit Gulch – a local fish and chip takeaway that has won an award for serving the best fish in chips in Australia. Other places of interest are the Blowhole at Bicheno and Whalers Hill, a lovely place to have a picnic.
Launceston
If you like wine, make sure you spend some time in Launceston which is one of Tasmania's premium wine-growing regions. Tasmania's cool climate, mild summers and long autumn days make it perfect for cool-climate winemaking with Riesling, Chardonnay, Sauvignon Blanc, Cabernet Sauvignon, Pinot Gris and Gewurztraminer all grown and produced here.
Launceston also has one of the best-preserved early cityscapes in Australia with its elegant Colonial and Victorian architecture.
Cataract Gorge
Cataract Gorge is a unique natural formation a short walk from Launceston. It is considered to be one of Australia's most captivating urban reserves.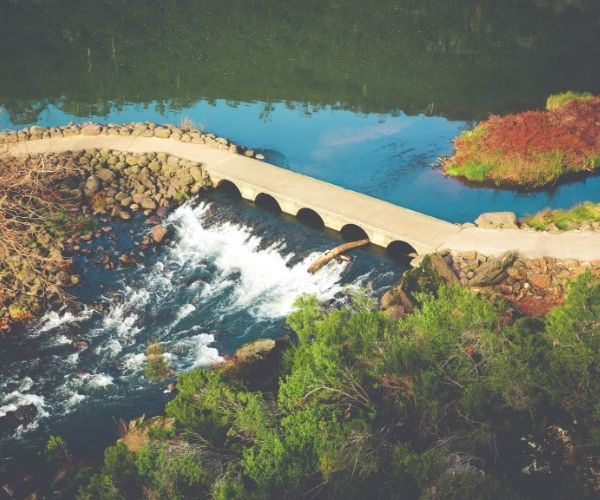 ---
IMPORTANT NOTICE:
If you are reading this article anywhere other than on A Luxury Travel Blog, then the chances are that this content has been stolen without permission.
Please make a note of the web address above and contact A Luxury Travel Blog to advise them of this issue.
Thank you for your help in combatting content theft.
---
Cradle Mountain
Cradle Mountain is part of the Tasmanian Wilderness World Heritage area and it is one of Tasmania's most famous natural environments. A lush landscape featuring rainforest, glacial lakes, and ample wildlife. On a good day, you may even spot the Tasmanian Devil.
Cradle is the starting point for the world-famous Overland Track, a sublime six-day trek walking through some of the world's best mountain terrain.
Freycinet 
Freycinet Peninsula is filled with outstanding natural beauty; pink granite mountains, white sandy beaches and turquoise water. Go for a kayak tour in the heart of Freycinet National Park and experience Freycinet's abundant wildlife as you paddle along the coastline.
Wineglass Bay
Wineglass Bay has both a spectacular beach and stunning views. In fact, it is considered one of the finest beaches in Tasmania. There are a variety of walking tracks to explore and some trails lead to secluded bays and bird-filled lagoons.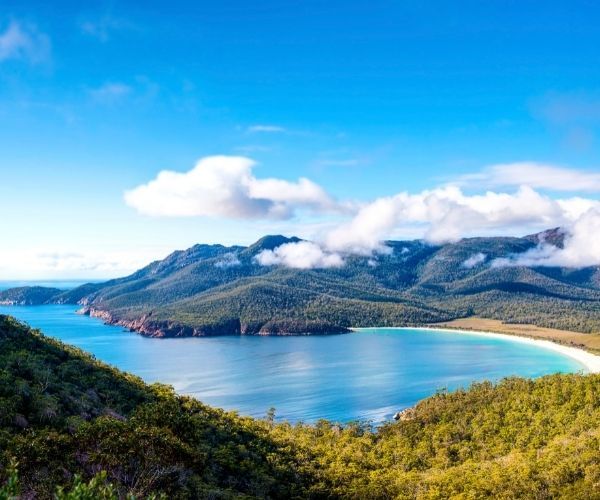 Picnic Island
Picnic Island is off the coast of Freycinet and is a place filled with interesting history and wildlife. Spend your day outdoors in wild nature. Spot dolphins, whales, and penguins. Go fishing, hiking and swimming, or simply choose to relax. For an exclusive experience book the island privately for up to 10 people and have it all to yourself.
Strahan
This harbourside village gem sits on the edge of the Tasmanian Wilderness World Heritage area and features a rich historical past. It is the quintessential base to explore long stretches of rugged coastline and sand dunes.
Take a boat cruise through the World Heritage wilderness into the temperate rainforest of the Gordon River and spend the evening pairing local seafood with world-class sparkling wines.
Tasmanian Devil Unzoo
This is the world's first intentional Unzoo where most of the animals are wild but not captive. It is a revolutionary project and a significant experience. Take the opportunity to come face-to-face with Tasmanian devils in four unique habitat areas.