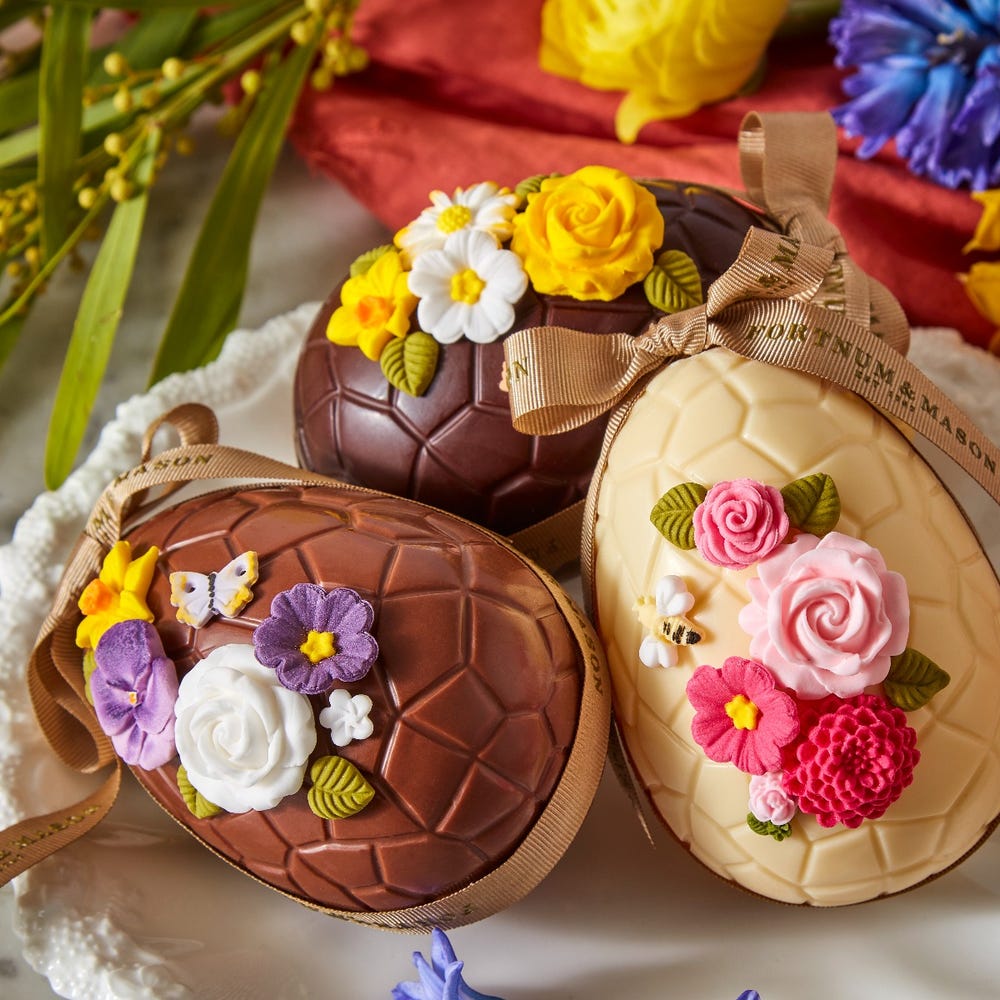 From classic chocolate eggs to all types of various sorts that are suited for Easter celebrations. Scotch egg included!
Maybe you've grown out of the age bracket for the egg hunt at the neighbourhood park, but that doesn't mean you're barred from an Easter celebration of endless chocolate eggs and Lindt bunnies. You could, instead, take part in Pirata Group's Egg Hunt which involves a 7kg, 72cm-tall chocolate egg as the main prize.
But for the rest of us left to anticipate Easter with our own, regular-sized egg means, here are some extra special chocolate eggs from luxurious chocolatiers and beyond to fill our self-decorated baskets with (including the savoury Scotch egg) when the long Easter weekend eventually rolls around — just two more weeks! In this wonderful weather, you might even be compelled to host an egg hunt of your own. And if you do, these eggs will be the ones worth running left, right and out of breath for.
Venchi's range of Easter eggs offers a wondrous collection of all shapes and sizes, not to mention they all sit within the beloved Chocaviar family, known for the crisp, often crunchy with various fillings, Cuor di Cacao shell.
Depending on whichever of the four flavours you end up with, once you crack open the chocolate case of either creamy milk or intense dark, you'll find an richly decorated interior of either melt-in-your-mouth cocoa granules or special combinations of raspberry and cacao nibs, crushed pistachios or caramel and salted almonds.
These eggs from Dang Wen Li by Dominique Ansel are not your average boring chocolate type. They're cute, they're fun and they're very indicative of the springtime season: a snapshot of chicks in mid-hatch! Marshmallow chicks that definitely taste miles better than store-bought Peeps are tucked within a chocolate egg that's been encased within a real eggshell.
Hammer away at the chalky exterior and free your fluffy yellow friend. There's a gooey salted caramel centre with cookie crumbs you should definitely be hacking open for, too.
Gourmet British grocer, Fortnum & Mason, is a reputed Easter egg source during April. They stock a rainbow range of variations from classic foiled mini eggs to real eggs filled with chocolate praline, sophisticated floral-decorated types and others filled with nougat, Muscovado caramel and every kind of flavour under the sun. But this one is a special edition. Serving as the canvas of a talented artist, this chocolate egg — crafted by master chocolatiers in Wales using Columbian single origin chocolate couverture — nods to the Easter holiday with a vivacious portrait of a baby bunny. Get the matching painted chick, too, for a holiday treat that'll also serve as pretty Easter decor.
Whoever said Easter eggs are only limited to those crafted from chocolate? British bakery The Baker and The Bottleman argues a fair game against with their Easter eggs being of the savoury sort: Scotch eggs.
A soft-boiled egg sits snug at the centre of the minced pork and black pudding filling, coated in breadcrumbs for a golden, crunchy exterior. It'll be much easier to enjoy in larger quantities than your sweet, chocolatey counterparts. At least with these, you can probably scarf down all six — with alternating dips of the homemade picked walnut sauce — and before you know it, you already have,
The appeal of the Easter egg is the fun. There's the egg hunt, the egg decorating and, as per Sift, the egg smashing. Inside this pastel yellow chocolate egg shell which you're fully encouraged to knock open is an inspired Sift creation designed to showcase the refreshing renewal of seasons: a puff pastry base, with zingy mango passionfruit coulis and vanilla mascarpone cream over the top.
Of course, you can also get yourself a chocolate egg-topped cupcake, but that's just another chocolate cupcake on an average day. Snooze.
If it's Easter egg elegance you're after, then take a browse through Rosewood's Butterfly Patisserie. They have refashioned the juvenile ovular shape into very stylish sculptures, like this intricately complicated outline of an egg — an Egg Net — covered in shiny shavings of gold foil. An show-piece for a very sophisticated Easter gathering, if that's what you're hosting.
But if you're looking for fun, Butterfly Patisserie has also found humour in playful pieces that'll no doubt lend a chuckle: An egg-shaped rooster hunched over a chocolate nest or a cracked egg with the stunned hatching full-grown chicken.
Nothing suspicious going on here! In fact Conspiracy Chocolate is all crafted from an entirely transparent bean-to-bar process that also happens to be dairy-free and vegan.
For Easter, six eggs are carefully slotted within the cardboard egg carton dipped in pastel pink. The eggs are a tribute to current wave of 90's nostalgia; this time presented via delicious flavours profiles. Each of the 75 percent dark chocolate eggs are lined with vegan dulce de leche, with the additional two specials — identified by the cocoa-dusted exterior — filled with then unique palate of raspberry truffle and matcha puffed rice.
Chef Nicolas Cloiseau of gourmet chocolatier La Maison du Chocolat presents a pretty collection of springtime icons for the season, in which amongst the lop-eared bunnies, spring hens and conventional foil-wrapped eggs are these two mischievous chicks. Caught kicking and breaking through cracked egg shells with eager eyes peeking through, both milk and dark chocolate creations are filled with a milk bouchée mixed in with chopped hazelnuts, caramel pearls and pure butter crispy crêpes with chocolate caramel flavours.
The low-effort alternative to an action-packed Easter lies with the egg smash, essentially a piñata but even better — one made of chocolate with even more chocolate sealed within.
Hong Kong-based confectioner Lucullus crafts a version that'll ticks all Easter chocolate egg boxes. After you smash through the chocolatey exterior with the accompanying wooden gavel, nestled within are two dark chocolate rice krispies chicks with 18 speckled mini chocolate eggs of all sizes. A treat that lasts.
The post 9 luxurious Easter Eggs to celebrate Easter 2022 appeared first on Lifestyle Asia Hong Kong.