Urbani Truffle Bar & Restaurant Bangkok is back.follow us
เชฟผู้ท้าชิงสายโหด ที่ชำนาญด้านอาหารอิตาเลี่ยนสไตล์โมเดิร์น เขาจะนำฝีมือและประสบการณ์ที่สะสมมา มาเอาชนะเชฟกระทะเหล็กให้ได้ เอาแล้วๆ!!!! เวทีเดือดอีกแล้วจ้า เชฟเอียนของเราจะรับมือไหว ไหมน้อ? เราไปรับชมพร้อมๆกันได้เลยจ้า เชฟกระทะเหล็ก ประเทศไทย Iron Chef Thailand ออกอากาศ : ช่อง 7 สี และช่อง 7HD วัน : เสาร์ เวลา : 12:00 – 13:15 น. ติดตามข้อมูลเพิ่มเติมของรายการได้ที่ facebook : http://www.facebook.com/ironchefthailand #ironchefthailand
Truffle Bar & Restaurant is a unique concept that offers the delights of the prestigious Italian truffle combined with the simple excellence of Italian food cooked by our great Italian chef.
Offering with a seated meal, looking for something delicious, or with delicious cocktails with fresh truffle, served in a warm atmosphere 140 meters high on the roof of the Sathorn square building, in the heart of Bangkok, Thailand.
The restaurant format will be expanded and replicated in the world both as a single restaurant and within the hotels, allowing us to use a format that we follow TRUFFLEAT co, Ltd
Truffleat imports and sells fresh truffles and both sweet and savory truffle products, just visit or contact Truffleat.com Bangkok, or by phone +66 81 133 1337, Mr. Ton.
If there are people or companies interested in learning more about our Franchising concept, please contact via email info@trufflebar.com and visit our blog: blog.trufflebar.com.
In recent years the Urbani brand has broadened its rich offering with new products that are picked fresh from the understory to reach the table with unmistakable quality and taste, thanks to the initial careful selection of the product and very modern methods of packaging and preserving.
Today Urbani offers a wide choice of dried and frozen mushrooms (porcini, spugnole, galletti and trombette mushrooms and others) and berries (blackberries, raspberries, red currant, and black currant)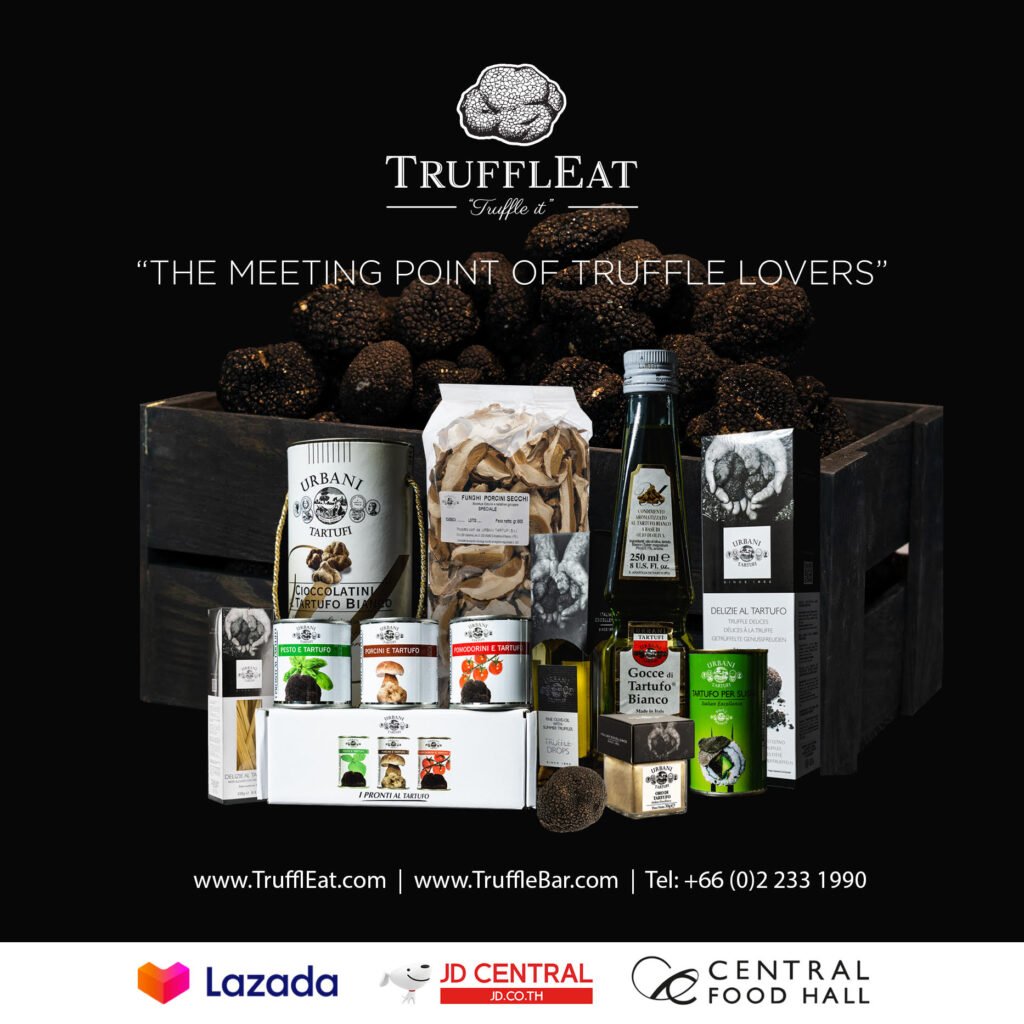 We provide a classic and cozy fine dining experience. Choose from a comfortable coach seat or a seat by the window enjoying a direct view of the bustling heart of Bangkok.
Crafting your culinary journey you can discover the dynamic Italian fine dining experience and other European specialties. We will assist you in making your special event memorable, with seasonal dishes tailored to the needs of your group.
Our Truffle Bar has a warm ambiance and elegant design with seating capacity up to 25 people. Enjoy the experience from the first drink to the last bite of the best truffle in the world. Accompanying your food is not an easy task, you can pick a bottle of your favorite wine from our 250 labels selection! The menus reflect the Truffle philosophy of quality, seasonality, and simplicity. The Truffle creation dishes change continuously according to the season and the fresh ingredients, it is constantly evolving with the Chef's inspirations. A selection of Oysters, caviar, and raw seafood is also available at our Bar and you can select directly with the Chef your favorite combinations.
VIP's private room is always remarkable efficient and unique. Virtually every dish is made from our kitchen from the freshest ingredients. We can personalize your meal with a bit of time notice because the preparation for a special guest often starts well ahead of their arrival. Larger groups upon prior request may be seated in a VIP private room where they can enjoy intimacy while ordering off the menu or from a special menu. The VIP room aims to make your dining experience as enjoyable and memorable as possible.