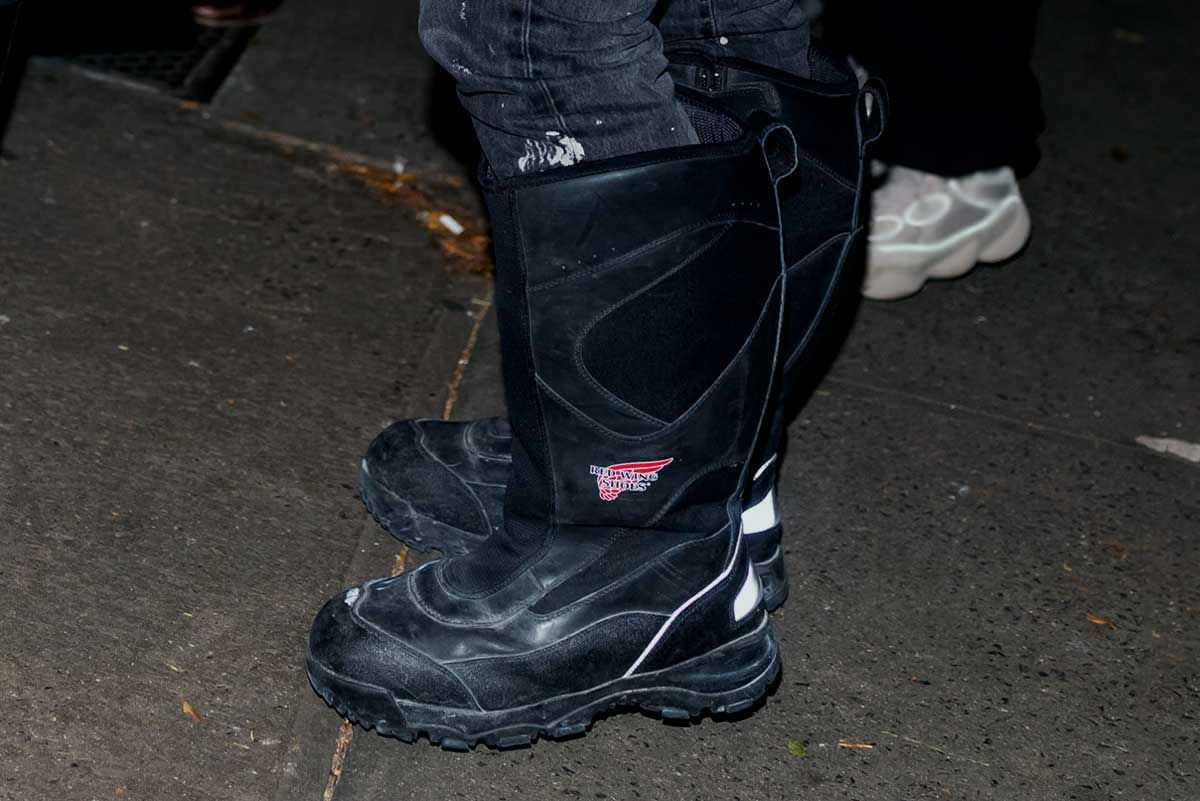 This just in: ankles are out.
Fashion is be embracing big, bulky boots for Fall/Winter 2022, a trend we can probably blame on none other than Kanye West.
For months now, Ye has exclusively worn elephantine work boots in public, from Balenciaga x Crocs' rubber Wellingtons to Red Wing's 3049 (a workwear staple that's now selling on Grailed for thousands).
The rapper even released his own ankle-obscuring footwear. In November 2021, YEEZY dropped the NSLTD BT, a gargantuan shoe that inspired comparisons to pachyderm feet, oven mitts, and Jumba Jookiba of Lilo & Stitch.
While Ye is, for better or worse, an industry trendsetter, fashion's taste for cumbersome kicks can be attributed to another, more benign force: the resurgence of the Moon Boot.
The après ski essential, beloved by many a celebrity in the early 2000s, has crept back into the spotlight, thanks to collaborations with buzzy brands including GCDS, Chloé, Moncler Genius, and this very website.
Even Prada, an arbiter of taste, sells its own take on the Moon Boot, a quilted creation made of puffer jacket-like material.
At Fashion Month, designers are shifting away from ankle-baring mules and heel-revealing slip-ons (a favorite at the height of the pandemic), opting instead for silhouettes that protect the modesty of one's foot and calf.
At the menswear shows in Paris, Nigo's debut collection for Kenzo featured an UGG-adjacent style, complete with a buckled strap across the vamp.
Loewe's Jonathan Anderson followed suit, presenting shearling boots and dramatic wellies that can only be described as bucket bags for your feet.
More recently, Raf Simons showed clunky, wader-like boots, some with aggressively squared-off toes.
Chet Lo, one of this year's Fashion East designers, debuted ski boots in shades of pastel faux fur and girth-y, spiky knee-highs.
And Glenn Martens, Diesel's new helmsman, continued to experiment with denim shoe-pants, essentially baggy jeans with built-in boots.
So prepare to cover up those ankles and calves — we'll all be clomping into colder weather come fall.