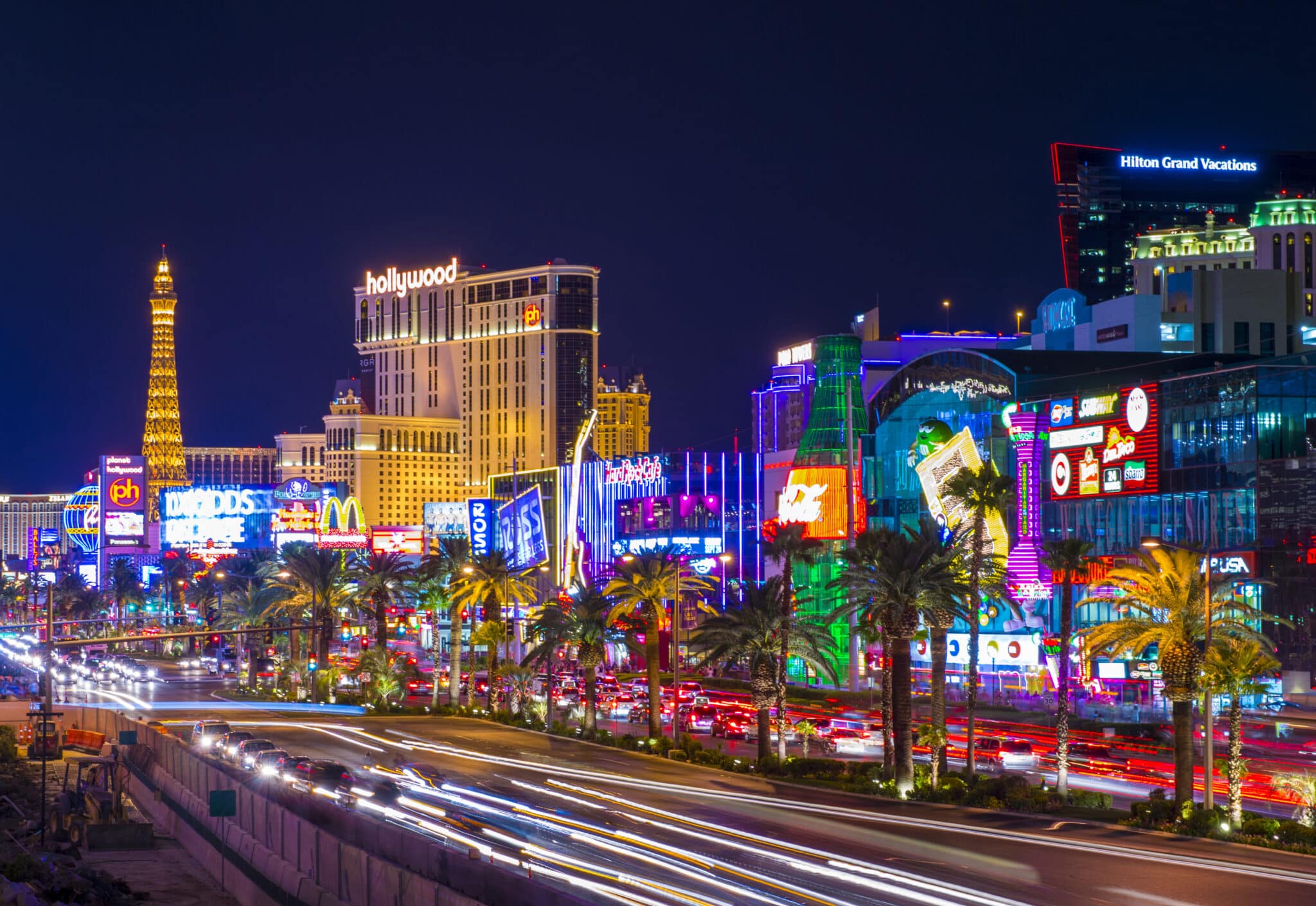 Planning your vacay to Sin City but can't decide what to bring? Las Vegas is so much more than its party reputation, although we're sure you will be doing a lot of that. What you pack depends entirely on how much exploring or partying you want to do. Will you be going on a hike? Will you be visiting the Grand Canyon? Or, will you be perched at a bar for 5 days? With this in mind, we've put together a handy guide covering what to pack for Vegas: the essential list.
Las Vegas has a high desert climate with very hot, dry summers and cooler winters. Mostly, it's dry all year round, so we can safely say you can leave the umbrella at home. But the heat in the summer might be too much even for the most committed of sun worshippers, so generally March to May and September to November are the best times to go.
Fancy outfits
Let's start with the basics. We imagine you'll be going to a club or two – it is Vegas, after all. And even if you don't intend on going to a club, it's always nice to have a fancy outfit in case you go out for a nice dinner. Whether it's a sassy dress, a smart shirt and trousers, you'll want to pack two or more nice outfits so you're looking good but most importantly, feeling good.
Fancy shoes
In the same vein, fancy shoes are probably more essential than fancy outfits. Many clubs and fine dining establishments in Las Vegas will have a footwear policy. If you're really adverse to dress shoes or high heels, we suggest you look up the places you want to go and their stance on footwear. You don't want to be turned away!
Comfortable shoes
We're not talking about hiking boots. The Las Vegas strip is long and it's better to explore it during the day. Everyone's made that fateful mistake where they've worn a new pair of shoes on a trip because they look good, only to quickly realise that they've made a grave error. Save your money for the casino, not on buying packs of Compeed, and wear shoes that you know you can walk for hours in.
Hiking boots
Okay, now we're talking about hiking boots. This depends entirely on the kind of trip you plan on having, but Las Vegas and its surroundings have many beautiful hiking trails and canyons, it'd be remiss not to mention it. While you don't necessarily need hiking shoes for the Grand Canyon, you'll certainly need comfortable shoes.
Casual clothes
In the day, no one's really dolled up to the nines unless they're at a beach club. When you're exploring a new place, comfort is key. Shorts and a t-shirt or a sundress are perfect during the day. Also, if you plan on going to a show, it's a pretty casual affair – jeans and a nice top vibe.
If you're going to be going to the Grand Canyon and other fantastic sights, you want to be comfortable. We'd recommend some gym/sporty clothes, such as leggings and a hoodie.
A jacket
While Las Vegas is hot, the casinos can get chilly. And if you're going during the winter months, you'll certainly feel a chill during the evenings. A smart jacket, such as a blazer or a leather jacket, is fitting here.
Swimsuit/bikini/swimming trunks
As we've said, Las Vegas is hot – you'll definitely want to cool off in your hotel pool, so be sure to pack swimming gear. And on a more dressy note, one of the best things to do in Las Vegas is a beach club or pool party. For these events, people tend to wear their nicer swimsuits or swimming gear, so we recommend you bring something that you don't mind spending all day in but also feel great wearing. And if you're feeling a bit self-conscious, a light short sleeve shirt or a beach cover-up is a cute and easy way to keep yourself a bit covered while still maintaining the pool party vibe. Don't bother bringing a beach towel, your hotel is likely to offer one.
A hat
Okay, we sound like a broken record now, but it is hot! Las Vegas gets over 300 of direct sunlight a year. You don't want to ruin your once-in-a-lifetime trip to Sin City by getting sunstroke, so make sure to wear a hat that entirely covers your head and protects you from the sun. Sometimes, we can forget (if we're enjoying the Las Vegas pool parties slightly too much…) to look after ourselves and cover our heads. To avoid that happening, we recommend bringing a hat that you really love and look fabulous in. While we're at it, don't forget suncream or sunglasses either.
Earplugs and an eye mask
Not to sound like a grandma, but sleep is important. Las Vegas is a party city so you're bound to hear your neighbours or the clubs nearby until the wee hours. Don't let that get in the way of your much-needed sleep.
Mini first aid kit
You never know what's going to happen in Vegas. Be sure to pack your first aid kit with bandages, plasters, and all-important hangover remedies such as paracetamol, ibuprofen, rehydration sachets, electrolytes, and Rennys/Gaviscon.
Identification
It might seem too obvious, but it doesn't hurt to get a reminder. Las Vegas is strictly 21+ activities only, which includes the casinos and the clubs, so you definitely don't want to forget that. You might have your passport on you but that's incredibly risky, especially if you're flying home, so bring some other form of ID with you and leave the passport in the safe.
Plug adapters
If you live somewhere that uses a different plug socket to the US, be sure to bring a type A or type B adapter. Type A has two flat prongs, while type B has two flat prongs and a rounded ground pin. Plus, the USA operates on a 120V supply voltage and 60Hz. If your electrical items are not dual voltage, you'll also need a travel power converter. Top tip: bring an extension cord with you so you only need to use one plug adapter.
An open mind
While you can't physically pack this, it's worth mentioning. Las Vegas is a blast – it's unpredictable, wacky, and fun. Bring your adventurous spirit and open mind with you and go with the flow.