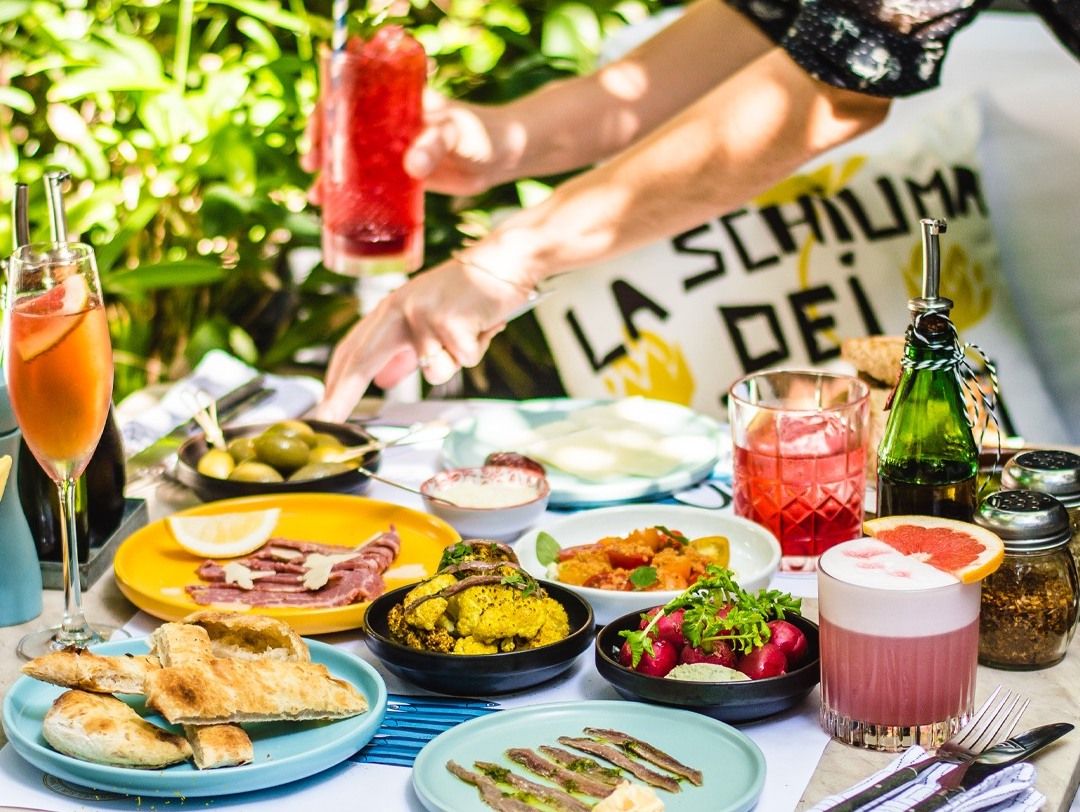 Here are ten events you can attend over the next two weeks in Bangkok from 16-30 June 2022.
Welcome to our bi-weekly column where we feature the most exciting events happening around town over the course of the two coming weeks. Make sure you're in the know of what's hot and happening here. For Pride Month 2022 events in Bangkok, check out our separate roundup here. From 16-30 June 2022, we've got a Nirvana tribute night, a two-day festival, a wellness event, and more. Get ready to mark your calendars. 
[Hero and featured image credit: Gigi Dining Hall]
What to do in Bangkok this 16-30 June 2022
Event: Backyard@24
An outdoor garden event featuring live music, DJs, food, and booze. Think summer vibes and good times at this event by Marriott Sukhumvit Park
Date(s)
17,18,19,24,25,26 June 2022
Event: Buddha & Pals "FRIDAY JAZZ"
For a jazzy night, head over to industrial-themed bar Buddha & Pals this Friday, or the next. The event is free entry, and will feature Nurse & Her Jazz Cats.
Event: Inner self, Inner Love Ceremony by Bangkok Oasis Hotel
For a self-care Saturday, we recommend the 'Inner self, Inner Love Ceremony' event. Expect several wellness workshops including shamanic breathwork, sound healing, cacao ceremony, and a music circle. Work on you, for you. 
Event: Na Den x Rec 'N Cue 
This Saturday, Lush Rooftop welcomes Phuket crowdpleasers to the capital city. Eight talented DJs on one rooftop? Sounds like a vibe.
Event: The Hamlet for Good
A two-day event that allows you to indulge in food, booze, music, and art in a fun, fabulous way. The best part, though? It's all for a good cause. In case you need more convincing, here are five reasons to visit The Hamlet for Good this weekend, taking place at the Asai Bangkok Chinatown Hotel.
Event: Stranger & Sons Sunday Aperitivo  
This Sunday, Sai Mai from Stranger and Sons takes over the bar at Gigi – Dining Hall & Bar. If cocktails on a Sunday are your thing, begin your bender at this guest shift.  
Event: Paint and Wine – Rainbow Edition
For this edition of The Hive Phrakanong's 'Paint and Wine,' it's all about rainbows. Painting and Pinot Noir? We'll be there. 
Event: Tchaikovsky in Twilight
This is no ordinary event. This is a curated, creative, cheeky concert. Expect a concert by Pro Musica featuring texts and happenings including art installations, historical storytelling, and more. 
Event: Nirvana Tribute (From England) 
For the first time ever, The world's leading Nirvana Tribute Show comes to Bangkok this June 2022 at The Rock Pub Bangkok. Special guests include Flowers for Daryl and Rat Hole. Come As You Are. 
Event: Sathorn Side Splitters Comedy Night No. 3
Love Sathorn? Love stand-up comedy? Curfew BKK invites you for a night of hilarity and laughter this month. The comedians for this event are Lex Morales, Chris Raufeisen, Chris Wegoda, Pule Mapacpac, and Stefan Bobner. 
The post What to do in Bangkok: 16-30 June appeared first on Lifestyle Asia Bangkok.