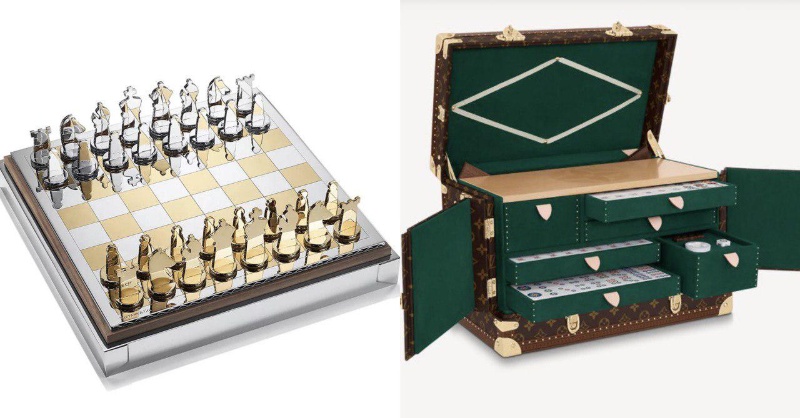 In the market for coffee table books for decor? Instead, you can consider one of these designer-made games.
Hosting a game night is always a great idea to bond with friends and exercise your competitive spirit. Although games from traditional hobby stores do just fine, luxury houses are crafting their versions of well-known sets. 
Instead of plastic and paper, brands like Prada and Tiffany & Co. use leather and 18k gold materials (also used in their fashion items). Needless to say, the price tags on designer-made games are far from off-the-rack ones.
READ ALSO: Roll The Dice: Solaire Releases Filipino-Themed Monopoly Game Board
However, you probably wouldn't store them in a closet. Whether in-play or not, these sets can be worthy of displaying in your living room or coffee table tops. 
Here are five decor-worthy game sets you can choose from. 
LOUIS VUITTON Mahjong Trunk
The 168-year-old house started as a small luggage shop in Paris. To pay homage to its past, Louis Vuitton releases their newest trunk—which stores a complete mahjong set. It features two locks with buckles and six drawer compartments, and each box is made in either France, Spain, Italy, or the US.
You can shop here.
HERMES Beach Rackets 
Created by multidisciplinary artist Gianpaolo Pagni for Hermes, he played with the brand's six letters to make this graphic design that's reminiscent of a puzzle. The rackets adorned with the design are part of a beach collection that includes a bag and towel. The paddles are made of beechwood and cork and come with a silkscreen rubber ball. 
You can shop here.
PRADA Backgammon Set
The Italian house makes a high-end version of the classic game set. They are made from Saffiano leather. The box measures 6.5 cm by 40 cm, while the playing pieces are made of durable metal. With the sleek color combination of black, red, and white, you can leave it on a coffee table as decor. 
You can shop here.
TIFFANY & Co. Chess Set
If you didn't know, Tiffany & Co. offers a variety of games and toys such as dominoes, yo-yos, billiards ball sets, and even playing cards. Of course, their "game night essentials" are finished with their signature blue tone. The jewelry brand's chess set, Tiffany 1837, takes 80 hours to make. The chess pieces are crafted with 18k gold and silver, replacing classic black and white.
You can shop here. 
SAINT LAURENT Dominoes 
While there are over 100 games you can play with dominoes; a stylish set can be worth the investment. Saint Laurent makes resin dominoes embellished with multi-colored crystals. Another style option is the brass set, which includes 18 domino pieces housed in a wooden box.  
You can shop here.
Banner photo from Tiffany.com.