By Yaroslav Lukov
BBC News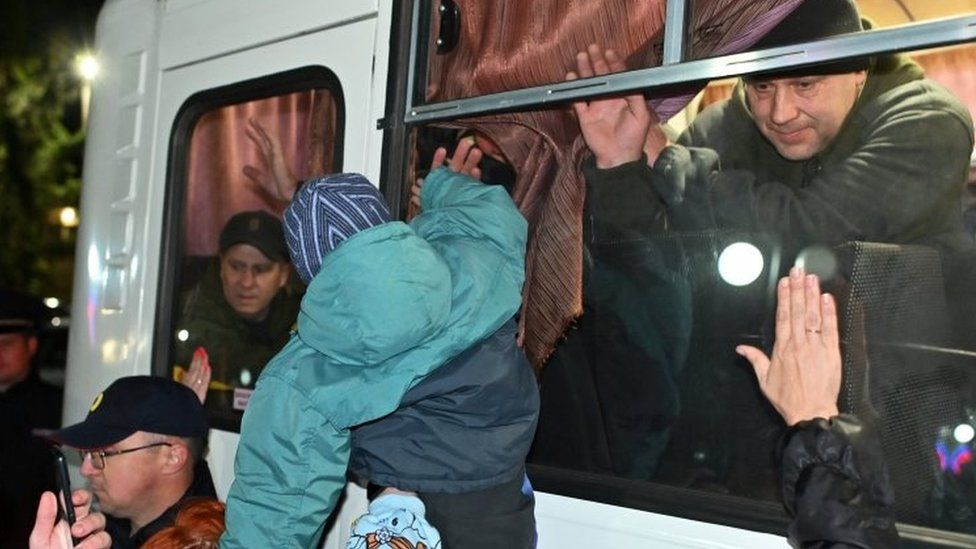 The Kremlin has admitted mistakes were made in its drive to mobilise Russian army reservists to fight in Ukraine, amid growing public opposition.
"There are cases when the decree is violated," Russian President Vladimir Putin's spokesman said, adding that "all the errors will be corrected".
Multiple reports say people with no military experience – or who are too old or disabled – are being called up.
Last week's mobilisation decree has already triggered widespread protests.
President Putin announced what he described as partial mobilisation on 21 September, with Defence Minister Sergei Shoigu later saying 300,000 reservists would be called up.
However, reports in opposition Russian media suggested that up to one million people could be called up, pointing out that one paragraph believed to be about the exact number of the required reservists was omitted (classified) in the published version of Mr Putin's decree on the official Kremlin website.
A number of military experts in the West and Ukraine say Mr Putin's decision to call up reservists shows that Russian troops are failing badly on the battlefield in Ukraine – more than seven months after Moscow launched its invasion.
Since the mobilisation announcement, more than 2,000 people have been detained at protests across Russia.
At a briefing on Monday, Mr Putin's spokesman, Dmitry Peskov, conceded that mistakes were being made.
He said that in some regions, "governors are actively working to rectify the situation".
Mr Peskov also said he was unaware of any decisions to shut Russia's borders and impose martial law in the country.
Media reports earlier suggested this could be done to stop potential recruits escaping abroad.
In the latest sign of growing public protest, a man critically injured an army recruitment officer in the Siberian city of Ust-llimsk on Monday.
Footage has emerged on social media apparently showing the attacker approaching the officer and then shooting him. People in the building are then seen screaming and running in panic after the gunman shouted to them to flee.
There have also been reports of a number of arson attacks on recruitment centres and other administrative buildings across Russia.
In his last week's mobilisation announcement, Mr Putin did not specify how many reservists would be called up.
But speaking immediately after the president, Mr Shoigu said 300,000 reservists – people who have had military experience and required specialist skills – would be enlisted.
The minister said this was just over 1% of Russia's 25 million military reserve potential. The process would be spread over several months.
Certain age and disability limits would apply, the mobilisation decree said. It provided no further details. It is believed that males aged 18-60 – and in some cases even older – could be mobilised.
Some Russian commentators immediately cast serious doubts on the promises of the president and his defence minister that the call-up would be limited.
They pointed out that the decree said nothing about exceptions, such as not recruiting students or conscripts. They suggested this would be left to regional heads to decide who to call in order to meet quotas.
On 24 September, Mr Putin issued a new decree specifically stating that students would be deferred from the draft.
Before launching its invasion on 24 February, Russia had amassed about 190,000 troops along Ukraine's borders.