Everyone in England will be offered free COVID-19 testing twice a week from April 9, the UK government announced on Monday.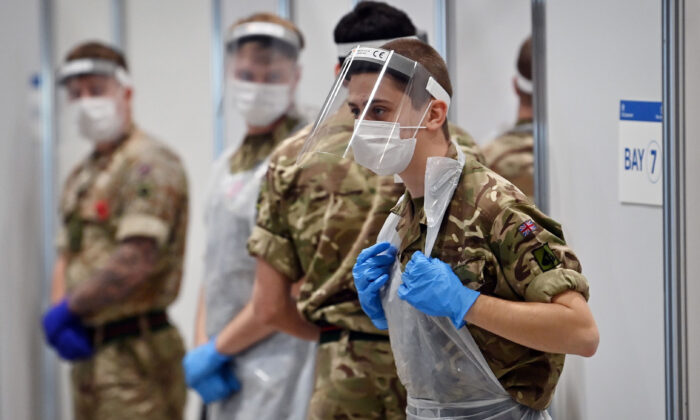 The Department of Health and Social Care (DHSC) said this is a "significant step forward" which "paves the way for businesses and society reopening" as the ongoing CCP (Chinese Communist Party) virus lockdown is gradually eased.
"As we continue to make good progress on our vaccine programme and with our roadmap to cautiously easing restrictions under way, regular rapid testing is even more important to make sure those efforts are not wasted," Prime Minister Boris Johnson said.
Health Secretary Matt Hancock said one in three people who have COVID-19 do not show symptoms but could still be infectious, so rapid testing "is going to be fundamental in helping us quickly spot positive cases and squash any outbreaks."
"Reclaiming our lost freedoms and getting back to normal hinges on us all getting tested regularly," he said.
But Allyson Pollock, professor of public health at Newcastle University, told The Epoch Times, "It's a hugely expensive and incoherent policy and not a public health strategy."
The mass testing will use lateral flow devices, which can produce a result in less than 30 minutes without the need for laboratory testing.
The mass testing programme has been criticised by some medical experts, who are worried that it could backfire due to the limited accuracy of the technology, especially with self-administered tests.
A study in the British Medical Journal (BMJ) showed the pilot in Liverpool missed 60 percent of cases and 30 percent of those with the highest viral loads.
The BMJ said in a November 2020 editorial that the programme was "an unevaluated, under-designed, and costly mess."
It added that the mass testing programme shouldn't continue or be used as a basis of whether people should self-isolate until it has been externally and independently scrutinised.
Regarding false positive results, the government said, "Recent analysis from NHS Test and Trace shows that for every 1,000 lateral flow tests carried out, there is less than one false positive result."
Everyone in England is to be given access to two rapid coronavirus tests a week from Friday, under an extension of the government's testing programme.
The lateral flow kits, which can provide results in around 30 minutes, will be available for free at testing sites, pharmacies and through the post.
The health secretary said it would help squash any outbreaks as lockdown eases.
But critics of the programme say it risks becoming a "scandalous" waste of money.
It comes as Boris Johnson is due to meet the cabinet to sign off the next stage of lockdown easing in England, which will see non-essential shops reopen and pubs and restaurants start serving outdoors from 12 April.
Later, the prime minister will hold a Downing Street briefing, where he is expected to confirm countries will be graded under a traffic light system when international leisure travel resumes.
He is also set to outline plans for coronavirus passports – recording whether people had been vaccinated, recently tested negative or had natural immunity – as a means of enabling mass-audience events to take place in the future.
However, dozens of MPs oppose the use of Covid passports and Mr Johnson faces the prospect of a rebellion among a number of senior Conservatives if he proceeds with them.
Lateral flow tests are already offered to school children and their families plus those who have to leave home for work.
The prime minister hailed the plan to offer everyone testing from 9 April, saying: "As we continue to make good progress on our vaccine programme and with our road map cautiously easing restrictions under way, regular rapid testing is even more important to make sure those efforts are not wasted."
Health minister Edward Argar told BBC Breakfast he expected the lateral flow tests to be used by those returning to work in the coming weeks as the "economy starts opening up again".
He said fewer than one in every 1,000 lateral flow tests gave a false positive result and refused to set an "arbitrary" date for when testing would end.
Mr Argar said the tests would be paid for as part of NHS Test and Trace's funding of £37bn over two years, with 80% of that expected to be used for testing.