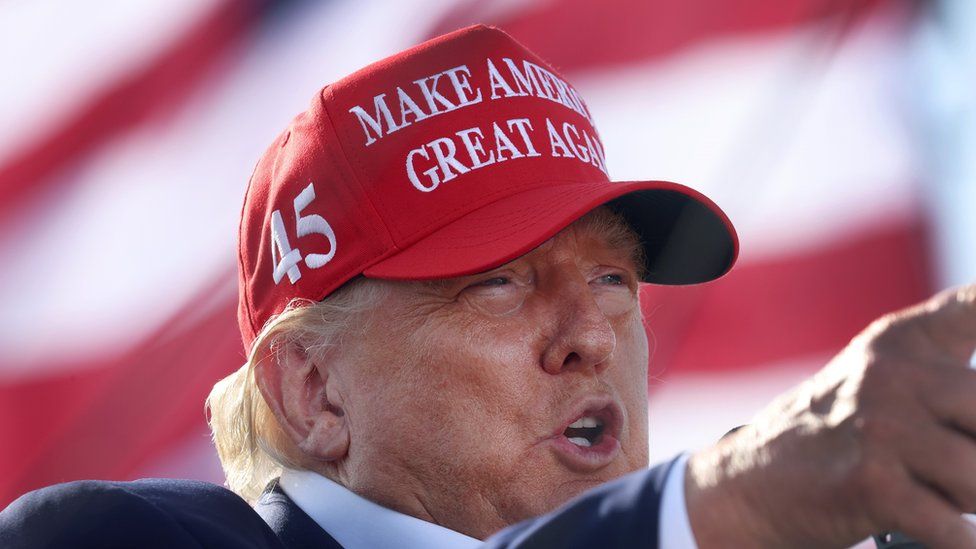 By Anthony Zurcher
BBC News, Washington
Donald Trump claims he will be arrested on Tuesday on charges stemming from an investigation into a $130,000 payment to porn star Stormy Daniels in 2016.
If he is, he would be the first former president to face criminal charges.
Here are some key questions on the issues at play in this case.
What is Trump accused of?
In 2016, adult film star Stormy Daniels contacted media outlets offering to sell her account of what she said was an adulterous affair she had with Donald Trump in 2006.
Mr Trump's team got wind of this, and his lawyer Michael Cohen paid $130,000 to Ms Daniels to keep quiet.
This is not illegal. However, when Mr Trump reimbursed Mr Cohen, the record for the payment says it was for legal fees. Prosecutors say this amounts to Mr Trump falsifying business records, which is a misdemeanour – a criminal offence – in New York.
Prosecutors could also potentially allege that this breaks election law, because his attempt to hide his payments to Ms Daniels were motivated by not wanting voters to know he had an affair with her. Covering up a crime by falsifying records would be a felony, which is a more serious charge.
Even advocates for prosecution acknowledge that either way, this is by no means a clear-cut case. There is little precedent for such a prosecution, and past attempts to charge politicians with crossing the line between campaign finance and personal spending have ended in failure.
"It's going to be tough," says Catherine Christian, a former financial prosecutor for the New York City district attorney.
Will he actually be charged?
The decision on whether to file charges rests with New York City District Attorney Alvin Bragg. He set up the grand jury to investigate whether there was enough evidence to pursue a prosecution, and he is the only one who knows if – or when – an indictment will be announced.
Last week, Mr Trump lawyers said that the former president was offered a chance to appear before the grand jury, which is considered a sign that the investigation is close to finishing.
The former president's lawyers have downplayed suggestions that they or Mr Trump have any advance notice of an impending indictment, saying Mr Trump's comment about it being Tuesday were based on media reports.
However there are other signs that the grand jury is wrapping up. Both Michael Cohen and his former legal adviser Robert Costello – now a sharp critic – are expected to give testimony on Monday.
Mr Costello would be presented by Mr Trump's defence team in an attempt to discredit Mr Cohen's testimony.
What happens if Trump is arrested?
If he is charged, Mr Trump's lawyers have indicated that the former president's arrest would follow standard procedure.
That means he would travel from his home at Mar-a-Lago in Florida to make an appearance at the New York City courthouse, complete with a formal booking, fingerprints and mug shots.
Given the historic nature of such a move, and the security concerns involved, the way this would unfold is uncertain – and would likely be the subject of negotiation between the district attorney's office and Mr Trump's team.
Once the case is booked and a judge is selected, other details will fall into place, such as the timing of the trial and possible travel restrictions and bail requirements for the defendant.
A conviction on a misdemeanour would result in a fine. If Mr Trump were convicted on the felony charge, he would face a maximum sentence of four years in prison, although some legal experts predict a fine is more probable, and that any time behind bars is highly unlikely.
Will there be protests?
After suggesting in a social media post that he would be indicted on Tuesday, Mr Trump made repeated calls for mass protests from his supporters: "WE JUST CAN'T ALLOW THIS ANYMORE. THEY'RE KILLING OUR NATION AS WE SIT BACK & WATCH."
His language echoes the angry rhetoric he employed prior to the attack on the US Capitol in 2021 and has raised concerns about the potential for violence.
Mr Bragg is in close contact with New York police and courthouse security, according to a letter to his department that was leaked to the press on Sunday.
"We do not tolerate attempts to intimidate our office or threaten the rule of law in New York," he wrote.
"Our law enforcement partners will ensure that any specific or credible threats against the office will be fully investigated and that the proper safeguards are in place."
However at the moment, there has been little evidence so far of the kind of organised mass protests that led to the 6 January attack.
Can he still run for president?
An indictment or even a criminal conviction would not prevent Mr Trump from continuing his presidential campaign if he so chooses – and he has given every indication that he will keep pushing ahead regardless of what happens.
In fact, there is nothing in US law that prevents a candidate who is found guilty of a crime from campaigning for, and serving as, president – even from prison.
Mr Trump's arrest would certainly complicate his presidential campaign, however.
While it might cause some Republican voters to rally around their embattled champion, it could be a significant distraction for a candidate on the campaign trail, trying to stump for votes and participate in debates.
It would also deepen and enflame already sharp divides within the American political system.
Conservatives believe the former president is being held to a different standard of justice, while liberals view this as an issue of holding law-breakers – even those in the highest positions of power – accountable.
Related Topics