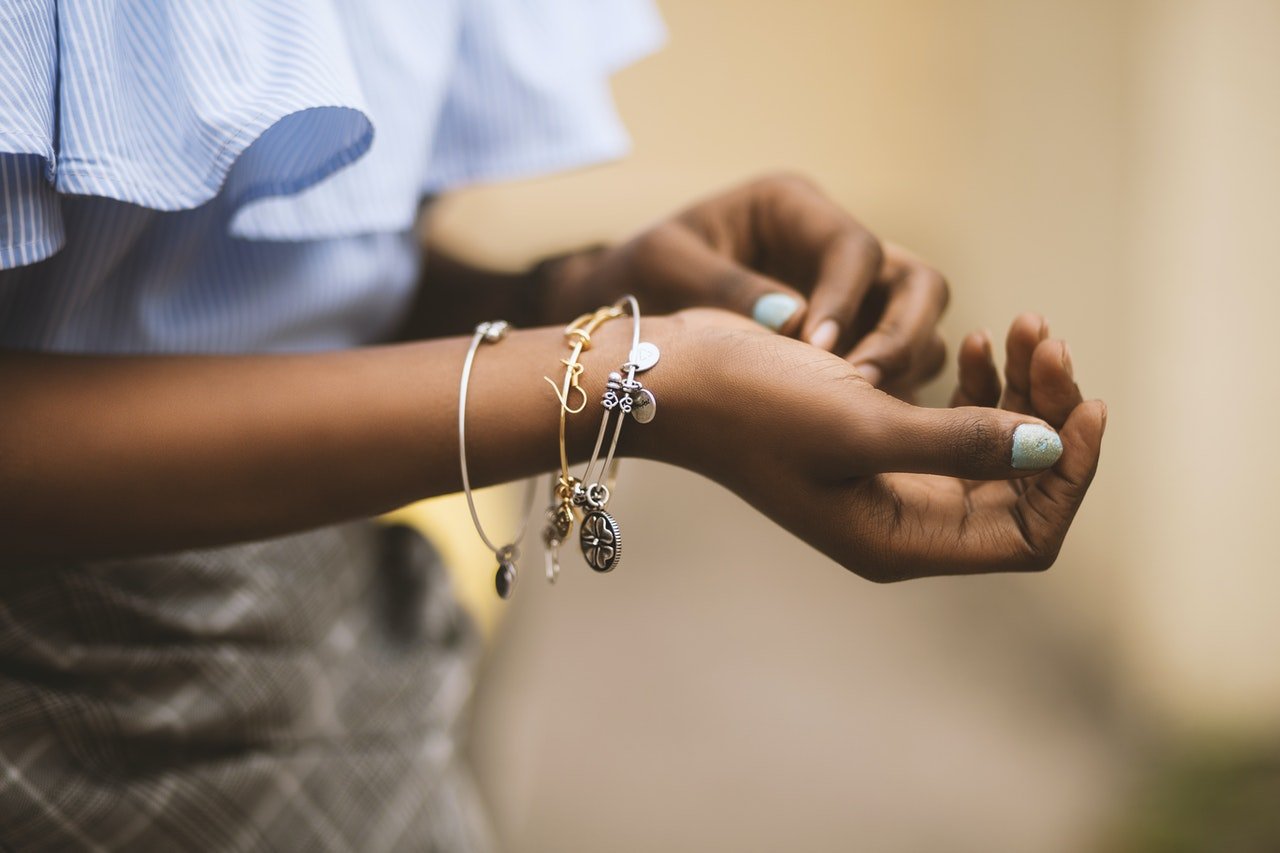 Although charm bracelets and such accessories may be closely associated with the early 2000s, customisable accessories are making a massive comeback. Many jewellery lovers enjoy being able to create unique looks with their jewellery. This fashion allows people to express themselves and share their interests through their jewellery. Personalised accessories also make a very lovely and thoughtful gift. By gifting this kind of jewellery, it shows that you have considered the unique tastes and interests of the person you are gifting to. Our "trends to watch series" aims to keep you on top of all of the latest fashions. Trends to watch: customisable accessories will offer recommendations of some of our top picks for personalisable jewellery to add to your collection.
Initial Jewellery
Initial and name necklaces have been a staple of any jewellery collection for decades. This trend is an incredibly easy way to add a touch of personality to any outfit. Initial jewellery can be subtle and dainty or bold and eye-catching. Every collector will have a different preference for the style of name or initial jewellery that they like to wear. This is obviously personalised even further by having one's own initial or name on the jewellery. Initial jewellery is fun and playful to add a touch of early 2000s style to any outfit.
This dainty necklace is crafted from sterling silver and is, therefore, a precious piece of jewellery. The necklace is very delicate and will add a subtle touch of playfulness to any jewellery collection. This accessory features the capital letter 'A' at the centre of the fine silver chain. The pendant is polished for a gleaming finish. The clean and minimalistic design of this piece makes it a perfect everyday piece, so the wearer can style it for every occasion.
Nomination Jewellery
Nomination Jewellery is known all over the world for its composable bracelets and watches. The brand primarily used stainless steel to create hard-wearing and affordable jewellery that is unique to every collector. Every Nomination accessory uses an ingenious spring mechanism so that charms can be added to the watches and bracelets. These bracelets are a great choice for personalised accessories as every link of the bracelet or watch can be swapped out for a charm to create an entirely unique combination.
Nomination creates watches with straps that are made up of composable links. This means that the links can be swapped for the brand's charms. The entirely silver colour palette gives the watch a chic feel. Additionally, this model features a silver glitter dial for a fun and glamorous look. The dial is adorned with silver hour markers and silver hands alongside a white zirconia gemstone set at 6 o'clock. A stainless steel case houses the quartz movement that powers the watch. The case measures 31mm in diameter to ensure a comfortable fit on the smaller size of a woman's wrist. This watch is secured on the wrist using a stainless steel bracelet. Personalisable watches are a relatively new concept in the watch and jewellery industry. This Nomination watch can be almost entirely personalised using the brand's beautiful charms.
Nomination bracelets are available in an array of colours. Each of them features a stainless steel base, but some have different coloured plating. This model is made of gold ion-plated stainless steel for a more traditional look. Gold has become an increasingly popular choice in jewellery in recent years. The revival of the metal seems to be due to its warm tone and vintage feel. This bracelet is comprised of 21 links, and other lengths are available. Links can be added and removed or substituted for any of the brand's charms. The brand's bracelets are made to be customizable so that the wearer can express their personality and interests through their jewellery.
Nomination has an enormous range of charms for collectors to choose from. Some of the charms are themed around instruments, hobbies, sports, initials or family members. This charm is made from stainless steel and is therefore relatively hard-wearing. It features a design of two love hearts at its centre. The larger of the hearts is filled with pink enamel and the smaller heart is filled with red enamel. This charm would add a lovely pop of colour to a Nomination watch or bracelet.
Thomas Sabo Charm Bracelets
Charm bracelets have been around for decades, and yet they never seem to lose their appeal. For years, people have been collecting charms that represent their hobbies, interests and personality. Thomas Sabo has a collection of bracelets in different designs and finishes that collectors can use as a base for the huge range of Thomas Sabo charms. The brand creates charms in all different styles and designs so that any collector can curate their own perfect bracelet.
This charm bracelet is made from sterling silver. The links are small and oval in shape for a simple and classic style. The charm bracelet measures 16cm in length, and therefore has plenty of space to add charms. Any charm with a lobster clasp is compatible with this bracelet, allowing the wearer plenty of choice of matching Thomas Sabo charms. The bracelet features a circular Thomas Sabo branded charm at the end. This model secures using a lobster clasp.
This charm comes from Thomas Sabo's latest ocean themed collection. The charm is made from gold plated sterling silver for a long-lasting and luxurious finish. This charm is the shape of a scallop shell. The outside of the shell is intricately detailed, making the charm look quite lifelike. Additionally, the charm is also set with sparkling white crystals for a touch of glamour. The two halves of the shell come apart, revealing a white freshwater pearl inside. The charm features a lobster clasp, so can be added to any charm bracelet or necklace.
What did you think of our trends to watch: customisable jewellery article? What are your thoughts on the return of the customisable jewellery trend? Let us know in the comments below!
The post Trends to Watch: Customisable Accessories appeared first on First Class Watches Blog.