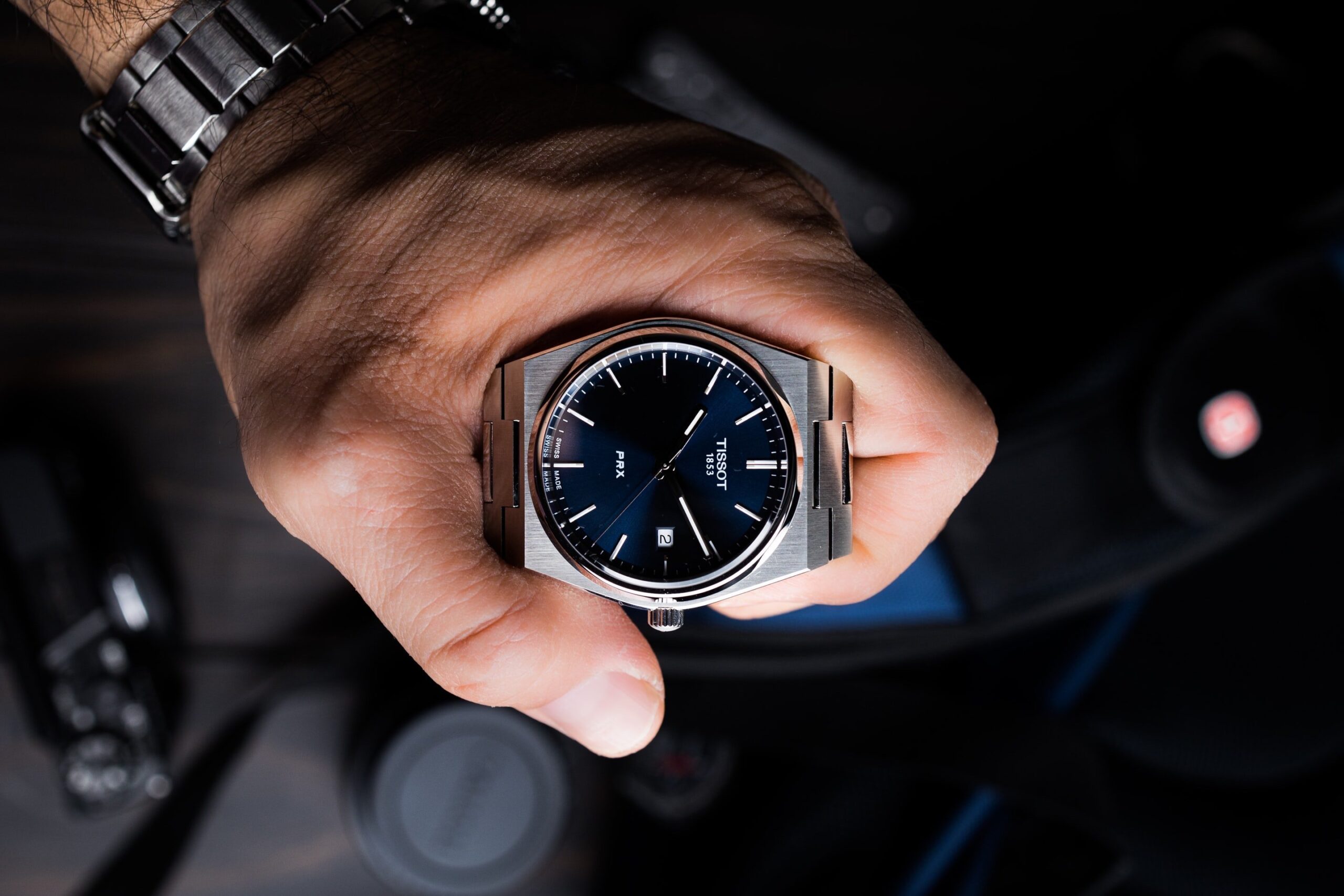 Tissot is one of the most famous names in the modern watchmaking industry. The brand is most well-known for producing very high-quality timepieces at a relatively affordable price. We have put together this list of Tissot watches under £500 to help you to find the perfect watch on a budget. This price point is a perfect one for beginner watch collectors who are just starting their collection. It will allow for a quality timepiece without needing to approach the luxury end of the market. Despite its wallet-friendly price point, Tissot has never sacrificed quality and style. Each timepiece that the brand creates is fashionable and sure to last for a very long time. If you are searching for your next timepiece, keep reading for our Tissot watches under £500.
About Tissot
Tissot was founded in 1853 by Charles-Félicien Tissot and his son Charles-Émile Tissot. The brand first started in the Le Locle area of the Jura Mountains, and this setting continues to influence the designs of Tissot watches to this day. The brand has grown drastically over the years with hundreds of new launches and collaborations. Tissot has acted as the official timekeeper for many sporting events including cycling, motorcycling and ice hockey among others. This proves the accuracy of the brand's timekeeping and the precision of each of its watches. Tissot's slogan is "Innovators By Tradition" and the brand has stuck to these words since the day it was founded. It continually progresses without forgetting its heritage. The quality of Tissot watches is often beyond their price point, making them a brilliant choice for any watch collector.
Tissot Watches Under £500 Recommendations
The blue dial of this PRX model makes this watch a fashionable and elegant choice for every style. Blue dial watches have been on-trend for years as they provide a sophisticated alternative to the traditional black or white dial. This blue dial is adorned with silver baton indices and silver hour and minute hands. A date aperture is also included to provide an extra utility. Being a PRX model, the watch takes inspiration from retro 1970s watches. This can be clearly seen in the shape of the case and bracelet of this watch. These elements are crafted from stainless steel and exhibit a modern, angular look. This watch is powered by a reliable quartz movement and is water-resistant up to 10 bar.
Chronograph watches often come with a higher cost as the movement requires more parts and more expertise to build. However, this Tissot chronograph model comes in a fair way under the £500 mark. This watch is equipped with a tachymetric scale alongside an EOL indicator, a chronograph and a split and add function. This makes the watch a great tool for everyday wear. The watch exhibits a black dial with white baton indices with black hour and minute hands. The second hand is a bold yellow colour, making it easy to track around the dark dial. The quartz movement that powers the watch is housed within a stainless steel case. This timepiece is secured on the wrist using a classic black leather strap.
Tissot also excels at designing delicate, feminine timepieces. The Tissot Flamingo is one of the most popular women's models in the brand's portfolio. This watch features an elegant mother-of-pearl dial that will catch the light from every angle to create a beautiful shimmering effect. The dial is detailed with rose gold hour, minute and second hands alongside a small and subtle date display. A rose gold PVD plated stainless steel case frames the dial. The warm pink tone of this metal gives the watch a distinctly feminine edge, making it a beautiful everyday accessory. This rose gold PVD is continued onto the stainless steel bracelet of the watch, creating a cohesive and fluid look for a touch of elegance.
This watch is a very well-priced timepiece from Tissot. The wearer will receive a lot of features and durability for the money they spend. This watch is a divers watch and is equipped with a water resistance of up to 300 metres. This means that the watch can be worn for a huge variety of water-based sports. This model features a black dial with three sub-dials and luminescent details, ensuring the time can be read in the dark or underwater. A black bezel and a stainless steel case surround the dial. This case measures 45.5mm in diameter, ensuring it is large enough for the dial to be read at a glance. This watch is secured on the wrist using a bold orange rubber strap to create an eye-catching look on the wrist.
Tissot's Le Locle watches are an elegant way to wear a piece of the brand's history. The watches in this collection are each inspired by the town that Tissot was founded in. The dial on this model features guilloche detailing to give it the same appearance of the clock tower in the town. The dial is detailed with black Roman numeral indices and delicate black hour, minute and second hands to give it a vintage look. The watch is powered by an automatic movement that provides the watch with up to 80 hours of power reserve. This movement is housed within the stainless steel case. The case features an exhibition case back so that the movement can be observed and enjoyed. This model is finished with a classic and timeless black leather strap.
This stunning moonphase model is a departure from the practical design of many of Tissot's watches. Moonphase complications have fascinated watch lovers everywhere for decades as they capture the human fascination with the moon on the wrist. The moonphase is positioned above 6 o'clock on the playful green dial. The dial also features black Roman numerals and silver hands alongside a date aperture. A stainless steel case surrounds this dial and houses the quartz movement that powers the watch. This timepiece is completed with a green leather strap in a shade that perfectly matches the dial. Additionally, this watch is water resistant up to 50 metres, making it a practical, yet elegant, choice for everyday wear.
What do you think of these Tissot watches under £500? Do you have a Tissot watch in your collection? Let us know in the comments below!
The post Tissot Watches Under £500 appeared first on First Class Watches Blog.