Parsons graduate Claudia Poh finds the most meaning in making adaptive fashion that serves and uplifts people in ways that are unexpectedly creative.
To many, the act of dressing is a mundane, everyday process we don't pay particular attention to, except only to ponder over our choice of outfit for the day.
It's a whole different ball game, however, for those with mobility difficulties – imagine having to deal with buttons, zippers and pulling on clothing when one does not have full function of his or her legs, hands or arms, and you'll get an idea of how challenging and frustrating the task can become.
Adaptive fashion is a relatively new category that has emerged on the scene – a long-awaited development that shows the needs of those with disabilities or physical difficulties resulting from illness are finally being heard, even if its progress is gradual.
With the availability of clothing that is designed to be more accessible for those with limited mobility, this group of people is able to independently dress themselves – a simple act that can be empowering and contribute so much to their self-confidence.
Claudia Poh is a Singaporean fashion designer who recently worked with Stroke Support Station (S3), a rehabilitation centre for stroke patients in recovery, on a collection of clothes that allows stroke survivors to dress themselves easily. The pieces have features that are designed for one-handed dressing, including easy-grip buckles with magnetic fasteners (that replace buttons or zippers) and hidden pockets that can accommodate catheters, which some may need to wear in the long term.
Designing these clothes with the involvement of occupational therapists and stroke survivors themselves was crucial to Poh, as the garments had to meet varying needs in order to help their wearers overcome specific physical difficulties.
"It's a collaborative process. Together with S3, we pooled together our expertise for a common goal – to ease dressing for stroke patients. I realised that zippers were a massive challenge for them, as we'd often require both our hands to use them, so we introduced an easy-grip zipper to our pants," Poh elaborated.
A therapist's guidance can be invaluable to designers like Poh, who create clothes that often need to be tailored to very specific needs.
"During one of our consultations, S3's occupational therapist suggested to Catherine, one of the stroke survivors we worked with, to swap hands in wearing our pant prototypes. It was instantly seamless. We're constantly learning and improving the product. Each time we see it in action, it's life-changing," she shared.
It was during these conversations that they found opportunities to include more features, should a person's range of motion or dexterity vary. "For example, a client at S3 suggested shifting a belt loop closer to the front of a zipper fly so she could hook her pants close with ease," Poh explained. The result is a stylish collection of clothes that's truly functional for these stroke survivors and also serve to boost their self-confidence.
FASHION THAT SERVES
Adaptive fashion isn't new to Poh. The fashion graduate has her own adaptive clothing label, named Werable, and had plenty of experience in this particular niche of design in her student years.
"At 16, I knew that the only way I would achieve my dream of becoming a successful entrepreneur was to challenge myself in a new environment and country. I followed my gut and attended both Parsons Paris and Parsons New York. It was at Parsons that I learned novel ways in which fashion could be used to serve people, and developed my way of helping the community," she said.
During her time in New York, she also took on roles outside of the fashion industry, in which she worked as a research assistant in the field of adaptive design. This, along with a chance to put what she learnt into action laid the foundation for her current work.
"In my third year at Parsons, a friend of mine asked me to hack and alter her existing clothes. New York winters are harsh, and require a thick coat to stay warm, which you often needed to put on and take off as you travel in and out of buildings. As she experiences paralysis in her arms, this was impossible for her without assistance and limited her freedom.
"Excited by the prospect, I teamed up with my friends and community to design a coat that she could put on independently. After this experience, all other fashion ventures seemed meaningless. I began to explore how adaptive solutions could not only help people with disabilities, but anyone that would appreciate convenient, easy-to-wear fashion," she shared.
BORROWING IDEAS FROM TECHNOLOGY
Then came Cair Collective, a thesis project that she worked on with her schoolmate at Parsons, Amy Yu Chen, and her roommate, Julia Liao, who was an industrial designer. Designed for the same friend who does not have mobility of her arms, this collection provides a tech-assisted dressing experience in which clothing is made to "rise" onto the body with built-in inflatable components hidden in the garments.
Poh likens it to a "paradigm in which air is used to create a more automatic means of dressing oneself". This idea might seem bizarre when applied in fashion, but is really no different from tech applications in other fields, such as the making of cars that drive themselves. "This process taught me to draw ideas and advancements from verticals outside of fashion to enhance our conditions of living," she said.
The most ingenious piece in the collection is undoubtedly the inflatable skirt, as mentioned above, which conveniently connects to an air pump via magnets, and then inflates and becomes rigid so that the wearer could shift it over her hips, before tightening the waistline and releasing the air in the material.
"We had to improvise… we made the inflatable skirt using a mini iron, creating seams on vinyl by sandwiching the material between sheets of baking paper. We purchased inflatable mattresses on Amazon and cut out the air pump (component), while Julia helped us prototype 3D-printed nozzles," revealed Poh.
FUNCTION, STYLE AND DIGNITY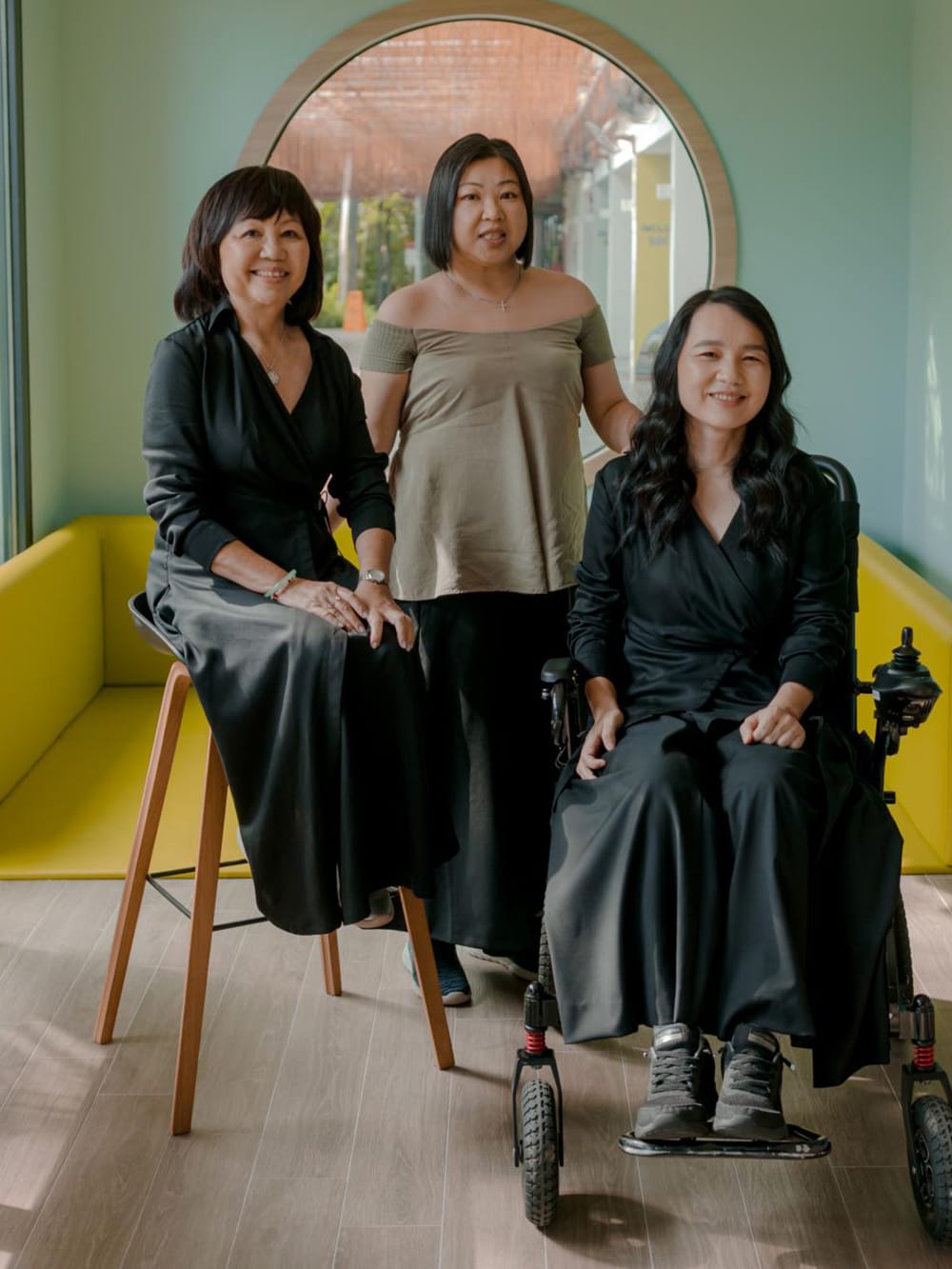 For Werable (a portmanteau of the words "we are able"), Poh created nine pieces, including dresses and separates, that can be worn with just one hand. As with the collection she worked on with Stroke Support Station, magnetic fasteners, easy-grip buckles, elasticated armholes and waistbands and hidden pockets for concealing catheters are some of the "hacks" she utilised to make everything easy to put on and functional for those with reduced mobility and dexterity.
What's perhaps unexpected about these adaptive designs is that they are also stylish and sleek, displaying no discernible signs that are made to cater for those with physical disabilities. To this, Poh expressed that she doesn't agree that adaptive wear should look a certain way that most people would imagine it to be.
"I don't think it's right for us to assume what having a disability looks like. I believe that style and function aren't mutually exclusive and everyone desires the same properties in their clothing, with or without a disability. Why can't adaptive fashion be sleek, feminine or even chic? Our research study helped us understand that what the adaptive market desires goes beyond simply independence and ease of wear. Fundamentally, people don't like to be singled out as needing help in getting dressed," she explained.
As a designer, she's fascinated by how things work more than how things look. "I enjoy creating minimal, draped silhouettes and disguising innovative features within the things that I make. We form assumptions around the objects and people in our environment. From the onset, it may seem like another black dress, but I see this as an opportunity to surprise the wearer – that there is indeed more than meets the eye."
"Maybe buttons become hard to fasten or we can't reach for that zipper on our backs like we used to, but we believe that shouldn't stop us from wearing what we love. Style and dignity are core tenets of Werable. Adaptive features act as a springboard for unique silhouettes and cuts that wouldn't have been otherwise discovered," she said, essentially summing up the meaning she finds in her work.