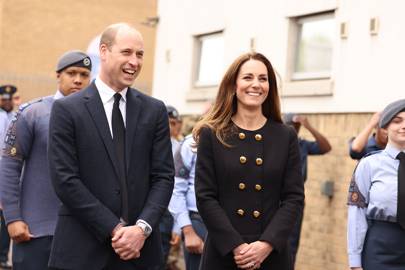 With lockdown restrictions beginning to ease in the UK, many of us are enjoying a cautious return to a more rounded life. The Duke and Duchess of Cambridge, for example, have been carrying out in-person duties this week, as well as continuing to shine a light on their personal passion projects.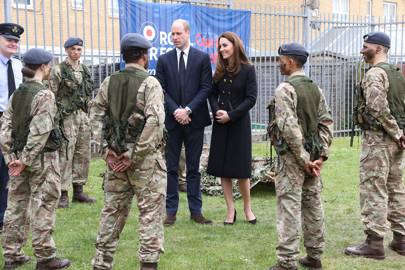 Although the Royal Family are still in their two-week royal mourning period following the death of the Duke of Edinburgh, no doubt Prince Philip would be pleased to know that it has not stopped them from carrying out a number of important engagements. On Wednesday 21 April, four days on from Philip's funeral, the Duke and Duchess of Cambridge visited the 282 (East Ham) Squadron, Air Training Corps in East London. Pictures of the outing show the Duke and Duchess of Cambridge dressed in dark colours, befitting the royal mourning period, with William donning a smart suit, while Kate opted for an elegant coat with gold buttons.
In order to see this embed, you must give consent to Social Media cookies. Open my cookie preferences.
According to a press release, the couple learned 'about how the Air Cadets supports young people to develop vital life skills', and the Squadron 'paid tribute' to the late Duke of Edinburgh. Philip was himself Air Commodore-in-Chief of the Air Training Corps for an impressive 63 years, and throughout his patronage 'frequently met with cadets and took a keen interest in their activities and achievements.' Touchingly, he then passed on the role to his granddaughter-in-law, with Kate becoming Honorary Air Commandant in 2015.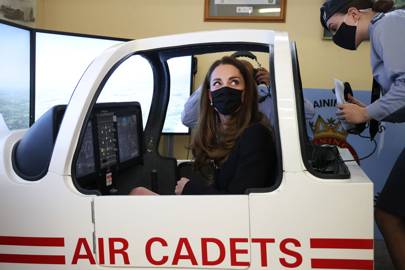 During the visit, the royal couple met cadets and young people preparing for their Duke of Edinburgh's Awards. Having long been closely involved with Philip's passion project, the Air Cadets receives around 3,000 DofE Awards across the scheme's Bronze, Silver and Gold levels annually – racking up over 193,000 Awards since the programme began in 1956.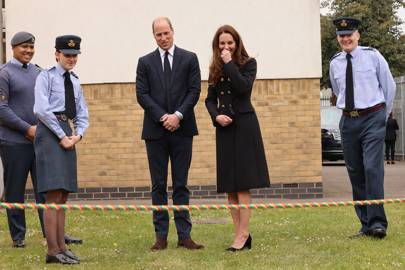 William and Kate also learned about the Pre-Duke of Edinburgh's Award 'Blue Badge' scheme, for cadets aged 12-14 years old, and talked with serving RAF officers about how taking part in the Air Cadets and its activities, including the DofE scheme, 'allowed them to gain important life and social skills which they have taken forward into their careers.' To conclude the visit, the Squadron performed a Three Cheers Salute in honour of Prince Philip in a poignant tribute to the late royal – an accomplished pilot who gained his own Royal Air Force wings in 1953.
In order to see this embed, you must give consent to Social Media cookies. Open my cookie preferences.
The very next day, William was forging ahead once again, shining a light on one of his most significant projects. Marking Earth Day on Thursday 22 April, a video was released to the Kensington Royal social media channels showing people from around the world encouraging viewers to 'Give the Earth a Shot'. The accompanying caption reads: 'The world has a great capacity to innovate and persevere to tackle our biggest challenges. This #EarthDay, let's join together to Give the Earth a Shot 🌍.
'Members of our @EarthshotPrize Council have signed an open letter calling on the world to channel the same spirit of innovation and possibility from the fight against COVID to our greatest challenge: repairing our planet.'
The letter has been released on the Earthshot Prize website. It relates: 'This Earth Day, the world is in the midst of the worst health emergency in over a century… But humanity is rising to the challenge… There is a long way to go… But we have learned what it means to pull together in the face of a truly global crisis.'
It goes on to state that such focus must be applied to 'stopping the climate emergency', stressing that if 'we do not act in this decade, the damage to our planet will be irreversible', and 'backing the Earthshot Prize' as a key 'global initiative to discover and roll-out at scale solutions to the world's biggest environmental problems.'
Based on the ambition and drive behind President Kennedy's 'Moonshot', the letter sets out five 'Earthshot' goals: 'oceans, air pollution, nature, climate and waste.' From this autumn, five winners annually will be awarded the Prize for ideas that 'make the most progress towards these goals… Five winners, every single year of this Earth-changing decade.'
The letter goes on: 'This Earth Day, as the Leaders' Summit on Climate kicks off the countdown to November's COP26 Climate Conference in the UK, we must be inspired by the ingenuity and determination of the past year… As people around the world queue up for their vaccinations, now is the time to harness that same spirit of invention and give the Earth a shot too.'
It's signed by the Prize's roster of influential Council members from around the world: Prince William; Queen Rania Al Abdullah of Jordan; renowned actress Cate Blanchett; Costa Rican diplomat Christiana Figueres; Brazilian footballer Dani Alves; natural historian and national treasure Sir David Attenborough; environmental activist Hindou Oumarou Ibrahim; Indian-American business executive Indra Nooyi; Japanese engineer and former astronaut Naoko Yamazaki; Nigerian-American economist Dr. Ngozi Okonjo-Iweala; singer Shakira Mebarak; and Chinese basketball executive and former professional player Yao Ming.
The Prize has been touted as the Duke of Cambridge's most ambitious project to date. And it's no doubt one that his late grandfather, Prince Philip (an early champion of conservation who helped found the World Wide Fund for Nature in 1961, and authored a book entitled Wildlife Crisis in 1970), would wholeheartedly approve of.
Subscribe now to get 3 issues of Tatler for just £1, plus free home delivery and free instant access to the digital editions
More from Tatler
In order to see this embed, you must give consent to Social Media cookies. Open my cookie preferences.