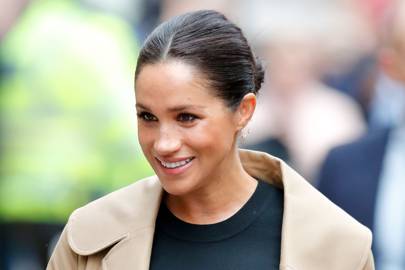 Since 2019, the Duchess of Sussex has acted as Patron of Smart Works, a charity focused on 'dressing and coaching unemployed women for job success'. Meghan has maintained her ties to the UK-based organisation even since the Sussexes relocated to North America last year, most recently sending a number of special letters to its clients – which even feature personal, handwritten messages.
In order to see this embed, you must give consent to Social Media cookies. Open my cookie preferences.
On 17 March, a post to the Smart Works official Instagram account shared three images of the Duchess's letters, alongside a caption explaining: 'In celebration of Women's History Month and International Women's Day, our Patron, The Duchess of Sussex took a moment to send some words of encouragement to a few of our clients.
'Written by The Duchess, several personal notes were delivered to our centre earlier this week, and then dispatched to our clients, to give them that extra piece of encouragement as they return to the workplace… Throughout the month of March, Archewell Foundation, created by The Duke and Duchess of Sussex, is encouraging people around the world to perform acts of compassion for women in their lives and communities.'
The first of the three letters contains a message of support to a woman ahead of a job interview. Meghan states: 'I wanted to write personally to wish you every success in your upcoming interview. While any interview can feel daunting, I know that Smart Works has enabled you with the confidence to thrive throughout this process.' The Duchess has also added a handwritten note beneath the typed text, in elegant, delicate calligraphy, which reads: 'You'll be amazing in your interview! Just remember – deep breath and be yourself,' along with a hand-drawn heart.
The second letter is a message of congratulations to a woman for starting a new job, in which Meghan writes: 'The pandemic has created so many challenges, and I am inspired by your resilience and determination to keep moving forward.' She's added below, by hand: 'Wishing you every success! Truly, so happy for you!'
In the third letter, Meghan states: 'I wanted to offer my personal congratulations on landing a new position in public health – I can't think of anything more important right now. And I'm so pleased to know that Smart Works supported you in the lead-up to your successful job interview.' A further, handwritten note adds: 'Wishing you every success in your new role!'
The Duchess sets much store in the value of written correspondence, having stated in an essay for Elle UK in 2016 that she is 'a firm believer in handwritten notes.' Such a personal touch is reminiscent of her mother-in-law, the late Diana, Princess of Wales, who was known as a prolific author of thank-you letters and thoughtful messages.
In September 2020, soon after the Duke and Duchess settled in their Montecito home, Meghan took part in video calls with former Smart Works clients to mark the one year anniversary of the Smart Set – a charitable capsule clothing creation she created in aid of the organisation. Indeed the circumstances of the global pandemic have made the work done by Smart Works all the more vital, as lockdowns, economic insecurity and personal hardships render job hunting an even more difficult prospect.
This month, Meghan has been shining a light on the charity on the recently revamped Archewell website, to coincide with Women's History Month and International Women's Day last week. A special section on the website bears the heading, 'Women Deserve Recognition – and also Support,' before adding: 'Support a charity like UK-based Smart Works, whose focus is to help unemployed and vulnerable women regain confidence, return to employment and transform their lives.'
Subscribe now to get 3 issues of Tatler for just £1, plus free home delivery and free instant access to the digital editions
More from Tatler
In order to see this embed, you must give consent to Social Media cookies. Open my cookie preferences.