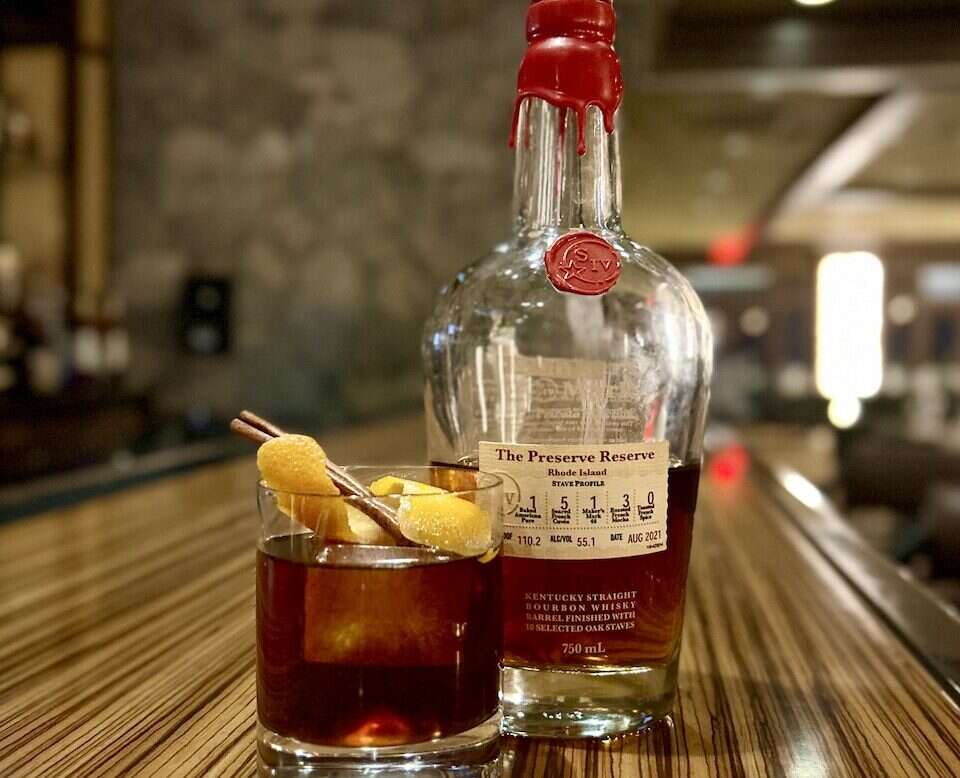 We all know the Old Fashioned – the short, strong classic graces the menu of any cocktail bar worth its salt (or its sugar in this case). However, a drink that is virtually all spirit isn't for everyone – for those who want a lighter version, Double Barrel Steak by David Burke at The Preserve Sporting Club & Residences has you covered.
The Rhode Island restaurant's signature cocktail, the Brown Sugar Preserve Reserve Old Fashioned, still uses whisky, cherry and even a touch of orange, but instead of leaving the drink neat, tops with soda for a fresher take. The result is halfway between an Old Fashioned and a whisky soda – perfect for drinkers who love bourbon but need to take the edge off.
The bar team at Double Barrel Steak use Maker's Mark Preserve Reserve, a limited-edition bourbon barrel exclusive to The Preserve Sporting Club, but home bartenders can trade out for regular Maker's Mark. The small-batch Kentucky bourbon's sweet vanilla notes lend themselves perfectly to an Old Fashioned.
[See also: The Difference Between Bourbon and Rye Whiskey]
As well as signature cocktails, Double Barrel Steak by David Burke also offers an all-day menu of seasonally focused dishes with a focus on, as you might have guessed, prime cuts of beef.
Those who want to explore The Preserve Sporting Club and Maker's Mark collaboration beyond the Preserve Reserve Old Fashioned also enjoy a dining experience in the resort's exclusive Hobbit House, where a multi-course menu is served inside a Lord of the Rings-style setting with bespoke bourbon pairings.
[See also: The Dewar's Whisky Truffle Old Fashioned]
Ingredients:
– 1½ oz Maker's Mark Preserve Reserve whiskey
– ½ oz Luxardo liqueur 
– 1½ teaspoons brown Turbinado sugar
– Orange slice
– Luxardo cherries
– Soda water  
Method:
Muddle the brown sugar with two Luxardo cherries and an orange slice in a rocks glass, before filling the glass with ice and adding the Makers Mark whiskey and Luxardo liqueur. Top the glass with a shaker tin and shake thoroughly. Remove the tin, top the cocktail with soda and garnish with two Luxardo cherries or a twist of lemon.