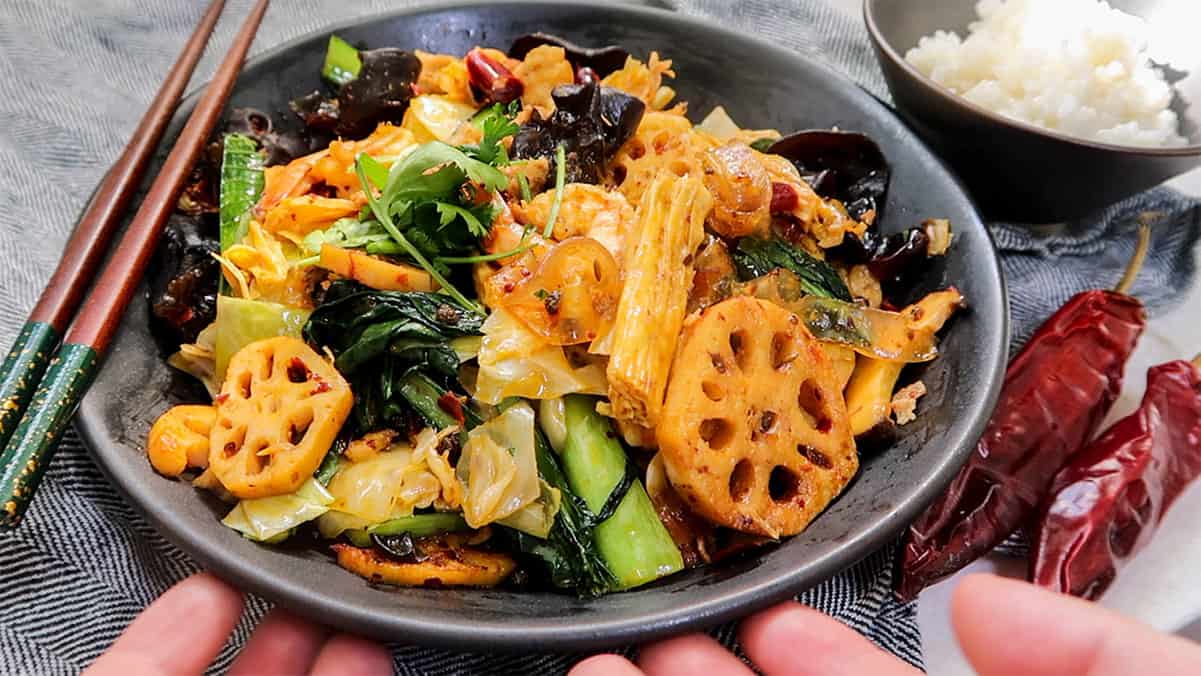 The pouring rain usually makes us crave for something that's warm, comforting, and soupy, but if you prefer mind-numbing heat, then your best bet is one of these addictive bowls of mala hotpot in Singapore.
The word mala actually refers to a combination of two Chinese words: ma meaning numb and la meaning spicy, a sensation that's felt whenever something that's seasoned with Sichuan peppercorns and chilli is consumed.
In this roundup, we won't just be featuring some of our favourite mala stir-fry hot pot (also known as mala xiang guo), we'll be naming our go-to spots for mala/Chongqing steamboat as well, just in case you're craving something even spicier. After all, we're not going to be making these dishes at home anytime soon — just thinking about the mess, the oil, and the cleaning up we'd have to do afterwards is giving us a mind-numbing headache already.
Read on for the full list.
9 best spots for mala hotpot in Singapore — if you can take the heat:
(Hero and featured image credit: Futuredish)
Ri Ri Hong Mala Xiang Guo is no doubt one of our go-to spots for mala xiang guo. The stall was founded in 2011 way before it was trendy, and has catapulted to become the choice pick for many here. They occupy two stalls at People's Park Complex with an extensive selection of ingredients to choose from, and they charge by the items rather than weight, making it easier for diners to figure out the final price.
(Image credit: @miky_makan via Instagram)
Address
32 New Market Rd, #01-1152, People's Park Complex, Singapore 050032
Similar to Ri Ri Hong Mala Xiang Guo's charges, Fuyuan Mala Xiangguo also calculates the price of your bowl via portions rather than weight. We enjoy the bowl here as it's already less salty without having to request a lighter hand on the seasoning, coupled with a strong Sichuan pepper flavour for mouth-numbingly good time.
(Image credit: @heyeatwhattoday via Instagram)
Address
6 Jalan Bukit Merah, #01-29, ABC Brickworks Market & Food Centre, Singapore 150006
Grabbing a spice-laden bowl from 57° Mala Xiang Guo is really convenient, since they have multiple outlets around the island. The ingredients come to your table in a well-seasoned fiery mix, with plenty of garlic and less oil than the usual stir-fry. Our favourite ingredient here? The large bamboo shoot chunks and chewy wide sweet potato noodles.
57° Mala Xiang Guo has multiple locations around the island, including Paya Lebar, Yishun, Admiralty and Ang Mo Kio.
(Image credit: @nikolai_wee via Instagram)
Address
1 Pasir Ris Central, #01-30/31 Street 3 White Sands, Singapore 518457
We love Wan Xin Ma La Xiang Guo for its food, but the well-lit, spacious locale is also something we appreciate. The seasoning they use here definitely come with a stronger kick with less of the numbness, but the addictive aroma that wafts through the air from its stint in the wok keeps us coming back for more.
(Image credit: @dailytherapyyy via Instagram)
Address
1006 Upper Serangoon Rd, Singapore 534744
Xiao Man Niu Mala is also another locale that's great for those who enjoy the spiciness of mala hotpot with less of the numbing factor. It's also not as salty and oily compared to many other joints, and they have a good selection of classic mala hotpot ingredients to choose from too.
(Image credit: @okwhotookmyusername via Instagram)
Address
1 Vista Exchange Green, #01-41, Singapore 138617
Those who love their spice need to try the bowl at Labula Mala Xiang Guo. If you can't take the heat, the Xiao La version is pretty mild, but anything upwards can really your back sweating and mouth numb from the liberal use of Sichuan peppercorns. We usually opt for less salt and oil here too.
Labula Mala Xiang Guo is located in Hougang and Jalan Besar as well.
(Image credit: @belly.essentials via Instagram)
Address
822 Tampines Street 81, Singapore 520822
If you're prefer the soup-version of mala hotpot, then we've got a selection for you to try too, the first being Xiao Mu Deng Traditional Hot Pot. The S$12.80++ hotpot lunch set is an unbeatable price with a plate of meat and single serve of all-you-can-eat vegetables (excluding mushroom and tofu), complete with rice or noodles. We usually opt for the safe level one spice for the hotpot — which is already spicy and flavourful enough — but if you can take the heat, you have a choice till level five.
(Image credit: @xiaomudeng_hotpot via Instagram)
Address
1 Selegie Rd, #01-18 GR.ID Mall S, Singapore 188306
Stepping into Xiao Long Kan Hotpot is akin to passing through a teleportation portal, because you'll feel as though you've just entered a hotpot joint in the heart of Chongqing. Spice-lovers can get a single pot of the mala broth, but if you need some respite, we suggest opting for the dual or trio pot with other flavours. The fresh ingredients dipped in the mala broth works best with a small bowl of sesame oil, garlic, chilli, coriander, and spring onion that's already been mixed for you, which helps to alleviate some of the heat.
(Image credit: @nana.xin via Instagram)
Address
200 Victoria St, #02-54, Singapore 188021
Website
Uncle Fong Hotpot Restaurant — a beloved Chongqing-style hotpot chain that first opened in Hong Kong — is opening soon in Singapore and we can't wait, especially since it's bringing ingredients not commonly found at other hot pot restaurants. Here, guests can expect soup bases that've been simmered from premium spices and condiments, including Chongqing Shizhuhong Chilli, Sichuan Hanyuan Pepper, Refined High Quality Beef Tallow, Sichuan Pixian Bean Paste, and Yunnan Yellow Ginger.
Uncle Fong Hotpot Restaurant is set to open in Great World City on 26 April 2022.
Address
#B1-108/109, 1 Kim Seng Promenade ,Singapore 237994
Website
The post The best mala hotpot in Singapore — if you can take the heat appeared first on Lifestyle Asia Singapore.