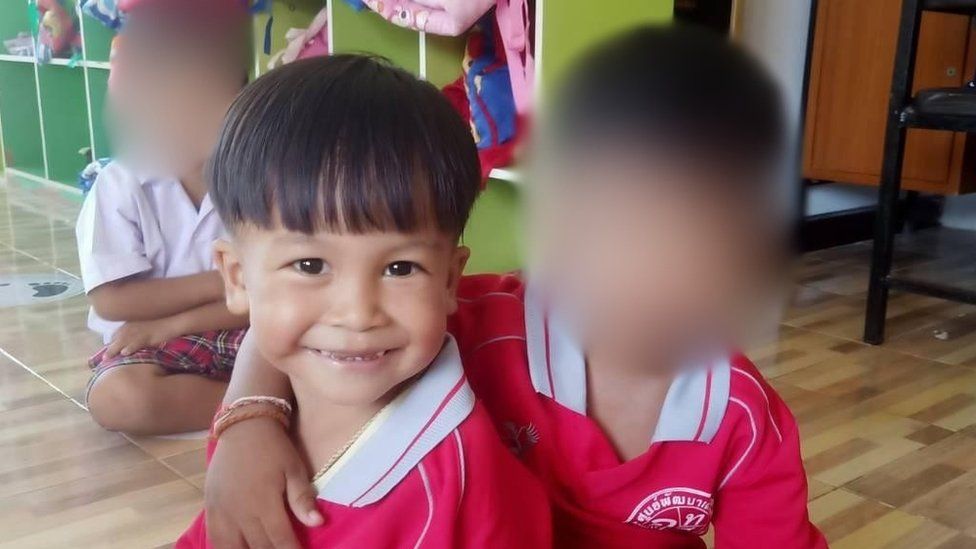 By Laura Bicker in North-east Thailand & Frances Mao in Singapore
BBC News
Duangphan Patphaothanun is wandering outside a childcare centre, clutching a bag full of toys.
The 64-year-old grandmother wants to know when she can see her grandson, so she can place his most treasured possessions with him in his coffin – the bag includes a large plastic dinosaur.
Three-year-old Pattarawut is among the 23 children who died on Thursday in a gun and knife attack at a childcare centre in Thailand's north-east.
A former policeman had stormed the building, killing children as young as two while they slept, leaving at least 37 people dead.
More than 90 children usually attend the centre but because of poor weather and a bus breakdown only 24 of them were there on Thursday. Only one child has survived.
Police say the 34-year-old attacker – a local named Panya Kamrab – killed his wife and his step-son, before killing himself after a manhunt. His step-son used to attend the centre but hadn't been for the past month.
The motive for the attack is not yet known. But police said Kamrab was fired from his job in June for drug use.
"When I heard the news about the shooting, I just fainted," Duangphan said. On her phone are photos of Pattarawut, taken just hours before the shooting.
Like many childcare centres, this one too regularly posts photo updates for parents to see – the images show happy, smiling faces, writing or finishing a drawing.
Duangphan was one of several grieving relatives who had gathered outside the centre in Nong Bua Lamphua province on Friday morning.
Another grandmother, 46-year-old Nipha Lawongsechaison, says she lost both a grandson and granddaughter in the attack.
"I am full of such pain… [and] anger because I cannot do anything," she says.
She's not the only one. Others too say they are filled with grief – and unanswered questions.
"Why did he take it [out] on the children? Why kill them when they did nothing to him?" says 27-year-old Naliwan Dungkhet, whose two-year-old nephew Captain also died in the attack. He was just a month away from his third birthday.
Among the mourners was Komsan Norraburh. His ex-wife married the attacker who killed both her and Norraburh's three-year-old son, Worraphat.
"I was at the factory [when] my friend asked me to check the news. I called my ex-wife and son to see if they were ok but no-one answered," he said. "He was a good boy who liked to talk a lot. I'm waiting to pick up his body and see his face one last time."
Many of the relatives said they had waited outside the childcare centre well into the night on Thursday, while others gathered at the police station.
They would eventually be greeted by the sight of pink and white coffins adorned with gold, bearing the bodies of the children, which were brought to a hospital morgue in Udon Thani and laid out in rows.
Police said the armed attacker broke into the building just after lunch time on Thursday, shooting his way past a teacher and parent outside. He was recognised by one of the teachers when he burst in.
Witnesses said he first shot staff – including a teacher who was eight months pregnant- before forcing his way past teachers into a room where children were napping. He then stabbed most of his victims before fleeing.
Officers who rushed to the nursery were confronted with the bodies of adults and children, lying inside and outside the building.
Kamrab had appeared in court the morning of the attack on charges related to the use and possible sale of methamphetamine. He had been due to face a verdict on Friday.
Mass shootings in Thailand are rare, although gun ownership rates are relatively high for the region.
Additional reporting by Suchada Phoisaat