A decade ago, Loop Garms wouldn't have existed.
Carousell wasn't live yet; most Singaporeans hadn't quite wrapped their heads around the idea of buying and selling secondhand clothing. Instagram, having just launched, was merely a photo-sharing platform. There were no boutiques offering preloved T-shirts or old school sportswear, much less an audience who considered them cool.
On the unlikely chance that you wanted streetwear-minded vintage clothing, which Loops Garms is a purveyor of, you would have to shop on eBay.
That's pretty much what founders FJ Sai and Isaac Ang did. The two friends built up a collection during their polytechnic years and continued to do so well into their university years. Their penchant for old clothes soon led them to Japan. On that trip, they made a pilgrimage to Kinji, a temple of thrift shopping in Tokyo. It changed everything for them.
We could describe what it was like for them, stepping into that Harajuku store lined with racks of graphic T-shirts, sports jackets, caps, denim pieces and other such nostalgic paraphernalia, but you'd be better off visiting Loop Garms to experience it yourself.
The store can be found in Little India, under a block just shy of the Jalan Besar MRT station. It has been there since 2018, when more Singaporean youths were finally beginning to see how "old is gold" could ring true for their clothes.
Today, of course, the local vintage fashion scene has grown into its own beast: There are monthly pop-ups like Death Threads, hype-driven boutiques like Exit, and an array of Singapore-based, Instagram-only shops like Tasshop and Retrovage.
We're just scratching the surface of Singapore's thriving fashion landscape, which has expanded far beyond the malls along Orchard Road. There are local brands to be found all across the island, from the hip neighbourhood of Tiong Bahru to the glitzy Dempsey Hill. Loop Garms, with its equally unconventional location, is just one of many homegrown passion projects that now define Singapore fashion.
Loop Garms makes a distinction, though, by curating its vintage selection with almost every customer in mind.
The hypebeast could stroll in and cop a rare Supreme x Nike sneaker, or a '90s Stüssy T-shirt. Teenagers looking to refine their Y2K aesthetic can forgo Depop and seek out their favourite pop culture references in Loop Garms' graphic tees. The indie kids can earn street cred for their rare band tees. There's even a smattering of Marlboro merch, if you're into that kind of thing.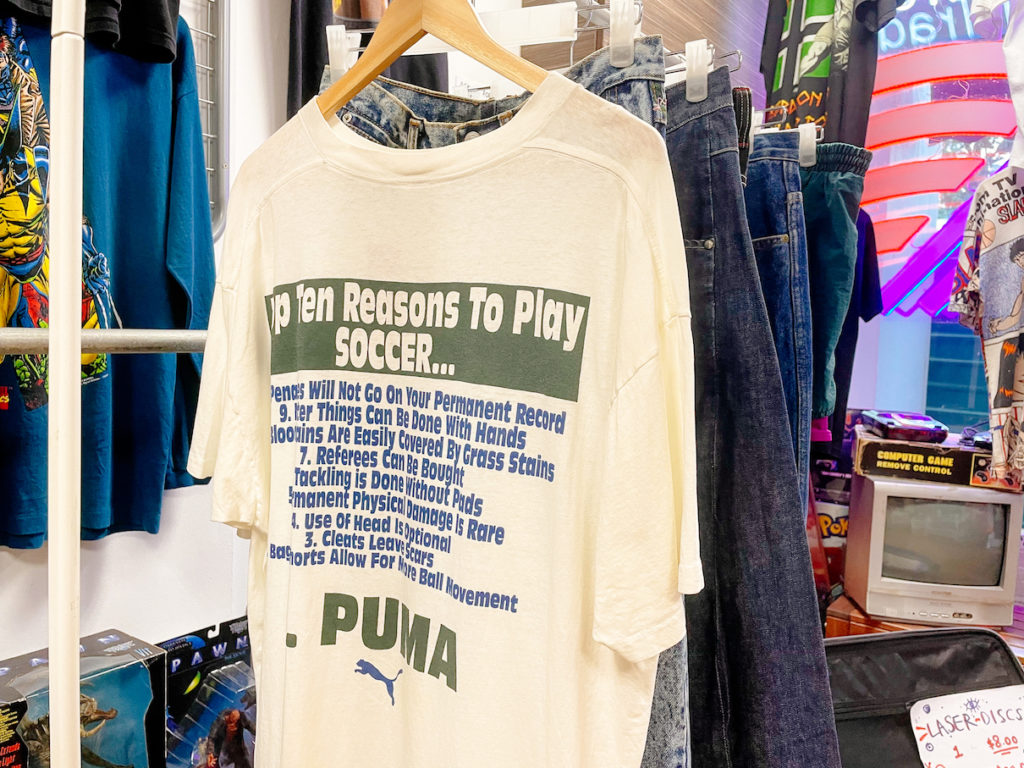 All of it is authentic, by the way; FJ and Isaac, being seasoned collectors, make sure of that. It certainly gives shoppers a peace of mind, whether they're sifting through the racks at Loop Garms, or clicking through the store's Instagram Stories showcasing items for sale.
No wonder that Loop Garms has earned its fair share of fans. On Instagram, the store has almost 19 thousand followers, in Singapore and beyond (Loop Garms ships worldwide).
Its vintage-fashion-for-all approach certainly taps into the style zeitgeist. Old clothes couldn't be cooler, as 2020 has shown us. And it's certainly nice that budding collectors won't have to travel to foreign lands to experience the magic of secondhand shopping, not when Loop Garms' doors are open to everyone.
Loop Garms is located 635 Veerasamy Rd, #01-148, Singapore 200635. The store is open from 12pm to 7.30pm daily.
The post Store explore: Loop Garms is vintage fashion galore for hypebeasts, Depop fans and everyone in between appeared first on Lifestyle Asia Singapore.