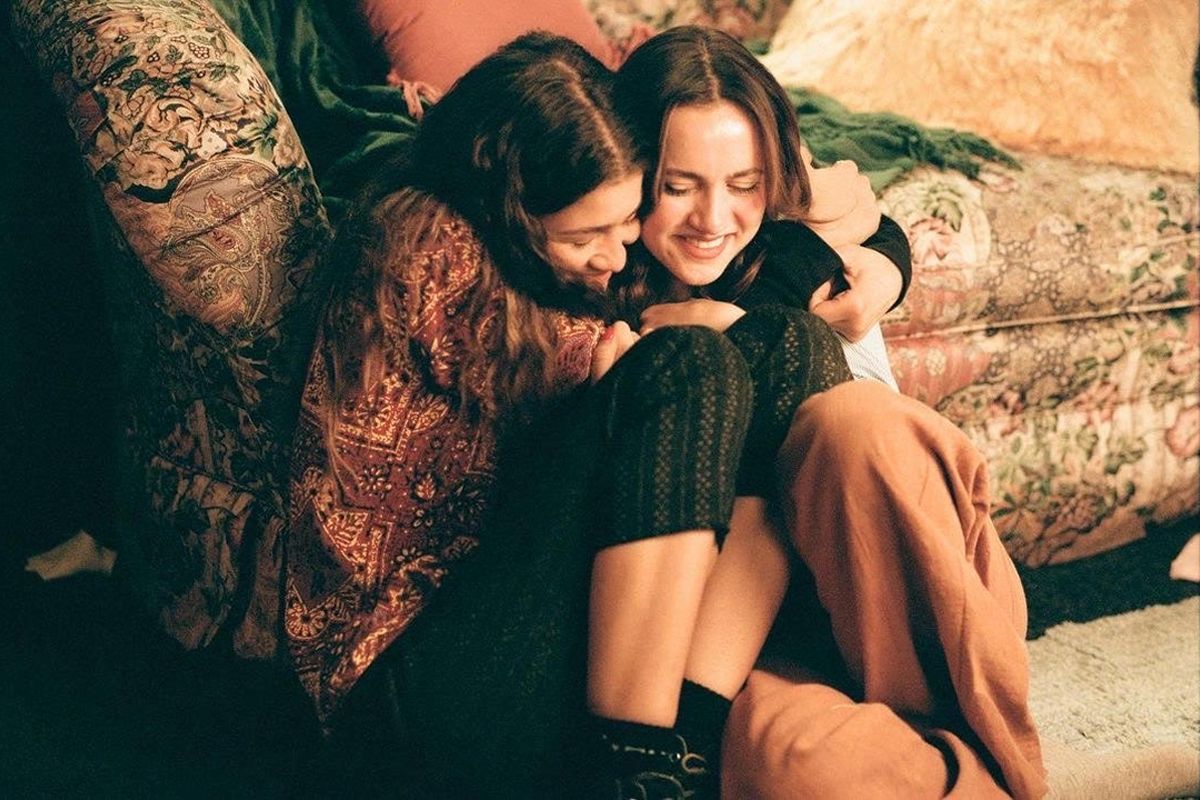 Even though Euphoria's second season finale left us with many burning questions, I think it was perfect. Especially if the inevitable season three gives us the answers (is it 2024 yet?).
Below, a brief recap before we get into my take on the episode — spoilers follow.
Picking up after an emotionally heightened pre-finale, we witnessed Cassie (Sydney Sweeney) make a further fool of herself on stage at Lexi's (Maude Apatow) play, which later resulted in a reddened face and bloody nose beatdown from Maddy (Alexa Demie).
Of all the wild happenings from this eight-episode season, the finale was probably the least explosive aside from the S.W.A.T. raid at Fez's home.
Suited up in his best threads, Underrated style icon Fez (Angus Cloud, our latest FRONTPAGE interview) suffered a gunshot wound during the police bust and never made it to Lexi's show. We also endured the heartbreaking death of our beloved Ashtray (Javon Walton) during this scene (#RIPAsh).
There were a few faux buildups, like alluding to Nate (Jacob Elordi) possibly killing Cal (Eric Dane), but instead, he turned his dad into the police.
Then, there was Elliot (Dominic Fike)preparing to tell Rue (Zendaya) something following her intervention breakdown. You would think he would reveal he slept with Jules (Hunter Schafer) — no, instead, creator Sam Levinson allowed him to promote his musical career with an unnecessarily long song.
Zendaya and singer-songwriter Labrinth wrote it, so I guess it's acceptable (sort of).
There were plenty of good moments, some of which I hope last into the next season. Ultimately, Rue revealed she remained clean through the rest of the school year while also mending a few broken relationships, including her friendship with Lexi (Rue's encouraging "Lexi" chant during the play was peak friendship goals).
While they never verbally ended their friendship, it was clear that their flame of companionship fizzled out as the season progressed.
After locking eyes for the entire show, it looks like Jules and Rue's forced relationship has met its end — finally. In the episode, Jules tells Rue she still loves her but Rue responds by kissing her forehead and walking away.
Of course, how could I forget Lexi's epic play? Lexi received a standing ovation for "Our Life" (as she should), despite Cassie almost ruining the show and Lexi's willingness to carry on the performance.
Overall, I might say this season ended rather calmly — a little too calm, maybe?
Fans expressed disapproval of the season finale, as they had several lingering questions. And, to be fair, I do too.
I mean, how is Rue going to pay back Laurie's (Martha Kelly) $10,000? Will Nate and Cassie get back together? Did Fez die? What happened to Faye??
Still, it gives you something to look forward to in season three, even if it does premiere two years down the road in 2024 (not confirmed but all but inevitable). What's a streaming-era TV series without an anxiety-inducing finale, anyways?
Euphoria's second season finale was the quiet after the storm but nevertheless a preparation for the aftermath — a hushed cliffhanger, I would say.
And that has its own sense of worth. Not everything has to wrap up in a pretty little bow or edge-of-your-seat twist; sometimes the journey is its own destination. Watching characters live (and life happening to them) is part of the show's beauty, even when it gets ugly.
The pain of Euphoria is pleasure. Yes, season two left me begging for more but isn't that just like Euphoria, to leave you craving another emotional high?
Maddy's last words to a now-single Cassie pretty much sums up the vibe: "This is only the beginning."