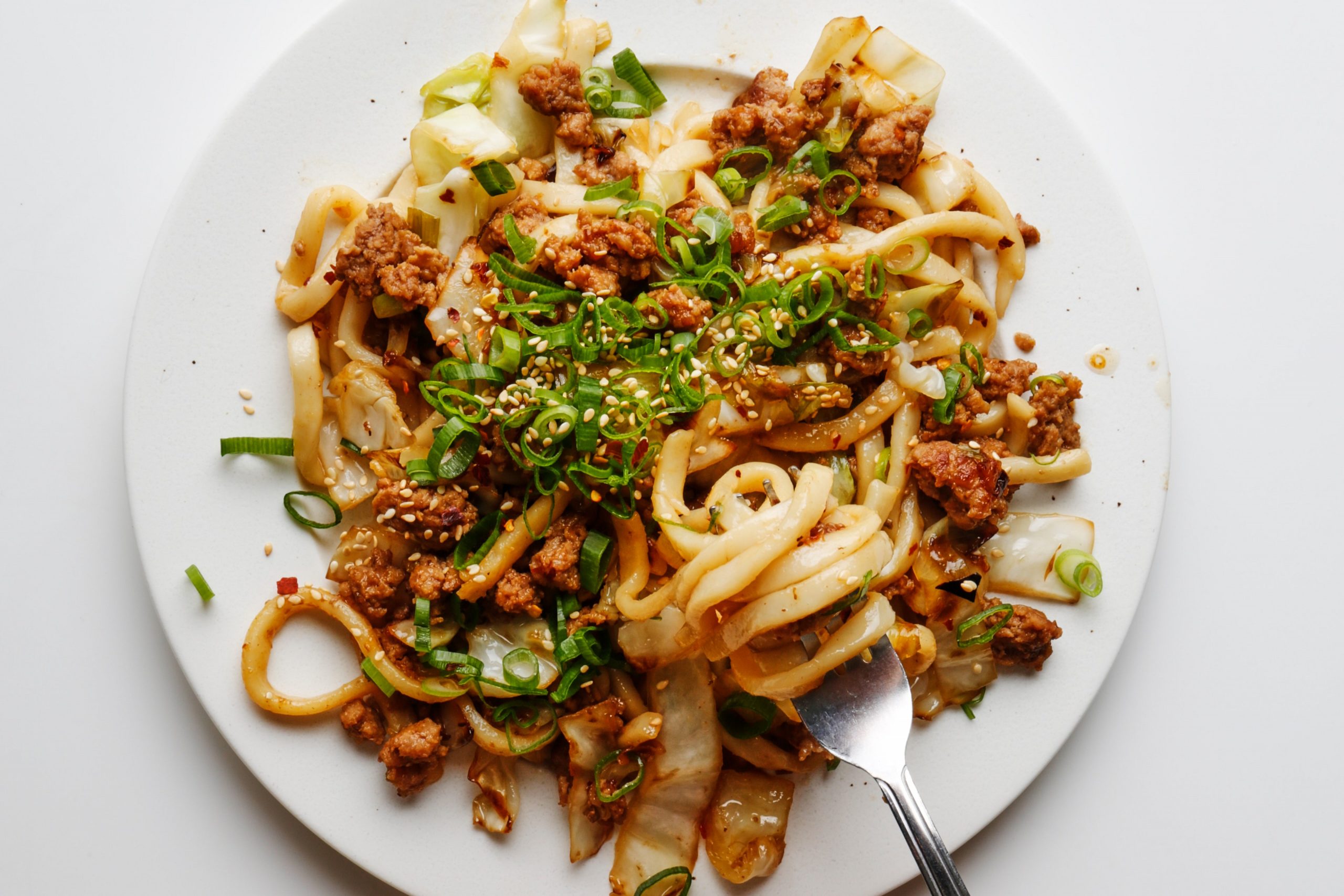 With chewy noodles, well-browned ground pork, and crunchy cabbage, this take on yaki udon (stir-fried udon noodles) gets its flavor from an umami-rich punch of soy sauce and mirin, a sweet Japanese rice wine. (You might recognize the combination from teriyaki recipes.) It also has green onions for a fresh bite and a drizzle of sesame oil for nutty depth. You can easily make it vegetarian: Simply omit the pork and sub in 8 oz. shiitake or crimini mushrooms instead.
If you don't have mirin in your pantry already, it's easily found in many larger grocery stores, East Asian markets, and online. Some brands may be labeled "aji-mirin." This common product is an imitation of true mirin (the name translates to "tastes like mirin"). Whatever you find will be delicious in this recipe, but if you spot hon-mirin (a.k.a. true mirin, which is quite a bit more expensive) it makes the dish even more special.
This is a weeknight-ready, quick-fire udon noodle recipe, so prepping your ingredients before you start cooking is a smart move. See the step-by-step instructions here.
If you want to serve with a vegetable side, a plate of greens like bok choy or yu choy pairs well. For more udon recipes, check out the boxy noodles in a buttery tomato and soy broth or tossed with kimchi, gochujang, and butter.
Editor's note: This recipe was originally published in March 2017.
Ingredients
4 servings
2
tablespoons vegetable oil, divided
4
cups very coarsely chopped green cabbage (from about ¼ medium head)
2
7-ounce packages instant udon noodles, flavor packets discarded
2
teaspoons toasted sesame oil
8
ounces ground pork
5
scallions, white and pale-green parts coarsely chopped, dark-green parts thinly sliced
2
teaspoons finely grated fresh ginger (from a 1-inch knob)
1
teaspoon crushed red pepper flakes
⅓
cup mirin
⅓
cup soy sauce
1
tablespoon toasted sesame seeds, plus more for serving