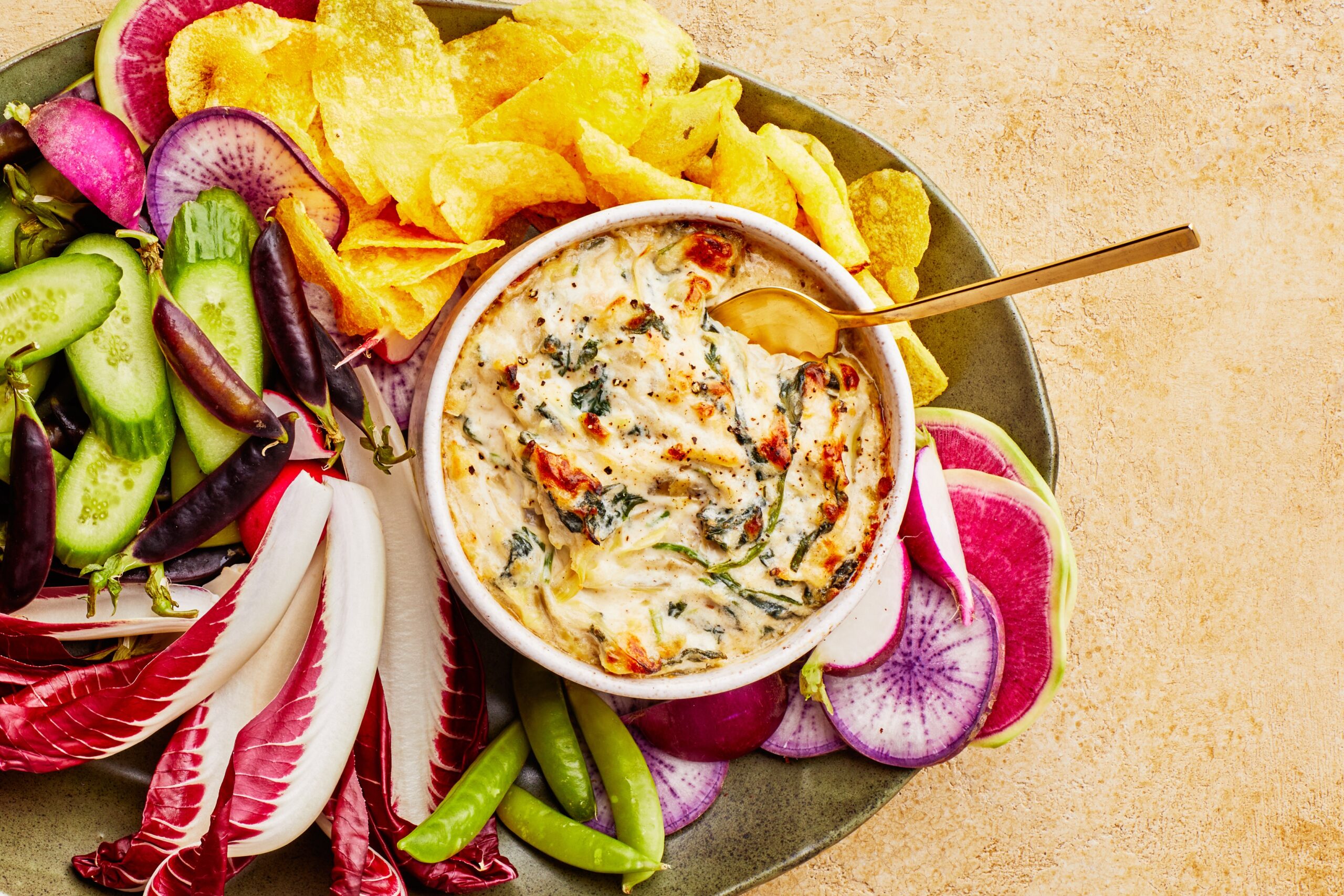 If you limit your spinach artichoke dip consumption to the appetizer spread on Super Bowl Sunday, you are missing out. Simple to make, supremely creamy, lightly cheesy, and with just the right amount of greenery, this recipe is just right for snacking all year round.
The veggies here are straightforward (no surprises here: They're in the title!) and easy to work with. Artichoke hearts from the freezer aisle are the rare exception to the rule "fresh is best." They save time—and the trouble of cleaning the prickly bits from the hearts. If you want to follow suit with frozen spinach, we won't tell, but we do find that opting for fresh spinach and blanching it yourself leads to a fresher-tasting dip. Either way, squeeze out as much liquid from the greens as possible. Adding them while they're still wet can upset the creamy harmony of the Parmesan cheese, cream cheese, sour cream, and mayonnaise.
A note on serving: While this spinach artichoke dip recipe is intended to be served hot, not room temperature, make sure to let it cool for a few minutes before serving so it can set (and, let's be honest, so no one burns the roof of their mouth). As for the ideal dipping vehicle, it's highly subjective, but tortilla chips and pita chips offer a sturdy, crunchy base, while toast from a loaf of crusty bread offers a bread bowl vibe without the mess.
Ingredients
6 Servings
1
bunch spinach, thick stems trimmed
Kosher salt
1
tablespoon vegetable oil
1
large shallot, finely chopped
1
garlic clove, finely grated
Freshly ground black pepper
4
ounces cream cheese
½
cup sour cream
½
cup mayonnaise
1
10-oz. package frozen artichoke hearts, thawed, chopped
¾
cup grated Parmesan
Crackers, chips, or toasted baguette (for serving)