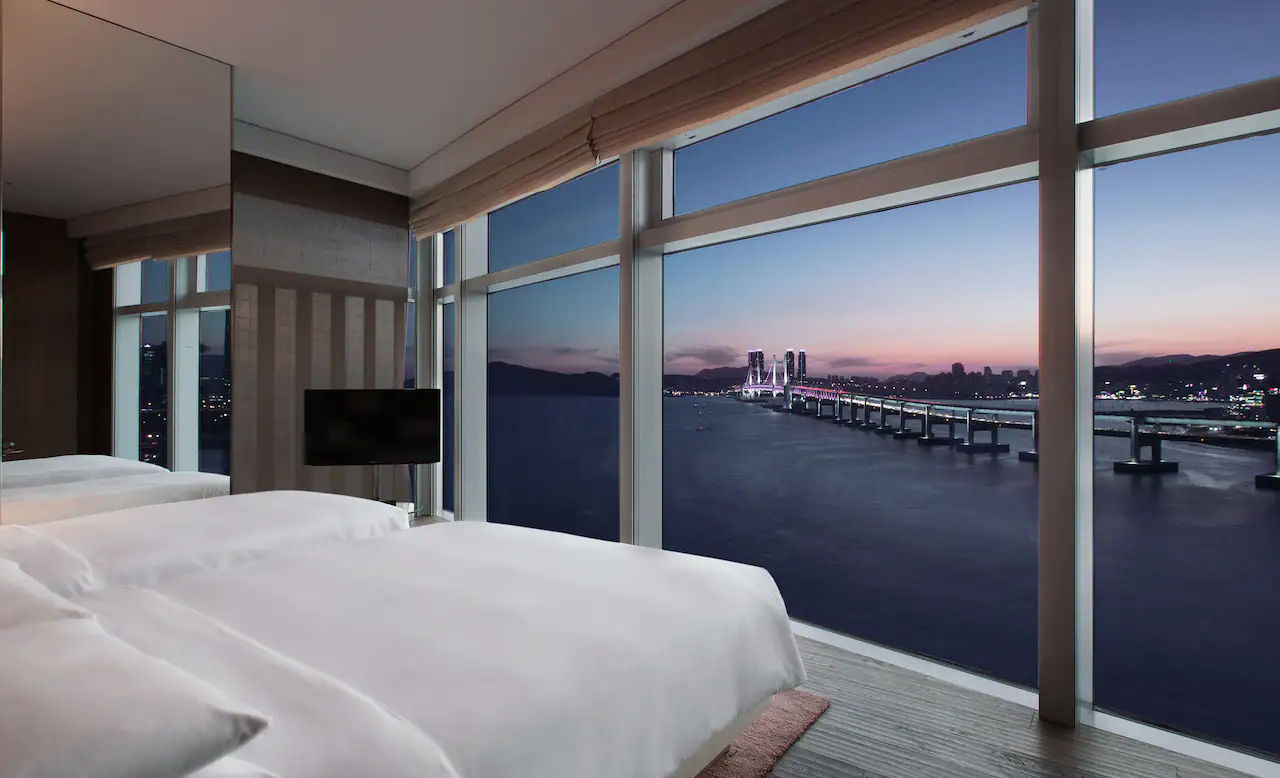 If you're looking to travel out of Seoul, there's no better place to start than Busan.
For starters, it's located at the southeastern tip of the Korean Peninsula, so you'll be sure to get quite a different scenery compared to the bustle of the capital city. The port city, famed for its incredibly fresh seafood and sprawling beaches, is the perfect destination for a summer affair, so you can best bet we're spending time here during the warmer months of June to August.
After traversing through a stunning beachside temple (Haedong Yonggung Temple), feasting on some fresh seafood at Jagalchi Market and taking photos at Gamcheon Culture Village, it's time to rest your tired feet. Don't fret, we've got you covered.
To help you along your next trip to the second largest city of South Korea, we've put together a list of some of the best hotels in Busan here — all Instagram-worthy of course — that range from beach-side options to boutique locales in hipster neighbourhoods.
Here are the best hotels in Busan, South Korea to spend the night at:
(Hero and featured image credit: Park Hyatt Busan)
This story first appeared on Lifestyle Asia Singapore
Spend the night at the upscale Park Hyatt Busan, where you'll fall asleep with impressive views of the sea and the Gwangan Bridge. Each of the 269 rooms and suites come with expansive floor-to-ceiling windows, custom Le Labo products and rain showers for a relaxing start and end to your day. The luxury locale also boasts five distinct joints to wine and dine at, as well as yacht tours and bicycle rentals around the area — making it the perfect spot for both foodies and outdoor activity lovers alike.
Address
51 Marine City 1-ro, Haeundae-gu, Busan, South Korea
Website
Trust us when we say that you won't want to check out of Ananti Hilton Busan. The beachfront resort is located on the secluded stretch of Busan's coastline and in Ananti Cove, an area that's made up of private residences, shops, restaurants and of course, the exclusive hotel. Yes, this means you'll be able to visit a bookstore, grab a pint and head to a natural hot spring — all whilst still technically being in the vicinity of the hotel. Did we mention it's also home to the largest infinity pool by the ocean amongst all five-star hotels in Korea? As for the rooms, we suggest picking the executive room with the ocean view. Apart from perks like complimentary breakfast at the lounge and use of the hotel's sauna, you'll also be able to enjoy access to another pool for executive level rooms and above as well.
Address
268-32 Gijanghaean-ro, Gijang-gun, Busan, South Korea
Website
White marble rooms and Instagrammable spots are just two of Gwanganli Hotel 1's biggest draws. Here, you'll be required to slide off your shoes and store them into a locker, before checking-in barefoot on the marble-tiled floors. Three tiers of rooms are available: 1) capsule-like spaces with single beds or bunks, 2) cosy couple rooms, and 3) the "mansion" option with better views and a lot more space. The hotel, while not the roomiest in terms of size, comes with just about everything you need, plus, you'll be rewarded with stunning views of Gwangalli Beach too.
Address
203 Gwanganhaebyeon-ro, Suyeong-gu, Busan, South Korea
Website
Luxury-hotel seekers should also consider Signiel Busan when heading to the port city. The lavish locale comes with a total of 260 rooms, each of which gives you access to a custom pillow service, something we've learnt to greatly appreciate for good night's rest. Other highlights here include a gorgeous infinity pool that looks out to Haeundae beach and Gwangandaegyo Bridge. The menus at the Lounge and the Pastry Salon are just as noteworthy. The pastries here are crafted in collaboration with three Michelin-starred chef Bruno Menard, and the food at Cantonese restaurant Chaoran, is also consulted by Lee Che Liang, an executive chef at a Michelin-starred restaurant in the U.K.
Address
30 Dalmaji-gil, Haeundae-gu, Busan, South Korea
Website
If you need a break from the ocean, we've got you covered too. Lotte Hotel Busan, located in the young, trendy and nightlife-frenzied neighbourhood of Seomyeon, might be right up your alley. The luxe spot is set to impress with a grand total of 650 rooms, complete with an indoor and outdoor pool, a casino, duty-free shops, a golf driving range as well as a good mix of six dining establishments. Be right back, we're checking in pronto.
Address
772 Gaya-daero, Bujeon-dong, Busanjin-gu, Busan, South Korea
Website
Boutique locale Arban Hotel is famed for its prime location: it's only short three minute walk from Seomyeon Station. The 13-storey building is fitted with 94 stylish and comfortable guest rooms and suites, but the highlight of the hotel has to be the airy rooftop garden that guests can look out to whilst having breakfast at the Lounge. Need more dining options? Don't fret. You'll find a ton of cafes and restaurants around the area that'll satisfy every craving.
Address
32 Jungang-daero 691beon-gil, Busanjin-gu, Busan, South Korea
Website
The post Six most beautiful hotels in Busan, South Korea appeared first on Prestige Online – Singapore.