SINGAPORE: Singapore reported 3,637 new COVID-19 cases as of noon on Friday (Oct 22) and 14 more deaths from complications due to the virus.
The fatalities are seven men and seven women. They include a 41-year-old person who was vaccinated against COVID-19, but was immunocompromised and had severe underlying lung disease, said the Ministry of Health (MOH).
The other 13 people who died were aged between 59 and 97 years. Seven of them were unvaccinated, one was partially vaccinated and five were fully vaccinated. All of them had various underlying medical conditions. MOH did not specify what these conditions were.
This brings Singapore's death toll from the coronavirus to 294.
The number of new cases is an increase from the 3,439 new cases reported on Thursday.
Among them, 3,631 infections are locally transmitted, comprising 3,039 in the community and 592 in migrant workers' dormitories.
Six are imported cases, MOH said in its daily update released to media at about 10.45pm.
As of Friday, Singapore has reported a total of 165,663 COVID-19 cases since the start of the pandemic.
HOSPITALISATIONS AND HOME RECOVERY
Among all COVID-19 community cases that have been onboarded or admitted, 17,766 patients, or 71.2 per cent, are undergoing home recovery.
Another 4,645 are in community care facilities and 921 in COVID-19 treatment facilities.
The remaining 1,609 patients are warded in hospital, mostly for observation, said MOH. Of these, 338 patients need oxygen supplementation and 57 are in intensive care, fewer than the 61 in intensive care on Thursday.
Over the last 28 days, out of 80,970 infected people, 1 per cent needed oxygen supplementation and 0.1 per cent were in intensive care.
Among those who needed oxygen supplementation or intensive care, 46.7 per cent were fully vaccinated and 53.3 per cent were unvaccinated or partially vaccinated.
ACTIVE CLUSTERS
MOH said it was "closely monitoring" five active clusters including AWWA Community Home for Senior Citizens, which doubled in size with 22 new cases identified on Friday. The cluster now has 44 infections, all of whom are residents.
The cluster at Bukit Batok Home for the Aged grew to 129 cases after adding 20 more. Except for four staff members, all the cases are residents.
Banyang Home at Pelangi Village, a welfare home for the destitute, added 10 new infections to reach 52. All but one of the cases are residents.
PCF Sparkletots at Zhenghua added two more cases. Twelve of the pre-school cluster's 19 cases are students, with the rest comprising staff members and household contacts.
The cluster at MWS Christalite Methodist Home also added three cases to reach a total of 121, a majority of them residents.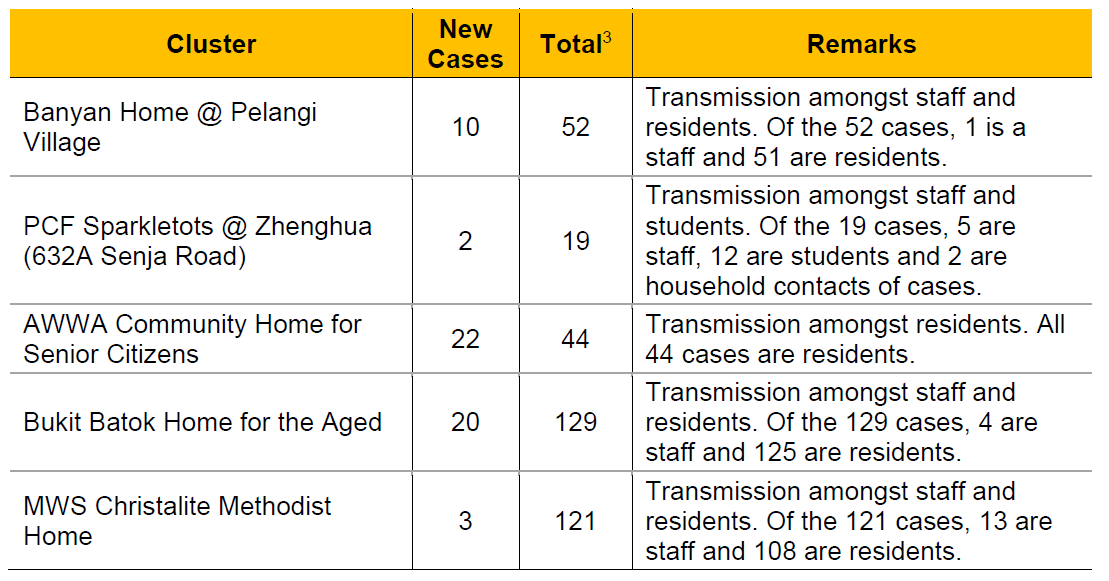 TRAVEL ARRANGEMENT WITH AUSTRALIA
Singapore and Australia could establish a new travel arrangement "within the next week or so", with the focus reportedly on allowing vaccinated students and business travellers to benefit before opening up to tourists.
Australian Prime Minister Scott Morrison said on Friday both countries are in the "final stages" of talks on the arrangement. Singapore Prime Minister Lee Hsien Loong said he looked forward to "resuming close connectivity" between the two countries.
The latest announcement comes in the same week that Singapore opened up its borders further by launching new vaccinated travel lanes with eight countries.