WASHINGTON: Prime Minister Lee Hsien Loong met United States Defence Secretary Lloyd Austin at the Pentagon on Monday (Mar 28), where they reaffirmed "strong" bilateral defence ties and acknowledged Singapore's status as a major security cooperation partner of the US.
They also discussed expanding defence cooperation in areas such as cyber, artificial intelligence and joint training, as well as agreed on the importance of sustained engagement by the US in the region.
Mr Lee and Mr Austin also exchanged views on international and regional developments, including the ongoing crisis in Ukraine.
The Prime Minister is in the US for a seven-day working visit, his first under the Biden administration.
Mr Lee arrived at the Pentagon on Monday afternoon where he was received by Mr Austin and US military honour guards.
In remarks delivered at the start of the meeting, Mr Lee said in the face of tough global challenges over the years, both countries have continued to work closely together.
"Throughout the COVID-19 pandemic, our air and naval bases, as well as our ports remained open to port calls, transits, maintenance and repair operations," he said.
"When the conflict in Ukraine broke out, Singapore took a strong stand on principles, because for us, the principle that sovereignty, territorial integrity and national borders should not be violated in contravention of the UN Charter, is fundamental and existential."
Singapore has imposed sanctions on Russia in response to its invasion of Ukraine by targeting several banks and goods that can be "directly used as weapons to inflict harm on or to subjugate the Ukrainians", as well as items that can contribute to offensive cyber operations.
Mr Lee, who was accompanied by Communications and Information Minister Josephine Teo, Foreign Affairs Minister Vivian Balakrishnan and Trade and Industry Minister Gan Kim Yong at the meeting, said: "It is important for us to continue to work together to jointly face these challenges and future ones to come." 
Mr Austin, who visited Singapore last July as part of his introductory tour of Southeast Asia, said at the start of the meeting that the relationship between the militaries of both countries is "stronger than ever".
Several steps have been taken over the past year to deepen the partnership, such as expanding training opportunities and boosting cybersecurity cooperation.
"We deeply appreciate Singapore's strong statements and actions opposing Russia's invasion of Ukraine. (Russian president Vladimir) Putin has greatly underestimated the world resolve to impose costs on Russia for its unprovoked aggression," he added.
Earlier on Monday morning, Mr Lee met US Treasury Secretary Janet Yellen at the Four Seasons hotel in Washington.
Both welcomed the growing economic and financial cooperation between Singapore and the US bilaterally and internationally, including the US-Singapore Climate Partnership and sustainable finance.
They exchanged views on domestic responses to pandemic recovery, and regional and international issues including the developments in Ukraine. They also discussed cooperation at international forums to deal with emerging challenges affecting the global financial system, according to the Prime Minister's press secretary Chang Li Lin.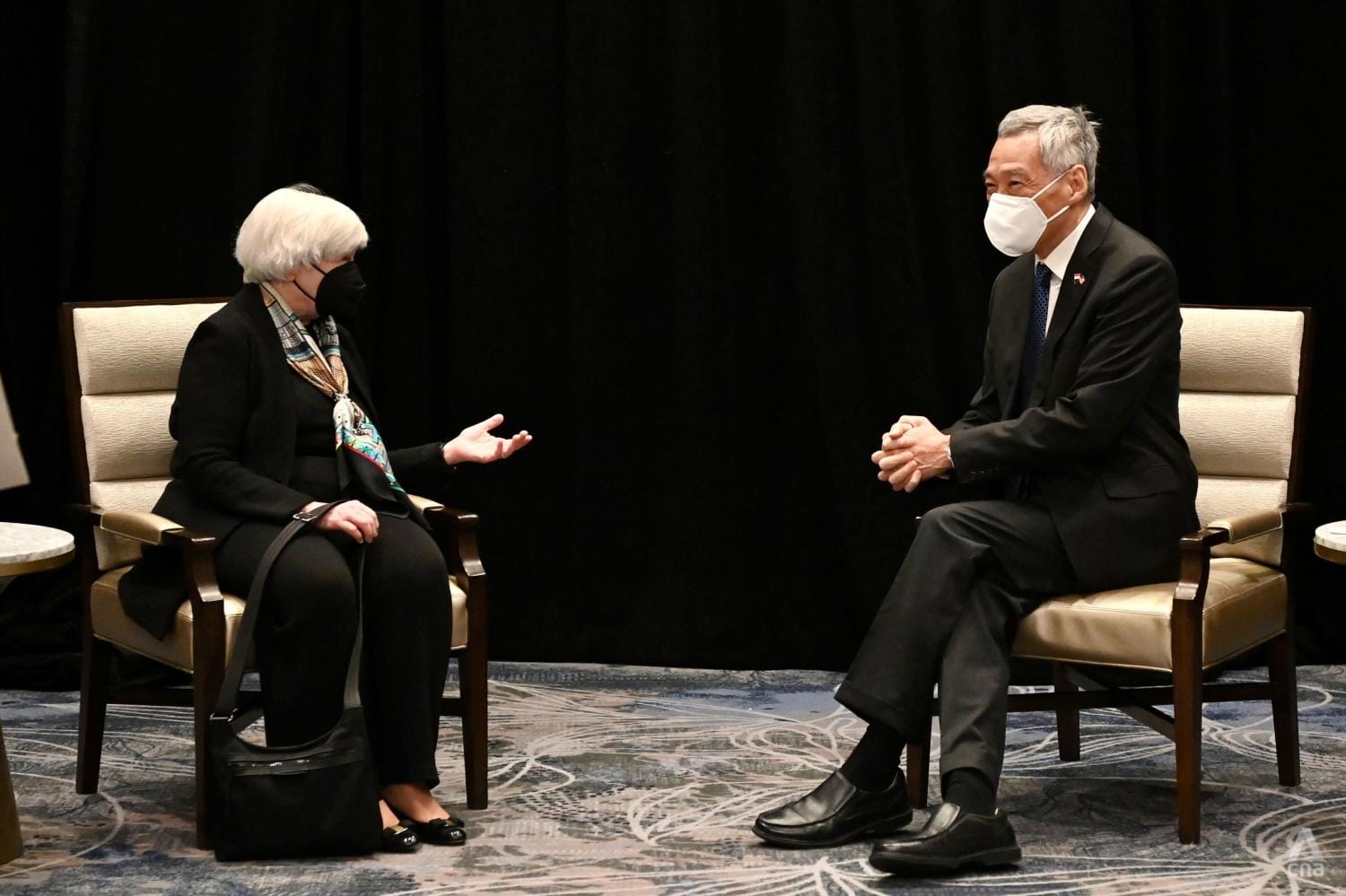 Singapore also signed the Artemis Accords on Monday, becoming the 18th nation and first Southeast Asian country to join the US-led international pact that aims to promote the peaceful, sustainable and beneficial use of space for all of humankind.
While in Washington, Mr Lee will also meet US President Joe Biden, Vice-President Kamala Harris and other senior US officials, as well as participate in a think-tank dialogue.
He will travel to New York later in the week, where he will meet United Nations secretary-general Antonio Guterres and leaders in the financial sector.