Trust us, you'd want to carry it around with you anywhere you go.
There have been so many stalwart silhouettes from Fendi over the years. Ones that endure as classics. The Peekaboo. Others revived as favourites. The Baguette. Fendi's latest release is a refreshing welcome — a brand new, never-before-seen silhouette! It's small and mini, yes, but also entirely practical.
Introducing: The Moonlight bag.
If you weren't able to decipher from its moniker, The Moonlight is a crescent, half-moon silhouette with details that tie back to the Sunshine Shopper released last year. It's not entirely related, however, the Moonlight is a dedication to distinct, time-honoured codes collated into one small silhouette. A tactile reinterpretation of House of Fendi, if you will. And while the Sunshine was a logo-brandished, see-and-be-seen statement, the new Moonlight is anything but. A clean and complicated character, the Moonlight is, instead, one created for those in-the-know, tinkered with details that only staunch followers will spot.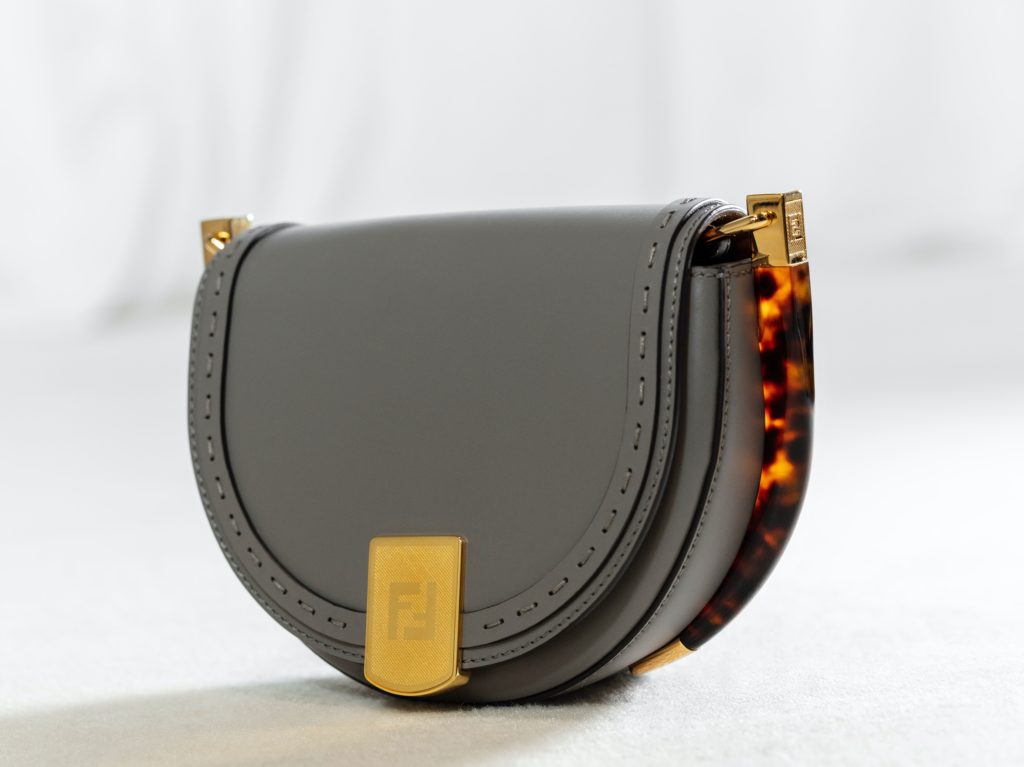 In what ways, you may wonder: The tone-on-tone threads that dart along the front flap? A hand-stitching technique, Selleria, central to the brand's veritable craft — most noticeable upon the Peekaboo. The plexiglass tortoiseshell-effect bands that jut out along the bottom curve? Not unlike the top handles of the Sunshine shopper; from its cuboid shape down to the gold 'FF' monogram hardware that links the buckles to the shoulder strap.
And before you assume this is one entirely of subtlety, the front flap flips open to reveal the enlarged, hot-stamped logo. Classic. The are details are ones that whispers, revelled in exclusivity and known only to its wearer.
The Moonlight is undeniably a timeless silhouette. An accessory that's fit for the humdrum of everyday errands to vivacious evenings out. The roomy interior will comfortably fit all your essentials, too. One that yearns to be of purpose, Fendi calls it a "compact satchel", the Moonlight is fitted with an adjustable shoulder strap for easy three-way wear: A crossbody, a shoulder bag, or a casual top-handle clutch. It's easy-to-wear quality will be evident as you sling it over your shoulder. We're sure of it.
The Fendi Moonlight currently retails at HK$15,800 in six different shades and can be purchased online or at any Fendi boutiques in the city. 
All images courtesy of Fendi via Daniele La Malfa
The post Shop Fendi's new Moonlight bag first spotted on the Spring/Summer 2021 runway appeared first on Lifestyle Asia Hong Kong.