Andreana Tay knows her 18-year-old sister will be her lifelong responsibility. This has affected everything, from her career choice to her dating life. But with great challenges comes great sibling love.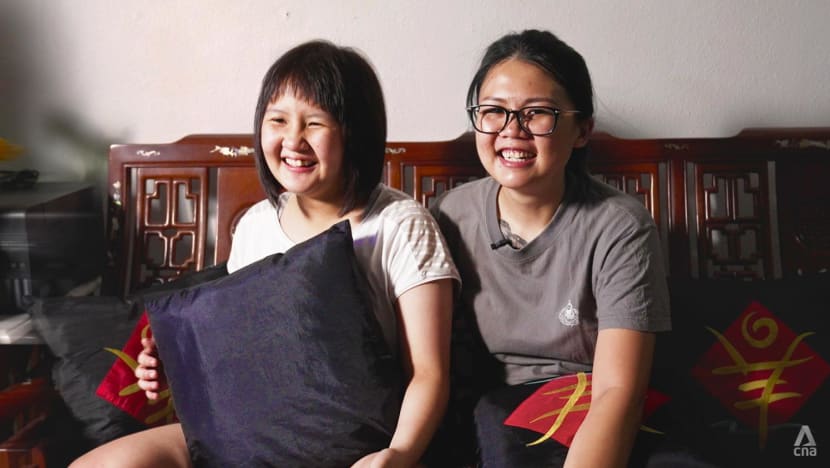 SINGAPORE: Whenever 27-year-old Andreana Tay meets a potential date, she expects to hear a disparaging comment about her sister. Eight times out of 10, she is proven right.
Audrey is nine years younger and was diagnosed with autism at the age of two. She is non-verbal and also has global developmental delay.
Andreana has not shied away from bringing it up on first dates. As the eldest child — she also has a brother, 24 — she accepts that when her parents die, she will have to take care of Audrey for life. But she knows it can be a deal-breaker for many men.
"I don't want to waste their time," she says. "I don't want them to waste mine either."
One man told her: "I can see a future with you, but I can't see one with you and your sister." Another referred to her sister as a "burden" and suggested that she should have been aborted, while yet another asked if she would consider sending Audrey to a home.
"Initially, I feel like shit, not because of my sister, but because people don't understand (the responsibility)," she said. She accepts it and moves on.
"Even if I defend (myself), nothing can change."
Her peers may be climbing the career ladder, looking for a life partner or already starting a family. But for her, never mind marriage or her own future — all she wants is to provide Audrey with the best possible life she can give her.
NOT A NORMAL CHILDHOOD
Andreana had made plans for Audrey even before her sister's birth.
As a child, she was "so happy" to hear that she was going to have a baby sister. She recalls with a smile how she planned to doll Audrey up, pamper her and take her shopping when she was older.
But when Audrey was two, the family realised she was not speaking. She was making repetitive movements and would hurt herself at times. She was taken to hospital for various tests, which resulted in the diagnosis.
Andreana still remembers the moment when her mother told her about it. "The first thing that came into my head was, 'Huh, then?' she recounts.
The implications were not yet obvious to pre-teen Andreana. In her mind's eye, she says, the diagnosis changed nothing.
But she would soon struggle. Her parents were busy running a 24-hour eatery, and it fell to her to look after Audrey. Little more than a child herself, she found it difficult to read Audrey's cues, a task made even harder because Audrey could not express her emotions or needs.
"Her only expression was to cry," recalls Andreana. "Why was she crying? I gave her milk, I changed her diapers … I really didn't know why she was still like that. I didn't understand this kind of thing."
Her childhood was not a normal one, she says, because "most of the time, it was just me taking care of my siblings". She remembers having to decline whenever friends called her to the playground or to hang out.
Did she resent it? "Honest answer — yes," she replies.
"I hated it. Why must I take care of someone else when I was only at this young age? But I guess (the resentment) stopped when I realised she was like that not because she wanted this to happen."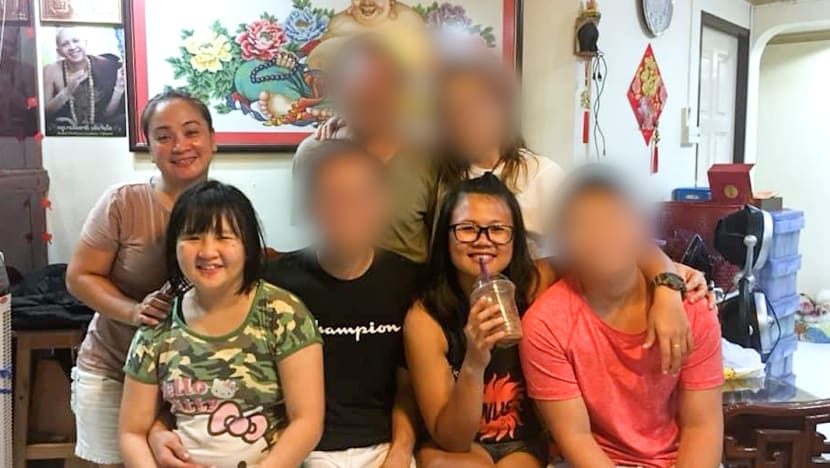 Andreana does not blame her parents either. "They had no choice," she says. "They had to go out there to earn money to take care of us … at the expense of the bond they'd have with their children."
Besides, she adds, she realised she felt a sense of protectiveness towards her sister, like when people stared or pointed at Audrey when they were out together or when Audrey had meltdowns in public.
While Andreana had no idea how to react to such passers-by at the time, she does now — she will speak up for Audrey. "She's autistic, so what? You want her autograph?" she cites as an example.
FIRST A SACRIFICE, THEN A BIGGER WORRY
Taking care of her sister, however, is not the only life Andreana has known.
When her schoolwork was piling up at secondary school, the family got a helper, Auntie Jo, or Kakak as she is affectionately known.
Kakak took over the caregiving responsibilities, which allowed Andreana the freedom to "focus on everything (she) wanted to do": Her studies, overseas trips and even crochet as a new hobby.
After graduating, she joined the Navy — signing on for an initial four years — and was away from home most days. She saw Audrey at weekends or during her days off and loved her sister no less than before. But she felt a growing distance between the two of them.
"I realised that Kakak could immediately tell what she wanted, and I didn't," recalls Andreana. "That was when I realised … oh, I'm not that close to her any more, I need to get to know her better."
In January last year, a year after she had completed her bond, she left the Navy.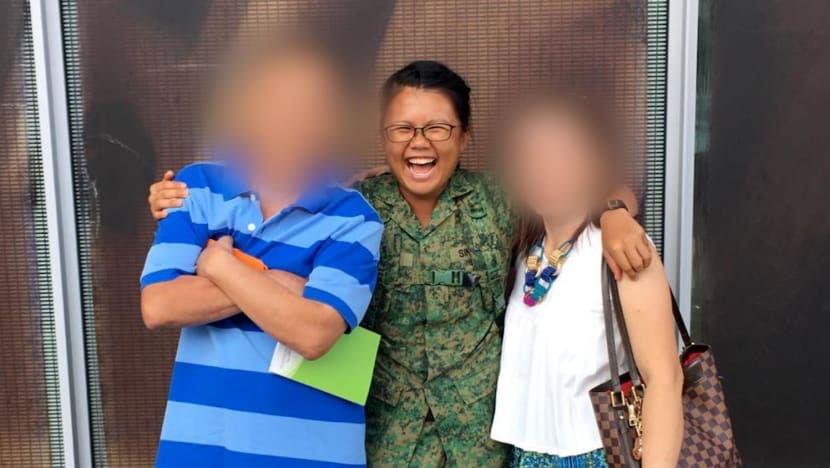 As far as she is concerned, the sacrifice has paid off. She is bursting with stories about Audrey, whom she refers to fondly as her baby.
There are Audrey's amusing reactions when Andreana buys her bubble tea or fast food; there is her knack of choosing Andreana's most expensive perfumes to spray all over herself; and there is the time she threw Andreana's SIM card out of the window.
As with any other pair of siblings, they have their share of squabbles, like when Andreana bought fast food for dinner, hid her sister's portion and ate her own in front of Audrey. Why? Because her sister had kicked her in the middle of the night in their shared bed.
Then there are other moments, like when Audrey pushes her hand into Andreana's to be close to her; or the way she gently touches Andreana's face when she wants to apologise for something she did.
"Now I know what she wants. Immediately," Andreana says with a laugh. "Which I feel quite proud (of)."
Andreana can read Audrey's mood, knows her favourite words and can instinctively tell what she wants when she approaches.
"It's a milestone for me," adds Andreana. "All these small things that my parents don't know (about her) … I can say, 'Yeah, she wants this' or 'Don't go and disturb her — she's okay'."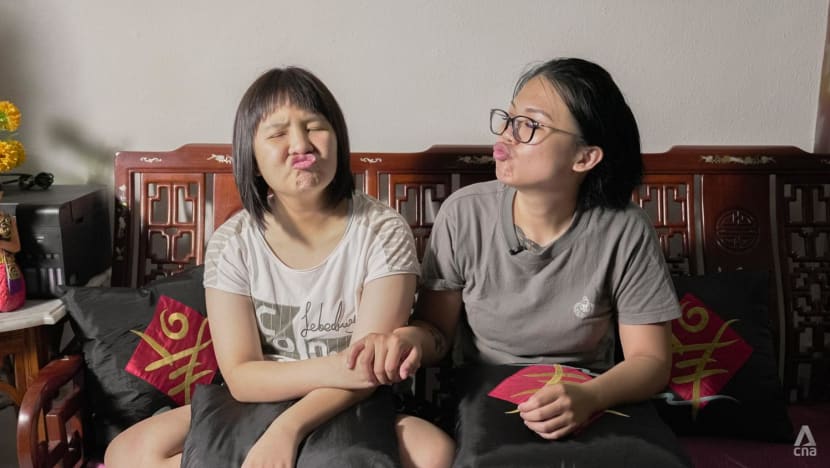 Andreana now works as a social media manager and only recently started going back to the office. Working from home, she says, really helped her to understand Audrey.
In that time, however, something else has been worrying her. Two years ago, her mother told her that Auntie Jo might want to return to the Philippines. That was when Andreana realised that Audrey would be her responsibility for the rest of her life.
"It made me feel a bit … useless," she says. "I don't have the ability to take care of both of us finance-wise."
She has tried to buy critical illness and hospital insurance for Audrey but was unable to from the agents she approached.
"What if Audrey were to go into hospital? How can I pay the bills?" she says. "I know my brother will help, but will he be able to come up with the money?"
A quick guide to insurance for people with autism
Under Singapore's national insurance schemes, there is no difference in cover between persons with autism and those without, according to the Life Insurance Association Singapore (LIA).
MediShield Life provides basic health coverage for life for all Singapore residents, regardless of pre-existing conditions.
CareShield Life, which provides basic financial support in the event of severe disability, covers all residents born in 1980 or later. Older cohorts can join if they are not severely disabled.
Private insurance provides optional cover on top of the national insurance schemes.
In response to CNA Insider's queries, the LIA said each insurance application will be assessed based on the individual's merits and medical profile.
"Life insurers are committed to assessing each application," said executive director Lee Swee Kiang. "The principles and practices adopted by life insurers … are applied to all applications regardless of medical condition. All applications are subject to the same assessment process."
He added that agents should submit every insurance application for assessment and should not turn individuals away summarily.
In the case of a child with autism, assessing the long-term risk is difficult during the developmental years. Thus, a young person's application may have to be deferred until his or her condition stabilises and insurers can better assess the risk. This usually occurs during adulthood, said the LIA.
The association added that older applicants — for example, those aged 18 or above — who are high-functioning and independent, such as those who are gainfully employed, and who have no comorbidity can be accepted at the standard rate for life, critical illness, accident and health coverage.
Among private insurers, NTUC Income offers a policy called SpecialCare (Autism) for children and young adults with autism and for their parents or legal guardian. It covers medical expenses arising from accidents and infectious diseases.
Collapse Expand
This worry has consumed her so much, she says, that finding a life partner is not a priority. After ending a relationship recently — for reasons unrelated to Audrey, she adds — she started dating again, but her dating life is "challenging".
"I might just be single for life," she remarks. "And that's okay."
It used to stress her out, but she is more relaxed about it now. "Whatever, lah," she says. "If it comes, it comes.
"What's more important to me right now is to figure out how to take care of my sister, my mum and dad and myself."
WATCH: I only date guys who accept my autistic sister: 27-year-old caregiver (8:02)
AN AUTISTIC INFLUENCER?
Hope for the future has recently come from an unusual source.
One afternoon, Andreana was enjoying some sweet potato fries when she noticed Audrey eyeing her food. Without thinking too much, she took her phone and filmed her sister's reaction. She later posted the video on social media platform TikTok.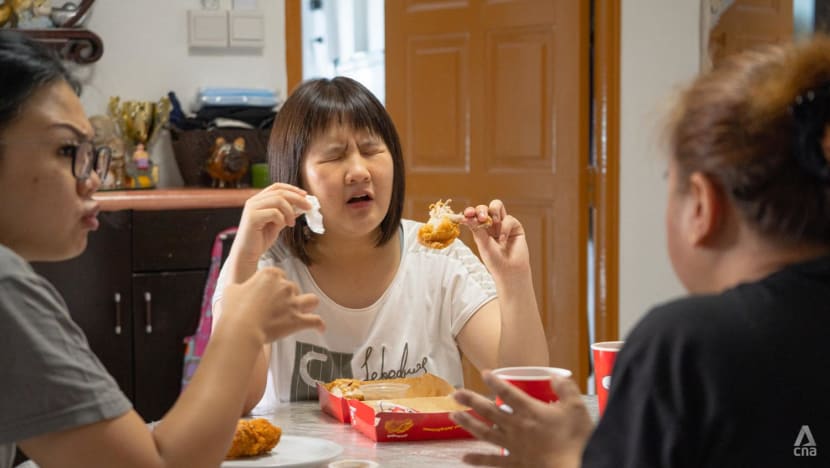 "I just wanted to show how both of us interact and how she asks for food," says Andreana. "Also, that she's just so cute."
To her surprise, that video in February attracted more than seven million views. It turned out that people adored Audrey.
"I was very shocked," says Andreana. "I was honestly quite scared to open the comments section because I didn't know how people would react … but thank God when I did, there weren't many hate comments."
Many people commented on how cute Audrey was, while other carers of people with autism shared their own experiences.
It encouraged Andreana to continue posting. Her account, @andreanaanna, has videos of Audrey's daily life, from her reaction to getting bubble tea to doing taste tests of different food items.
"Maybe I'm a bit too ambitious, but it'd be nice to have an autistic influencer in Singapore … the very first one," says Andreana.
"Whenever you think of the word 'influencer', you always picture them as super beautiful, picture-perfect, having high tea all the time … But if we show another part of life that no one would expect of an influencer, I think it'd be an interesting concept."
She wants to "show the world that autism isn't bad". "I don't know why people keep thinking the word 'autistic' is bad," says Andreana. "You'd only think it's bad if you use it in a bad way.
"She's autistic, she has autism, there's nothing to be ashamed of, you know what I mean?"
Andreana also realises that having a presence on TikTok might open doors for Audrey. They already have collaborations with several local businesses, and bubble tea brand Gong Cha also sent them free drinks.
"It was very heart-warming because I didn't expect this to happen. And it was even more heart-warming when my sister took the bubble tea and she's like, 'Good, good, good,'" Andreana recounts.
"It was so genuine, and I can't explain how touching it was."
While she estimates that 90 per cent of the comments on their videos are positive, there are people who accuse her of exploiting her sister for views.
She has thought long and hard about this. "I understand where they're coming from," she says. "All I can say is that time will tell if I do exploit her."
She used to post "random stuff" of her own life on her account every day. But following the viral video, she says, she takes more time to curate posts about Audrey so as not to create stress for her.
"I definitely look at her situation," she adds. "I ask her, 'Are you okay?' If she's fine, she's happy, I'll post. If she's not, I don't post."
For this reason, she created a separate account on Instagram for her sister, @audreytayyulin. "I just film her daily life, what she's normally doing, that kind of thing," she says. "Instead of following me, go and follow her."
She is also setting up a small business, named Build with Audrey, for her sister to sort out Lego bricks for enthusiasts. This is a task she says can take up a lot of time.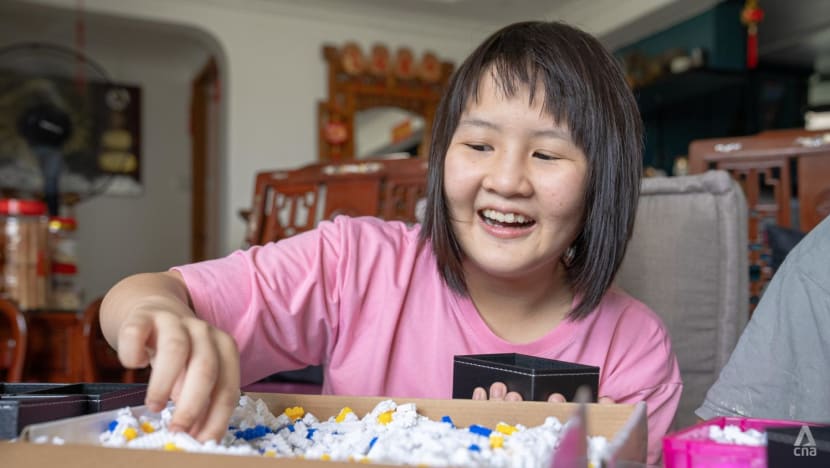 "It's a win-win situation because she loves to do this kind of thing," says Andreana. "We can help people who are lazy … and we can also help them build (Lego structures).
"She can work at home, and she's not going to be exposed to dangerous or weird people."
Today, Andreana is single-mindedly focused on earning and saving as much money as she can to support Audrey in the future. It is hard for her to see her own future without considering her sister's first.
Perhaps 10 years down the road, she imagines, she would have her own home, where she can live with her sister. With or without a partner, what matters to her is that Audrey is with her and is happy.
"I want to be able to take care of her first, then I can think about myself," she says.