There's a reason why Royal Salute has been called the 'King of Whisky'. 
Steeped in nobility and heritage befitting its royal lineage (it was first created to celebrate Queen Elizabeth II's coronation in 1953), the whisky has earned its rightful spot at the pinnacle. This year, the label continues its high bar with its latest addition: The Malts Blend.
As its first ever blended malt, the Royal Salute 21 Years Old The Malts Blend is a delicate marriage of 21 precious single malts, each aged for a minimum of 21 years from the five whisky regions of Scotland. 
The result is an indulgent and sophisticated expression, one that's bursting with fresh notes of orchard fruits like peaches and pears, and the creamy sweetness of vanilla and creme brulee on the palate. The incredibly long and smooth finish culminates with a subtle linger of spices, easily making this the one to elevate your nightcap with. 
Bottled within an intricately-crafted porcelain flagon glazed in emerald — a regal colour inspired by the precious stone set within the Imperial State Crown — the whisky is packaged in an equally charming box that opens from the front to reveal the brand's legacy and the Royal Menagerie with illustrations — courtesy of Icleandic artist Kristjana Williams. 
"Royal Salute has an esteemed history and we have worked hard to ensure this heritage has remained at the heart of the brand as something we are exceptionally proud of," said Mathieu Deslandes, Royal Salute Marketing Director.
"However, we also strive to ensure our portfolio is at the cutting-edge of Scotch whisky innovation and this latest creation is testament to this ambition. The Malts Blend is a whisky that has earned its title; it really is fit for royalty," he added.
The Time Series 52 Year Old Single Cask Finish 
One of Royal Salute's biggest successes lies in its aging process, especially since every spirit is aged 21 years or longer. The latest to join The Time Series however, is really old, even for the brand. 
After more than half a century of being laid to mature, this coveted whisky has finally emerged from its American oak barrel to reveal an unrivalled depth of flavour, thanks to a combination of only some of its oldest and most valuable whiskies aged 38 years old or older.
On the nose, the whisky is intensely fruity with juicy notes plums and toffee apples. A sip reveals flavours of orange marmalade, ginger and scented cloves, before culminating with delectable notes of liquorice.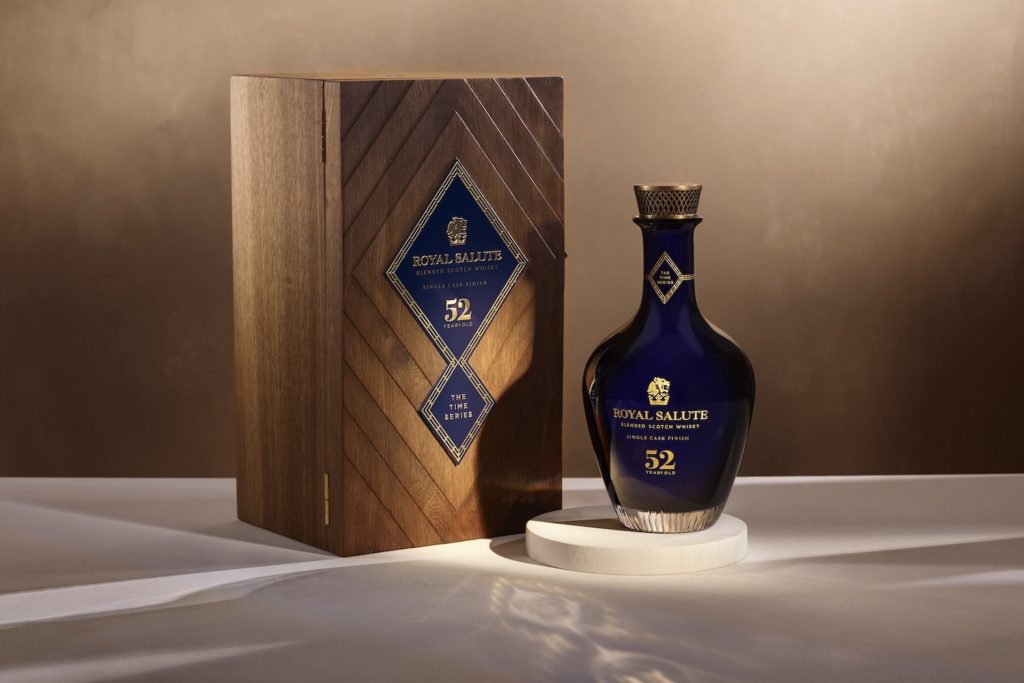 As a combination of some of its oldest and most valuable whiskies — aged 38 years old or older — this exceptional 52 Year Old blend is a masterclass in patience, and so is befittingly housed in a hand-blown Dartington Crystal decanter. Each numbered decanter sits pretty in a stunning box featuring five layers of wood, each representing a decade of the blend. 
Of the 106 bottles available worldwide, Singapore has two bottles of The Time Series 52 Year Old Single Cask Finish, one of which was auctioned during Pernod Ricard Singapore's 30th anniversary party early this year for charity. The last bottle will be exclusively available via the Pernod Ricard Singapore team for S$48,000, making it one of the most prized bottles your collection might ever see. 
The post Royal Salute's exceptional new whisky blends are the ultimate addition for your collection appeared first on Lifestyle Asia Singapore.