Read on for our full review of the Hoshun Experience menu in this new kaiseki and sushi omakase restaurant.
The biggest preconceived notion about having an omakase dinner is that everything you're going to be served is raw fish. That is incorrect. Omakase simply means that the customer leaves it up to chef to decide what will be served — it can be any type of Japanese cuisine, whether it's sushi, izakaya food, or even cocktails.
Yet, that's what Malaysians think of when referring to having an omakase dinner. Well, Hoshun is here to change your mind. Offering both kaiseki and sushi omakase, you get the best of both worlds: raw fish and cooked food, perfect for couples and groups of people who have differing tastebuds.
During my time at Hoshun recently, I had the privilege to try the restaurant's most extensive menu yet, comprising both sushi and kaiseki offerings. I'm here to let you know if it's worth it.
The ambience
Walk in and the first thing that greets you is the ceiling of hanging origami cranes. The owners of the restaurant have painstakingly folded each crane, and if you look closely, they're all visually leading you towards the "moon" — the circular mirror at the end of the bar. Naturally, this is the most popular spot for photo-taking opportunities.
Like most Japanese restaurants, Hoshun has a hushed and comfortable silence, designed for you to fully immerse yourself into the dining experience and heighten your tastebuds. The sushi counter is one of the largest we've seen in the Klang Valley — it takes up the entire main dining area, ensuring that everyone can enjoy the cooking theatrics of both chefs, whether it's grilling or slicing sashimi.
However, if you'd like more privacy, there are also two rooms within the restaurant that can be opened up to be one large private room, capable of accommodating more people.
During your time here, note the two exquisite art pieces by local artist Red Hong Yi. The biggest and most prominent one can be found in the main dining area, right behind the chefs: it's a depiction of the Sendai landscape, which is the hometown of both the sushi and kaiseki chefs. Upon closer look, you'll see that the landscape is actually made up of prints from cut out vegetables — we noticed lotus root and okra.
The other artwork can be found in the private room, depicting swimming fish. It's worth noting that Red actually painted ink on the fish itself and stamped it onto the paper — those scales you see are as real as it gets.
The Hoshun Experience
Spanning two pages long, the list of items we were going to have for the Hoshun Experience – a sushi kaiseki omakase dinner – was a daunting yet exciting one. Priced at RM988, the Hoshun Experience comprises five appetisers, clear soup, seasonal sashimi, a grilled dish, a steamed dish, Chef Tanaka's current special, one deep fried dish, one vinegar dish, one vinegar hand roll, a special seasonal seven-piece sushi or pot rice, soup, and dessert.
While the ingredients will differ each time depending on seasonal availability and freshness, you can see that the Hoshun Experience menu is fairly extensive — so come with an appetite.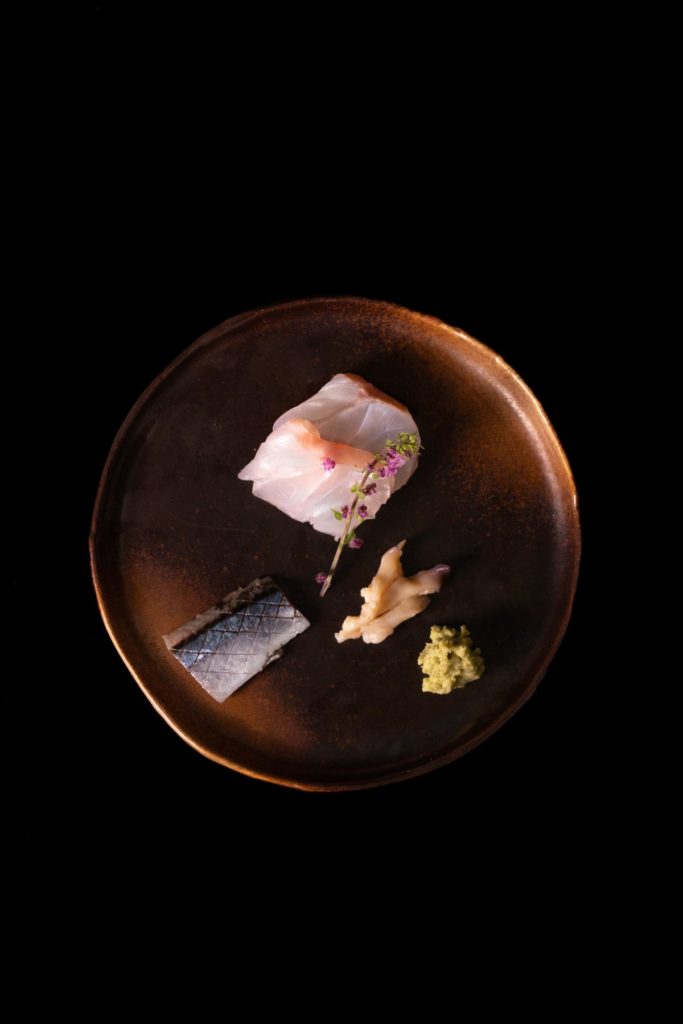 The kaiseki
Helming the kaiseki gastronomical journey is Chef Tanaka. For those not familiar, kaiseki is a traditional multi-course Japanese dinner with a distinct emphasis on taste, texture, and appearance. Unlike sushi omakase, kaiseki omakase will consist of cooked food, usually made with ingredients that are currently in season. The way to measure a kaiseki chef's skill is by how adept they are at preparing the ingredient in a manner that enhances its flavour.
Take our appetisers, for example. It was beautifully presented like an art piece featuring five elements of Tokushima tomatoes, oyster, octopus, fish, and cartilage with umeboshi. While the chef won't tell you which you need to have first, every appetiser was in harmony with each other.
Another standout kaiseki dish from the Hoshun Experience menu I had were the spring vegetables. This here is the true flex of Japanese cuisine: transforming something seemingly mediocre on paper into an explosive melody on the palate. How was something as simple as spring vegetables able to have so much flavour and depth? Each stalk was juicy and robust, down to the light dressing Chef Tanaka created to bring out the best in the seasonal vegetables' flavours.
The sushi
If it's decadence you want, then sushi Chef Hiro will give it to you. The sushi part of the Hoshun Experience has no shortage of fine cuts of fish, all executed with finesse by the acclaimed chef. From the creamy Botan Ebi (Botan shrimp) which was currently in season to Fire Baby Squid, Flounder, Monk Fish Liver, and even something as simple as Custard Egg Tamago, I was more than sated.
The drinks pairing
When it comes to the drinks, Hoshun doesn't fall short. Operations Director Wendy Loh goes through great lengths to ensure every bottle of wine and sake ordered into the restaurant is on par with the food they serve. At the start of the night, we were served a most excellent Shichiken Yamanokasumi, a sparkling sake with a clean and fragrant taste — the perfect aperitif. The Yamamoto Pure Black Junmai Ginjyo with its fresh and fruity flavour was also a great pairing with the grilled lobster we had, excellent to cut through the richness of the lobster and its crab roe sauce.
Perhaps unusual but not too bad of a combination was the Chateau de Tracy 2018 Pouilly-Fumé, a sauvignon blanc variety with citrusy notes that was paired with the sushi selection. It's light and sharp without overpowering the delicate sushi, making it a great option for those who may not necessarily like sake.
Verdict
The Japanese omakase experience is a fine thing that everyone should experience, even those who may not necessarily enjoy raw fish. For that, Hoshun is a great place to cater to both palates, offering omakase options for kaiseki dinners and sushi dinners. Other than the extravagant Hoshun Experience menu, the restaurant also has many other omakase menus to try.
The post Review: Hoshun offers top-notch expertise in kaiseki omakase dinners appeared first on Lifestyle Asia Kuala Lumpur.