There isn't any other dining affair that houses as many experience-driven folks as an exorbitant omakase dinner.
Sure, you can find yourself in a fancy steakhouse that'll just about settle your anniversary celebration, but there's no replacing a night behind a beautifully sanded bar, sipping on glasses of sake while a chef prepares each component of every dish in front of you.
Perhaps in part due to its generally higher prices, omakase joints often exude a sense of grandeur quicker than a belly-busting block of beef, accompanied by an air of mystery that follows its windowless spaces.
That element of discretion abides at Kappo Shunsui. Its previous space at Cuppage Plaza saw an unnamed opaque metallic door, with nothing but a fingerprint scanner and a single floral decor to mark its entrance. At its new home along the quiet HongKong street, the restaurant once again shrouds itself with no distinct signage and the iconic solitary flower, this time sans the exclusive biometric device.
Diners enter by pushing past the translucent black curtains and walk through a dim hallway before entering the intimate 13-seater dining hall. Chef Shimuta "Shim" Kunihiko, the last apprentice of the late Kyoto chef Hirata Tasaku, stands behind an island counter, with two kimono-clad hostesses by his side ready to serve you.
Unlike traditional omakase joints, a projector-camera hangs steadily above chef Shim's island counter, ready to capture every process in which he prepares and plates each dish. This is projected onto two digital screens shown in real-time throughout the dinner, so diners have a bird's eye view of the culinary action that unfolds before them.
While some might write this off as a theatrical gimmick, we couldn't help but disagree — given how the performance of the chef is what sets each omakase establishment apart from another, we felt it only appropriate to be privy to front-row seats throughout this three-hour live-action film.
The food
Dinner commences with a toast. Champagne flutes filled with KID Junmai Daiginjo Sparkling (the International Wine Challenge Sparkling Sake Trophy 2019 winner) is capped with an orange-flavoured smoke bubble for a dramatic inauguration.
Details don't escape the unassumingly simple dashi here: Chef Shim first soaks a binchotan in distilled water overnight, then leaves Hokkaido seaweed to soak in the water for another night. During dinner service, he uses a glass siphon, heated at a warm 75 degrees to coax the flavours of the seaweed and Kagoshima bonito flakes out with the salt water and sweet shoyu blend. The result? A whisper of smokiness as you lift the dainty cup to your mouth, which follows a mildly salted broth.
Our first bites were attributed to a savoury monaka, a move that is rarely seen in Japanese cuisine. Here dollops of Hokkaido Bafun uni and Russian Caviar rests gingerly on monkfish liver (specially prepared in place of Toyama white shrimp, of which we were allergic to) to create a creamy, crispy sandwich that whetted our appetites for the dishes to come.
Then came the Hassun (a seasonal platter), a trio of fried ice fish, sea bream roe with fried broad bean and tiger prawn with egg yolk and bamboo fish cake. Each element is garnished with a lightly salted sakura flower for a clean finish.
After a piquant mix of surf clam and firefly squid in shoyu jelly, we were treated to two types of sashimi that sat on stone-filled box. The dish is inspired by Chef Shim's former master Chef Hirata Tasaku's speciality (the late Chef-Owner of one Michelin-starred Kodaiji Kanjin) and shares the same presentation.
The top layer sees silvery slices of freshly cut halfbeak sashimi, a clean-tasting treat that paired well with a rectangle of chrysanthemum and sakura jelly. Peel back the paper and you'll find thin slices of red sea bream in between slivers of kombu.
Here, the Hokkaido kombu doesn't remove from the freshness of the sea bream, but instead lends a delightfully sweet and a little tacky texture to the otherwise mild-tasting fish.
In accordance with the balance of Japanese cuisine, a hearty seaweed soup with thickly cut bamboo shoots and abalone lays out a much-needed segue for the heartier dishes to come.
Next, Chef Shim skillfully tongs a smoking binchotan, searing a slab of golden-eyed snapper that caps the koshihikari rice before it's topped with a generous amount of uni. Pick up the hefty knob with a toasted sheet of seaweed and you'll be done in two quick bites. Uni tends to compete in taste, but this one served well to elevate the elegantly smokey snapper.  
And then comes the A5 Miyazaki beef, removed of excess fat and seasoned with a smattering of salt. After a grill by the counter, the room falls quiet in a dramatic flambe moment, which furnishes the air with a subtle caramel scent. The beef is then served with tangy sansho pepper sauce and dressed with a sprinkle of grated truffle rain by the table.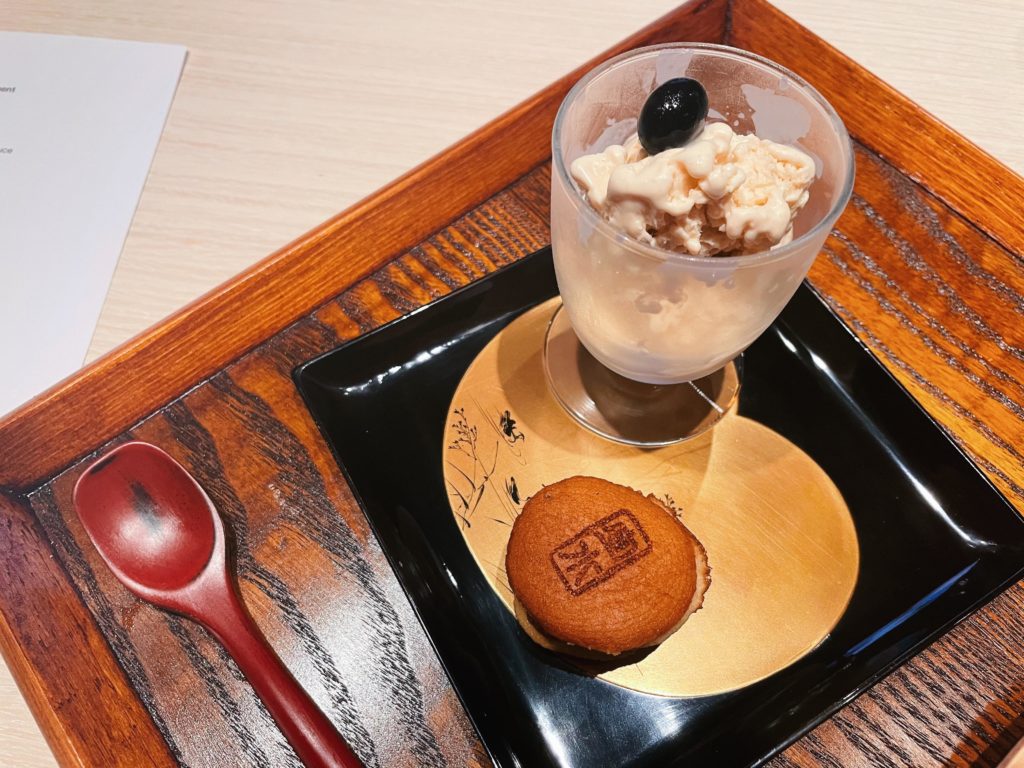 We were properly sated at this point, but we really couldn't pass up on some in-house desserts to round up dinner with. The first saw a seasonal strawberry from Tochigi prefecture smeared with red bean paste and homemade daifuku skin, paired with a comforting bowl of freshly prepared matcha on its side.
Perhaps in line with the theatrics of dinner, our last dessert witnessed Chef Shim turn down the lights to the room before he whipped up a cauldron of white sesame ice cream with an incantation of liquid nitrogen. The lightly sweet, nutty concoction came with an almost savoury edge, proving to the flawless end to remember the exquisite multi-sensory course by.
Kappo Shunsui is located at 17 HongKong Street, #01-01. It only has one dinner service daily, which will begin promptly at 7pm. Prices begin at S$380++ per guest.
All food images credited to Lifestyle Asia.
The post Review: A multi-sensory omakase meal awaits at Kappo Shunsui appeared first on Lifestyle Asia Singapore.