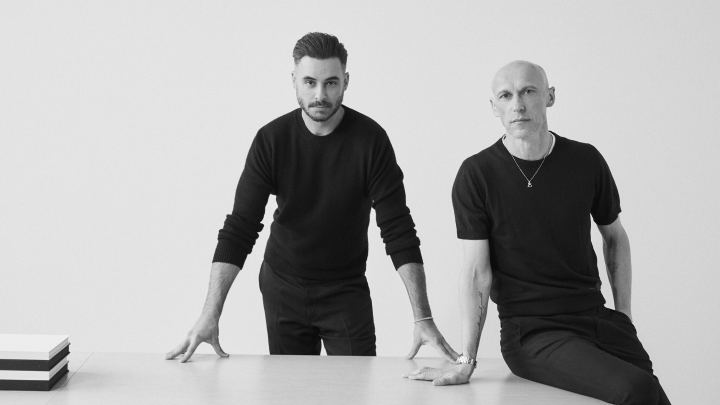 Mike Amiri and Adrian Ward-Rees.
Amiri names Adrian Ward-Rees as its new CEO
By Irene Dong
Former senior VP at Burberry, Adrian Ward-Rees, has been named as the new CEO of US-based luxury fashion retailer Amiri. 
The appointment will take effect from April 1. In his new role, Ward-Rees will be in charge of expanding and strengthening the brand's global presence.
Prior to Burberry, Ward-Rees served at Dior Homme as managing director and at Speedo as the worldwide head of swim and apparel. 
According to WWD, Amiri's founder Mike Amiri said the CEO, who received his degree from the University of Surrey, has 30 years of expertise and experience in the fashion and luxury goods industries.
"Adrian has strong and holistic expertise in all facets of the business," Amiri said. "His thoughtful insight within the luxury sector combined with a modern approach made him the best candidate to drive the continued growth at Amiri." 
Cocomi names Dat Thuan Nguyen as CEO to drive omnichannel growth
By Irene Dong
Norbreeze Group-owned Cocomi has appointed Dat Thuan Nguyen as its new CEO, as part of its growth strategy in the Asia market. 
Based in Singapore, Norbreeze Group operates more than 60 stores and distributes to more than 200 locations around Southeast Asia.
Cocomi is one of the group's subsidiaries, alongside the Pandora Indochina master franchise and Danish watch brand August Berg.
Nguyen spent eight years in general management with DFS Group – a subsidiary of LVMH Group – before joining Cocomi. He then spent three years as the MD of Sociolla, a beauty and personal care tech start-up that specialised in omnichannel retailing and brand distribution.
As the company's CEO, Nguyen will be responsible for boosting Cocomi's omnichannel retail services and brand distribution in the region. He will also be in charge of creating strategic collaborations and driving business growth. 
John Lewis Partnership appoints first group chief executive
By Dean Blake
British retail group John Lewis Partnership appointed its first ever group chief executive, Nish Kankiwala, last week before revealing its full year results.
The results delivered the company's second-ever full-year loss of £234 million ($423 million), and will see its workers miss out on annual bonuses for the second time in three years.
Kankiwala has worked primarily in the FMCG sector throughout his career, and has helped drive many global brands, such as Pepsico, Burger King, and bread-business Hovis.
He joined John Lewis Partnership's board in April of 2021. 
"I am looking forward to playing an even fuller part in the transformation of the partnership, to be a modern business loved by customers and treasured by our partners," Kankiwala said.
Chair Sharon White said that a new management structure will allow her to focus on preserving the business' character and its strategy, while Kankiwala will "draw on his significant transformation experience to drive performance and profitability day-to-day."
HoMie co-founder, CEO steps aside
By Dean Blake
Co-founder and chief executive of Melbourne fashion brand and social enterprise HoMie, Nick Pearce, has revealed he will step aside from the job to focus on his role as a father.
Pearce, who co-founded the business with partners Marcus Crook and Rob Gillies, said it was an incredibly difficult decision to make.
"Over the past 18 months, my wife [Merry People's Danielle Holloway] and I have both balanced being CEO's with our son Jack," Pearce wrote on LinkedIn.
"Last year we realised that it wasn't sustainable, nor the family life we wanted… Whilst this is a change, I am incredibly buoyed by the strength of the brand we have created, our network of committed supporters, and our dynamic team."
One hundred per cent of HoMie's profits go towards supporting young people affected by homelessness or hardship, and equipping them with the skills to be better prepared for their future.