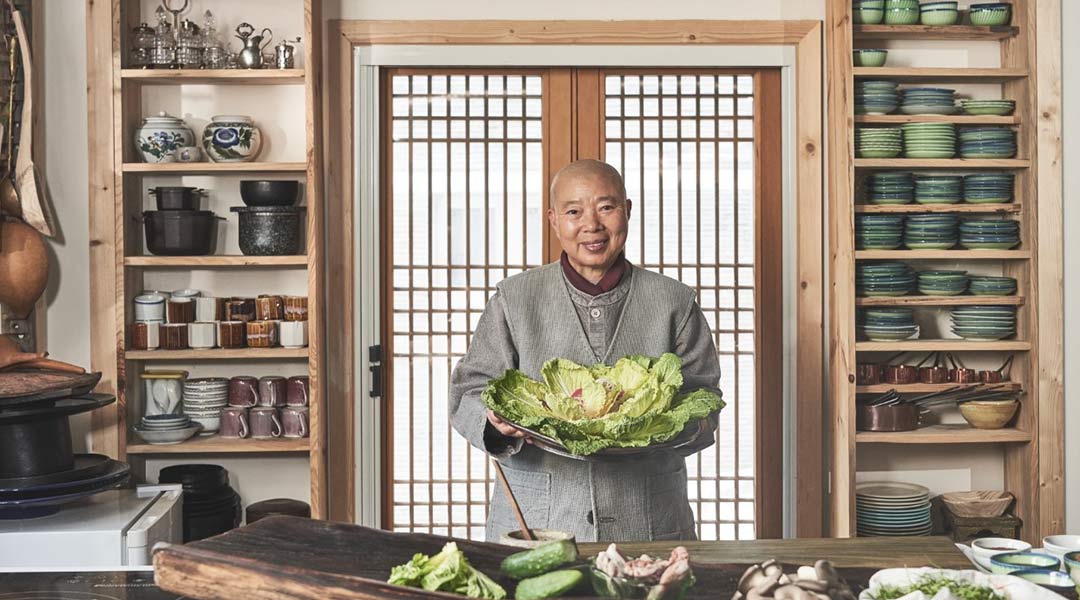 The South Korean nun who was featured in Chef's Table is recognized for her philosophical approach to cooking and her mastery of temple cuisine.
South Korean monk Jeong Kwan is the 2022 recipient of the prestigious Icon Award-Asia 2022. Voted for by the 300-plus members of the Asia's 50 Best Restaurants Academy, the Icon Award honors culinary figures whose influence extends beyond their community and who have inspired others with their skills and positive contributions.
READ ALSO: Fashionable Fusion: This Japanese Culinary Wonder, Who Creates Cakes Based On Luxury Handbags, Has Just Been Named Asia's Best Female Chef
Growing up on a farm in Yeongju in North Gyeongsang Province, Jeong Kwan developed a respect for nature and seasonal produce from an early age. At 17, she left home to join a Buddhist monastery and immersed herself in the centuries-old traditions and cooking techniques of temple cuisine.
Embracing the central Buddhist principles of zero waste and healthy eating, temple cuisine is made without meat, fish, dairy, garlic, or onions. Jeong Kwan's impeccably crafted dishes reflect her innate creativity, technical skills, and deep respect for seasonal ingredients.
Jeong Kwan's cuisine came to the world's attention when French chef—and fellow Buddhist—Eric Ripert of New York's famed Le Bernardin visited Baekyangsa. This seventh-century temple located within South Korea's Naejangsan National Park is what Jeong Kwan calls home.
Enchanted by Jeong Kwan's dishes and her holistic approach to cooking, in 2015 he invited her to New York to prepare a meal for select guests. The subsequent profile in The New York Times described her dishes as "the most exquisite food in the world" and dubbed her "the philosopher chef."
Her fame grew exponentially when she was featured in a 2017 episode of Netflix's Emmy Award-winning Chef's Table series. Jeong Kwan has earned the respect of the world's most celebrated chefs, from Noma's René Redzepi to compatriot Mingoo Kang of Mingles.
Eschewing the trappings of celebrity, Jeong Kwan continues to cook at the hermitage she shares with her fellow nuns and attracts a growing number of devotees to Baekyangsa Temple.
Within her modest kitchen, visitors are educated on the alchemy of traditional Korean cooking and the Buddhist principles that underpin authentic temple food. Although she has never worked in or owned a restaurant, Jeong Kwan's deep passion for flavors and innovative cuisine place her in the vanguard of visionary chefs.
William Drew, Director of Content for Asia's 50 Best Restaurants, says: "A cook without any formal culinary training, Jeong Kwan's exquisite vegetable recipes have inspired some of the world's most influential chefs. As a guardian of Korean temple cuisine, she is confirming her status as an international culinary icon thanks to her refined mastery of flavours, delicate artistry and spiritual approach to cooking."
"I am extremely honored to receive the 2022 Icon Award," Kwan says. "I hope that this award will raise awareness of temple food and further advance Korean cuisine around the world. I am aware of the difficulties caused by the global pandemic and hope that the situation will improve so we can meet again to share food and positive energy."
Her achievement will be highlighted as part of the online ceremony for Asia's 50 Best Restaurants 2022 on March 29, which will be broadcast to a global audience via award-giving body's Facebook and YouTube channels. To mark the occasion, 50 Best will also host physical events in Bangkok, Tokyo and Macau, giving gastronomic communities the opportunity to celebrate in person.
As the 2022 recipient of the Icon Award, Jeong Kwan joins a pantheon of culinary icons previously recognized with this accolade, including legendary Bangkok chef Supinya "Jay Fai" Junsuta as well as Japanese pioneers Seiji Yamamoto and Yoshihiro Murata.
For more on Asia's 50 Best, visit TheWorlds50Best.com.