Pasta recipes are popular during Lent in Italy, particularly pasta in broth or vegetable soups and seafood pasta dishes. In fact, many meatless pasta recipes have long been traditional during days of fasting and abstinence. This collection of Italian pasta recipes for Lent is just a sample of some of the dishes Italians eat not only during Lent, but on other days of abstinence like Christmas Eve and, for some, every Friday through the year.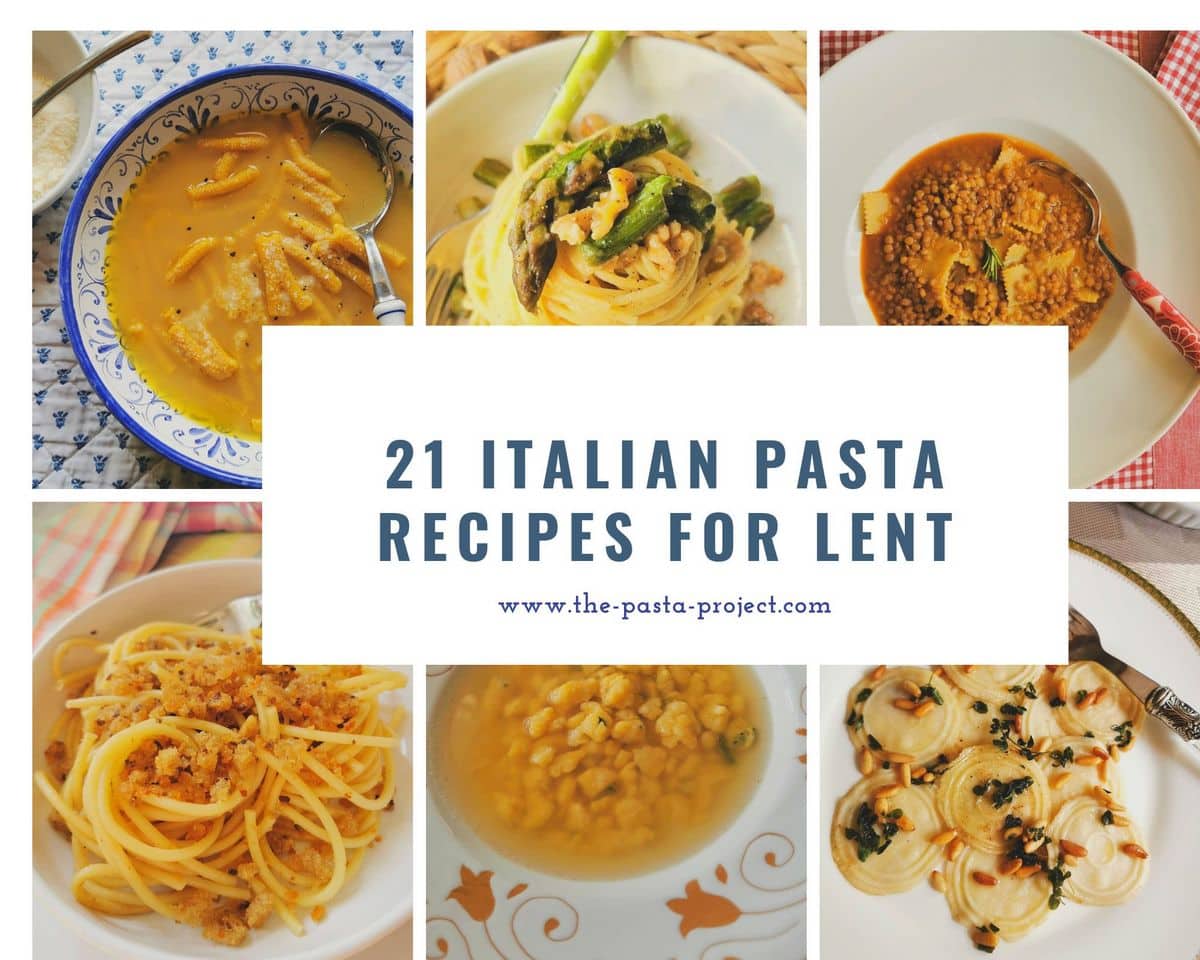 Known as 'ricette di magre' (lean recipes) in Italian, Lenten recipes in Italy are traditionally simple fare, made with seasonal vegetables, legumes, and often seafood. In the past, the latter was mainly low cost or preserved fish like sardines, anchovies and baccalà (salt cod). Many Italian pasta recipes for Lent call for these types of seafood. This is because, in the past, fresh fish was unavailable or too expensive for the rural population.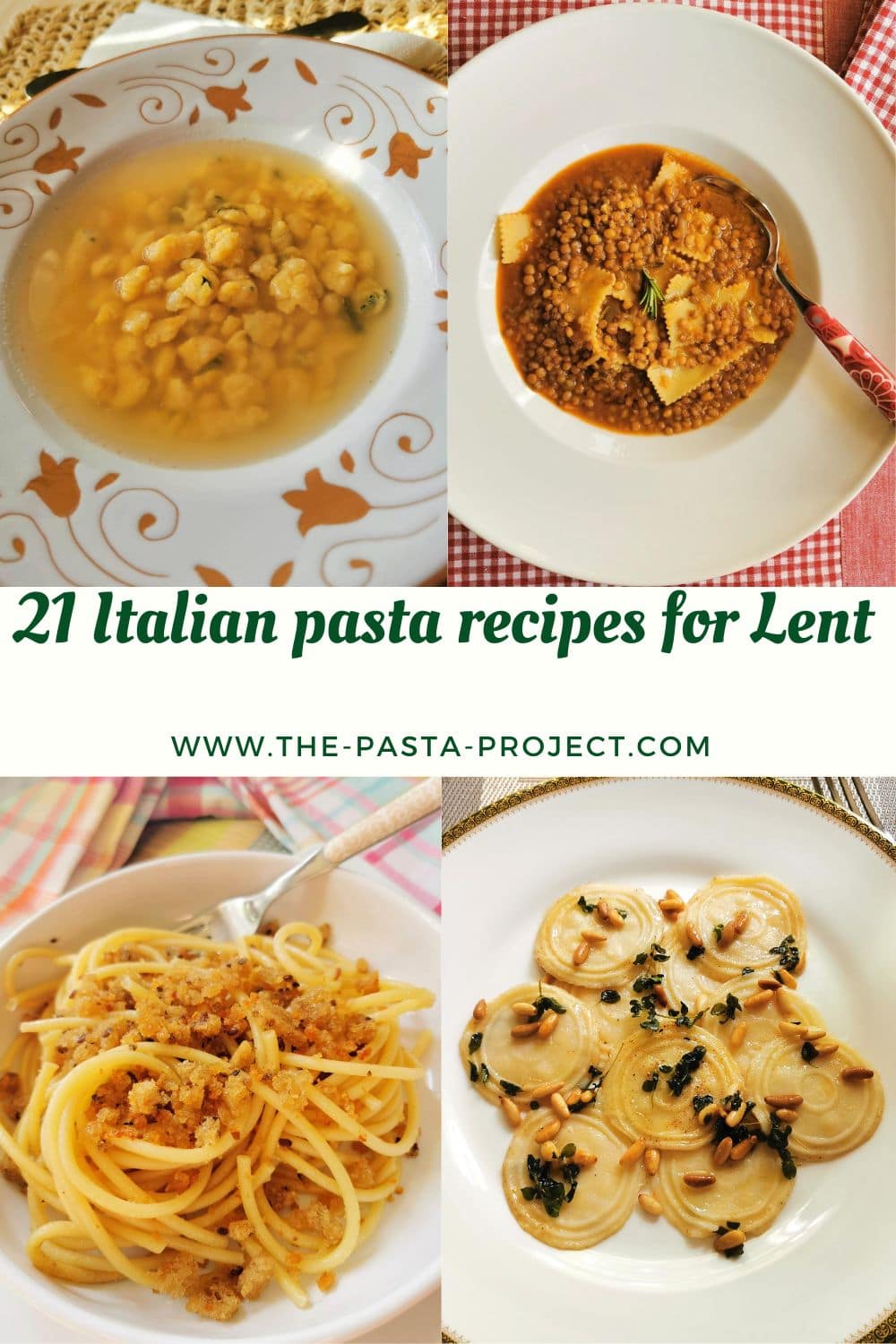 Fasting during Lent in the past.
Italians used to give up meat for the whole Lenten period, which they call la Quaresima. In fact, there was a time when fasting and abstinence rules were very strict. No food at all on Ash Wednesday and Good Friday. Then, on the other days no food until 3pm and meals couldn't include meat or animal fats, eggs or milk and sometimes other dairy products too.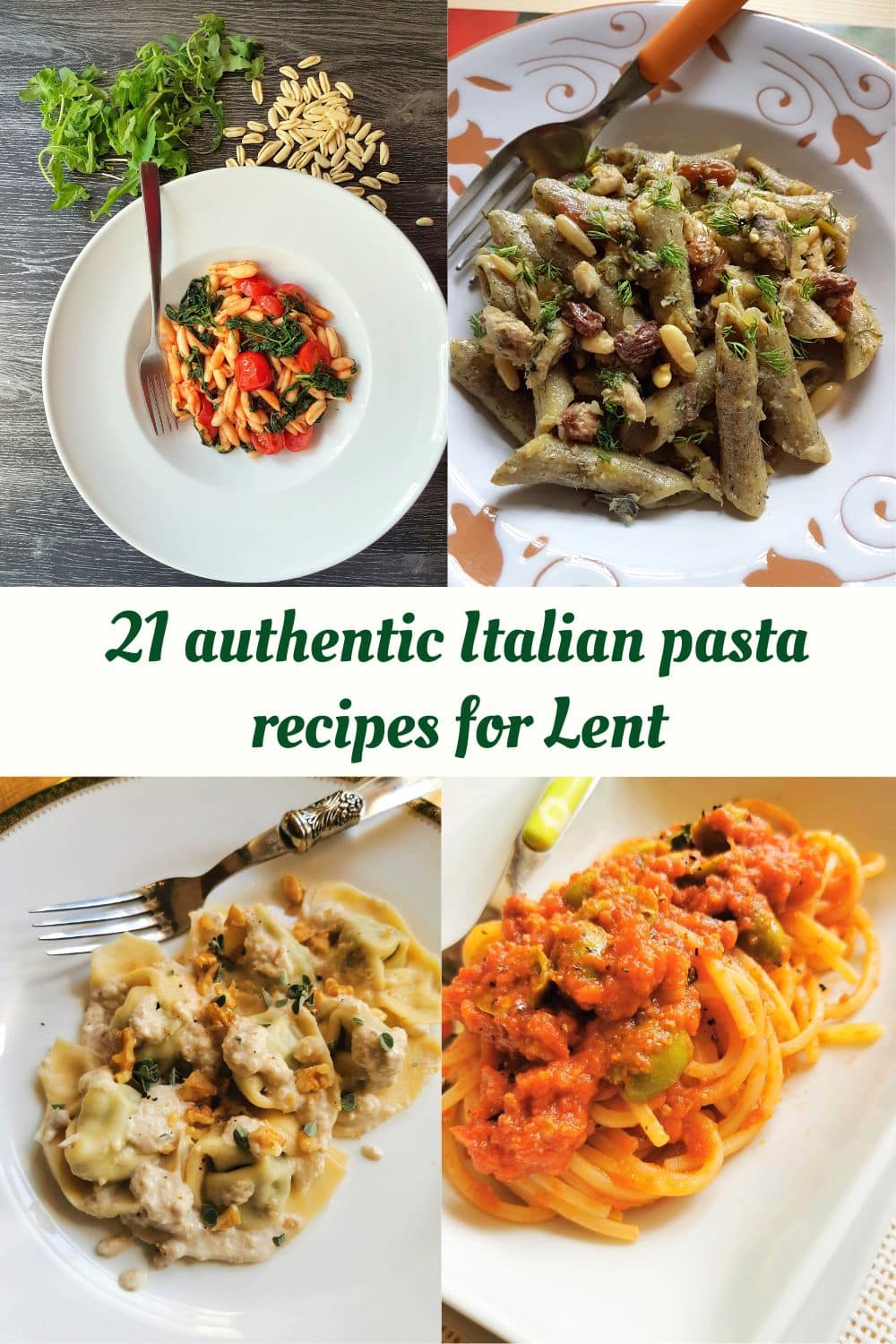 Lent nowadays.
Nowadays, Lenten fasting rules are less restrictive. In keeping with modern Church doctrine, many Italians over the age of 14 abstain from meat on Ash Wednesday and every Friday until Easter. However, unlike in the past, milk and eggs are permitted as are all types of seafood.
In addition, foods made from meat juices and fats are allowed. That is why, Italian pasta recipes for Lent include both dried and fresh pasta served in clear meat broths.
Click the name of the dish to go to the recipe post and instructions.
Pasta in broth recipes for Lent.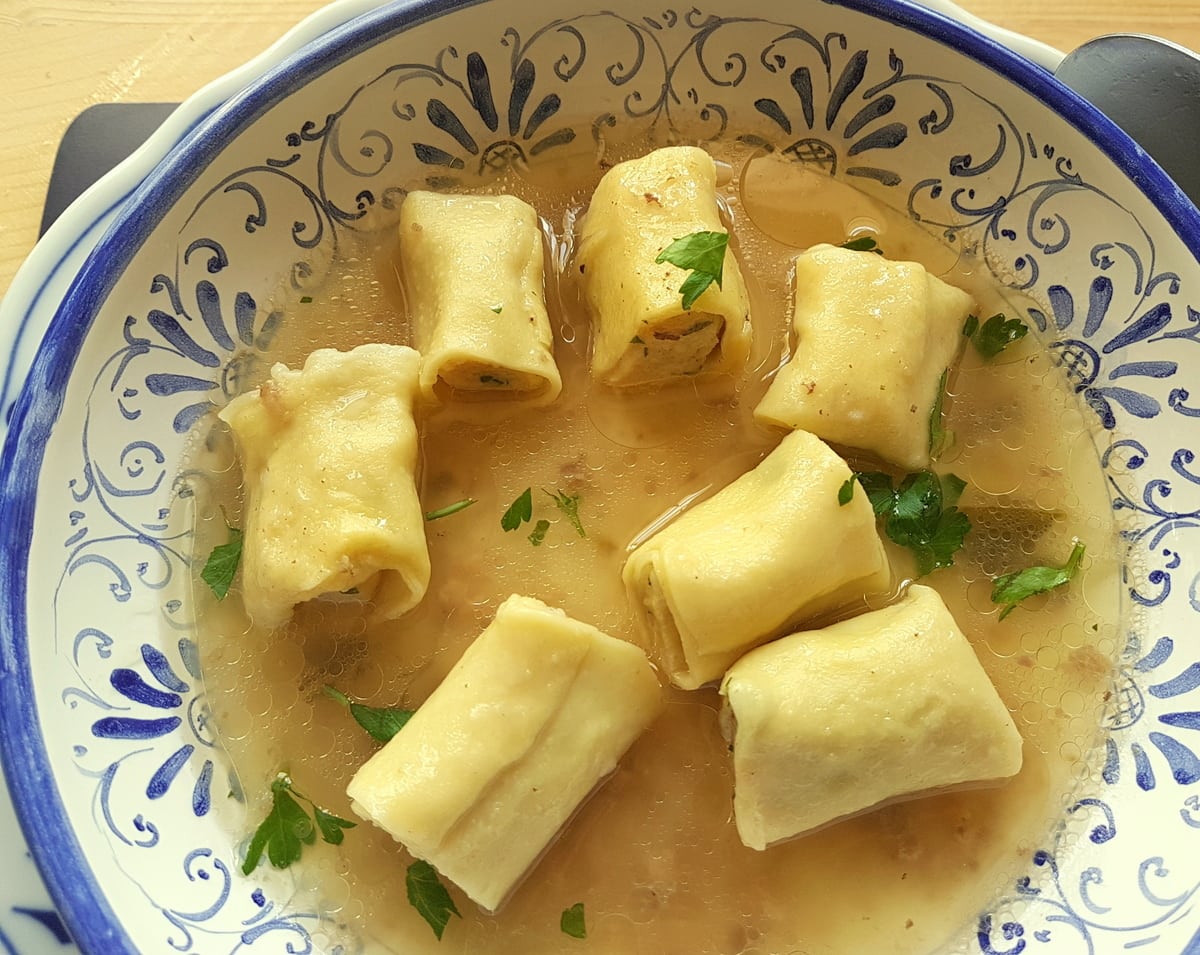 Known as mezze maniche dei frati, meaning monks' half sleeves, this homemade stuffed pasta has a filling of eggs, cheese, breadcrumbs, nutmeg, garlic and parsley. I cooked and served these stuffed pasta tubes in a veal osso buco broth. Traditionally, the broth would be capon, chicken or beef. This recipe comes from Piacenza in Emilia Romagna and is traditional on Christmas Eve and other days of abstinence.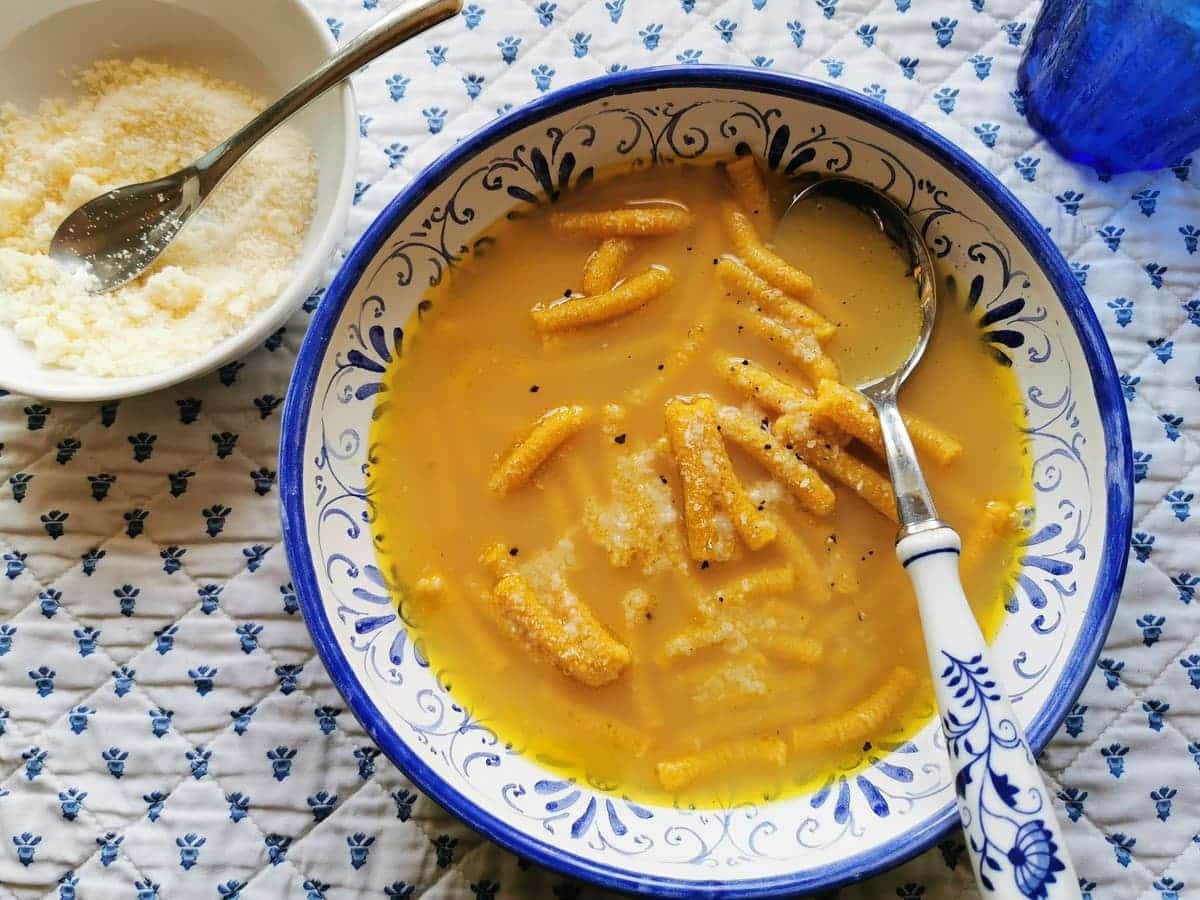 Passatelli are delicious pasta strands made with cheese, eggs and breadcrumbs. The pasta dough is passed through a potato ricer or passatelli iron and dropped into a boiling chicken broth. A unique type of pasta traditional in Emilia-Romagna, Marche and Umbria.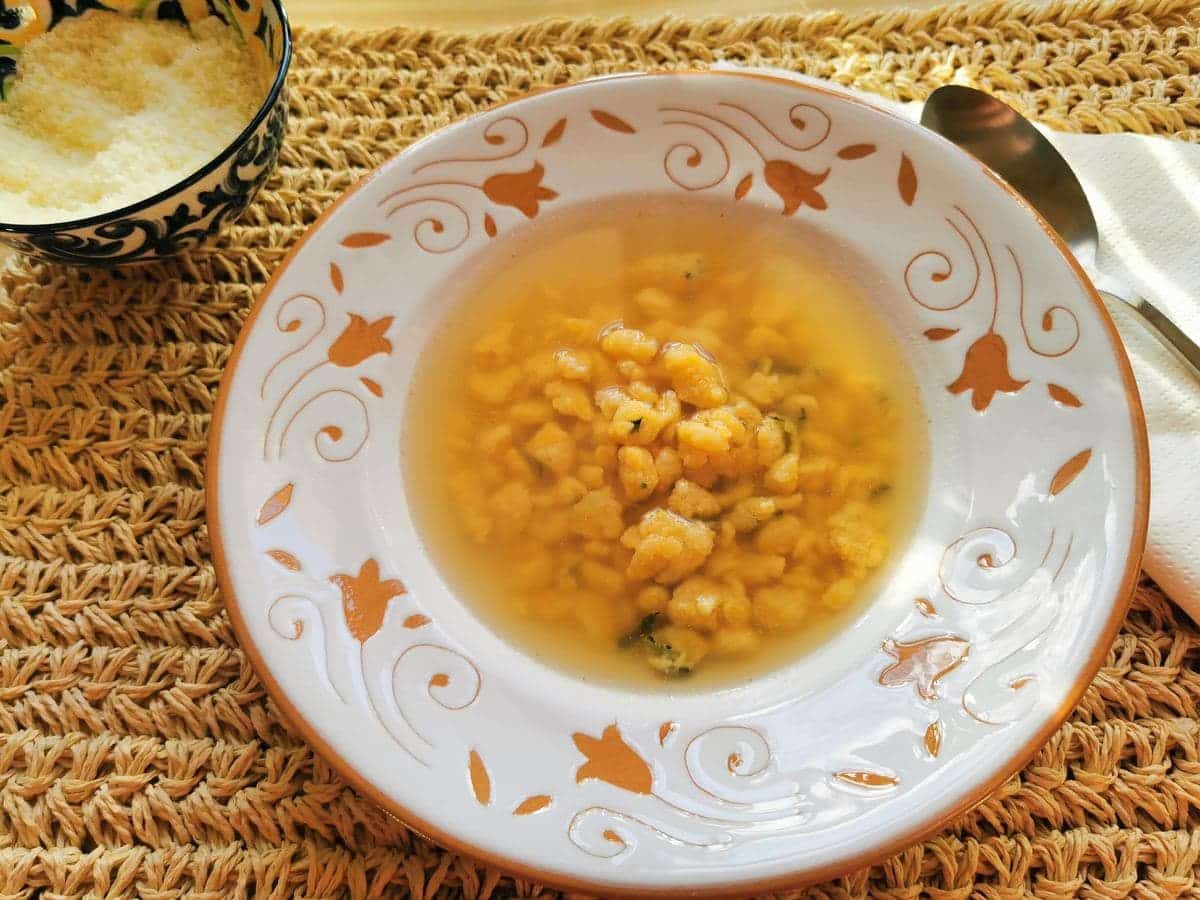 Long before it was possible to buy dried pastina, Italians were adding small pieces of pasta to their soups and broths. This Southern Italian recipe for homemade pastina (millefanti) is very easy to make. The pasta dough of eggs, flour, cheese and parsley is crumbled into small pieces and cooked in a clear broth.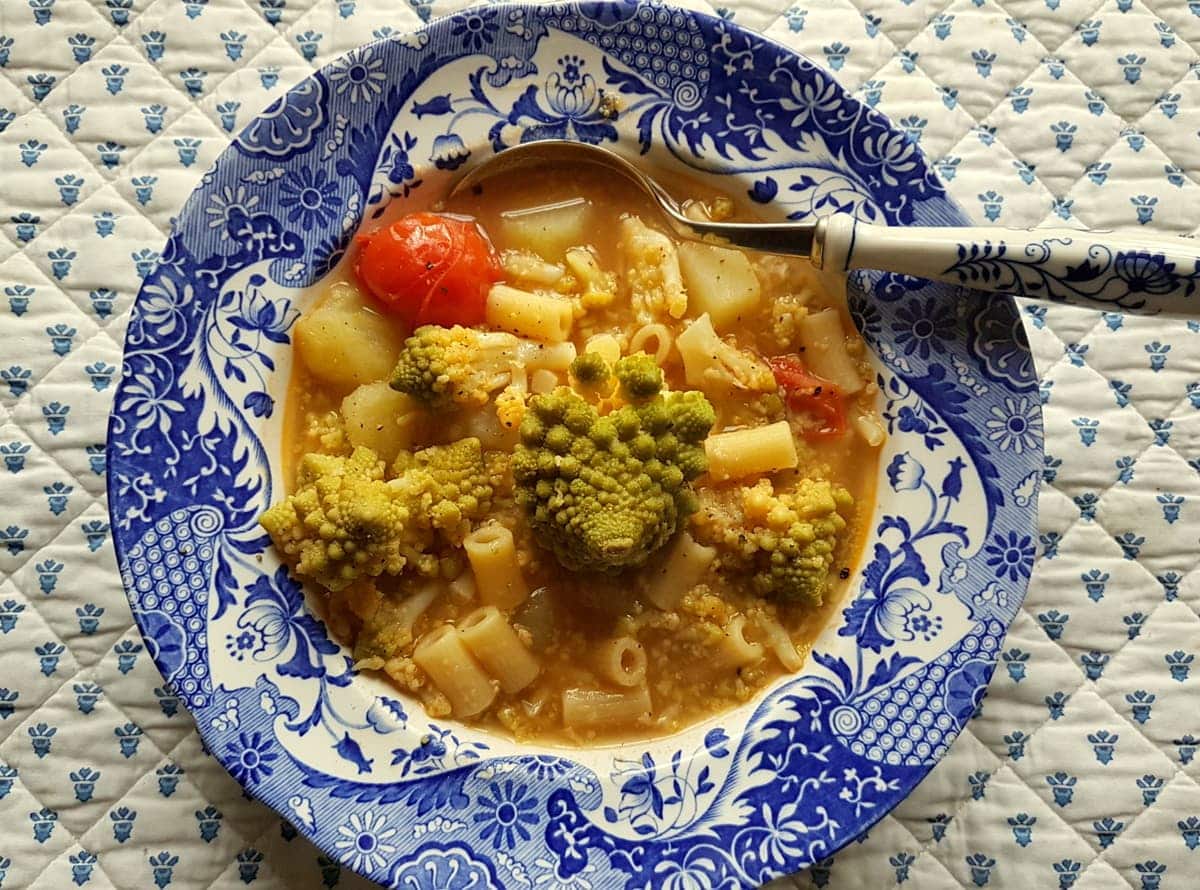 This Romanesco broccoli soup from Rome used to be a staple Friday dish among the city's poorer households. In the past, they made this soup with the week's leftover dried pasta (often a mix of different kinds) and skate or ray, a cheap and unappreciated fish. Skate is still not a popular fish here in Italy, and also not widely available. Nowadays, many people use anchovies instead.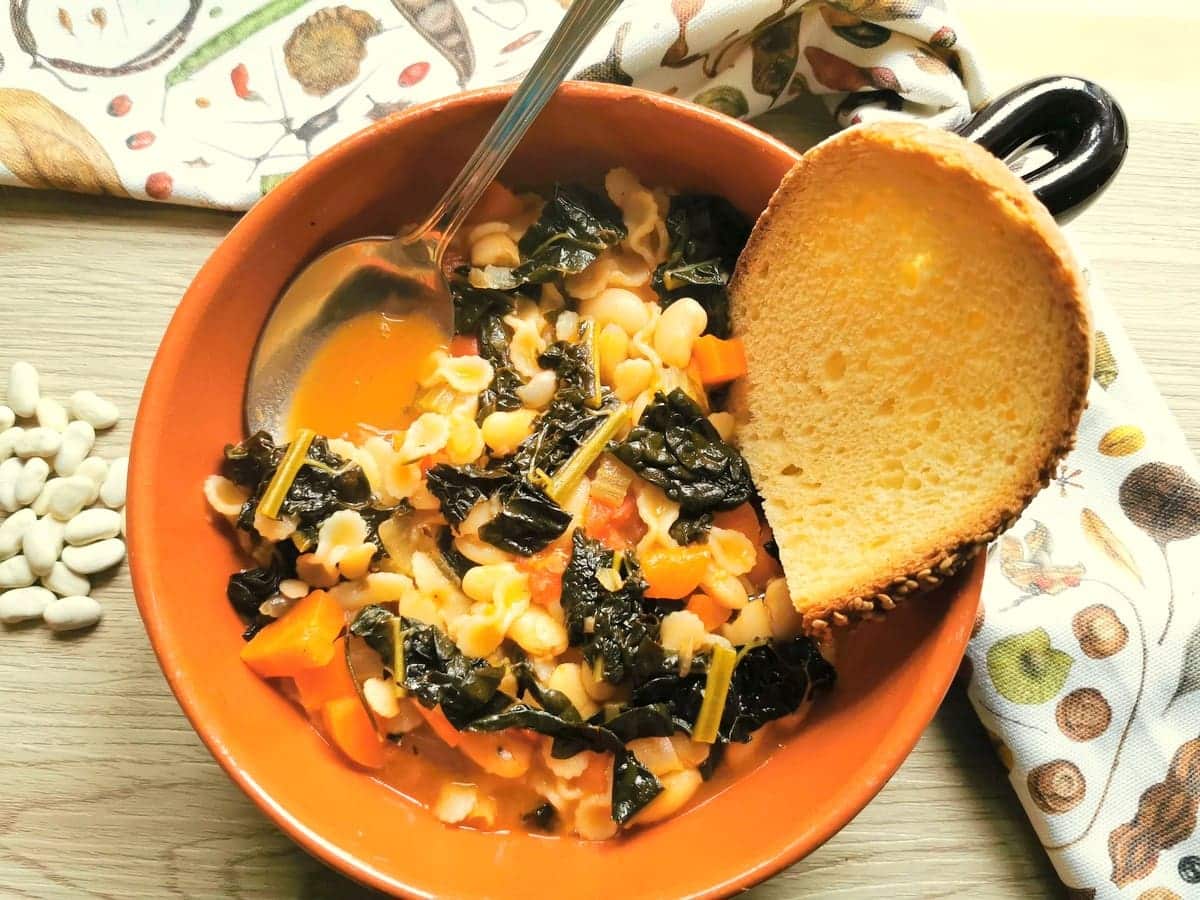 Tuscany is famous for its rustic kitchen which includes lots of soups and dishes with legumes, beans and seasonal veg. Kale and white bean soup is a Tuscan classic. This version with pasta is a complete meatless meal that's super healthy and nutritious!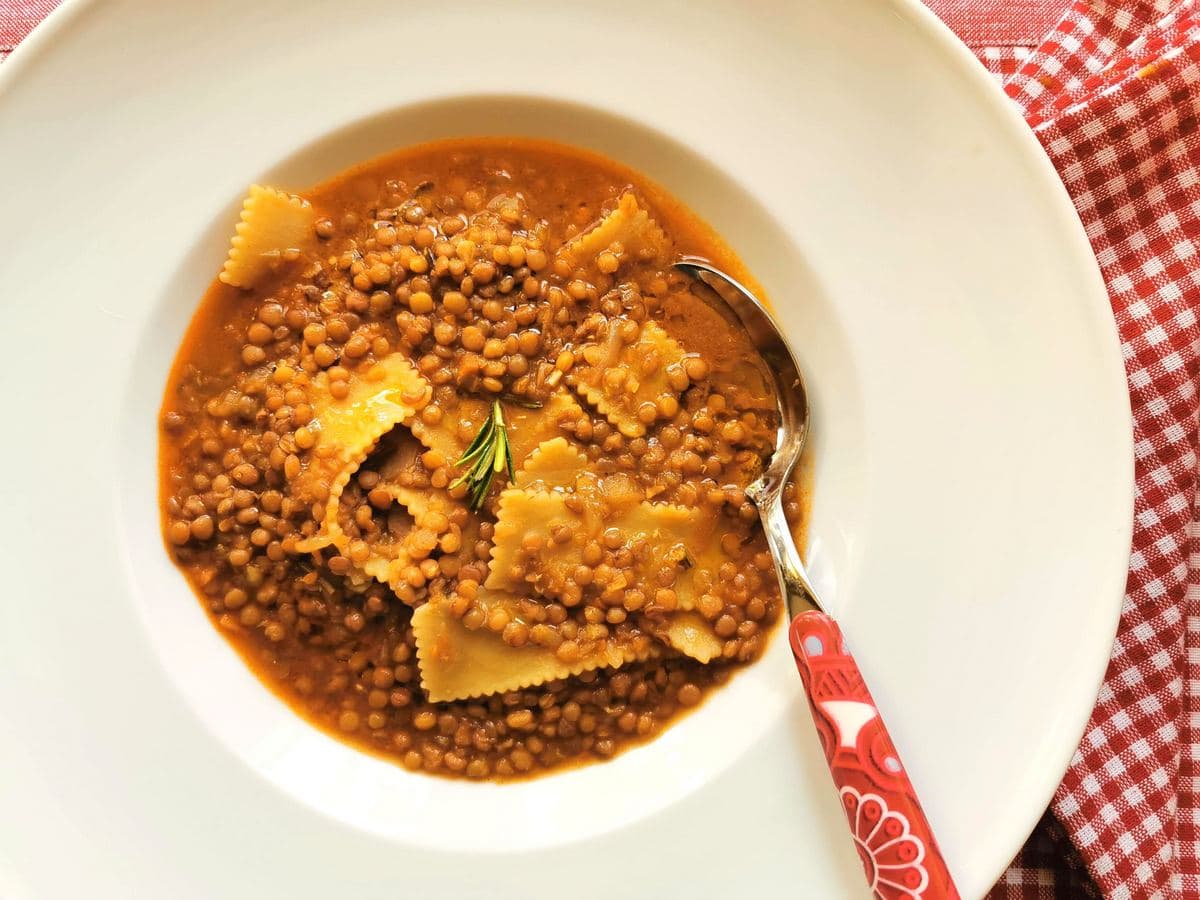 This delicious one pot vegan pasta soup is a traditional dish from Umbria. There they make it with the region's famous small mountain lentils. You can also use Puy lentils or other green/brown lentils. This is a simple but nutritious pasta recipe for Lent and other meatless days.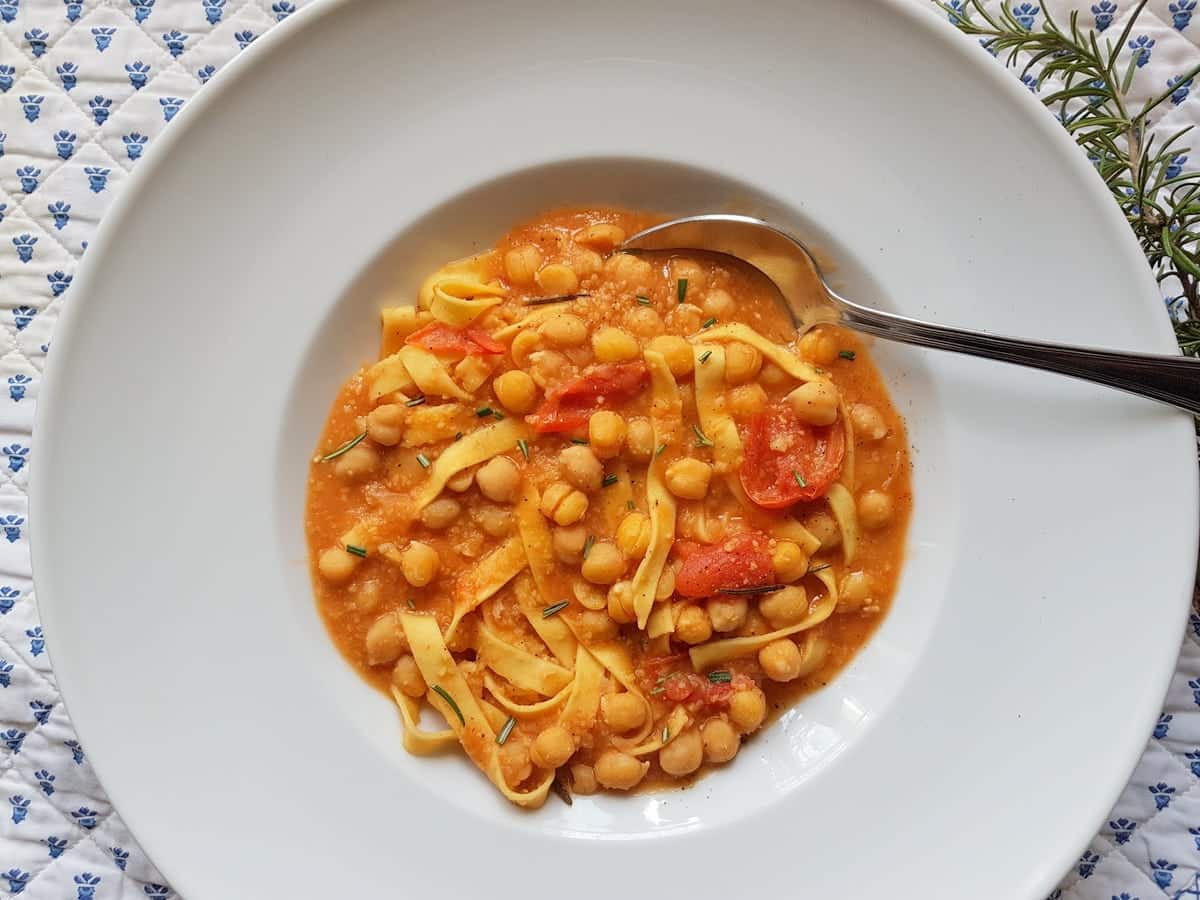 Known as 'pasta e ceci' in Italian, pasta and chickpeas is a simple rustic dish traditional in many parts of Italy. Some versions are less soupy. This recipe is from Tuscany, where they use tomatoes, dried chickpeas, garlic, rosemary, and egg pasta ribbons like tagliatelle. To make this soup vegan, you will need to use a flour and water pasta.
Seafood pasta recipes for Lent.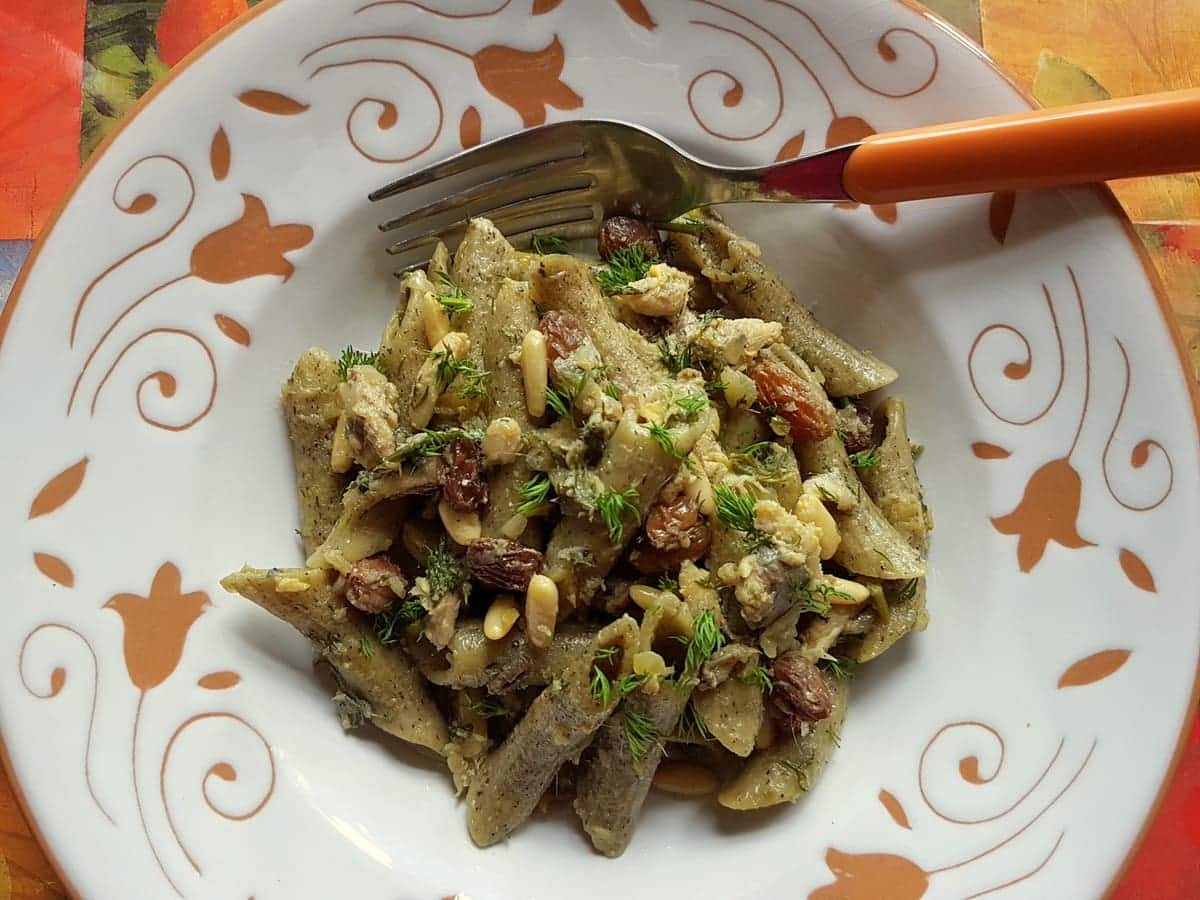 This iconic Sicilian recipe dates back centuries to the Arab occupation of Sicily hence the combination of typical Mediterranean and Arab flavours. The recipe includes saffron, raisins, pine nuts and wild fennel along with the pasta, fresh sardines and anchovies.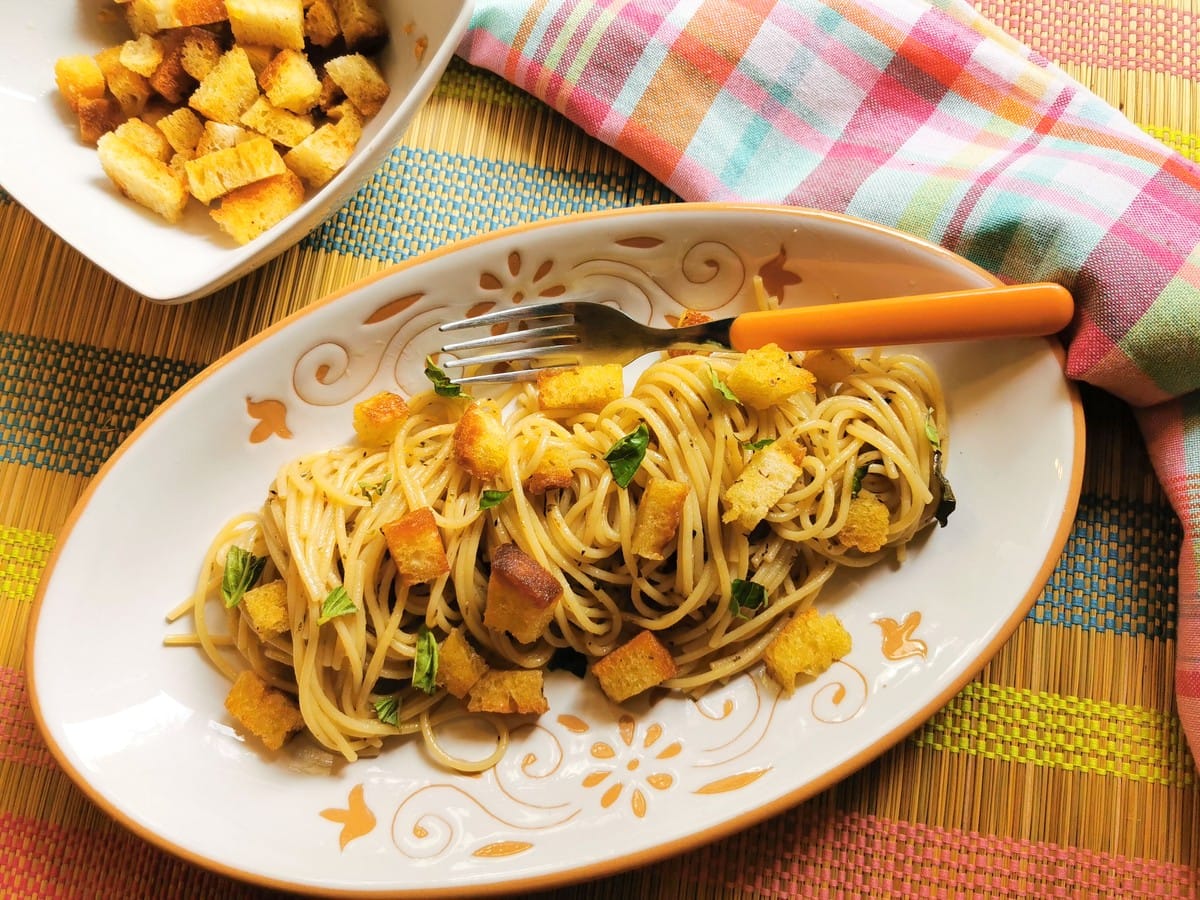 Known in Naples as spaghetti alla Gennaro, this recipe is named after the city's patron saint! Easy and simple to make, all you need is spaghetti, anchovies, garlic, stale bread, oregano, and basil. Takes less than 30 minutes to have on the table.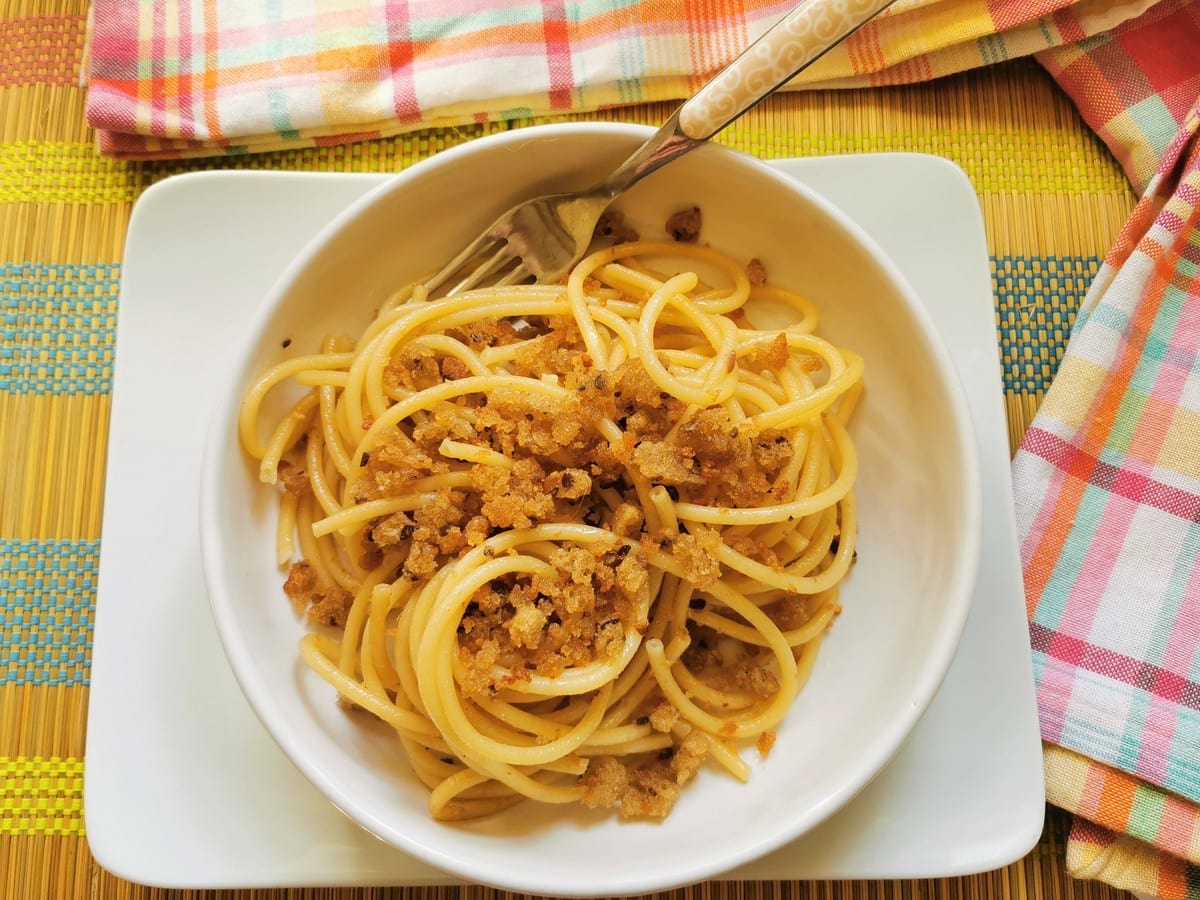 This Italian classic is popular in many Southern regions. Leave out the anchovies for a vegan/vegetarian version and add parsley, pepperoncino (red chilli pepper) or grated cheese if desired. Of all the Italian pasta recipes for Lent, this is probably the simplest!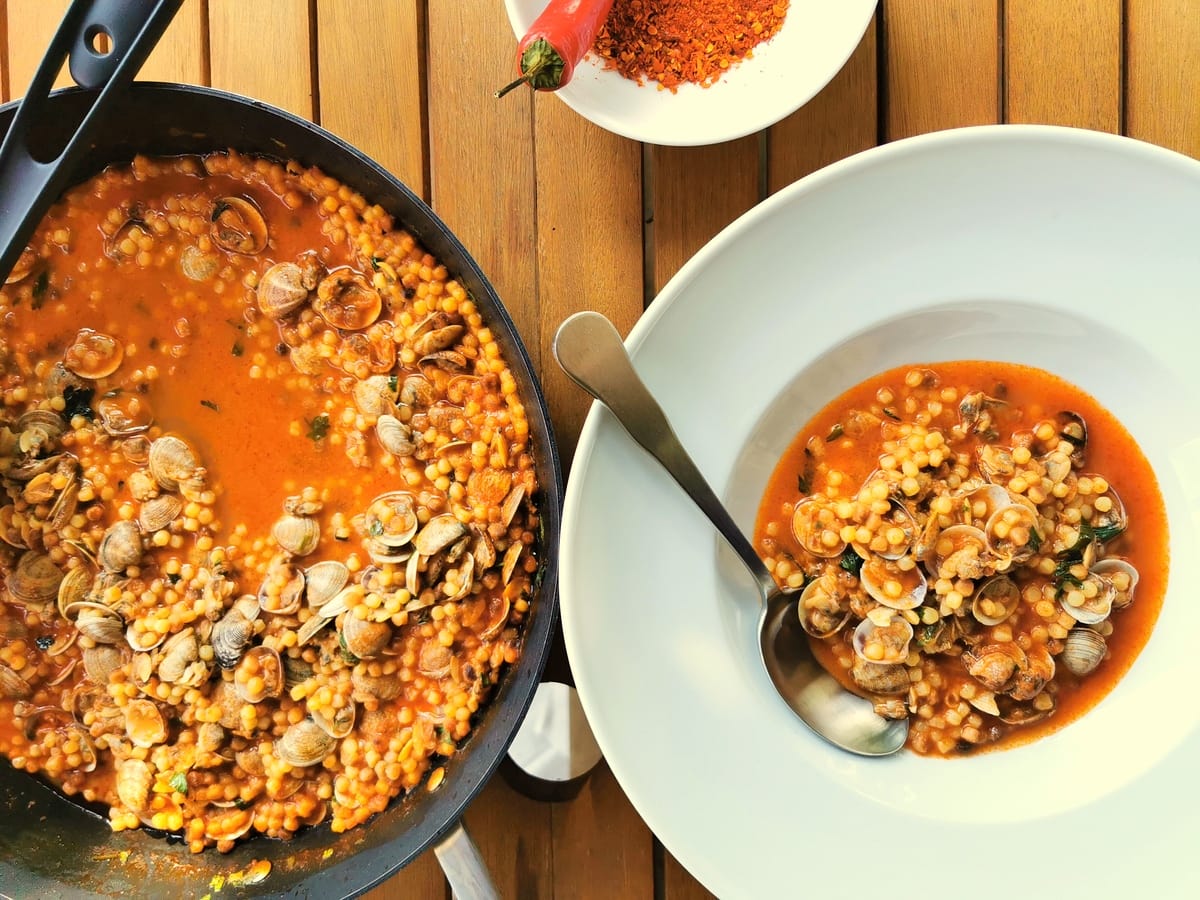 This delicious seafood pasta recipe is unique to Sardinia. Made with fregola pasta and small clams, this is an iconic Sardinian pasta dish served in many of the island's seaside restaurants! This beautiful seafood dish is actually much simpler than it looks and has very few ingredients. Fregola is available outside of Italy, but you can also use Israeli couscous.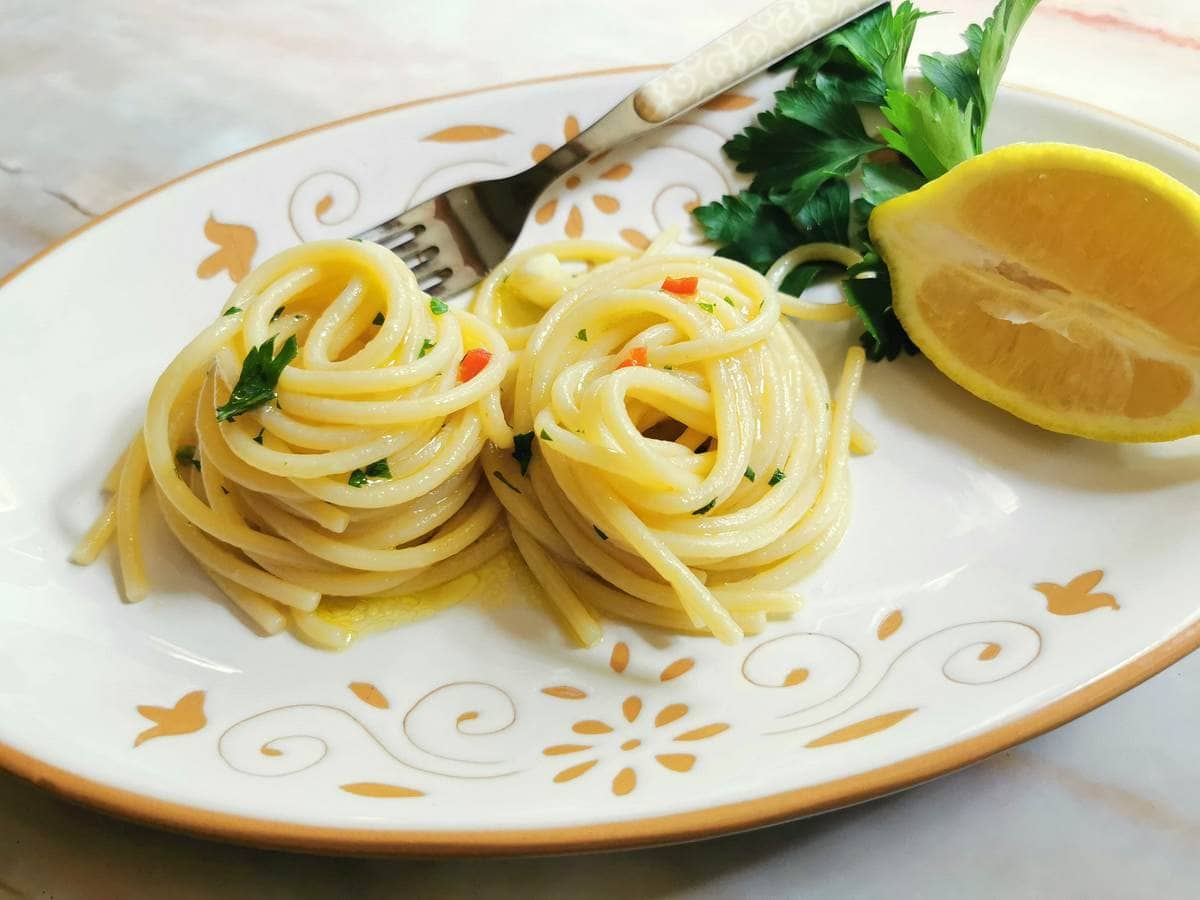 Colatura is the Italian equivalent of fish sauce that's a little similar to Asian fish sauce. In Italy, it is a delicacy that comes from Cetara on the Amalfi coast. Italians mostly use it with spaghetti as in this traditional recipe also from Cetara. You can find colatura in some Italian specialty shops or online.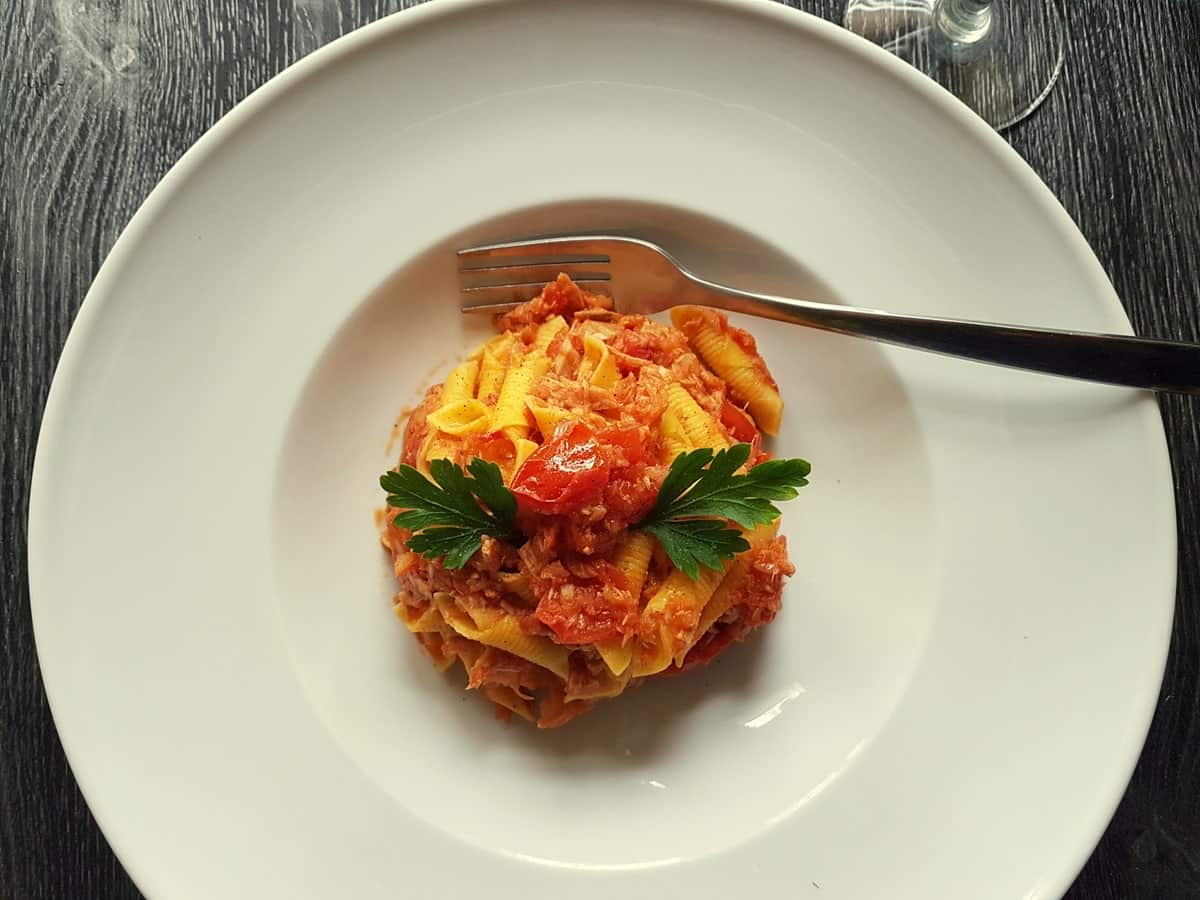 This pasta with tuna Bolognese is a quick and easy pasta dish made with canned tuna, tomatoes and onion. A modern but traditional recipe from Bologna that's popular during Lent and other times and days in the year when people give up meat.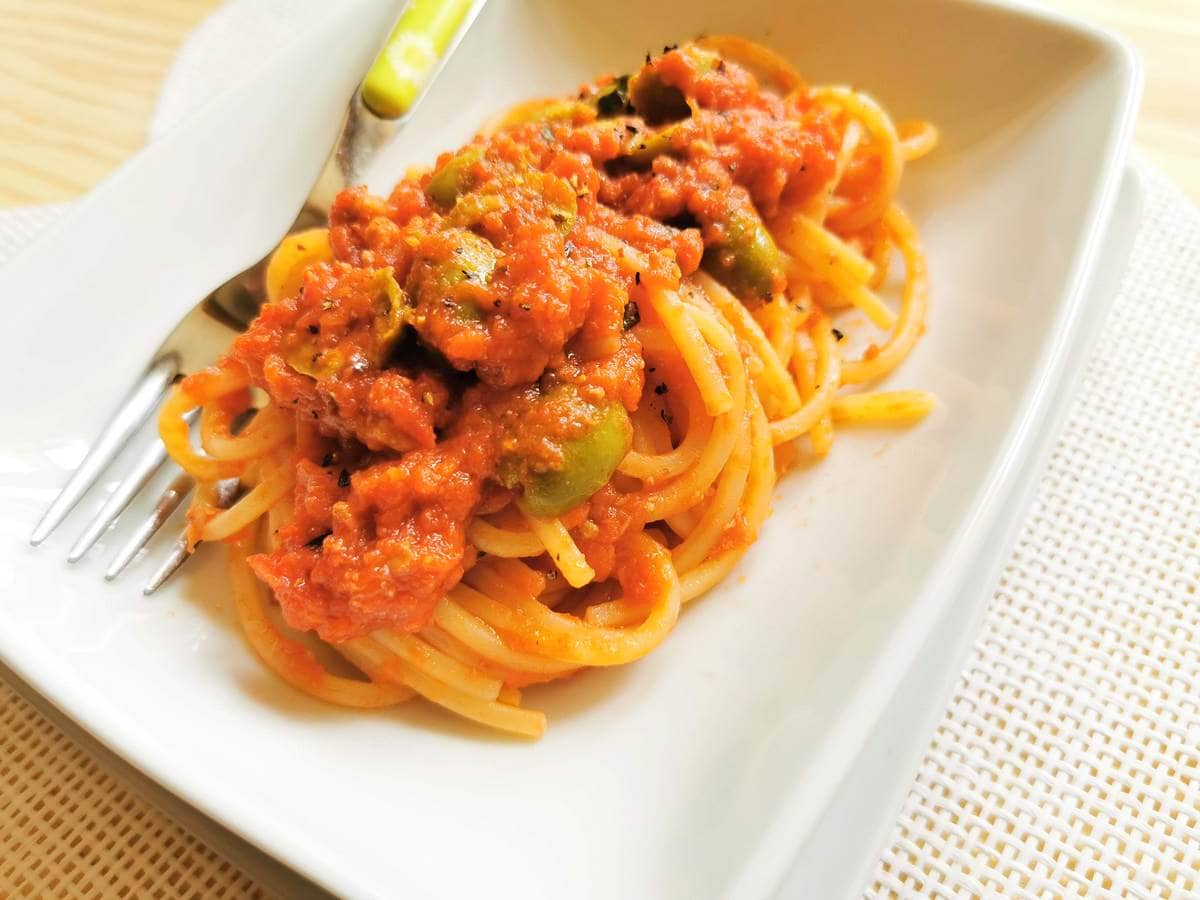 Spaghetti all'Ascolana is an easy to make olive and tuna spaghetti recipe from Ascoli Piceno in the Central Italian region of Marche. The star of this dish is local large green olives called Ascolana olives, which the area is famous for. Of course, you can use other types of green olives.
Vegetarian pasta recipes for Lent.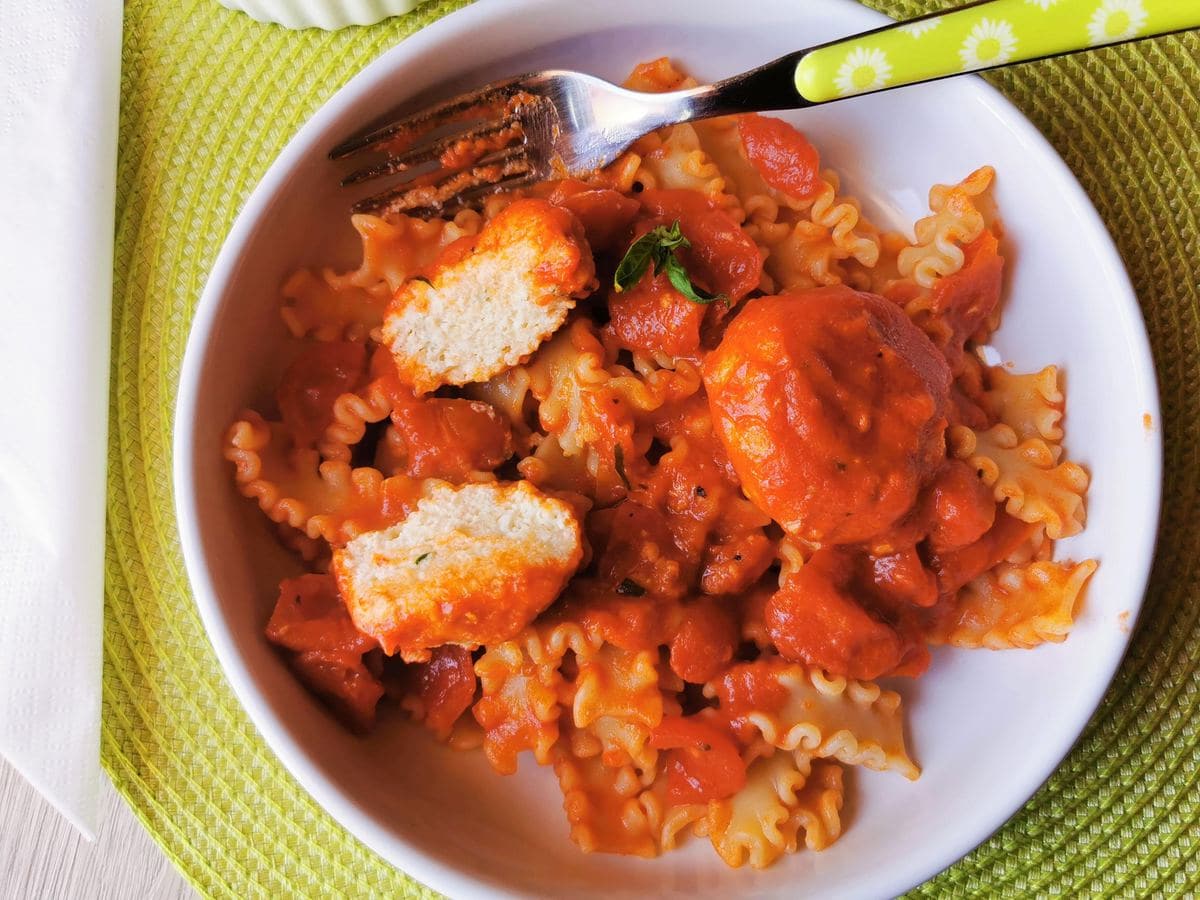 This wonderful ricotta balls recipe comes from the mountains of Calabria, Southern Italy. where the traditional kitchen is based on staple local ingredients that the population make, cultivate or forage themselves. These ricotta balls are also eaten without pasta, and they can be baked or fried as well.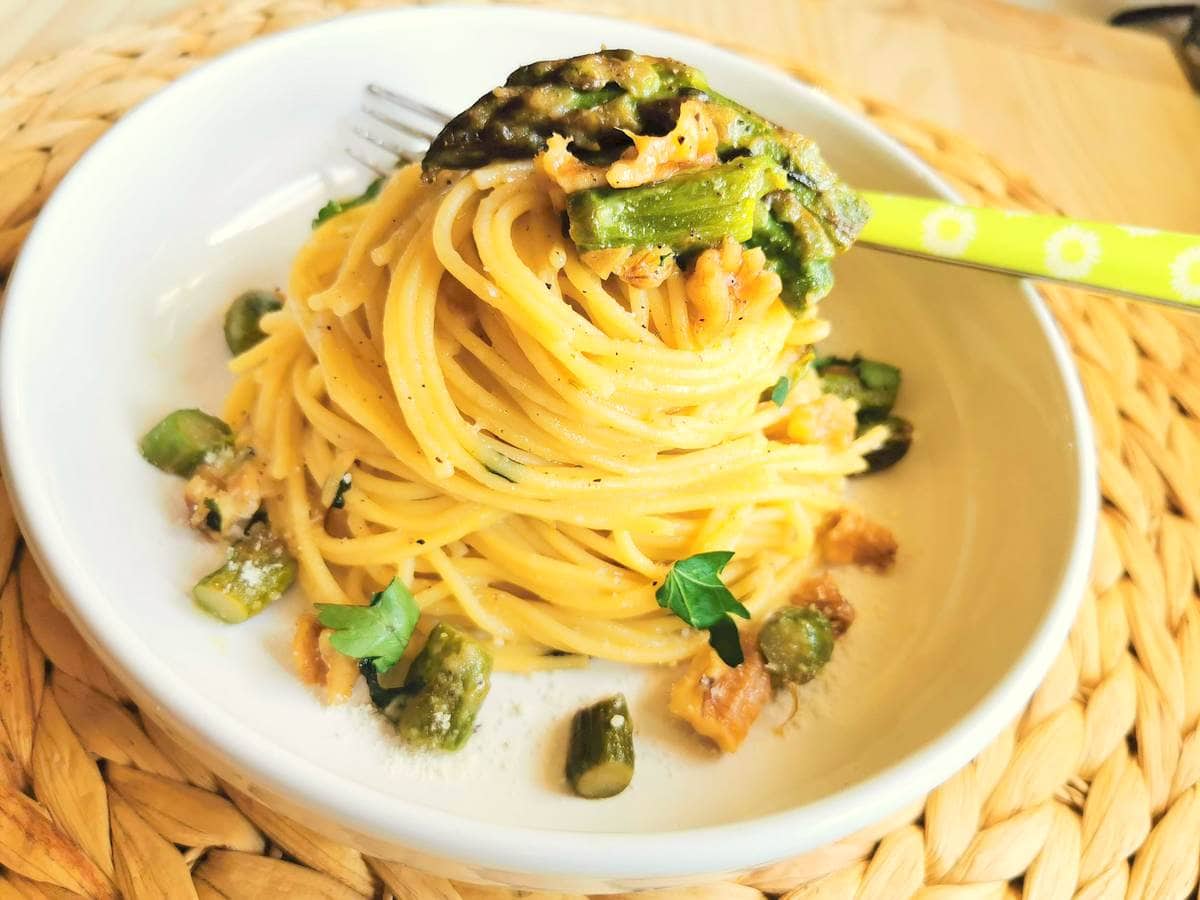 Asparagus season in Italy normally starts at the end of March, so usually during part of Lent, meaning asparagus is a popular ingredient for meatless dishes this time of year. This simple asparagus pasta comes from the Marche region. It calls for just spaghetti, asparagus and walnuts, along with butter, garlic, cheese and parsley. Healthy and nutritious and ready in 35 minutes!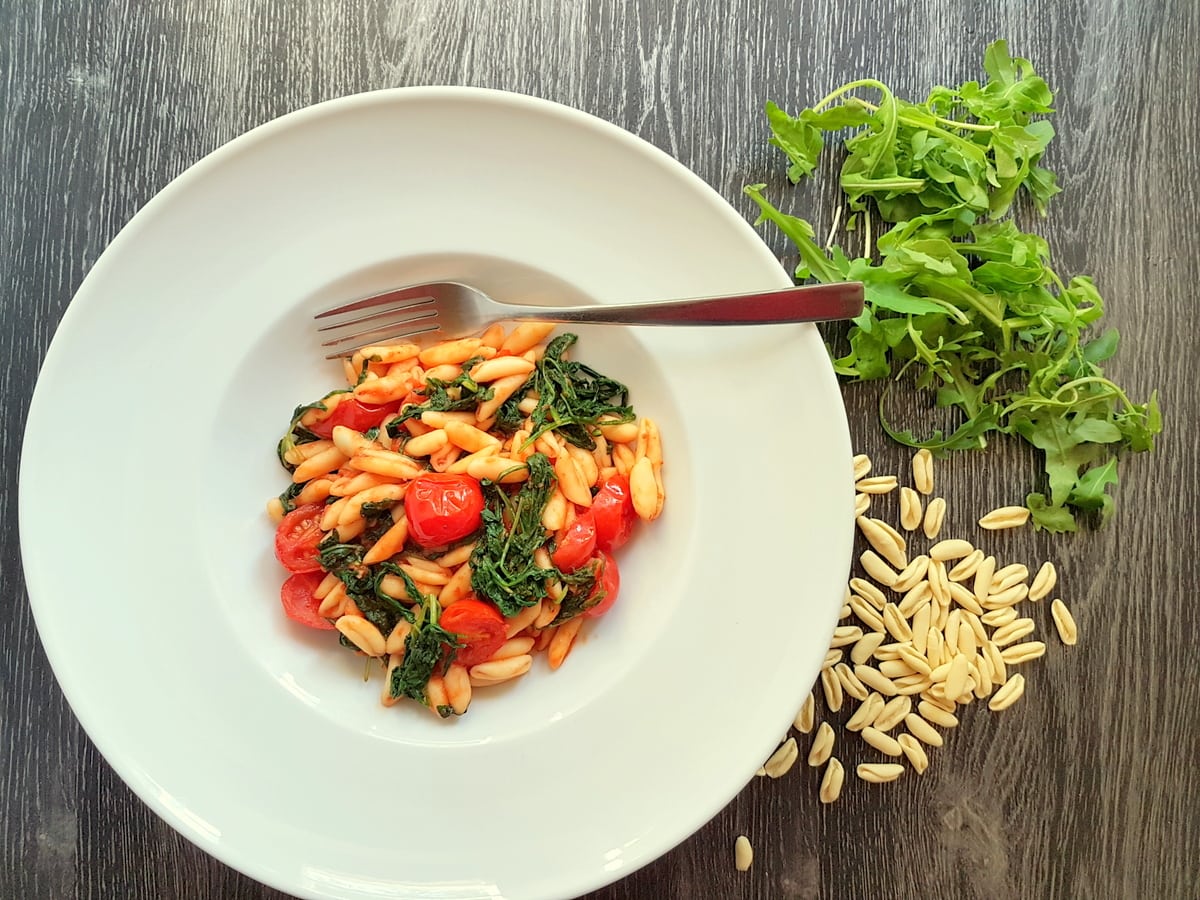 Although rucola (arugula) and tomatoes are generally in season a bit later in the year than Lent, nowadays, we can buy them all year round. So, this simple pasta recipe from Puglia is a great choice for a simple meatless meal that takes just 30 minutes to have on the table.
Homemade pasta recipes for Lent.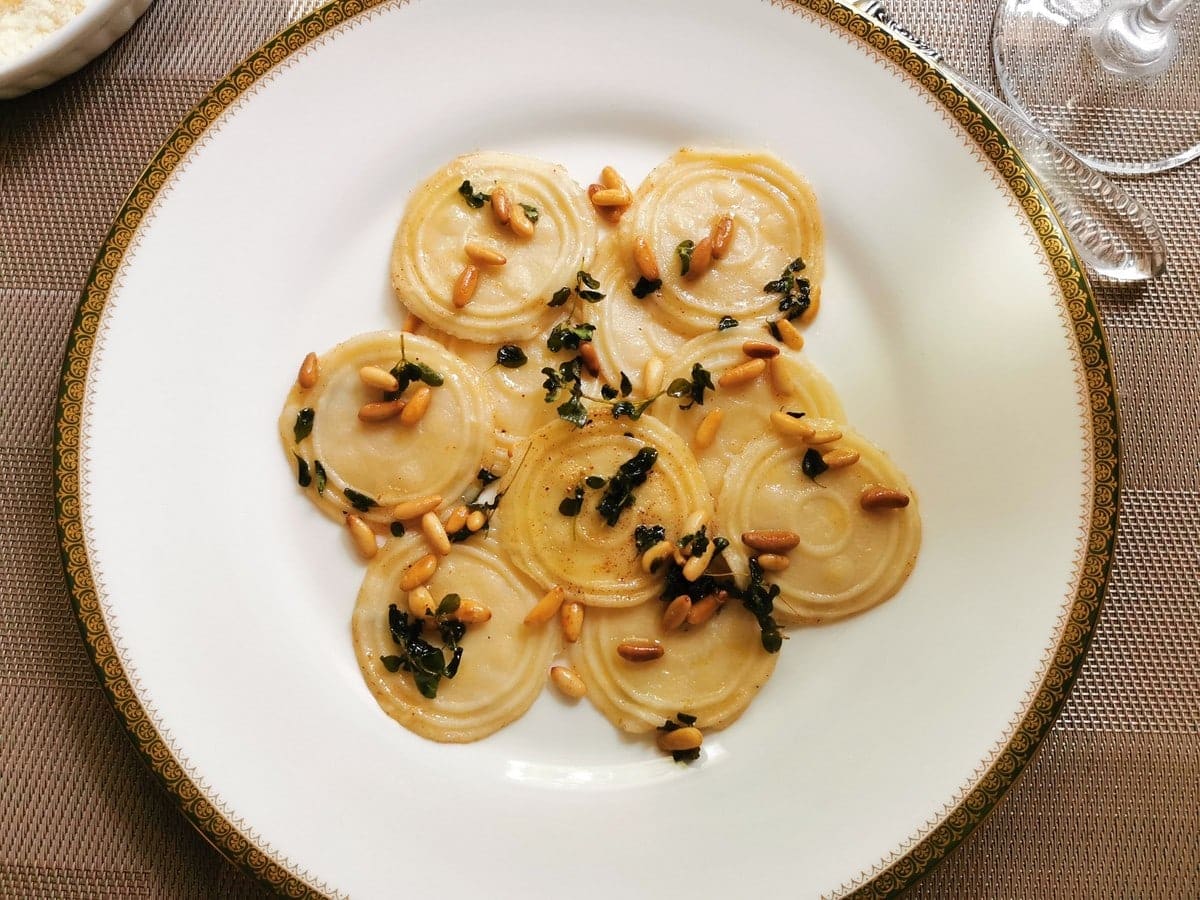 This homemade corzetti pasta with marjoram and pine nuts is an elegant and delicious traditional recipe from Liguria in Northwest Italy. Made with just a few simple ingredients, this beautiful vegetarian recipe makes any meatless meal special!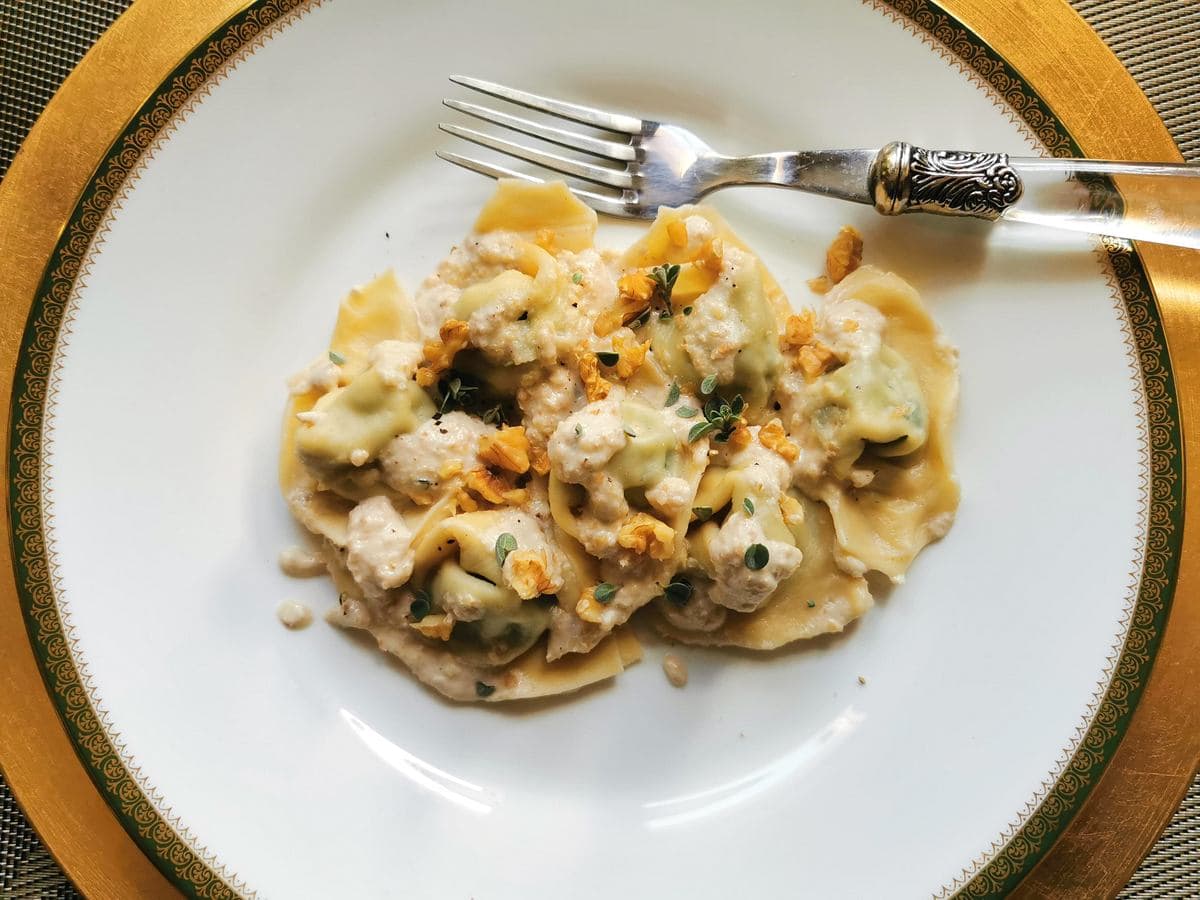 Pansotti pasta with walnut sauce is a traditional Lenten dish from Liguria in Northwest Italy. This is a stuffed ravioli-like pasta filled with ricotta and different herbs and greens. The walnut sauce is a type of pesto made with walnuts, bread, milk, cheese, pine nuts and garlic. A delicious easy to make vegetarian recipe that is also popular on Sundays and holidays.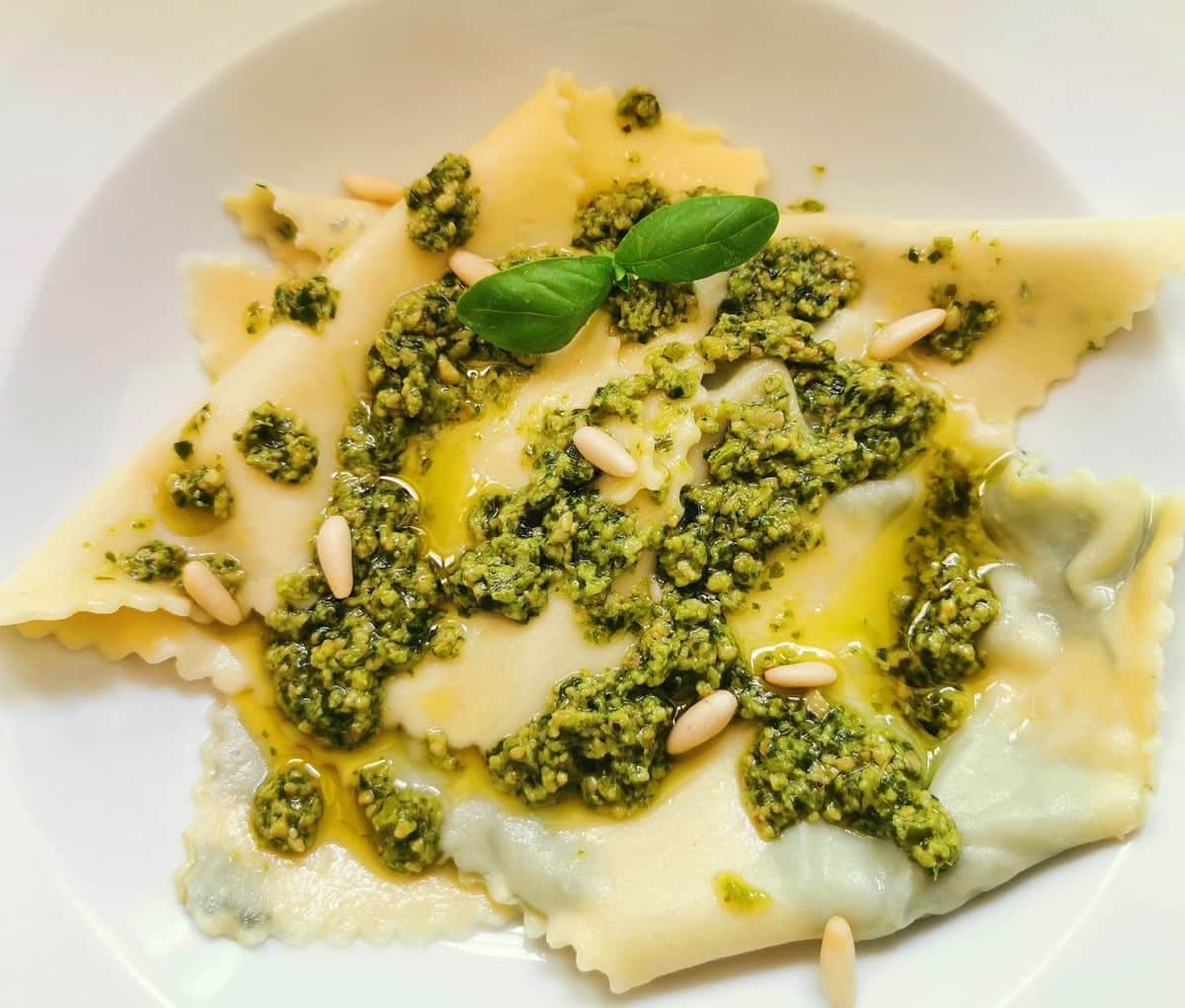 Also from Liguria, this silk handkerchief pasta with pesto Genovese is considered the oldest traditional pesto and pasta recipe. The pasta dough is like lasagne pasta sheets, but it is cut into squares and rolled very thin so that it's fine and silky (hence the name). The pesto is a traditional basil pesto.
Let me know what you think.
Of course, there are many other pasta recipes suitable for Lent on The Pasta Project. You can search for me in the seafood, vegetarian and soup pasta recipe categories in the recipe index.
If you make any of the Italian pasta recipes for Lent in this collection, I'd love to hear how they turned out and if you liked them. Please leave a comment here on the blog or on The Pasta Project Facebook page. Looking forward to hearing from you!
Buon appetito!