March 2023 brought us some memorable K-dramas like the Song Hye-kyo-starrer revenge thriller The Glory Part 2 and the Lee Ji-ah-starrer Pandora: Beneath the Paradise. Making things more interesting, the schedule of Korean dramas releasing in April 2023 comes packed with thrillers, family dramas and women-led political plots from South Korean broadcasters as well as Netflix and Disney+.
While Paper Moon adds an element of nail-biting suspense, Uhm Jung-hwa-starrer medical drama Doctor Cha portrays the aspirations of a housewife who returns to the medical field. Other gripping shows in April include the new romantic K-drama Bora! Deborah and the action-comedy Family: The Unbreakable Bond.
Check our complete list on K-dramas to watch!
Here are the upcoming K-dramas releasing in April 2023
Paper Moon
No. of episodes: 10
Release date: 10 April
Cast: Yoo Sun, Lee Chun-hee, Kim Seo-hyung, Yoon Bora, Seo Young-hee
Synopsis: Yoo Yi-hwa (Kim) is a stay-at-home mother who is discontent with her life. She takes up a job at a bank and soon begins to embezzle funds from VIP accounts. This leads to a series of events that would decide her fate.
About the series: Based on the 2012 Japanese novel of the same name, the thriller Korean drama will air on Genie TV, ENA and TVING.
Stealer: The Treasure Keeper
Release date: 12 April
No. of episodes: 12
Cast: Joo Won, Jo Han-chul, Lee Joo-woo, Choi Hwa-jung, Kim Jae-won
Synopsis: Hwang Dae Myung (Joo) is an ordinary civil servant by day and a veiled thief —Skunk— by night who makes this action-comedy drama a must-watch. Skunk steals antiques and is chased by a specialised, but unofficial, cultural asset recovery team 'Karma'. Things get interesting when both his lives begin to unravel after the cultural property team of the Seoul Metropolitan Police Agency retrieves some cultural assets.
About the series: The action-comedy Korean drama premiering in April 2023 is a riveting cat-an-mouse chase that will air on tvN, Viu and TVING.
Bora! Deborah
Release date: 12 April
No. of episodes: TBA
Cast: Yoo In-na, Yoon Hyun-min, Joo Sang-wook
Synopsis: Yeon Bo-ra is a renowned author and dating coach who uses a pen name, Deborah. But unfortunately, her own love life isn't as great as she advises. Deborah meets publishing planner Lee Soo-hyuk who oscillates between being gentle and passionate, and cold and withdrawn. More importantly, he isn't too fond of Bo-ra. But, in the end, will the sparks fly?
About the series: The romantic K-drama will air on ENA and Prime Video in select regions.
Queenmaker
Release date: 14 April
No. of episodes: 12
Cast: Kim Hee-ae, Ryu Soo-young, Moon So-ri, Ki Do-hoon, Kim Tae-hoon
Synopsis: Hwang Do-hee (Kim) is a talented business executive at a powerful business conglomerate who joins Oh Seung-sook (Moon), a labour rights lawyer, to get even with her ex-employer and help Seung-sook to become the mayor of Seoul.
About the series: The political drama airs on Netflix.
Doctor Cha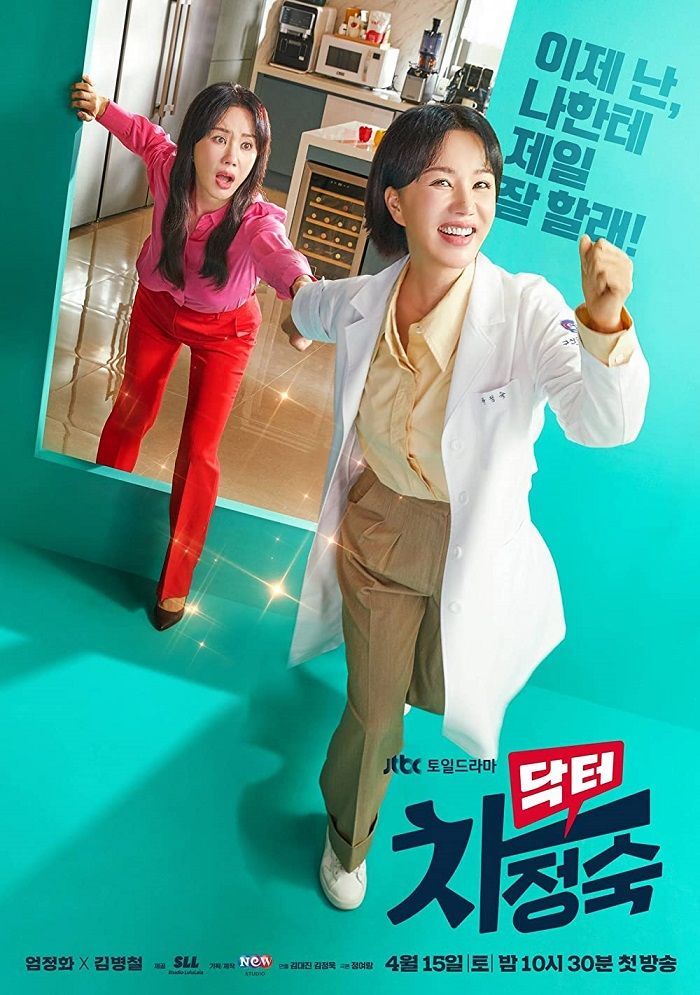 Release date: 15 April
No. of episodes: 16
Cast: Uhm Jung-hwa, Myung Se-bin, Kim Byung-chul, Song Ji-ho, Min Woo-hyuk
Synopsis: After 20 years of being a homemaker, Cha Jung-sook (Uhm) decides to return to medical school. Meanwhile, her husband, who is a doctor and a great one at it, conceals his dual life from Jung-sook, who set out on a journey to fulfil her dreams.
About the series: Doctor Cha will air on JTBC and Netflix.
Family: The Unbreakable Bond
Release date: 17 April
No. of episodes: 12
Cast: Jang Hyuk, Chae Jung-an, Jang Na-ra, Kim Nam-hee
Synopsis: Kwon Do-hoon is a skilled secret agent and sniper with the NIS, which he hides from his almost perfect housewife Kang Yoo-ra (Jang). While he pretends to be an ordinary employee at a trading company, his actual job makes him often neglect his family. Meanwhile, Yoo-ra has her secrets as well, which pose a threat to their harmonious relationship with the entry of Tae-koo (Kim).
About the series: This Korean drama releasing in April will premiere on tvN and Disney+ in some regions.
Queen of the Mask
Release date: 24 April
No. of episodes: 16
Cast: Kim Sun-a, Oh Yoon-ah, Shin Eun-jung, Yoo Sun
Synopsis: Four friends get involved in a murder. Three of them pin it on the fourth which forces her to run away from the country. Returning after 10 years, she appears before the other three, who are now immensely successful in their careers, to reveal their true faces.
The Good Bad Mother
Release date: 26 April
No. of episodes: 16
Cast: Ra Mi-ran, Lee Do-hyun, Ahn Eun-jin, Yoo In-soo, Seo Yi-sook
Synopsis: The series follows the relationship between Jin Young-soon (Ra) and Kang-ho (Lee). A pig farmer and a single mother to Kang, Young-soon vows to give her son a good life. After Kang-ho grows up and becomes a renowned prosecutor, the mother-and-son relationship gets strained. However, after an unfortunate accident, Kang-ho loses his memory, turning his mind to that of him as a child. This is when he is forced to return to his mother's care. Will this help them repair their bond?
About the series: Best known for Reply 1988, Ra Mi-ran will be seen in one of her biggest roles in this JTBC production.
Dr. Romantic season 3
Release date: 28 April
No. of episodes: 16
Cast: Han Suk-kyu, Lee Sung-kyung, Ahn Hyo-seop, Kim Min-jae, So Ju-yeon, Jin Kyung, Im Won-hee
Synopsis: The genius yet unconventional surgeon Teacher Kim (Han) will be seen mentoring surgeons Seo Woo-jin (Ahn) and Cha Eun-jae (Lee) and helping them prosper in their profession and personal lives as well.
About the series: The third instalment of the much-anticipated Korean medical drama will air on SBS.
(Hero and Featured images: Courtesy of IMDb) 
The story first appeared on Lifestyle Asia India