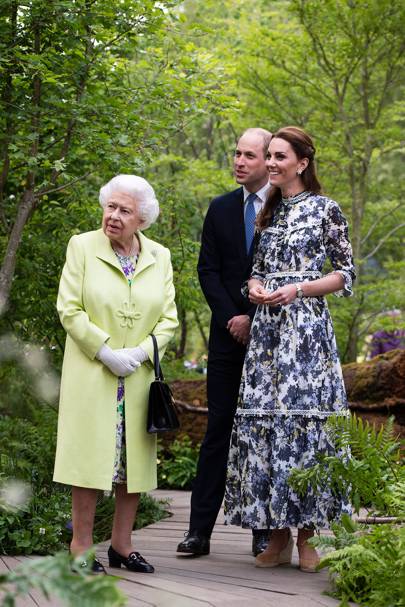 From keen photographer to accomplished sailor, the Duchess of Cambridge has many strings to her bow. One among them is her aptitude for gardening, with Kate even having co-designed a series of 'Back to Nature' gardens in 2019 – the first of which was shown at the RHS Chelsea Flower Show. An exciting space aimed at immersing children in nature, it's now been reported that the garden may have influenced the redevelopment of a children's playground at Sandringham.
One of the Queen's beloved country retreats, Sandringham House is set in an impressive 243 hectares of dog friendly Royal Park, including 24 hectares of formal gardens. Much of the estate is open to the public, with extensive facilities including a Terrace Café, the Sandringham Shop, Sandringham Restaurant and the historic St Mary Magdalene Church. While some parts of the residence, including the main house, remain closed to visitors until 29 May, Sandringham Gardens reopens this weekend (24 April), while the Park continues to be open to those wishing to enjoy its picturesque nature trails and abundant wildlife.
Chief among the Royal Park's attractions is the freshly updated playground. The Sandringham website relates: 'The Children's Play Area has recently undergone improvement and expansion works during the winter months to replace the current small play area, adding more challenging equipment, high level walkways, a high tower inspired by local Appleton Water Tower with multi-level water play, which has wheelchair access.'
According to the MailOnline, the playground, which reopened to visitors on 12 April, may well have been inspired by the Duchess of Cambridge's recent garden design ventures. Her first 'Back to Nature' garden at 2019's Chelsea Flower Show included a rope swing, tepee den and a tree house, similar to the fun, immersive attractions in the new Sandringham play area.
A Sandringham Estate spokesman is quoted as stating: 'The ongoing development of a new Children's Play Area at Sandringham forms part of improvement works across the Estate, with a view to offering better facilities for visitors, whilst maintaining the landscape and environment for all to enjoy.' Creating Adventurous Spaces Ltd, the designer behind the playground, described its central water tower as 'a ground-breaking new play feature fit for the Sandringham Estate.'
Designed to be in harmony with nature, the Queen was reportedly advised to plant bat-friendly flowers around the playground in the initial planning applications. It was thought that a wildflower planting scheme would improve foraging opportunities for bats and other pollinators, and was suggested that installing three bat boxes and two bird boxes on trees near the play area would help encourage local wildlife.
The Duchess of Cambridge has long championed the benefits of being out in nature for children's physical and mental health. When her Chelsea Flower Show garden was announced, the RHS said that it had 'been inspired by childhood memories that are triggered by the natural world, as well as special moments that will be created and treasured by families now and in the future'.
With the Cambridge's own Norfolk country residence, Anmer Hall, so close to the new playground, no doubt Prince George, Princess Charlotte and Prince Louis will be able to enjoy exploring its many exciting features themselves this summer.
Subscribe now to get 3 issues of Tatler for just £1, plus free home delivery and free instant access to the digital editions
More from Tatler
In order to see this embed, you must give consent to Social Media cookies. Open my cookie preferences.