Whether it's a new beauty balm, blemish fix, or botox: welcome to your local guide to what to put on your face in Bangkok.
Each month, we'll be presenting you with a series of beauty products we're very excited about, be it a newly-launched lipstick or a tried-and-tested sheet mask.
For March 2021, we're embracing the spirit of spring with fresh skincare products and exciting fragrance launches. As we start planning our Songkran getaways next month, we love that March is packed with remedies to get us through this last bit before the holidays. Colour correctors, eye de-puffers, and body foundation: here are all the beauty buys to covet this month.
Rihanna shows your eyes how to chill
If your March is as busy as ours, you're going to love this product. Rihanna has launched a new eye gel-cream under Fenty Skin, aiming to provide an instant 'flash nap' for your peepers. The power shot is made with horse chestnut, hyaluronic acid, Persian silk tree extract, and green tea, making it an ideal tool to soothe, revitalise, and de-puff. We particularly love the mini eye massager that comes with it (an online exclusive!), as a fabulous way to deliver an extra cooling effect, too. Hungover mornings? Never heard of 'em — or at least, never seen them.
Best for: The morning after the night before.
Wear to: Your big meeting where you need to look super on point.
Priced at: THB 1110 for the cream only; THB 1430 including the eye massager.
Buy at: Sephora stores and online.
Make Up For Ever wants to make a few corrections
We love Make Up For Ever for its sincere approach towards making makeup application not only fun, but easy to understand, too. Now, the makeup brand founded by makeup artists has launched a series of 'Step 1 Primers' to prep the skin for a perfect base. These primers consist of three skin perfectors (shine control, pore minimiser, and hydra booster), and six colour correctors (redness corrector, tone up perfecto, yellowness neutraliser, fresh brightener, dullness eraser, and greyness reducer). The versatility in this product range is fantastic, given that it can cater to many different kinds of concerns, making it easy to personalise your selection.
Best for: When your skin needs a little correcting, but you're lazy.
Wear to: Instagrammable spots, because you'll want pictures with perfect skin.
Priced at: THB 1400
Buy at: Sephora stores and online.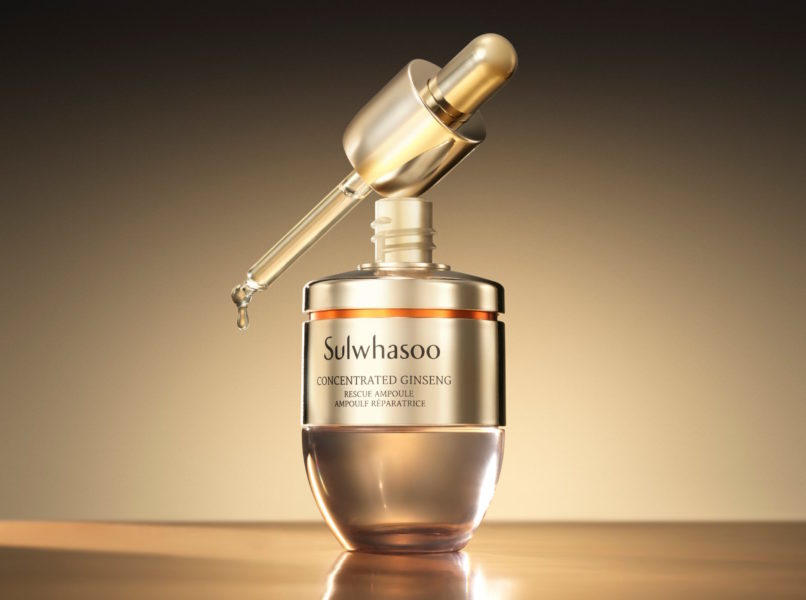 Sulwhasoo makes sure you don't age prematurely this month
In the world of Korean skincare, Sulwhasoo also has an exciting launch this month. They've unveiled a Concentrated Ginseng Rescue Ampoule which uses the superpower ingredient to target signs of premature ageing. It is best used after your favourite toner, and followed up with the matching Renewing Serum for the best result.
Best for: Those who know and believe in the power of Ginseng.
Wear to: Your evening pampering session.
Priced at: THB 3420
Buy at: Sulwhasoo beauty counters or online.
Bulgari will magnify your favourite scent
Granted, you shouldn't put this one on your face, but you will definitely seduce the senses. Bulgari has launched a new personalised fragrance experience entitled 'Allegra' this month, inviting fragrance lovers not only to indulge in five new signature Roman-inspired scents, but also to personalise their own. Presenting five eaux de parfum in a core collection, we love the experience of selecting and carefully crafting a scent that works best for individual character, mood, and overall vibe. The way it works is that you pick one of the five new scents, and then use one product from the core collection to magnify and elevate its power. The core collection were devised exclusive to Bulgari by Master Perfumer Jacques Cavalier, so expect nothing short of perfection.
Best for: Those seeking a unique scent, tailored to their personality.
Wear to: A date where you need to leave a lasting impression.
Fenty Beauty explains why you need body sauce
Beauty products don't stop at the face. Anyone who likes to show a lot of leg understands this. Now, Fenty Beauty has launched this Body Sauce Body Luminizing Tint as a nourishing body foundation. Available in seven shades, it's an instant confidence-booster, as skin appears lightly shimmery with a great glow. The gel-cream formula contains Babassu Oil and Vitamin E, and is humidity-, sweat-, and transfer-resistant. Perfect for dancing the night away.
Best for: Summer nights and backless outfits.
Wear to: Your next evening soiree.
Priced at: THB 1580
Buy at: Sephora stores and online.
Jo Malone brings back springtime in London
Whilst it feels more like summer than spring here in Bangkok, a girl can always dream. Jo Malone has launched a new Blossoms collection, featuring four floral-based scents. The two new fragrances include Yellow Hibiscus and Red Hibiscus, whilst two exiting fragrances make a comeback: Frangipani Flower and Nashi Blossom. A great purchase for anyone who wishes to teleport themselves into a cooling, secret garden.
Best for: Jo Malone fans who want to switch it up for spring.
Wear to: A picnic in the park, or brunch with the girls.
Priced at: THB2500 (cologne) to THB 7500 (parfum)
Buy at: Jo Malone beauty counters and online.
Coach and Sephora team up with Rexy, Sharky, and Uni
Have you spotted this adorable collection yet? Coach and Sephora have collaborated to present a cute line of makeup products spanning three eyeshadow palettes, a lip gloss set, a nail set, a brush set, and eye masks. The limited-edition design features familiar faces for those who are fans of the Coach brand, with all Rexy, Sharky, and Uni featured as charming motifs on each product. Pair with your Rexy sweater and you should be good for March 2021.
Best for: Those who have always loved the Coach characters.
Wear to: Everyday get-togethers.
Price: THB 1050-2900
Buy at: Sephora stores and online.
The post New Beauty Buys: what to put on your face this March 2021 appeared first on Lifestyle Asia Bangkok.