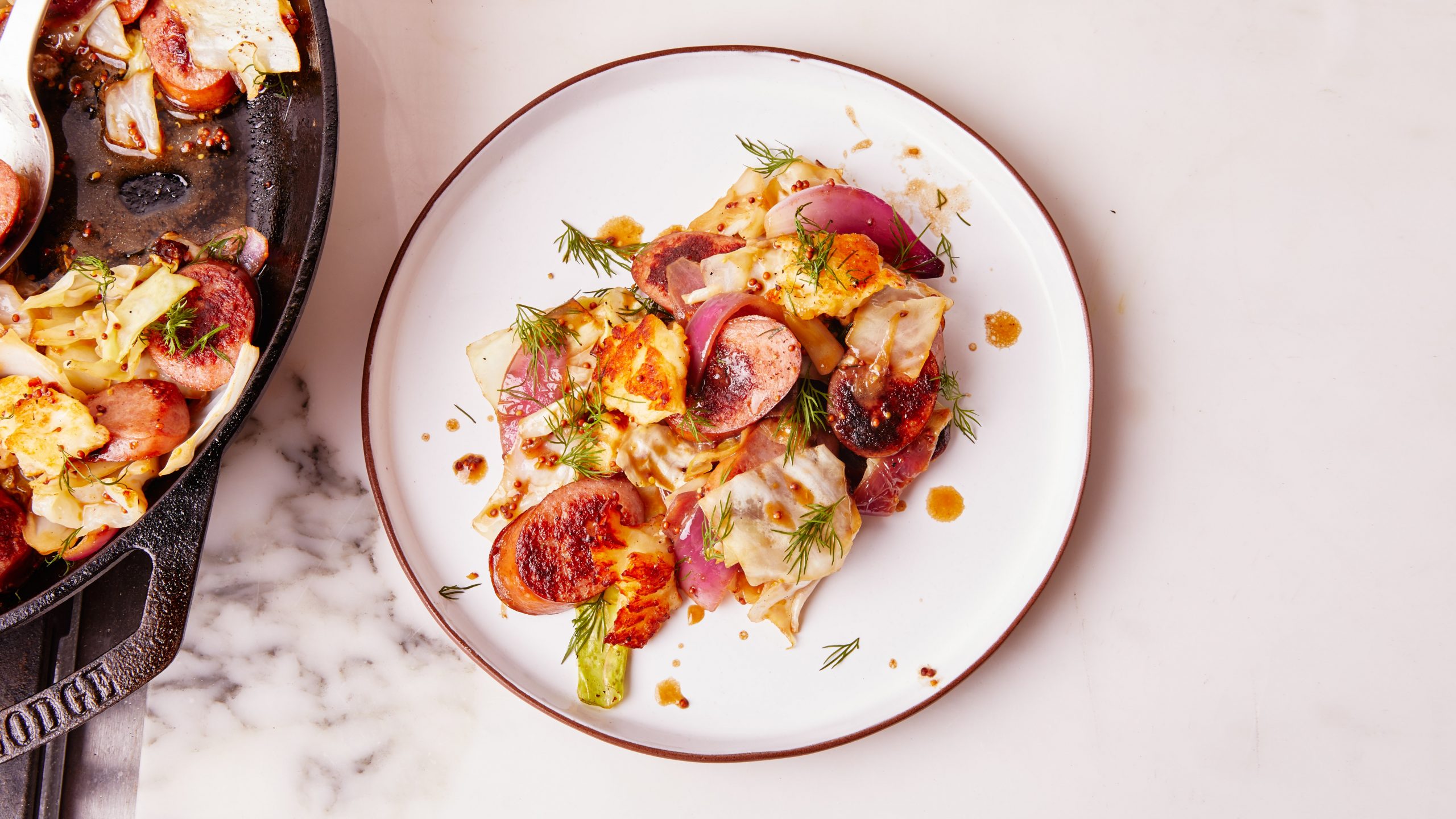 Crisped sausage and cheese, lightly charred cabbage, and a savory mustard glaze come together to deliver major beer hall vibes. Because so many of the ingredients are salty, you don't need to season the vegetables while cooking. Some brown bread on the side for serving is extra credit, but the big showering of dill at the end is nonnegotiable.
All products featured on Bon Appétit are independently selected by our editors. However, when you buy something through the retail links below, we earn an affiliate commission.
Ingredients
4 servings
2
Tbsp. Dijon mustard
2
Tbsp. whole grain mustard
2
Tbsp. soy sauce
1
Tbsp. Champagne vinegar or white wine vinegar
2
Tbsp. extra-virgin olive oil, plus more
8
oz. Halloumi cheese, torn into 1″ pieces
1
lb. green cabbage (about ½ medium head), cut into 2″-thick wedges
12
oz. kielbasa sausage or cooked bratwurst, sliced ¼" thick
1
medium red onion, cut into 1″ pieces
Chopped dill (for serving)
Preparation
Step 1
Whisk Dijon mustard, whole grain mustard, soy sauce, and vinegar in a small bowl; set mustard sauce aside
Step 2
Heat oil in a large skillet over medium-high. Arrange Halloumi in skillet in a single layer; cook, turning occasionally, until golden brown and crisp, about 4 minutes. Transfer to a medium bowl.
Step 3
Arrange cabbage, cut side down, in same pan and cook, undisturbed, until starting to char in spots underneath, about 3 minutes. Transfer to a cutting board and cut into 1″–2″ pieces.
Step 4
Cook sausage in same pan, turning occasionally, until browned and crisp, about 3 minutes. Using a slotted spoon, transfer to bowl with Halloumi, leaving as much fat in pan as possible.
Step 5
Add more oil to fat remaining in pan to make 1 Tbsp. fat total. Cook onion, undisturbed, until well browned around edges, about 2 minutes. Continue to cook, stirring occasionally, until softened, about 3 minutes more. Return cabbage to pan and add reserved mustard sauce. Cook, tossing often, until combined and cabbage is coated, about 1 minute. Remove pan from heat; stir in Halloumi and sausage. Top with dill just before serving.