The menswear shows for SS22 were hard to miss, and it looks like we're in for a carefree summer — at least, style-wise.
As we welcome the summer heat, the fashion world breaks out the latest garments for your spring/summer's wardrobe. In the menswear department, juxtaposing motifs, asymmetrical silhouettes, structured layering, breezy cut-outs and utility shorts dominated the runway. Next year is going to be much improved and we can't wait to flaunt these fashionable attires once it's safe to do so. From Louis Vuitton to Fendi and Giorgio Armani, it's time to pick out your favourites from our selection below. What is it going to be next summer?
[Hero & Featured image credit: Louis Vuitton]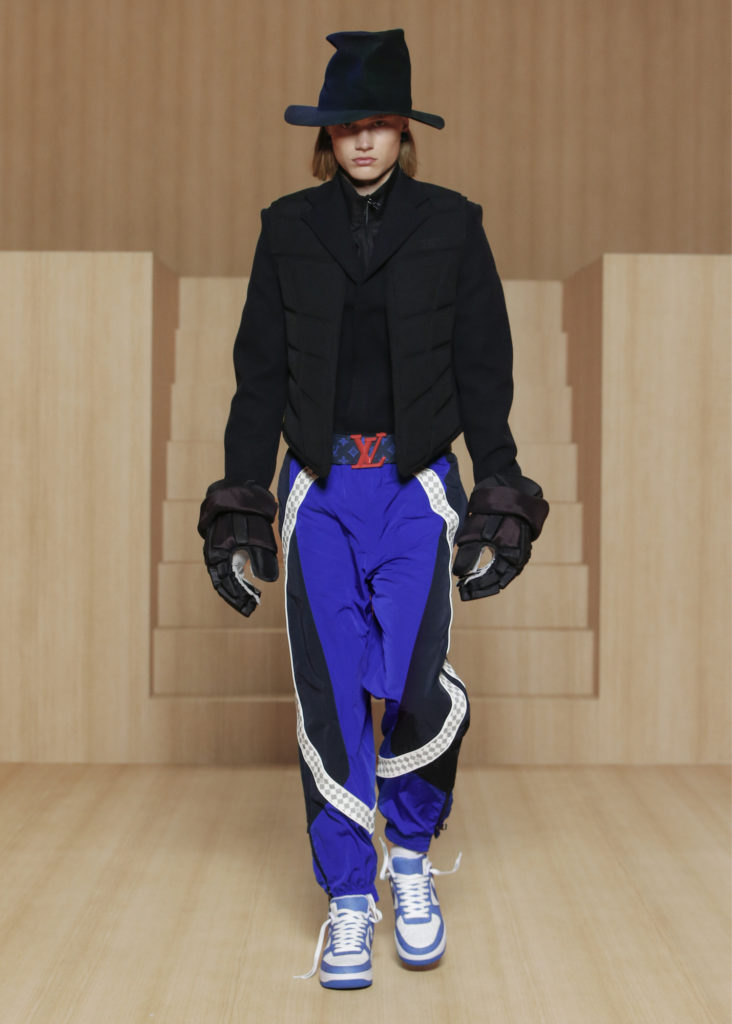 Louis Vuitton
Louis Vuitton's collection is translated simply into an electrifying experience. Swipe through the gallery, and you'll notice the various personalities the collection embraces, from sophisticated to skater boy, sporty and beyond. A costumery experience but wearable at the same time, this collection exudes boldness. There are no rules here in Louis Vuitton. Staple separates such as tailored pantsuits, oversized coats, plush tie-dye jackets and maxi skirts caught our eye. There is also the wide range of accessories, from coveted bags to footwear, including the Louis Vuitton x Nike Air Force 1 collab. If you ever contemplate about stepping out in mismatched prints or a power-shoulder suit with a billowing skirt, what's stopping you? 
Burberry
The goals are simple: bare those arms and liberate the mind. The collection takes a step towards challenging conventional codes with assured fluidity. With the art of tailoring, signature staples are reimagined in conforming silhouettes for a lively summertime. The Burberry trench coat we're familiar with is refreshed with sleeveless cuts, as edgy neutral tones come to the fore. Staying true to the element of fun, splashes of abstract prints are displayed on tees and outerwear pieces, along with matching patchwork detailing on tapered pants and overalls.
Fendi
Playful and refreshing, Fendi is taking a stand with summer fits. As pastel hues ruled the runway, we couldn't help but adore it more when we saw iridescence too. Flaunting your legs and midriffs is cool too. Yes, shorts and cropped jackets are a huge deal for the Maison this season. Don't worry, there's something for everyone. Comfy knits, colour blocked polos, monochrome blazer sets, relaxed bomber, and tapered pants are available for the reserved. Sweet summer pastels, abstract prints and oil slick effects are perfect for summertime bliss. We can foresee seeing this collection as a hit next year. 
Giorgio Armani
Comfort and softness of fabrics influence what we choose to dress these days. Giorgio Armani is revamping his summer suits with a relaxed silhouette. Staying true to tradition, this season's goal is to show up in a coordinated top and bottom. Here's what's in: evening shirts are paired with bermuda pants (bold colours are welcome), soft knits with slouchy trousers, zip-up silk shirts and wide-legged trousers. Are you ready to live a carefree summer? 
Tod's
An urban safari is how we'd describe as the mood set by Tod's latest collection. Following a narrative based on nonchalance and modern craftsmanship, this season projects a wardrobe – of jackets, trench coats, windbreakers and blazers in warm sunset tones and neutrals – dedicated to leisure and adventures. Plus, denim-on-denim is making a comeback too, but this time with a waist-belt top and slouchy trousers. Not into bermudas? Well, you might want to change your mind.
This article first appeared on Lifestyle Asia Kuala Lumpur.
The post Menswear fashion week Spring/Summer 2022: 5 key highlights appeared first on Lifestyle Asia Bangkok.