SINGAPORE: Hoping to take a video of himself wakeboarding at "unique areas" in Singapore, a man set up boatless wakeboarding equipment at the Civilian War Memorial and skied across the water five times.
Singaporean Stephan Kovalkov, 24, was fined S$4,000 on Friday (Nov 12) for one count of wilfully interfering with a national monument under the Preservation of Monuments Act.
This is the first time such an offence has been committed in Singapore.
The court heard that Kovalkov was born in Singapore and served full-time national service. 
On the evening of Jul 17 this year, Kovalkov and four accomplices drove around Singapore to look for a wakeboarding spot in the city area. 
The accomplices are: 24-year-old Russian national and Singapore permanent resident Ekaterina Utkina, 20-year-old British national William Bryn Vaughan, 19-year-old Singaporean Sheikh Mustafa Sheikh Abdul Sattar San'ani and 18-year-old Singaporean Clarence Aloysious Batchelor.
Kovalkov suggested that they gather at the Civilian War Memorial and set up equipment there for boatless wakeboarding, including a self-modified wind pulley system at one end of the water feature.
He was shown in video clips played in court strapping himself to a wakeboard, with a helmet on, before skiing across the water at the base of the Civilian War Memorial.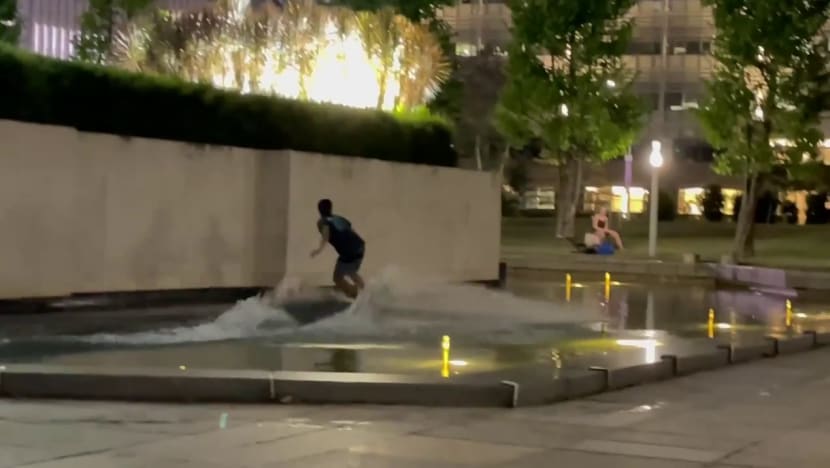 He did so five times, executing a wakeboarding move known as a wall slide and bouncing off a concrete wall of the memorial. Ekaterina helped him to film the act and one of the clips later went viral, prompting a police report.
Deputy Public Prosecutor Koh Mun Keong said the Civilian War Memorial was unveiled by former prime minister Lee Kuan Yew on Feb 15, 1967, after prayers were said by leaders of the Inter-Religious Council representing various faiths in Singapore.
It was gazetted by the National Heritage Board in August 2013 as the 65th National Monument of Singapore.
The memorial commemmorates the civilian victims of World War II and Singapore's multi-racialism, and is meant to symbolise the shared suffering of Singapore's four main ethnic groups as well as victims of the war.
The memorial, which features four pillars merging into one towards the sky, is built over a burial chamber containing exhumed remains from mass graves of civilian war victims found around Singapore in 1962.
The base of the memorial is surrounded by two shallow pools of water, and it was here that Kovalkov wakeboarded. Memorial services are held at the site on Feb 15 every year in remembrance of the victims of World War II.
Mr Koh sought a fine of between S$3,000 and S$5,000, stating that the memorial is of "monumental significance to Singapore and Singaporeans".
"It was constructed in memory of one of the defining tragedies in our nation's history. It contains actual remains of the victims of World War II and symbolises the shared suffering of Singapore's four main ethnic groups during the war," he said. 
He added that any form of disrespect must be deterred.
Lawyer Noor Mohamed Marican asked for a fine of S$3,000, saying that his client "truly and genuinely meant no disrespect".
He said Kovalkov's intention was to take a video of him wakeboarding in unique areas in Singapore to "generate and attract positive interest about Singapore about the wakeboarding community internationally".
He thought his actions were permissible, but was "completely wrong", added Mr Marican.
Kovalkov asked his lawyer to apologise for his conduct, as well as to the people of Singapore, specifically the relatives, loved ones and friends of the victims of the war.
His lawyer included in his mitigation his past services in the military police.
The judge agreed that deterrence is a key factor in sentencing, to deter other like-minded offenders and to underscore the importance of how national monuments should be treated, not in "a cavalier manner".
However, she noted that this was Kovalkov's first brush with the law, and that he was previously commended for civic-minded acts.
For wilfully interfering with a national monument, Kovalkov could have been jailed up to six months, fined up to S$30,000, or both.