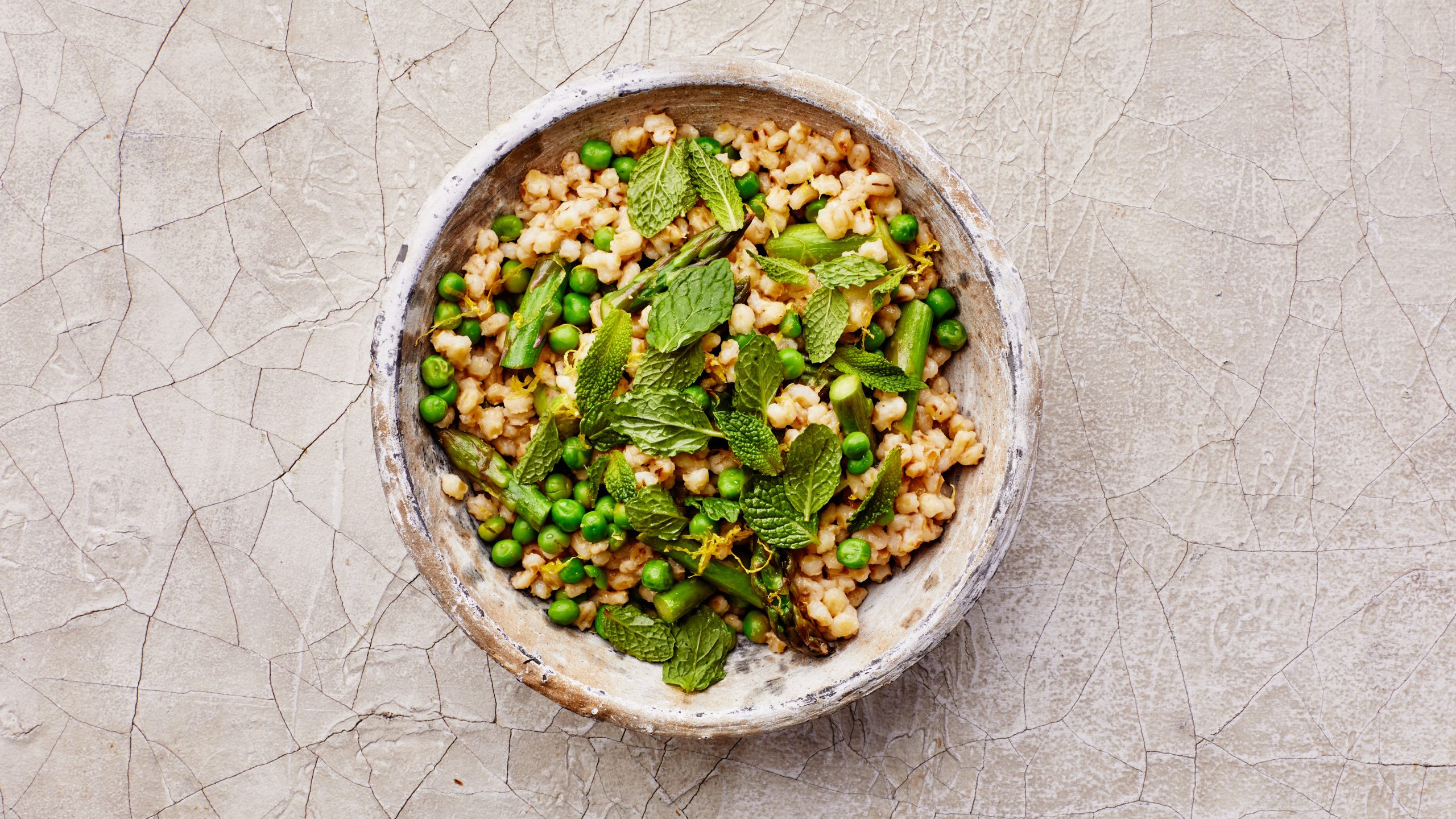 This one-pot dish from chef Carla Hall is basically spring in a bowl, bursting with fresh asparagus, tender green peas, lemon, and mint. It's important to buy pearl barley for this recipe: Compared to whole grain hulled barley, which is chewy and requires lots of cooking liquid, the pearl barley used here cooks in less time and results in a creamier texture (think arborio rice). Another quick-cooking grain like pearled farro would also work well here. Making Hall's Fennel Potlikker is a crucial first step here, so be sure to read through that recipe first.
All products featured on Bon Appétit are independently selected by our editors. However, when you buy something through the retail links below, we earn an affiliate commission.
Ingredients
4 servings
2
Tbsp. extra-virgin olive oil
1
lb. asparagus, trimmed, cut into 1″ pieces
1
cup pearl barley
3
1
Tbsp. Diamond Crystal or 1¾ tsp. Morton kosher salt, plus more
1
cup fresh or frozen green peas
2
tsp. fresh lemon juice
Freshly ground black pepper
1
Tbsp. finely grated lemon zest
½
cup mint leaves
Preparation
Step 1
Heat oil in a medium pot over medium. Cook asparagus, stirring often, until softened and bright green, about 5 minutes. Transfer to a plate; set aside.
Step 2
Increase heat to medium-high and add barley to pot. Cook, stirring often, until lightly browned, about 4 minutes. Add potlikker and 1 Tbsp. Diamond Crystal or 1¾ tsp. Morton kosher salt; bring to a boil. Reduce heat, cover pot, and simmer until barley is tender and doubled in size and liquid is absorbed, 25–30 minutes.
Step 3
Uncover pot and stir in peas. Cook until peas are tender and bright green, about 4 minutes. Stir in lemon juice and reserved asparagus; season with salt and pepper.
Step 4
Divide barley among bowls. Top with lemon zest and mint.