SINGAPORE: Ms Lydia Yee is not worried about the prospect of having to pay for disposable carrier bags from supermarkets come Jul 3.
The 43-year-old already brings reusable bags when shopping – for years, she has been reusing packaging material in ways that minimise the need for carrier bags to put her waste.
Even without disposable carrier bags, Ms Yee told CNA she finds "more than enough" paper and plastic receptacles to bag her trash – including packaging for vegetables, bread, snacks, and cereal boxes.
"I'm not an eco-warrior by any means but I do try to be conscientious about it," she said.
Consumers in Singapore take about 820 million plastic bags from supermarkets each year, according to estimates from a 2018 survey by the Singapore Environment Council (SEC). That works out to two to four bags per person in one supermarket trip.
Under a new law, large supermarkets – they number about 400, or two-thirds of all supermarkets in Singapore – must charge customers at least 5 cents per disposable carrier bag from Jul 3.
While most supermarkets in Singapore provide plastic bags, the scope of the law covers not only plastic bags but disposable carrier bags of all materials, including biodegradable ones made of paper.
This is because the environmental benefits of biodegradable materials cannot be realised at scale in Singapore, where incinerable waste is not directly buried in a landfill. It is either recycled, or it is incinerated and the ashes are buried in Semakau Landfill.
At the rate that waste generation is growing, Semakau will run out of space by 2035. The bag charge forms part of Singapore's Zero Waste Masterplan, which seeks to extend the lifespan of the only landfill in the land-scarce country.
But with supermarket plastic bags commonly reused for bagging garbage, will the supermarket 5-cent charge merely displace demand for plastic bags to other channels, such as the purchase of single-use garbage bags?
And will that undo any potential environmental benefits from the policy, even as customers find themselves paying more?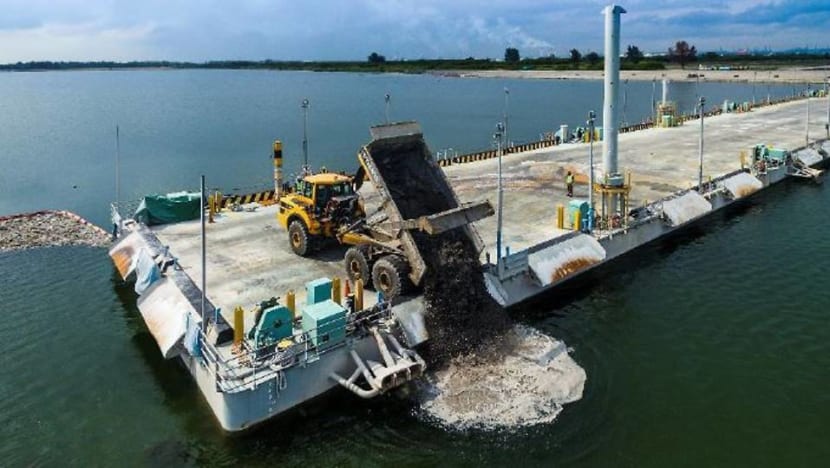 LATE TO THE BAG CHARGE?
The vast majority of plastic comes from fossil fuels. Greenhouse gases responsible for climate change are emitted at every stage of the plastic life cycle – from extracting and transporting fossil fuels, to making plastic, to managing plastic waste.
Many countries have pipped Singapore to the post when it comes to tackling single-use plastics in law. Bangladesh was the first country in the world to ban thin plastic bags in 2002, according to the United Nations Environment Programme.
In 2008, China stopped shops from handing out free plastic bags and made ultra-thin plastic bags illegal. In 2021, the country started banning plastic bags from shops in major cities as well as single-use plastic straws in restaurants.
By some measures, Singapore is late to the game. Despite a growing awareness of sustainability and climate change among locals, the bag charge has polarised opinions.
"I think it's a red herring that doesn't solve the real underlying issue of plastic use," one consumer told CNA.
"My opinion is that they are just shifting the blame of plastic usage onto us individuals and consumers," said another.
The bone of contention is that most households in Singapore reuse free plastic bags from supermarkets to line bins and bag waste before disposal. This is especially so for residents of Housing Board flats and other high-rise apartments, where the bags have to fit into refuse chutes.
Listen: Charging for plastic bags: An effective move?
Waste is bagged before disposal for hygiene reasons, and the government has made it clear that the practice should continue after the bag charge is in place.
The practice of bagging waste means that "plastic bags are to a certain degree, necessities in each household", the SEC noted in a 2013 position paper.
This is also why local non-governmental organisation Zero Waste SG currently does not support a total ban on plastic bags. A ban without changing habits may lead people to switch to bags made from other materials that could be more resource- and energy-intensive, it said.
Dr Amy Khor, Senior Minister of State for Sustainability and the Environment, recently explained in parliament how the bag charge is supposed to change consumers' behaviour.
"Making the cost of the bag visible in supermarkets prompts us to pause and consider how many we really need. It is a reminder to bring our own reusable bags and to reduce the use of disposables – an essential feature of sustainable living," she said.
CNA asked the National Environment Agency (NEA) why Singapore is imposing the bag charge at this time, and what the target rate of reduction in bag usage is.
"Internationally and locally, climate action and environmental protection are gaining pace, and we cannot continue with business as usual," said NEA.
"We note that the charge has been highly effective in overseas jurisdictions. Bag charges imposed in Hong Kong, Ireland, the United Kingdom, Taiwan and the Netherlands have reduced consumption of disposable bags by about 60 to 90 per cent.
"Achieving a similar range in the reduction of disposable carrier bags at supermarkets would be a good result for Singapore."
HOW DID THE TRIALS GO?
NEA also noted that some local retailers have started implementing a disposable carrier bag charge, which has been shown to be effective in reducing usage.
This was the case in Popular bookstores, which started charging for plastic carrier bags at a rate of 10 cents per transaction in September 2021 – bag usage more than halved after the charge was introduced.
| Time period | Bags ordered | Change from 2020 |
| --- | --- | --- |
| Sep to Dec 2020 | 2,242,200 | N/A |
| Sep to Dec 2021 | 1,080,900 | -51.8% |
| Sep to Dec 2022 | 819,700 | -63.4% |
But what about a reward system, rather than charging for bags?
NEA explained the choice of a bag charge over a bring-your-own-bag rebate by referring to a 2015 study in the US, which "found a large change in behaviour with a 5-cent disposable bag charge but almost no impact with a 5-cent bonus for reusable bag use".
"This is consistent with the theory of loss aversion where people are more responsive to losses than gains. When shoppers see that they will be charged for a bag, they are more likely to pause and reconsider their need for the bag," the agency said.
The experience of NTUC FairPrice – the largest supermarket chain in Singapore – also suggests that a charge is more effective at cutting usage, compared with a rebate.
It used to give customers who brought their own bags a 10-cent rebate per transaction with a minimum spend of S$10.
In 2017, the rebate saved about 11.5 million bags across 140 stores. FairPrice ended the trial in 2018, saying that progress had "plateaued out".
It then rolled out a bag charge at selected outlets. Bags are sold at 20 cents per transaction at some supermarkets, and 10 cents per transaction at convenience stores Cheers and FairPrice Xpress.
In 2019, the charge saved a total of 15.6 million bags across 12 supermarkets and 13 convenience stores. The number of bags saved rose to 57 million last year, when the charge was expanded to all 167 convenience stores.
When CNA asked how much money it collected from the voluntary bag charge, FairPrice did not give a figure but said that proceeds went towards supporting sustainability or community-related causes.
When the bag charge takes effect, supermarket operators must report data to NEA and publish information on the number of bags issued, the proceeds collected and how they are used.
USING CARRIER BAGS AS TRASH BAGS
Critics of the bag charge said the charge is likely to succeed "on paper", with supermarkets reporting lower bag usage. But they did not believe it would lead to an overall reduction in plastic waste and carbon emissions due to the need to bag trash.
"We now need to buy new bags to use for disposal, which makes them exclusively single use, which is even more wasteful," said a 28-year-old man who only wanted to be known as Earl.
He expressed concerns about garbage bags not coming in the right size to line household bins, which would mean throwing oversized bags – that is, excess plastic – down the chute.
"It is far more effective and impactful for the companies to reduce waste and plastic usage in their supply chain because then they don't have to rely on millions of individuals to make the right decision," he added.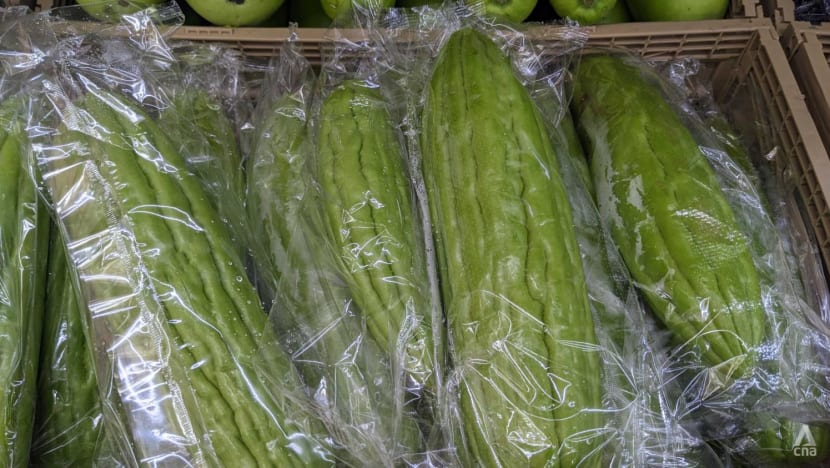 Some people argue that the free supermarket plastic bag is a household essential that fulfils the reusing ethos because it is repurposed for bagging waste. But are all supermarket bags reused in this way?
While a majority of households in Singapore reuse plastic bags for garbage disposal, there also appears to be significant wastage and hoarding.
In 2013, the SEC surveyed 2,500 people on what they did after bringing home free plastic bags. While 89.9 per cent of respondents said they would reuse the bags to dispose of waste, 8.5 per cent said they would recycle them and 6.3 per cent would throw the bags away without reusing them.
About 60 per cent of respondents had more than 20 bags stored at home. But of those who reused bags, the vast majority – more than 95 per cent – reused fewer than 20 in a week. By this measure, most respondents were holding on to far more bags than they needed.
The SEC estimated that about one-third of the respondents were wasting all or some of the free bags.
Zero Waste SG's executive director Tan Huileng said the NGO's approach is to "first tackle the excessiveness, so even if we still need bags to hold our trash, we can reduce the absolute number of garbage bags that are being used".
SHIFTING THE COST?
If plastic bags are still needed, then in terms of availability, cost and environmental impact, how would buying new garbage bags stack up against reusing supermarket bags that cost at least 5 cents each?
A typical plastic bag from a supermarket has a capacity of about 19L and is made of high-density polyethylene (HDPE).
Checks of store shelves and online retailers showed that HDPE garbage bags were widely available, but tended to be larger. Plastic bags sized similarly to supermarket bags are usually not marketed as being for garbage.
Cost-wise, new HDPE garbage bags tend to go for less than 5 cents a piece. This could mean that people who need plastic bags may buy them in bulk – more economical than buying the bags at supermarket checkouts.
For example, plastic bags decorated with the lion head symbol, which are similar in size to supermarket bags, cost S$1.46 for 38 bags at Sheng Siong Supermarket. This works out to less than 4 cents a bag.
Large garbage bags, which have a stated capacity of 20L, were going for S$2.90 for 90 bags at the same supermarket, or slightly more than 3.2 cents a bag.
On Shopee, 100 smaller garbage bags can be bought for S$3.19, or about 3.2 cents a bag.
While grocery bags are usually made of HDPE, garbage bags can be made of either HDPE or low-density polyethylene (LDPE). Switching from one material to the other does not appear significant from a life cycle and environmental impact point of view.
Both HDPE and LDPE are water-resistant and good for wet waste, said Mr Benjamin Tan, head of business development at local packaging supplier Stream Peak. But LDPE is the preferred choice for industrial use, such as bagging biohazard waste. Aquariums also tend to use LDPE bags to package fish in water.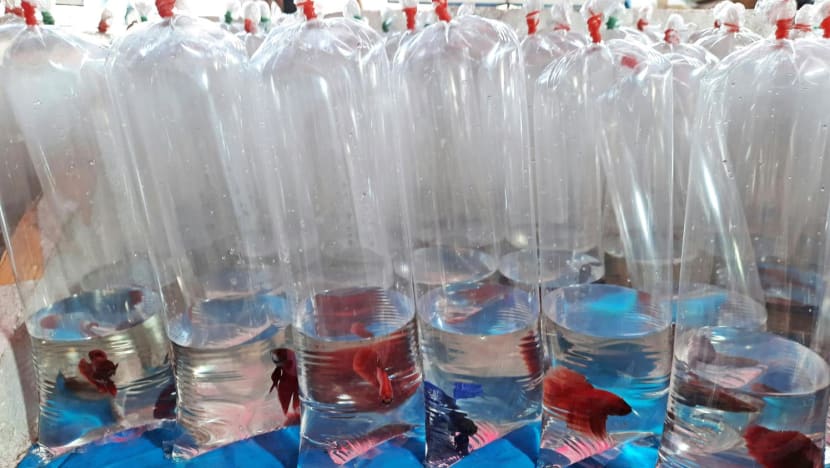 In HDPE and LDPE, raw polymers are synthesised in different ways to give them different densities, said Dr Tong Yen Wah, associate professor in chemical and biochemical engineering at the National University of Singapore (NUS).
HDPE has more molecules packed into the same volume – this makes it denser, tougher and more opaque, and it does not tear as easily as LDPE, which is lighter and more flexible, he said.
There is no difference in the end-of-life disposal of HDPE and LDPE bags, according to Dr Tong.
Chemically, HDPE and LDPE bags are the same. When incinerated, pure HDPE and LDPE bags generate only carbon dioxide (CO2) and water, which are not toxic or pollutive, he said. However, CO2 is a greenhouse gas.
Any pollutants, such as dioxins, would come from additives like colourants, antioxidants or anti-inflammatory materials added to the bags, said Dr Tong.
Incineration of both HDPE and LDPE bags is a net energy positive process in Singapore, said the professor.
The heat from burning trash is used to generate steam, which is used to drive turbines, generating energy equivalent to almost 3 to 5 per cent of the country's total electricity production, he said.
But even with Singapore's sophisticated waste-to-energy incineration plants, every tonne of plastic waste that can be saved reduces the burden on the energy grid, the SEC previously said.
As thermoplastics, both HDPE and LDPE bags are also "theoretically recyclable with no differences in how many times (they) can be recycled", said Dr Tong.
"The challenge in recycling HDPE or LDPE plastic bags is in collecting them, separating (them) out from other waste and physically handling these light filmy materials that can fly around with the wind," he explained.
Singapore's recycling rate for plastic waste is low, at just 6 per cent in 2021, according to NEA.
HOUSEHOLD SOLUTIONS
What about a household in which neither carrier bags nor garbage bags are needed for rubbish disposal, as Ms Yee has maintained for years?
The key is the separation of wet waste from dry waste. Ms Yee said that she keeps small packaging to use as bags for wet trash, such as waste from food preparation. These wet waste bags see a higher turnaround to avoid attracting pests.
But dry waste goes into a separate, bigger dry bin, in which she tries to stack or flatten items to maximise space. She estimated that she empties out the dry bin for her two-person household once every two weeks.
Separating wet waste from dry waste, as well as recyclables from non-recyclables, is recommended by Zero Waste SG, to reduce the need for garbage bags.
Responding to the concern that not bagging trash will attract pests, Zero Waste SG's executive director Ms Tan said this was usually true for food waste or wet waste.
"The volume of wet waste that is generated is relatively small compared to, say, bulky packaging, and smaller bags which are still available free, can be used," she said.
NEA has specified that flat-top plastic bags to bag fresh produce at supermarkets will still be available for free. Toilet rolls and processed food often come in plastic packaging too. Ms Tan also pointed to the smaller food bags given out at hawker centres and coffee shops.
"Another comment is that supermarket bags are the right size to line bins," she said. But if people are purposeful about bagging wet waste and hazardous waste, there would be no need to put these smaller bags of waste into yet another bag.
"At most, one supermarket bag can be used as the bin liner and reused multiple times because it should not be dirtied," she said.
Sorting waste into recyclables will also cut down on the need for bags. Recyclables, once cleaned and dried, can be deposited in recycling bins without a bag.
"If we find that we still need bags, they are available, and if it is supermarket bags specifically that (are) needed, then the charge per bag will remind us to only buy what we need and not take more bags because 'it is free'," said Ms Tan.
Even if it becomes necessary to buy garbage bags, the hope is that the number bought will be lower and closer to what consumers actually need, she added.
"Ultimately we also need to change habits and mindsets to adapt to more zero-waste or disposable-free living," said Ms Tan, adding that this includes setting up a recycling corner at home so that waste can be sorted at source.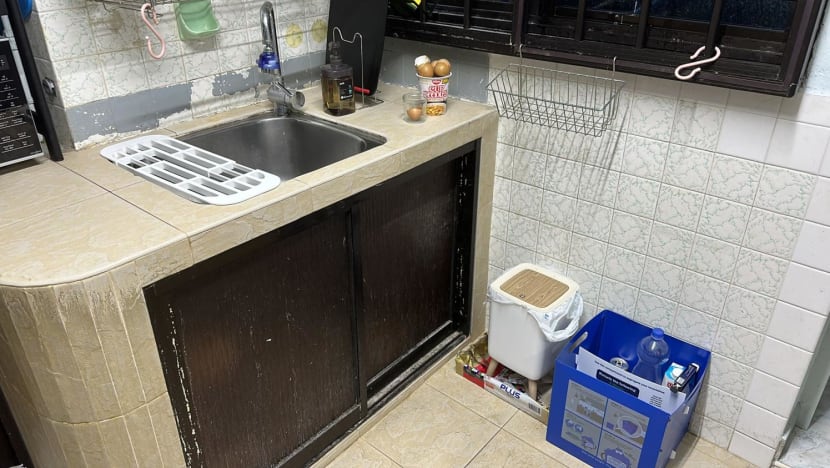 NUS' Dr Tong similarly said that to achieve a sustainable waste management system in Singapore, it would be helpful "if we can be more intentional about how we treat our waste at the household or individual level".
Proper segregation and handling of waste by the individual simplify the process of recycling, he said. 
"It is only when we mix all waste together that the only solution to manage the waste would be to incinerate it or to dump it in a landfill," he added.
These sentiments were in fact echoed by Earl, the critic of the bag charge, who said: "A significant challenge here is changing the waste disposal behaviour of the people because that is the biggest roadblock I see to this issue."
He added that "the average consumer has little to no choice but to consume a lot of plastic because of the options available to them" unless they "pay significantly more, whether with money or time".
"A BEHAVIOURAL NUDGE" BEYOND BAGS
The bag charge is "first and foremost, a behavioural nudge", Senior Minister of State Dr Khor told parliament in March. Apart from nudging consumers, can the charge have more far-reaching effects on sustainable attitudes and practices?
NEA said it hopes that the impact of the charge will not be limited to the large supermarkets, but will bring about "a broader change in shopping practices to reduce waste and increase the use (of) reusables where possible".
The bag charge is more than just a financial disincentive, said Dr Samuel Chng, head of the Urban Psychology Lab at the Singapore University of Technology and Design.
The charge creates a "new default" where it is presumed that shoppers do not need a bag unless they proactively ask for one. It also acts as a "timely prompt" making people more aware of the need to reduce consumption of single-use plastics.
Over time, the charge will lead to a "new personal norm" where reusable bags are used by default, said Dr Chng. Collectively, this may also lead to a new social norm, where asking for a single-use bag might be frowned upon as a social taboo.
"This should go beyond plastic bags in supermarkets to different areas in our lives, for instance, when (taking away food) from the hawker centres," he said.
"We are also subconsciously developing an awareness and discernment of what are avoidable consumptions and how we are able to contribute, through our everyday behaviours, to climate challenges."
Dr Chng said a "committed minority" can influence the majority and change social norms by being "unrelenting" about not using reusable bags. He pegged the tipping point for this minority at about 25 per cent.
He also acknowledged the "thorny issue" of achieving fairness and equality in climate action, where the wealthiest parts of the population are responsible for a disproportionate share of carbon emissions.
There have been concerns that the bag charge would disproportionately affect low-income households. NEA previously said that the charge amount has been kept low so as to moderate the cost impact on shoppers.
Another psychologist, Dr Eom Kimin of the Singapore Management University, said that if "social rewards" like appreciation or compliment for using reusable bags can be paid in some form, this would also be "powerful for social animals like humans".
Addressing the perception that individual action matters less or is less effective than structural changes in the supply chain, Dr Eom said individual actions have an impact when cumulative, and that this is supported by data.
"However, as an individual, it is very challenging to see such cumulative impact when all efforts add up," he explained.
Providing information and tools to help people see the cumulative impact of working together is key, he said. This can increase the sense of efficacy as a collective, which research shows is a key motivator of climate action.
Ultimately, the scale of the climate challenge predisposes people to think that individual actions mean little to address what is a global issue, said Dr Chng.
But this is a false dichotomy, as individual action is part of collective action, he said.
"Instead, we should be thinking that we can be part of the solution to our climate challenge, even though we would not be able to save the world on our own," he added.