Starting your workout by packing one of the best men's gym bags is one easy way to make exercise less of a chore and more of a treat.
A good gym bag is not just a practical hold-all for carrying sweaty gear around town. The best gym bags are designed to make your workouts easier, more efficient, and more enjoyable. 
Whether you're on the journey to becoming a professional body-builder, on a Couch-To-5k training plan, or preparing for your fifth triathlon of the year, a good workout bag can make the difference between an average and exceptional workout session.
After all, you're far less likely to forget those all-important protein bars if you've got a special pocket especially for them. Or a compartment for towels and a padlock—so you don't have to pay extra when you arrive.
And the best way to maintain that post-workout high is with a nice hot shower and a fresh outfit. So you need a bag with a section for keeping clean clothes separate from your tracksuit. 
The 15 best gym bags for men
Check our buyers' guide after the list to see exactly what you should pay attention to before purchasing a woman' gym bag.
Here are the 15 best gym bags for men, from the rugged and hard-wearing to the high-end and luxurious. Plus some budget-friendly options, and the best for taking to school or work. 
Nike Brasilia: Overall best men's gym bag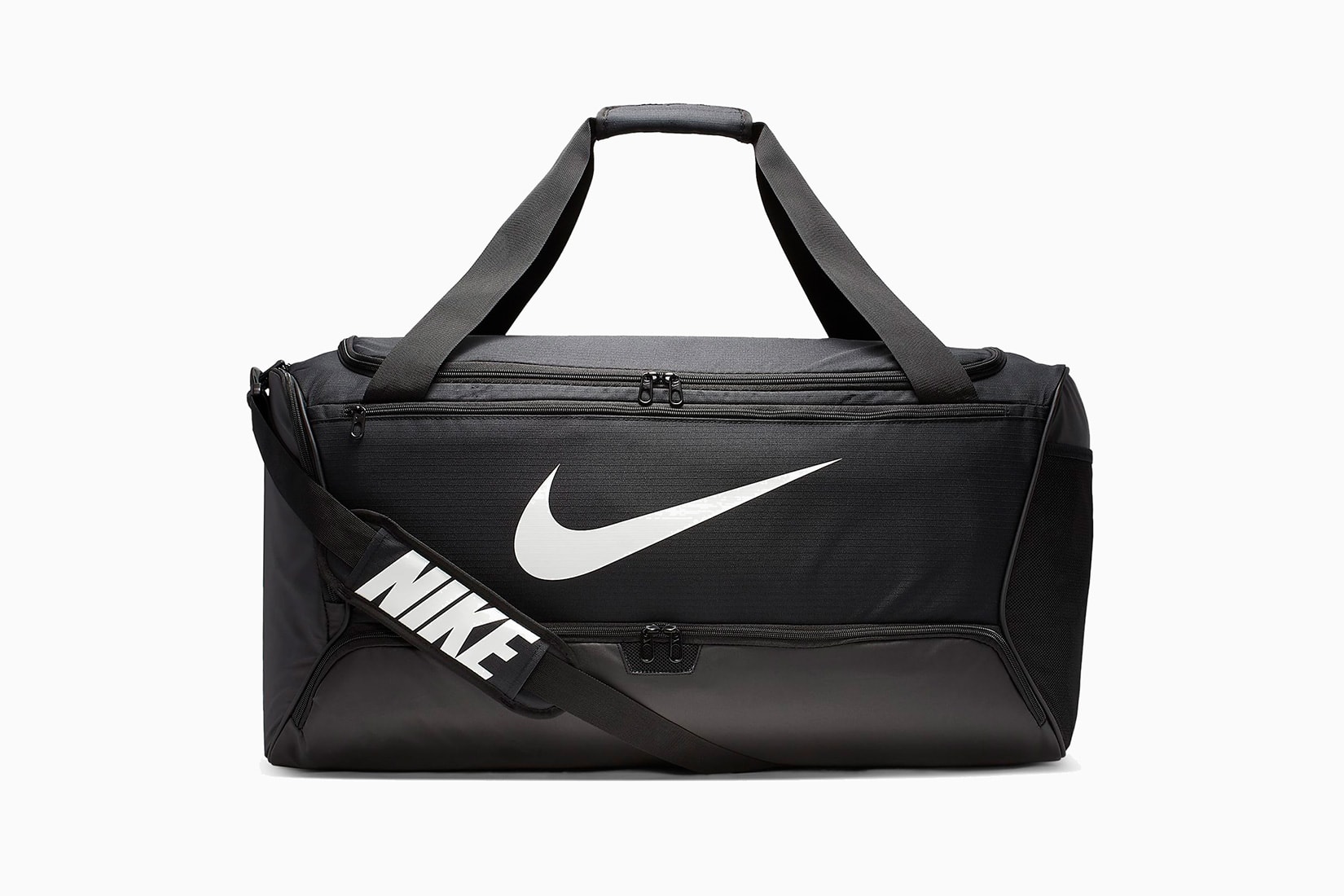 One of the top-rated men's gym bags is Nike's Brasilia Duffle Bag. This champion of the workout hold-alls outperforms all other gym bags thanks to its ample size, durability, and carry comfort. 
Available in medium and large size, this gym bag has space for all your gear, whether that's swimsuit and goggles or an extensive toiletries selection for freshening up after an intense gym session. 
It's made of machine-washable and durable polyester with a weather-resistant finish that stops both wind and rain. So even if the weather lets you down, this bag won't. 
On the outside, you've got several zippered pockets for quick access to essentials while inside is a large compartment for your clothes, gears, and shoes as well as two other pockets for additional organisation. As every all-star athlete knows, you'll get nowhere without organisation. The bag is available in a range of colours, including black, navy, and grey.
This men's workout bag ticks all the boxes for a great workout companion, lessening the load so you can stay active, healthy, and happy. It will have you waltzing into the 5 am workout class like it's the easiest thing in the world.
Best for: all-round great gym bag, purpose-built for the task
Herschel Supply Co. Sutton Herringbone Canvas Duffle: Best high-end gym bag for men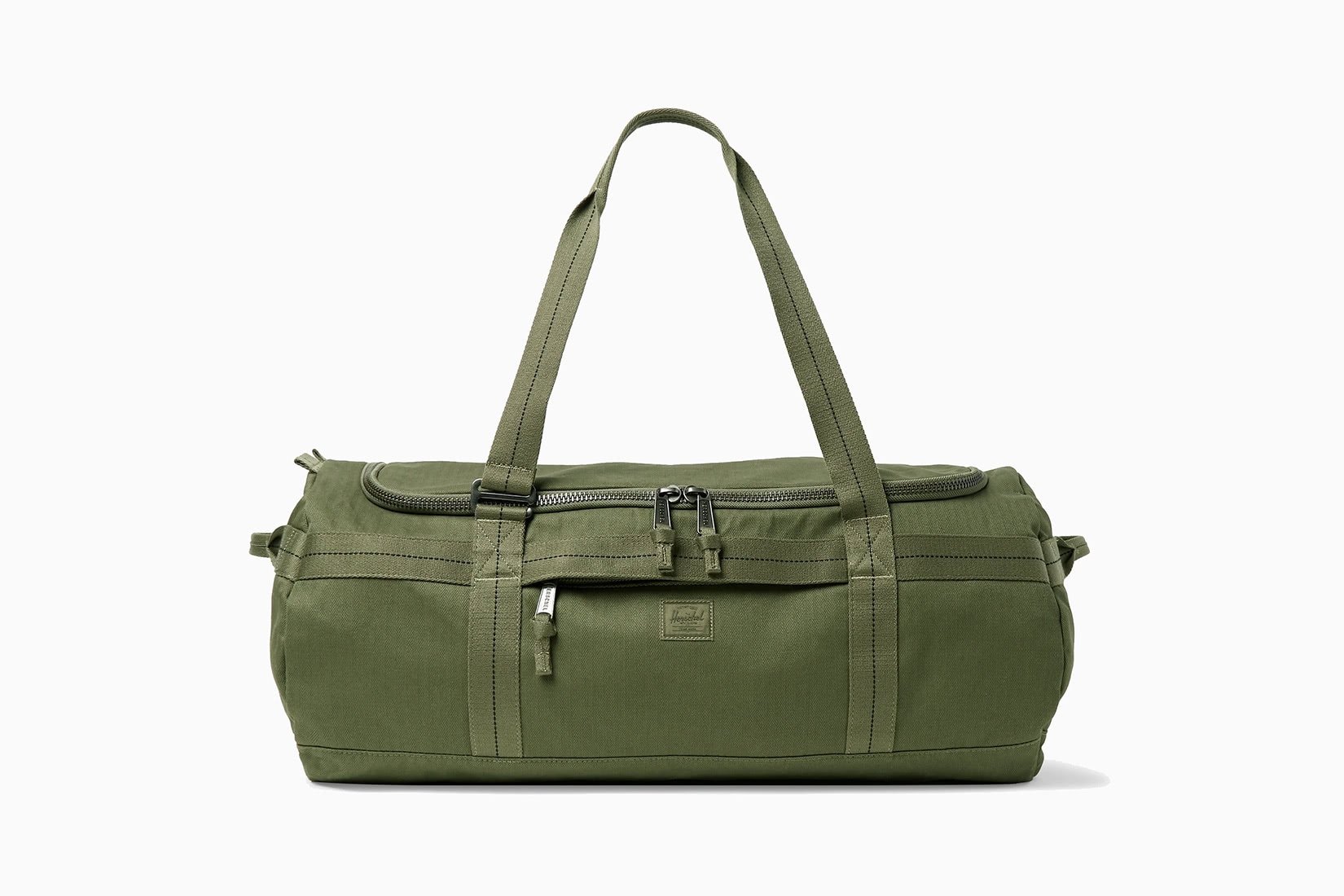 Who says you can't channel a bit of luxe factor when you rock up for a workout? Herschel's Sutton Duffle is all the proof you need that you can look classy while burning calories. 
No-one does old-school cool quite like Herschel and the Sutton duffle is evidence in point. Made from herringbone canvas, not only is it durable but the army-green colour has a cool vintage vibe. 
The bag is also water-resistant, which means rain is no longer an excuse for skipping a workout. It features a front zippered pocket where you can put valuables like your watch or wireless earbuds. And, for carrying, the handles can be converted to backpack straps—nifty. 
Whether you're a semi-professional athlete or just someone trying to get that beach body for summer, this is the ideal luxury gym bag. It's functional, fashionable, and won't fall apart unexpectedly. 
Plus, with a capacity of 50 litres, this is also a great travel bag. We can imagine it being thrown in the back of an SUV for a camping trip or a weekend in a remote cabin somewhere. 
Best for: a high-end and high-quality gym bag to help you hit those fitness targets
Puma Men's Contender Bag: Best value gym bag for men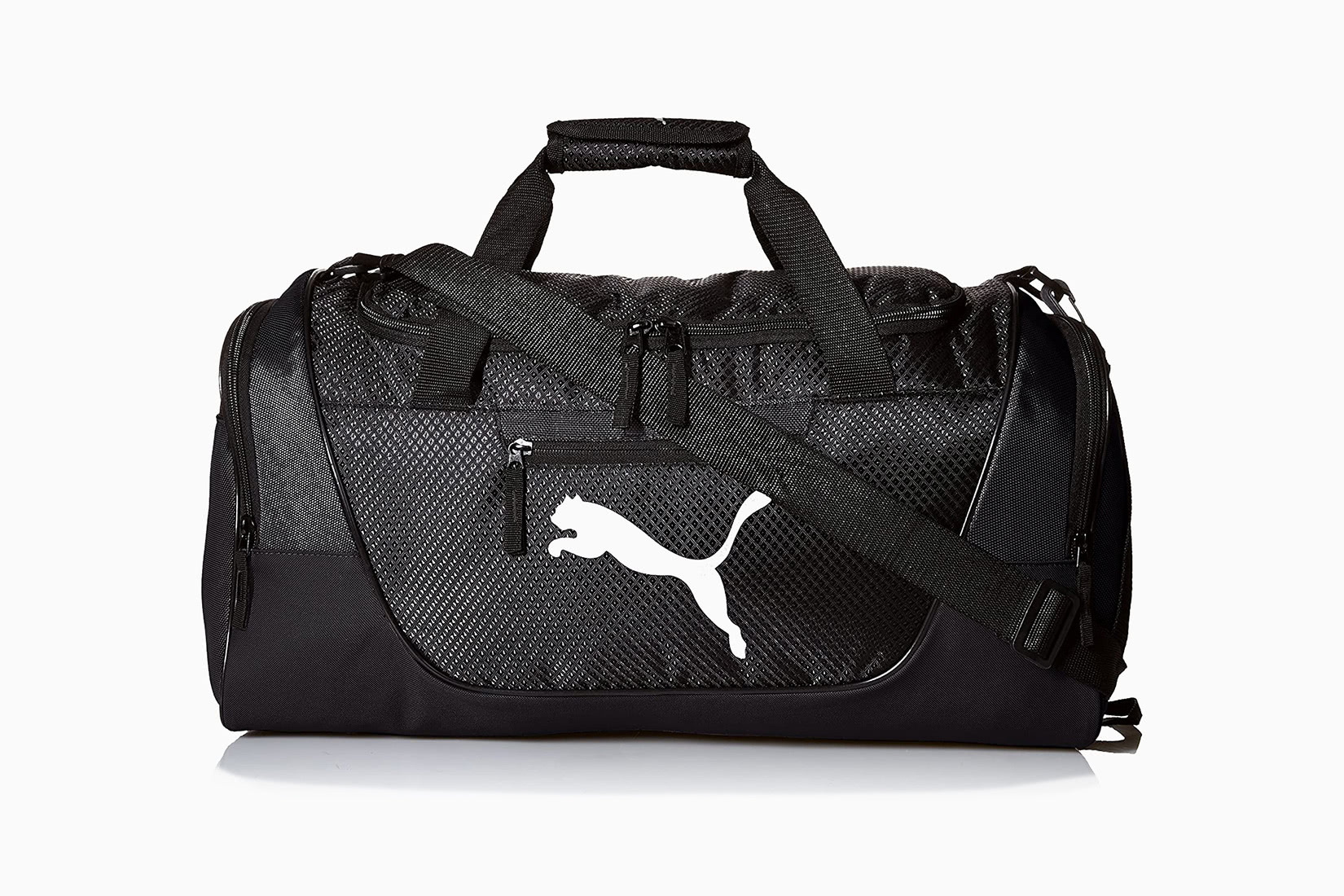 When it comes to the best budget gym bags, Puma's Contender is, funnily enough, a top contender. Whether it's competitive team sports or solo cross-country running, this bag will help get you moving—without breaking the bank in the process. 
First things first, it's a total steal—almost too good to be true. But the reviews are there as a guarantee, with people raving about everything from its large size and high quality to its attractive appearance. 
Feature-wise, you've got a separate footwear compartment for storing sweaty trainers and multiple zip pockets for shower accessories so you can clean up quickly and neatly post-workout.
For carrying, you've got a choice between the short connectable webbing handles or the longer shoulder strap. Both are comfortable and efficient. A padded bottom panel provides added abrasion-resistance. 
Aesthetically, the bag is sleek and streamlined. We like the smart black colour scheme but the black-and-red combination is a striking and bold alternative.
Step outside your comfort zone with this men's workout bag. You'll also feel smug in the changing room knowing that you got a great bargain with this particular purchase.
Best for: bargain-hunters looking for a budget gym bag
Bellroy Transit Workpack: Best modern design gym bag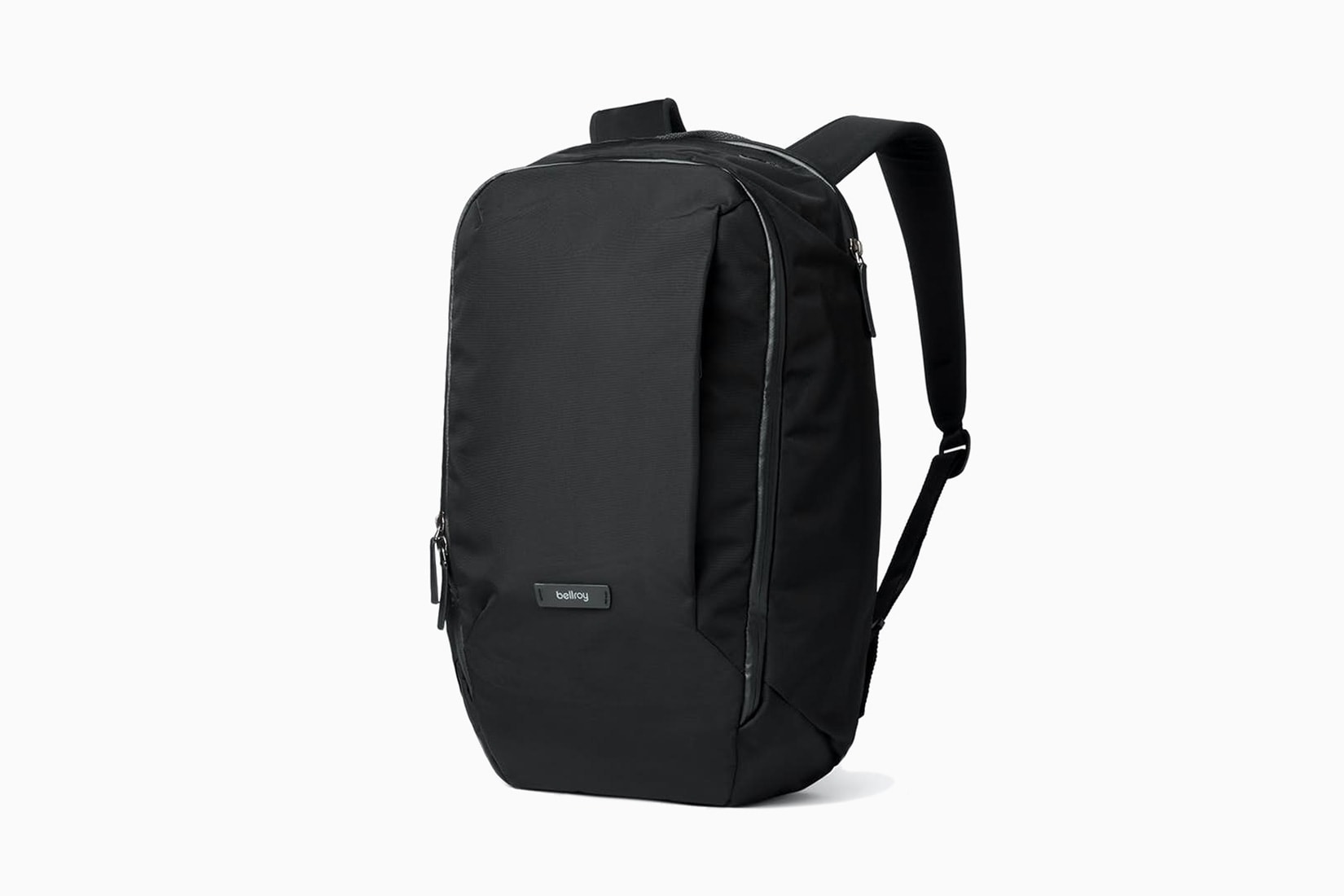 The modern gym-goer needs an equally future-focused backpack to help them to keep their eye on the finish line. Bellroy's Transit Workpack is a backpack that perfectly nails 21st century cool.
Featuring a front zipped pocket and internal zipped pocket, as well as two pouch pockets, the bag has plenty of space for all your workout gear, as well as for a dopp kit and your laptop. It also comes with a dedicated soft-lined sunglasses pouch up top, out of the crush zone.
The main compartment can be opened fully to allow easy access to your gym clothes and gears. You'll find inside additional meshed pockets to keep your stuff organised. The backpack is available in three different sizes, so you can pick the one most convenient to your training routine.
The Transit Workpack is made from premium, environmentally certified leather, and durable, water-resistant woven fabric, made from recycled materials. So you'll feel good about your purchase too.
Best of all, this backpack can double as your carry-on bag when travelling and it wouldn't look out of place at social gatherings either. The perfect day-to-night backpack.
Best for: exercising some effortless contemporary cool
Alpha Industries Crew Duffle: Best small gym bag for men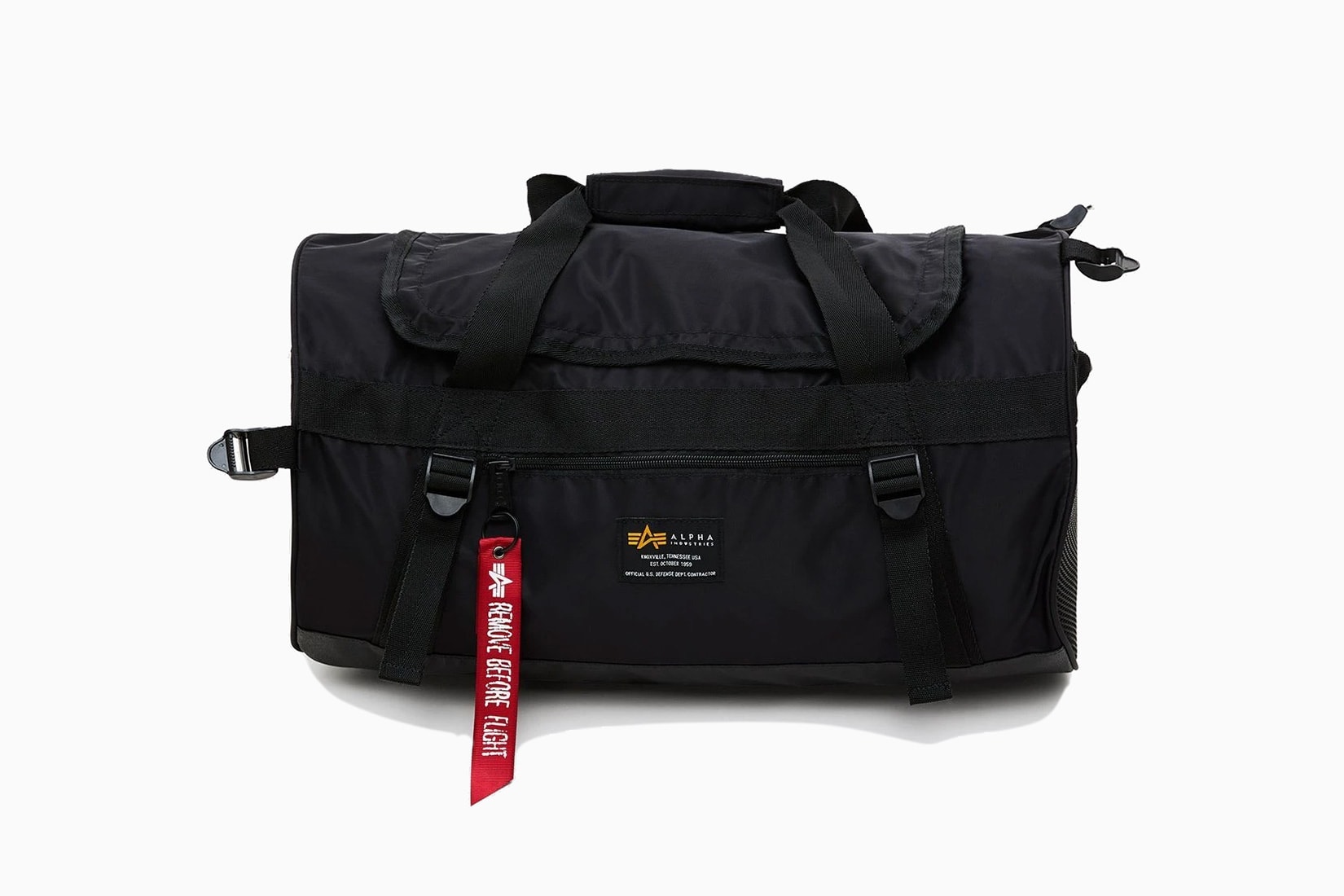 This nylon duffle bag by Alpha Industries is setting the pace in the world of small gym bags. The minimalist gym bag is the ideal workout buddy for those who want something that won't cause any problems on public transport. 
From the brand best known for making some of the best bomber jackets for men, this bag can seamlessly transition from a classic duffle bag to a backpack without breaking stride. 
The Alpha Industries Crew Duffle streamlined and pared-back but despite its small size, you can still fit a small laptop inside, as well as your workout wear. Gym and ID cards—plus any other essentials—can be put in the external zipped pocket for easy access. 
The bag is made from 100% nylon, a hard-wearing material that's also lightweight, so the bag can be packed away neatly for storage at home.
Best for: style-conscious gym-goers seeking something sleek and low-profile
WolfWarriorX: Best large gym bag for men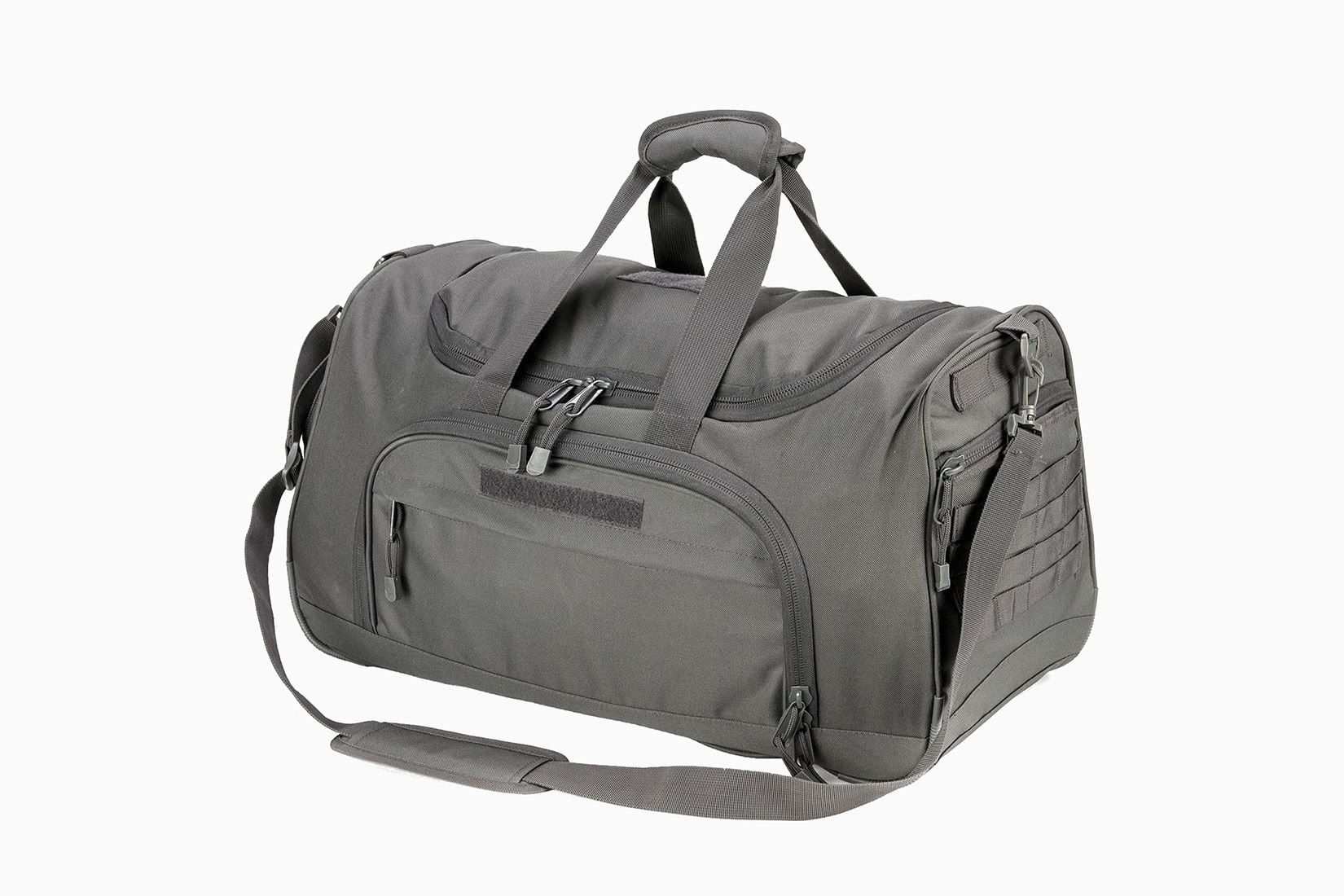 If you're someone who takes their workouts seriously, you need a bag with the same kind of no-messing-around attitude. 
Stepping up to the challenge is the WolfWarriorX Gym Bag. A brand with a name like WolfWarriorX can definitely be relied upon for a rugged and no-nonsense carry item. No surprise, then, that this is one of the top-rated men's workout bags. 
It's also the best large gym bag on our list, ideal for those who have a lot of extras to haul around, such as jump ropes or resistance bands. 
There are two zippered side pockets where you can put phones, keys, or even an iPad. 
Then there are four main storage spaces for all your exercise apparel, as well as a separate side compartment that expands to store dirty clothes or shoes. Perfect if your exercise of choice involves a lot of mud and dirt. 
It's a pretty badass bag to look at, especially in Tan or Camouflage. The kind of bag designed for guys who race through endurance training without even breaking into a sweat. 
Up your game with the WolfWarriorX and get ready to feel the burn. And when you go on weekends away fishing or camping, it will serve perfectly as a travel bag.
Best for: storing and transporting a lot of gym kit
Bleu de Chauffe Hobo Hold-all: Best luxury men's gym bag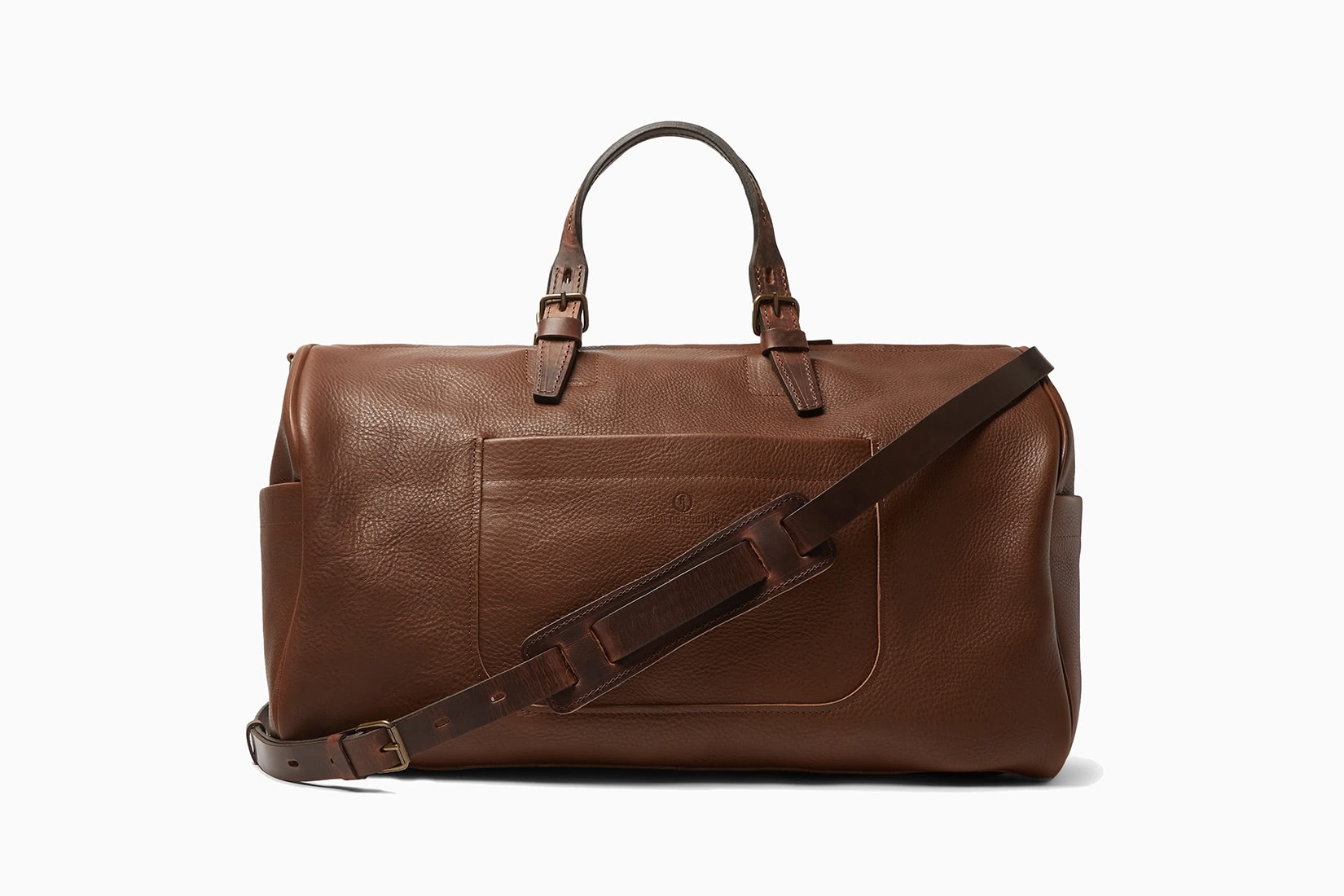 If you thought gym bags couldn't be classy, think again. The Hobo Hold-all by Bleu de Chauffe is a masterful lesson in how to make a functional accessory stylish and luxurious. With this over your shoulder, you're sure to have ninety-per cent of the gym looking at you as you sweep through the door.
Glossy and exclusive with its authentically aged patina, this luxury gym bag will have your endorphins racing even before you start exercising. 
Meanwhile, inside that gorgeous cow leather exterior, you've got a detachable zipped cotton pocket. There's also an adjustable and detachable shoulder strap for easy carrying.
At 20 litres, this one of the smaller gym bags on our list but has ample room for your workout clothes and grooming essentials. Unobtrusive in size, it can accompany you to work or to out-of-office client meetings without cramping your style. 
Whether you're a CrossFit addict or need more motivation to get in shape, this bag is all you need. On rest days, you can use it as a hold-all for weekend excursions and city breaks. 
Best for: looking impeccably stylish as you swan into the gym
Montblanc Sartorial Duffle Bag: Most stylish gym bag for men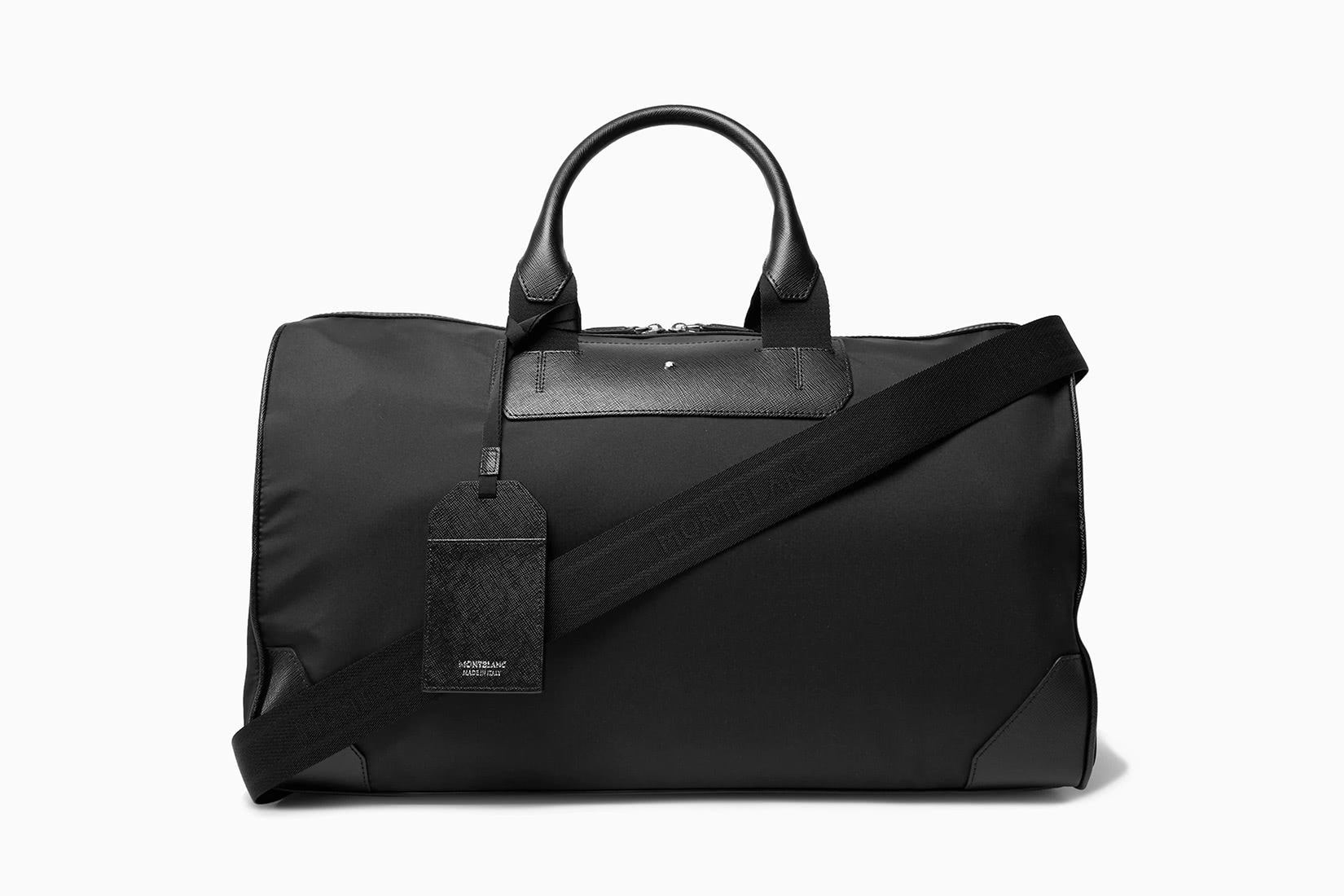 Style-conscious individuals should be able to work out without compromising on fashion-forward design. Montblanc's Sartorial Duffle, one of the best luxury gym bags, makes it all possible. 
With its jet black exterior and cross-grain leather corners, this bag will flatter your look, fit neatly into your exercise routine, and maybe even get you eager to work out more frequently. 
Like all Montblanc produces, it conveys a level of quality and craftsmanship that has few equals. Team with a pair of high-end headphones and you'll actually find yourself getting excited about getting sweaty. Yes, we didn't think it was possible either. 
This handsome duffle bag is ideal for carrying a heavy load, while the fabric is water and scratch-resistant so you can be sure it will last a long time. 
Finished working out and ready to hit the cocktail bar? Pair the bag with a casual roll-neck, jeans, and luxury sneakers—plus maybe your favourite bomber jacket. No-one will ever know you spent the last hour panting on a treadmill. 
Easily one of the most stylish gym bags, the Sartorial is aptly named. And you would be remiss not to use the opportunity of a business trip or last-minute holiday to give it another outing. 
Best for: a gym bag that wouldn't look out of place at New York Fashion week
Speedo Teamster: Best gym backpack for men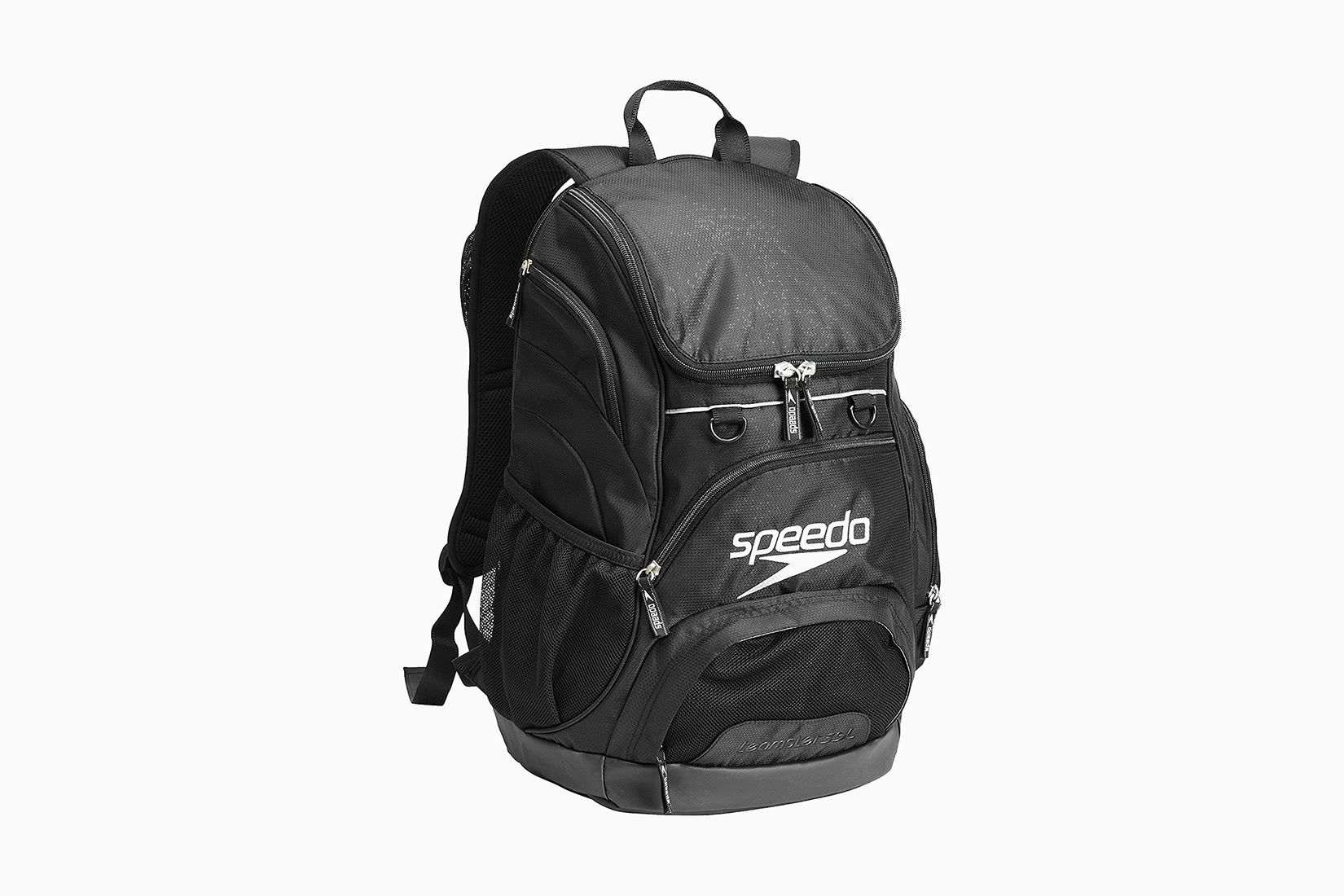 Whether it's travelling to and from work, whizzing around the city for meetings, or trying to squeeze in a gym session before your dinner date, if you're on your feet all day, you need a bag that's comfortable to carry. 
With the Speedo Teamster Backpack, you'll feel immediately energised and ready to raise your heart rate. 
Speedo is known for its swimwear and this is the ideal backpack for swimmers. Inside you can fit everything from trunks and goggles to a snorkel if you're hitting the beach—plus towels and toiletries for afterwards. 
But it doesn't have to be swimming. Whether it's callisthenics, spinning, or even yoga, this rucksack could be perfect. 
Made from polyester and nylon—durable and abrasion-resistant—it also has a water-repellent bottom. And, with multiple pockets, you can keep everything organised and protected. That includes your laptop which can fit into the specially designed laptop sleeve. There's also a removable bag for dirty or wet gear. 
Our favourite feature? A pull out bleacher seat that can be removed from behind the laptop compartment to provide you with a comfortable cushioned seat. Perfect if you consider yourself more of a sports spectator than a sportsman. 
Best for: a bag that's always ready to go
Adidas Defender III Duffel: Best men's duffel bag for the gym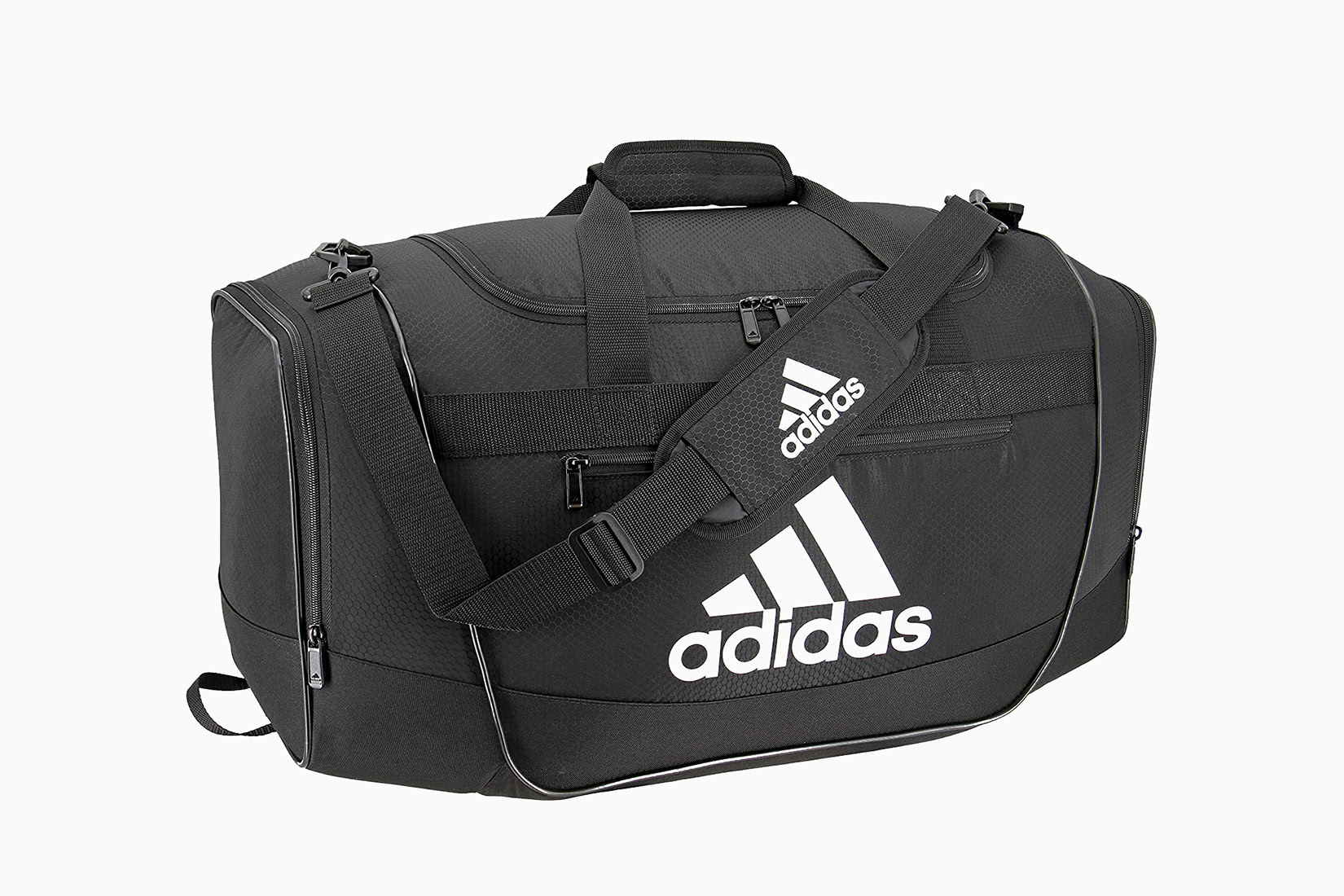 If you like to be prepared, then you need a duffel gym bag. These large hold-alls are perfect for hauling a large amount of workout gear around, whether it's a yoga mat, water bottles, spinning shoes, or running trainers. 
The best gym duffel bag? The Adidas Defender III. You name it—this bag can hold it. 
The Defender III's structured shape means everything you put inside is well-protected. The front zipper is PU coated which makes it water-resistant, perfect for keeping valuables like a wallet safe and secure. 
The bag is made of ripstop polyester so it can withstand a certain amount of rough and tumble. As for carrying, you've got an adjustable shoulder strap and padded haul handles, so you can choose the method you find most comfortable. 
Thanks to its large size, the Defender III is the perfect holiday bag too. You can easily fit a couple of changes of clothes as well as all the vacation essentials. 
Best for: an extra-large gym bag that doubles as a holiday hold-all
Adidas Alliance II Sackpack: Best men's gym bag for school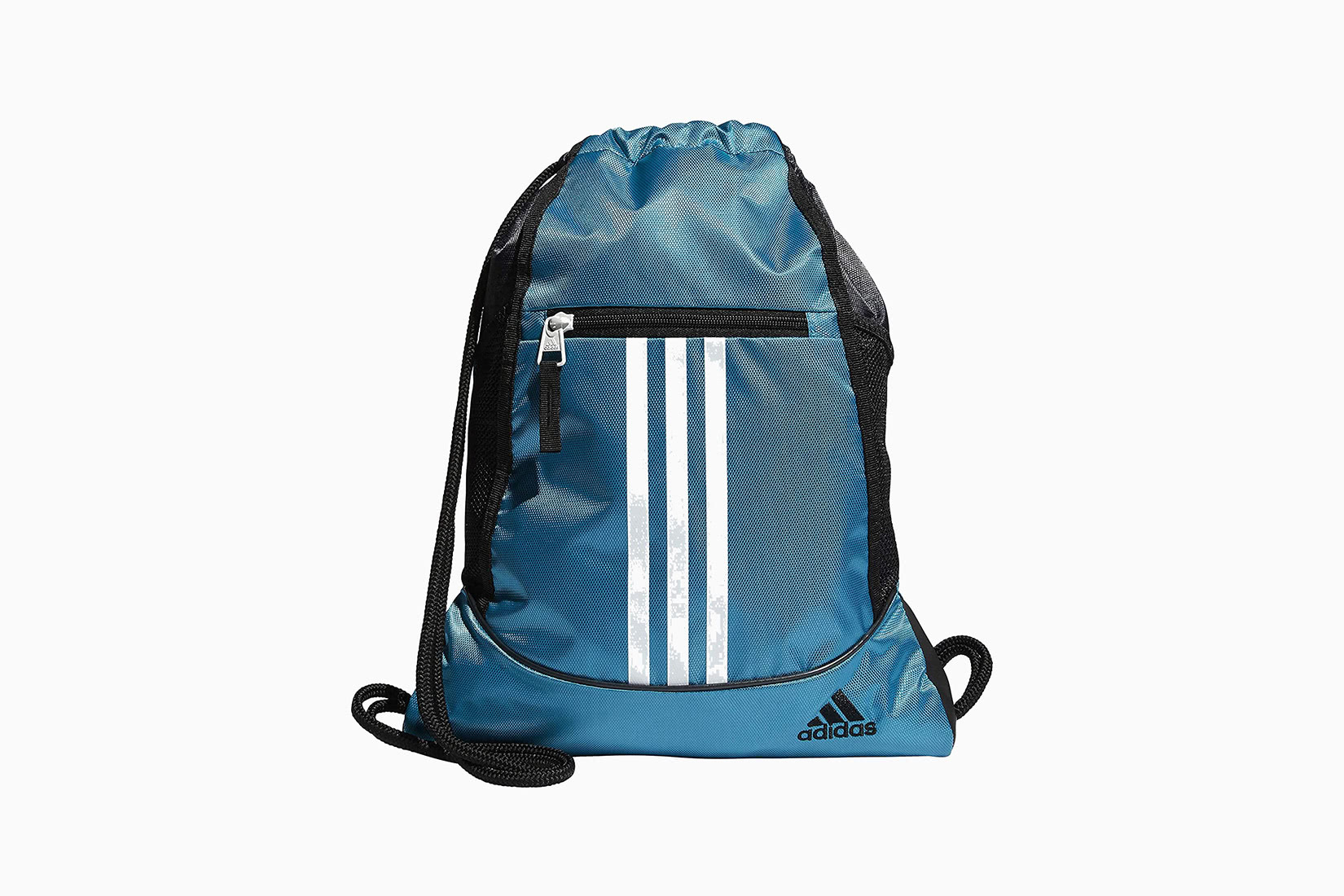 If you're looking for a gym bag for school, you need something budget-friendly and not too big. The Adidas Alliance II can fit under a desk during class but still has enough room for all your exercise gear and a water bottle. 
Admittedly, we were first drawn to this bag for its aesthetics. It's an iconic gym bag—one of the originals. Plus there's a whole range of colour schemes to choose from. 
This bag also fulfils all practical considerations. It's got a mesh water bottle pocket, is easy to open with durable cord straps, and there's a zippered exterior pocket where you can store your phones, keys, and ID cards. 
Whether you plan to use it for football gear, cycling, or just to transport a pair of cool kicks for after school, this bag will do the job nicely. It's small enough to fit easily inside a locker, as well as under the seat in front on a plane. 
The Alliance II is the ideal low-maintenance gym bag, and one regularly sported by world-class athletes. Time to channel a bit of top league energy.
Best for: a classic gym bag from one of the world's most famous sportswear brands
Álvaro 47 Hold-all: Best gym bag for the office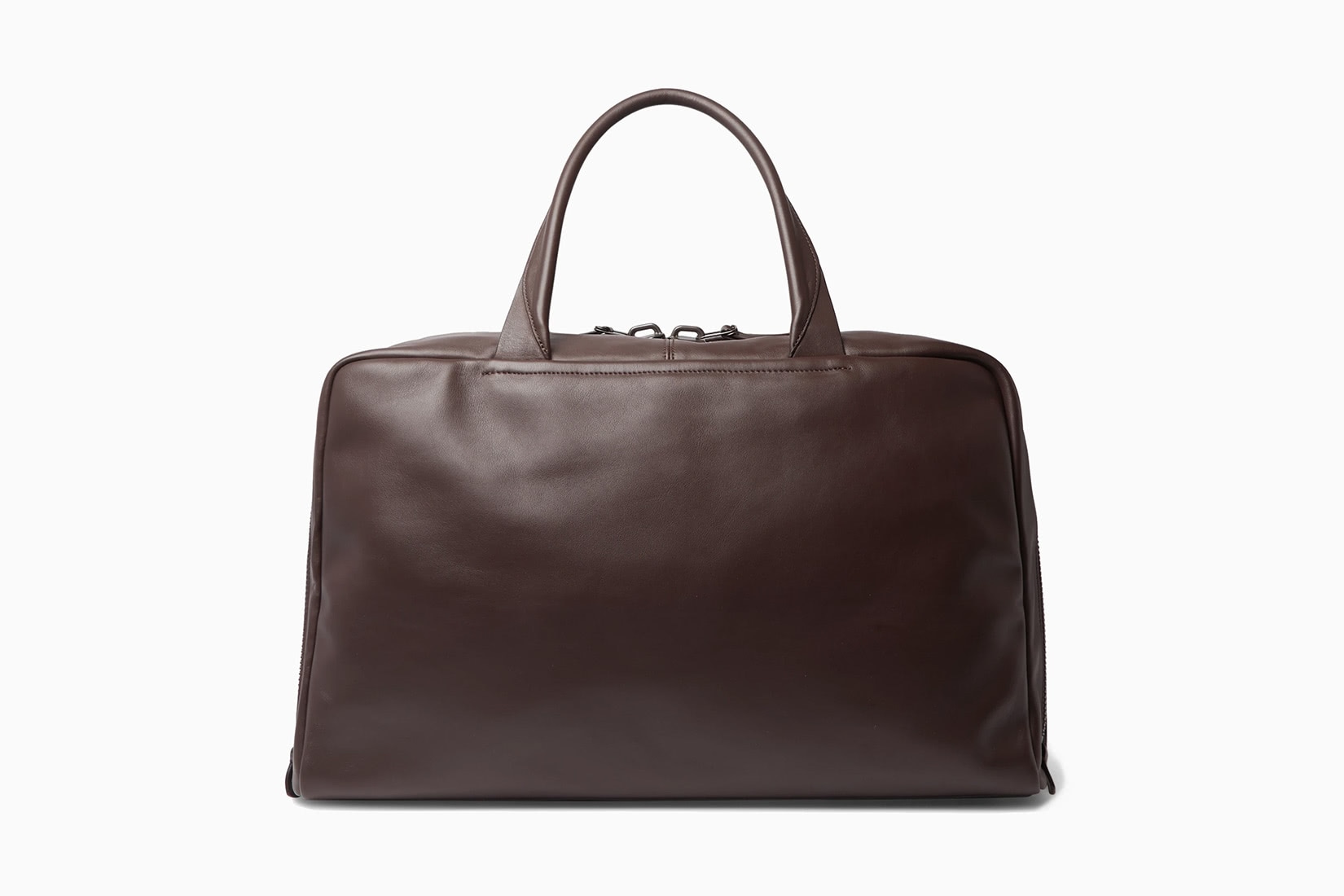 For a gym bag that will make you look professional, you want something smart and minimalist with a bit of high-end panache. Basically, you want the Álvaro 47 Hold-all—one of the best men's gym bags for taking to and from work. 
After all, the corporate environment calls for sophisticated business attire. Álvaro's bags are made by Florentine artisans in Italy, which is basically all you need to know.
Created from vegetable-tanned calf leather, this bag has timeless appeal. There's a side slip pocket and internal zipped and patch pockets, but if you find you need more organisational compartments, you could always invest in some packing cubes. 
With a capacity of around 31 litres, this bag is ideal for holding both office supplies and your gym kit, as well as a snack to get you from one to the other. 
And it will double up nicely as an overnight bag. We can already picture you swinging this into your Bugatti before whizzing off for a weekend in the country. 
Best for: breezing from work straight from the gym without skipping a beat
Under Armour Hustle Backpack: Most durable men's gym bag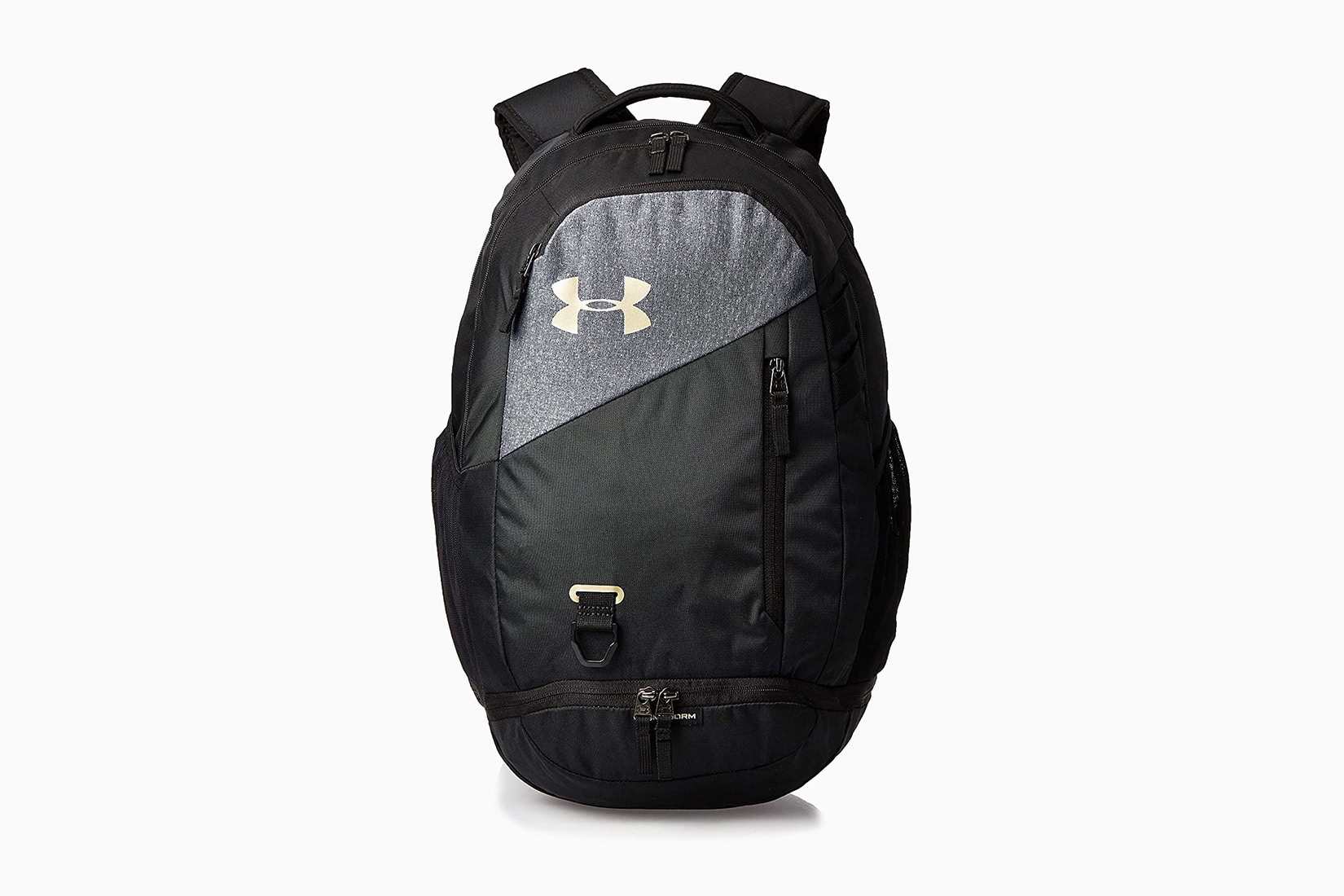 Under Armour's Hustle Backpack is a durable carrier that definitely won't let you down. 
Made from long-lasting polyester, the Hustle Backpack features UA Storm technology, a water and wind-resistant finish that allows you to withstand all the elements. 
Meanwhile, the shoulder straps are adjustable with HeatGear technology to help you stay cool and dry. Ideal if you plan to take the rucksack on runs or cycle rides. 
It may look small from the outside but the Hustle packs a lot in. Inside, you'll find a large pocket for dirty laundry and shoes. There are also two pockets at the front for valuables, and two water bottle pockets at the sides. One for pre-workout coffee and one for a post-workout protein shake. 
For regular gym runs, the Hustle backpack offers an unobtrusive carry. And it could double as an EDC backpack on rest and recovery days. 
Best for: pushing yourself to your limits with a hard-wearing battle-ready backpack
AmazonBasics Sports Duffel: Best budget gym bag for men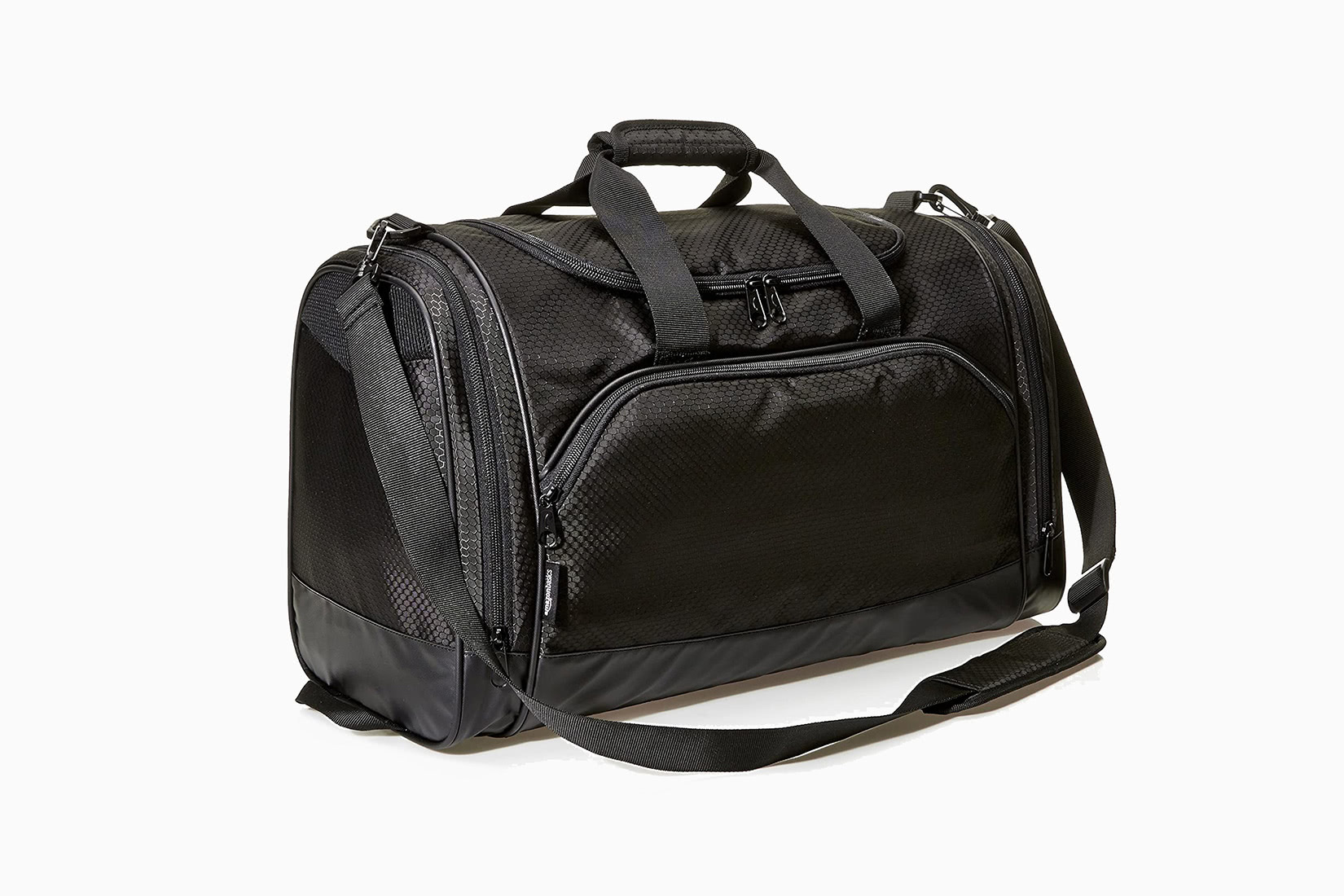 It's no secret that gym memberships can cost a pretty penny. Do you really want to spend more money on a fancy gym bag? If you're looking for a budget workout bag, this AmazonBasics Men's Gym Bag is just the thing. 
This wallet-friendly gym bag offers a no-fuss carrier to transport your workout gear to and from the gym. As well as your standard exercise gear, there's plenty of space for street apparel. You can stick sweaty clothes in the vented laundry pocket—or use it to hold your gym shoes. 
There's room for a water bottle to replenish post-workout, plus an interior zippered pocket for phones and keys. An adjustable padded shoulder strap makes for speedy and streamlined carrying. And with tough and abrasion-resistant bottom and side panels, the bag will survive travelling around town.
Whether it's weekly sessions on the treadmill or training for an IronMan, this could be one of the best sports duffels—and one that's also versatile enough to function as a weekender bag. 
And, at a price like that, even if you skip a workout, you won't feel too guilty. 
Best for: financially-friendly and versatile gym bag
Berluti Jour Off Hold-all: Most expensive men's gym bag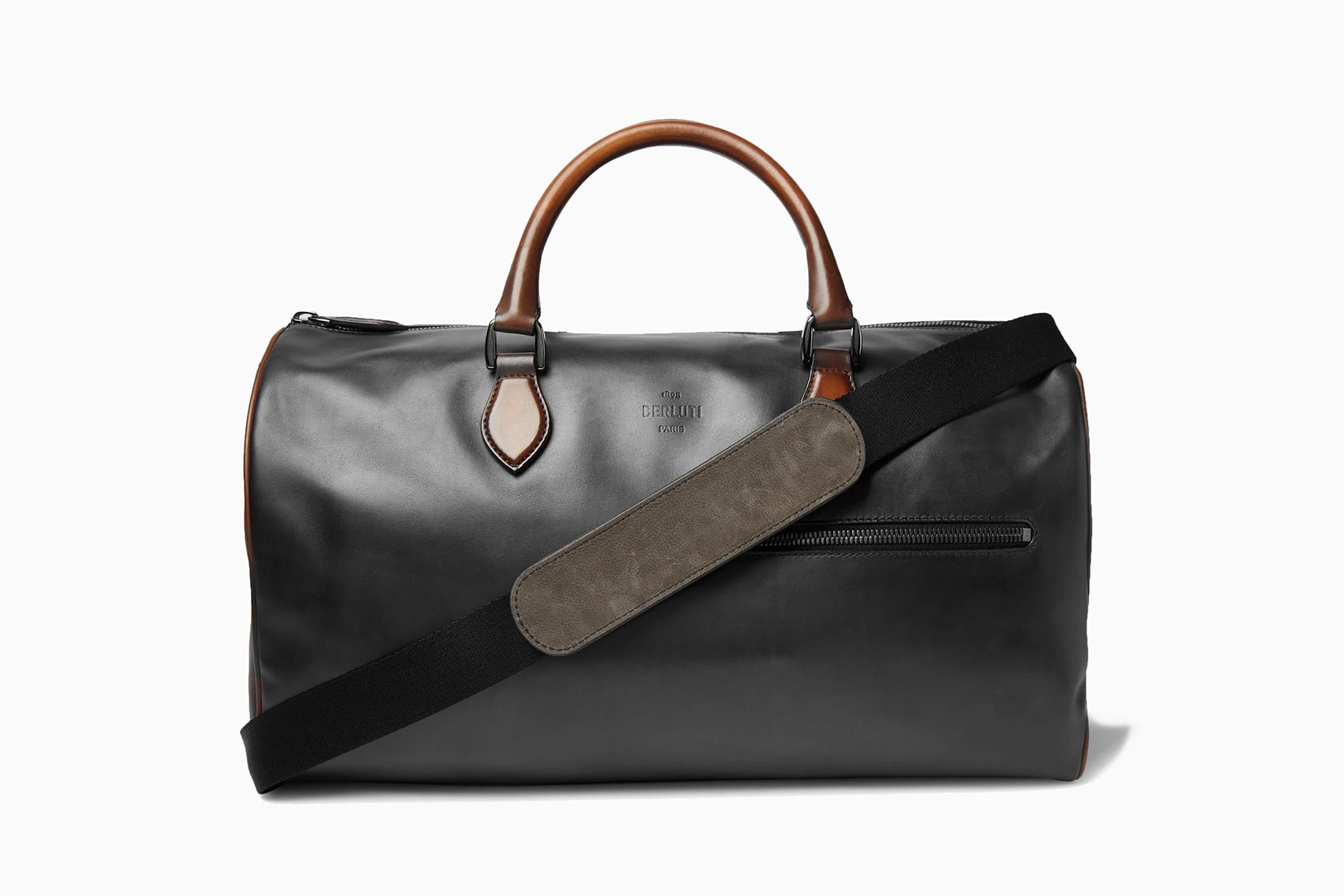 Working out is tough. We need all the motivation we can get. What if that motivation came in the form of an ultra-deluxe leather hold-all, or the Jour Off Hold-all by Berluti? 
The Jour Off is made by master artisans. With its black leather exterior featuring signature Venezia trims and mahogany calf leather handles, it's quite a sight to behold. 
There's a front zippered pocket for valuables, sunglasses, or cologne so you can speed out of the gym looking and smelling fresh, ready for the evening ahead. 
For carrying, choose between the brown leather handles and the optional suede shoulder strap. The latter is ideal for in-flight luggage. 
Whether it's intense cardio or slow and steady muscle-building, you need a bag that will help you to break through that pain barrier. Knowing this bag is waiting for you in the changing rooms will keep you going even when your body is crying out for a break. 
Best for: fitness fanatics seeking the best of the best
Buyers guide: what to look for when buying a gym bag for men
When choosing a man's gym bag, there are a few different things to consider with different options on the market to suit different preferences. 
Size and shape
You need to be able to fit all your gym kit inside your gym bag. What your gym kit consists of will depend on your workout of choice. 
Swimmers, for example, will carry different things to weight-lifters or track runners. Make a list of your essential gym kit, then work out how much space it requires.
Beyond gym equipment, you might also want to carry toiletries for freshening up in the shower, plus a change of clothes and shoes. Maybe you need space for a laptop if you're heading straight to the gym from work. 
Size-wise, bigger is generally better. The more stuff your bag can accommodate, the more versatile it is. Then it can double up as a weekend bag, for example, if necessary. 
However, if you travel frequently on public transport, you may want something better suited to crowded spaces. Plus, if your bag is too big, it may not fit in a standard gym locker. 
Most gym bags are duffel-style bags. However, backpacks, shoulder bags, messenger bags, as well as classic totes can all function as gym bags. Backpacks, in particular, are incredibly comfortable to carry. 
Material
Most gym bags are either made of heavy-duty nylon or cotton canvas. Both afford long-lasting durability and both are reasonably priced. 
Leather looks great but is more high-maintenance and might start to smell after carrying around sweaty gym clothes. Plus it can't be thrown in the washing machine. 
Look out for material that is water-resistant, especially if you walk or cycle to the gym. Arriving for a workout with your clothes already wet is not a good start. Plus, if you also plan to store your laptop or iPad inside, it's even more important to choose water-repellent materials. 
Abrasion-resistance is another thing to consider. Keep an eye open for rip-stop fabric, which is specially designed to prevent tears. These more rugged hold-alls are ideal for those who also want an outdoor adventure bag. 
Cost
The cost of your gym bag will likely depend on the quality of materials and construction, the brand, and how many additional features it has. 
A gym bag needn't cost a lot of money. We've included some great budget-friendly options in our list—as well as some high-end offerings. 
A few other key features to pay attention to when choosing a gym bag: 
Lining – for swimmers or anyone engaging in watersports, look for a water-resistant lining to transport wet clothes back to the washing machine. 
Pockets and compartments – organise your gear and keep your fresh clothes separate from your dirties. Plus you also want secure pockets for valuables like your wallet or phone. Mesh pockets are particularly useful as you can see what's inside without having to open them. 
Shoe compartment – you don't want your shoes rubbing up alongside your smart workwear. 
Interior laundry sack – useful for storing sweaty clothes or swimwear. 
Straps – adjustable and padded straps make for comfortable carrying. Some duffel-style gym bags have the option to carry them as a backpack.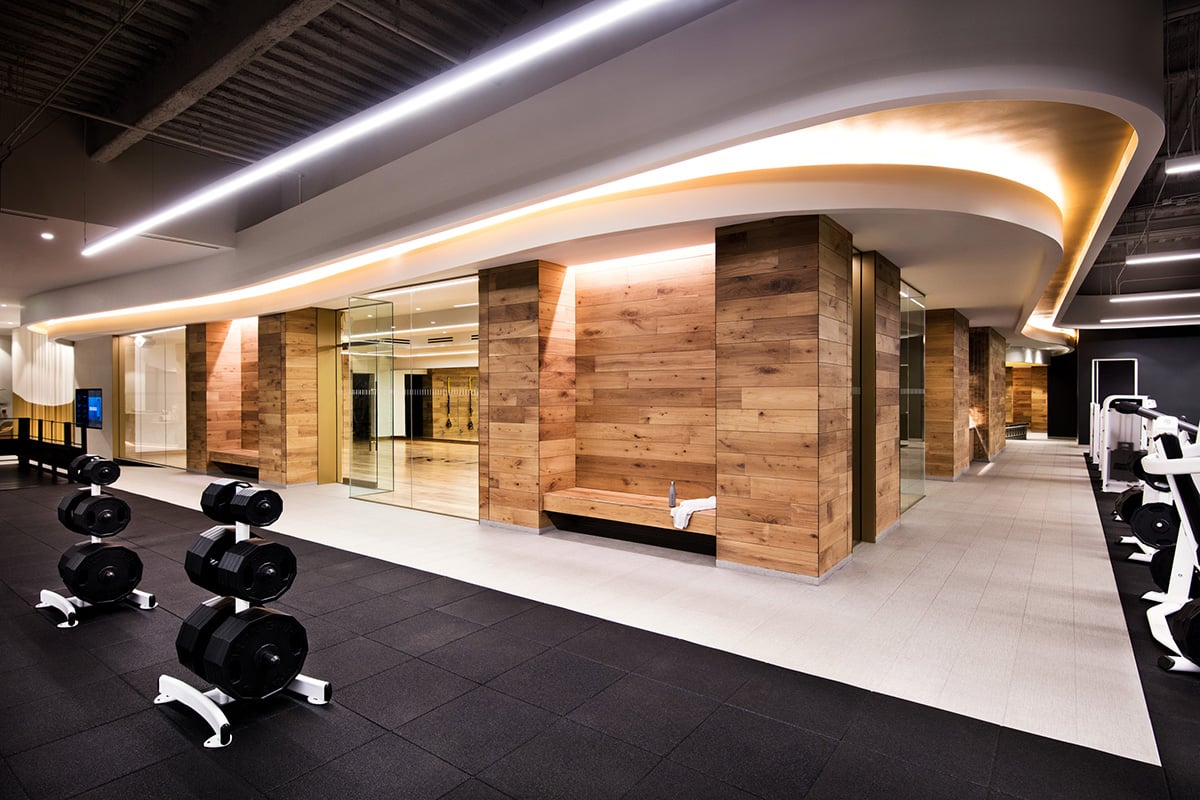 Frequently asked questions about men's gym bags
What is the best gym bag on the market?
The best gym bag on the market is Nike's Brasilia duffle bag. This bag is the perfect size for transporting all your workout gear. It's durable and hard-wearing and is comfortable to carry around. It's machine-washable, another perk, and has plenty of pockets for organisation too. Check out our list for more of the best gym bags for men.
What makes a good gym bag?
A good gym bag is one that combines high functionality with a sleek aesthetic. You want a bag that is durable, spacious enough to hold all your workout gear, and with compartments and pockets for organising. Good gym bags can also double up as a hold-all for overnight or weekend trips away.
What should be in a man's gym bag?
Inside most men's gym bags, you should keep workout clothes, a water bottle, a pair of trainers, toiletries, and towels. Other things you might want to consider storing in your gym bag include energy bars and supplements. Headphones are also important for working out and flip-flops are useful for the showers.
How many litres should a gym bag be?
An average gym bag is between 30 and 40 litres. This is a good size for storing most workout gear but small enough to comply with airline carry-on restrictions in case you want to take your bag on trips away.
What should be in a gym bag for school?
For gym bags for school, you should pack your exercise clothing, a water bottle, a towel for freshening up in the showers afterwards, and any toiletries you might need. A plastic bag for storing dirty clothes is also useful, and a few snacks like energy bars is a smart idea.