Hublot and The Hour Glass have teamed up once more to reaffirm their commitment to the Art of Fusion. The Classic Fusion 42mm Elements special edition showcases the beauty of natural stone dials with Hublot's signature porthole design.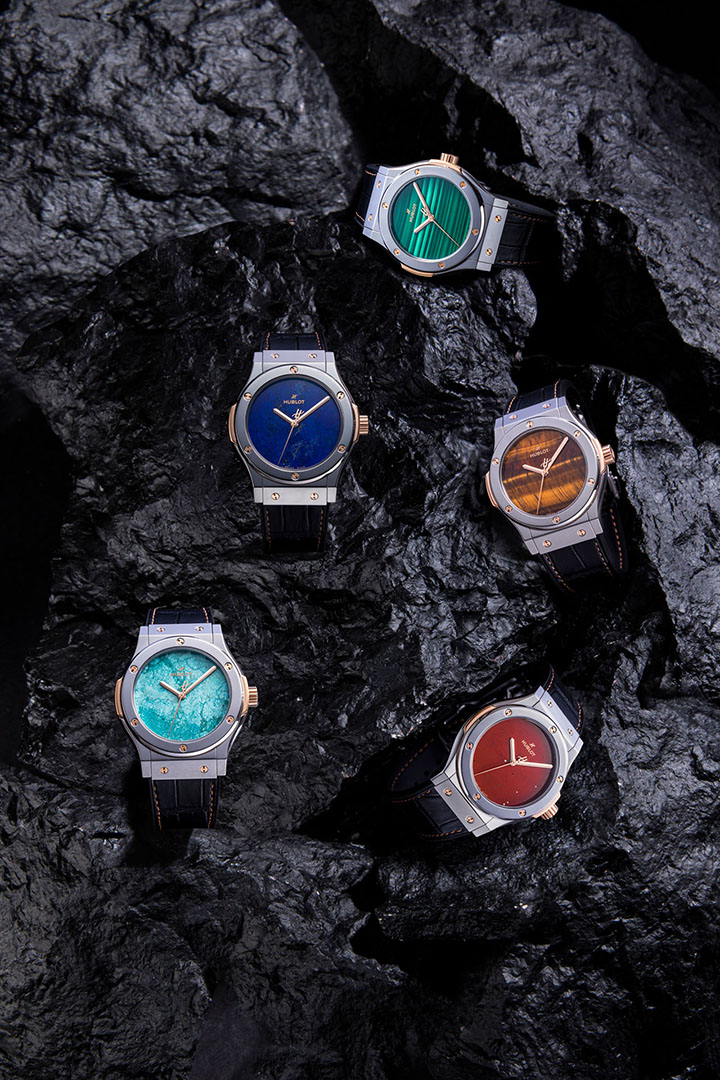 Hublot Classic Fusion, A Timeless Icon
In 1980, Hublot was the first watchmaking brand to introduce a gold watch with a rubber strap. Such a fusion was unheard of in the watch industry, and in doing so, Hublot created a spark that would erupt into a Big Bang 25 years later. The 'Art of Fusion' has been a cornerstone of the Swiss watchmaker since. By combining traditional watchmaking savoir-faire, cutting-edge technologies, and unexpected materials, Hublot's creations have continuously pushed the boundaries of contemporary watchmaking.
The Classic Fusion reinterprets Hublot's ground-breaking original 1980 timepiece: combining precious and modern materials on an immediately recognisable design inspired by a ship's porthole (a "hublot" in French). Simple and streamlined, the collection distils the story of Hublot into a minimalist watch perfect for any occasion. Available in a wide variety of movements, designs, materials and colours, the Classic Fusion is as its name implies. Each iteration of this much-loved collection injects the DNA of the 1980 original timepiece with a new interpretation of the the 'Art of Fusion' philosophy.
Intensity of Natural Elements
Adorned with Tiger's Eye, Red Jasper, Malachite, Turquoise and Lapis Lazuli, these new Classic Fusion models, a limited release created exclusively for The Hour Glass, showcase the beauty of the natural elements while proving once more that Hublot stops at nothing to master new materials and expand its creativity.
Housed within satin-finished and polished titanium cases with polished King Gold crowns and bezel lugs, the stone dials reveal their natural beauty and character. Each dial's radiance is further amplified by the inclusion of polished King Gold H-shaped bezel screws and polished gold-plated hour, minute, and seconds hands. Faithful to the 'Art of Fusion', Hublot demonstrates once again its mastery in combining natural and high tech materials.
In its quest to be different and conquer materials, Hublot distinguishes itself through the rare art of crafting stone dials. Sourcing the finest stones represents the first challenge. It then requires the attention of highly skilled artisans to cut and polish the stones in order to adjust their thickness. Cut from an individual mineral, each dial features a unique pattern. No two watches are the same.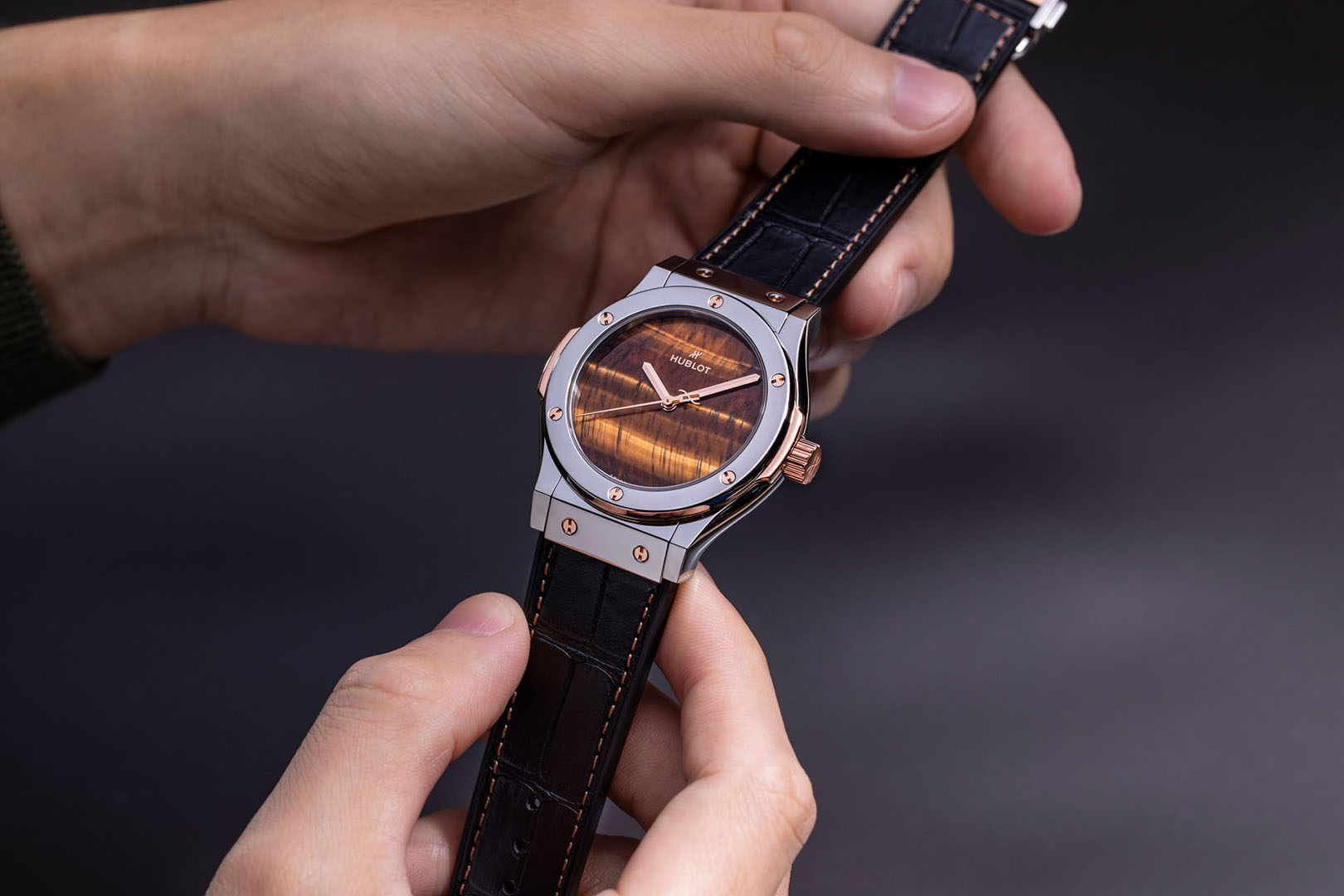 Dials of Character
The Classic Fusion 42mm Elements special edition for The Hour Glass is imbued with the character and intensity of natural elements. The unique properties of Tiger's Eye lie in the yellow, gold and brown striations that mimic the distinctive fur of a tiger. When intricately cut and polished, Tiger's Eye allows for a captivating warm dial, imbued with an earthy character.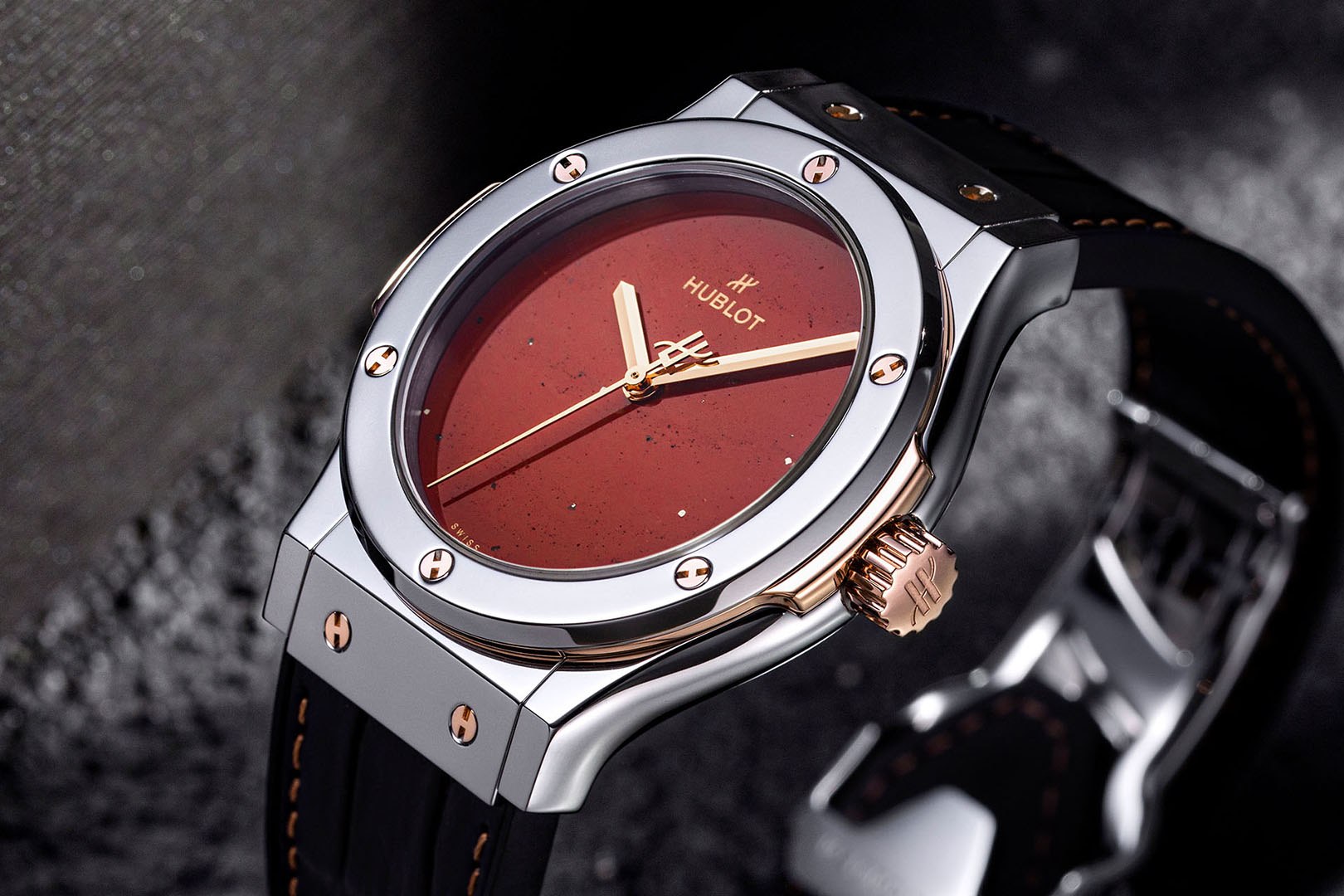 Once famed for its healing properties, Red Jasper is renowned for its lively red shades and continues to be worn as a good luck talisman throughout the world.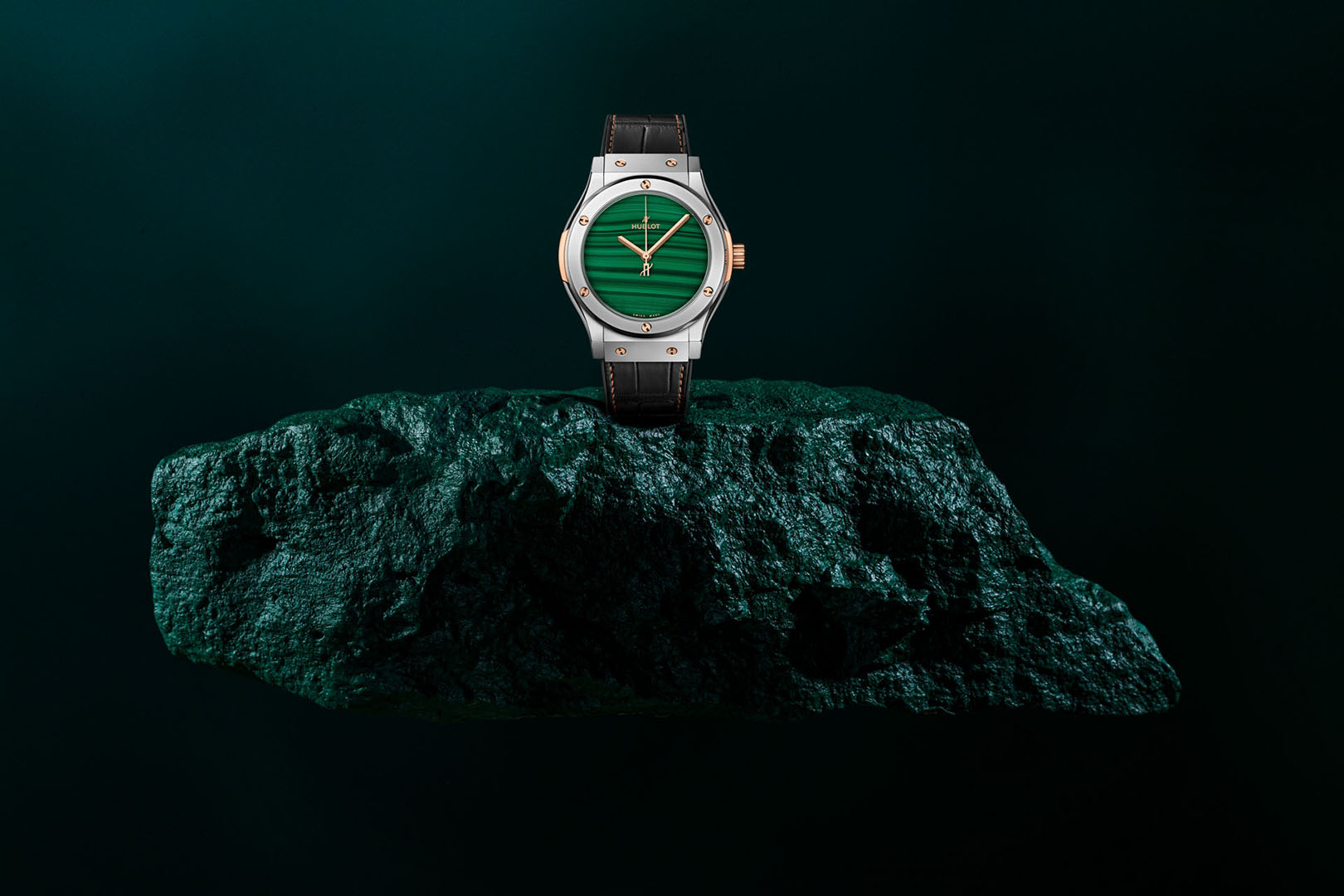 Vibrant green Malachite was used extensively throughout ancient history for both its ornamental and ceremonial properties. The radiant shades of green mimic a lush, verdant forest.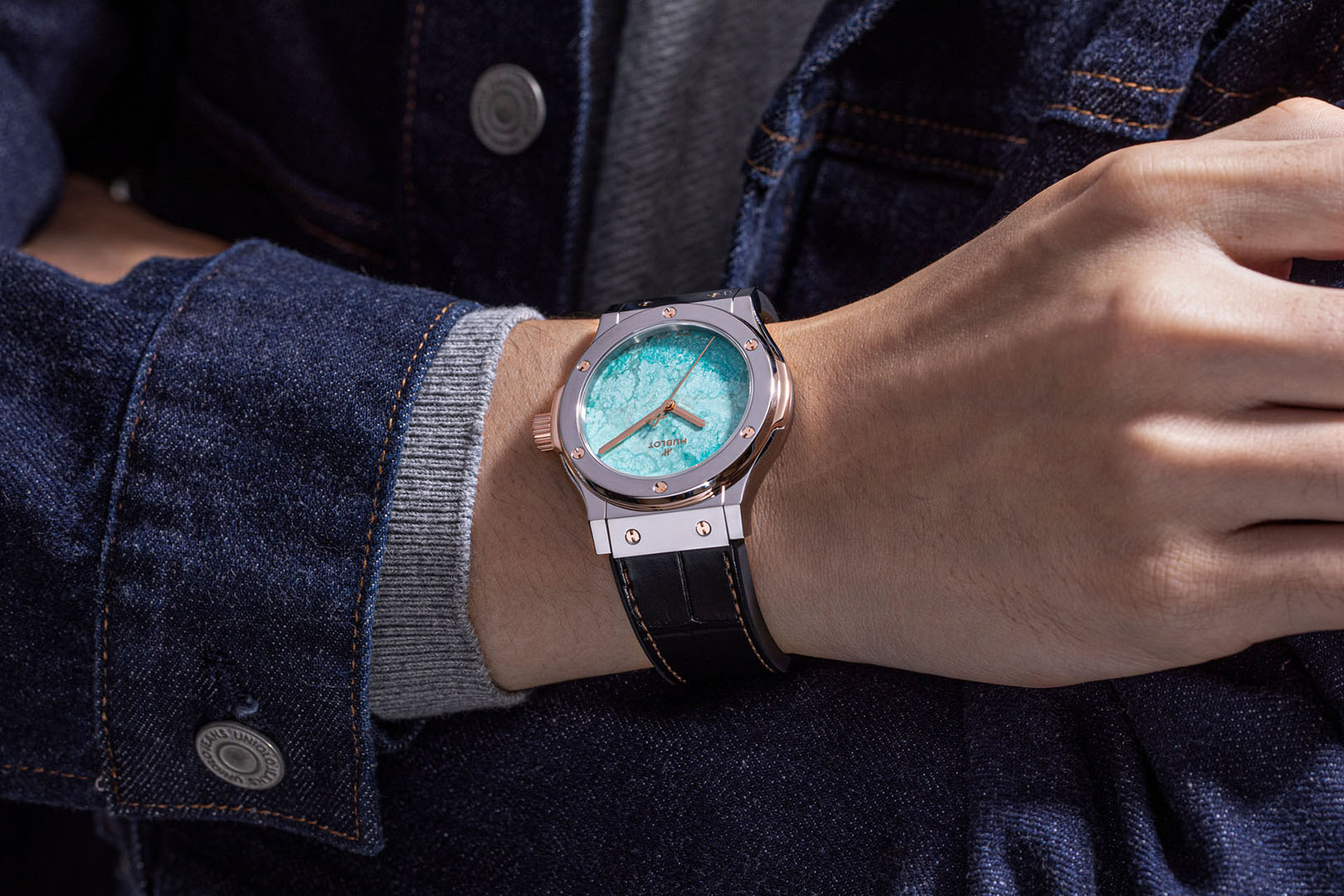 Turquoise derives its name from the Old French "turkeise" meaning "Turkish" as it was the first mineral brought to Europe through Turkey from Middle Eastern mines. The distinct shade of cyan has been incorporated into architectural designs throughout the world to great effect.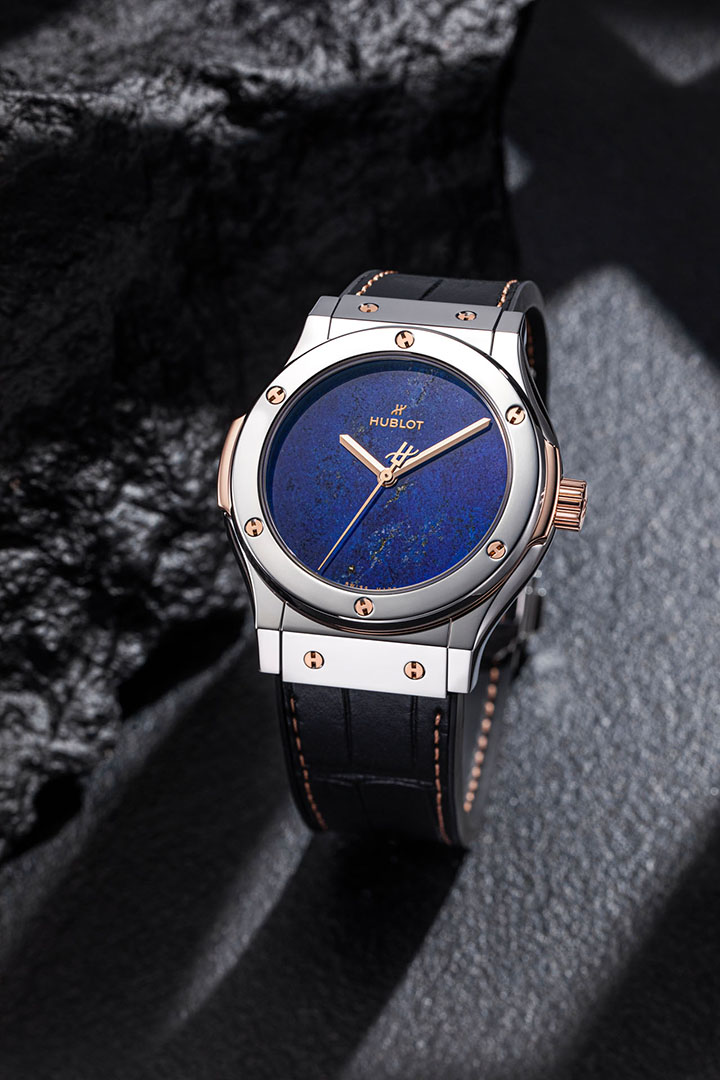 Lapis Lazuli with its pronounced deep cobalt blue colour has been used by royalty for ornamental purposes for centuries; when polished, the deep-blue speckled metamorphic rock takes on the appearance of a shimmering night sky.
Discover: Three New Colours For Hublot Big Bang Integral Ceramic
A Special Edition with The Hour Glass
A special edition of 10 watches per dial execution, the Classic Fusion 42mm Elements is powered by the 4Hz self-winding Hublot HUB1100 calibre with 42 hours of power reserve. The movement is visible through the satin-finished titanium case back via an anti-reflective sapphire exhibition window with engraving of "SPECIAL EDITION" "XX/10" framing its circumference. Each watch is released with a black alligator strap with 5N Gold stitching on black rubber and features a gold-plated stainless steel deployant buckle clasp.
"Born from a shared desire and passion to advance watch culture, The Hour Glass and Hublot's longstanding partnership spans more than 40 years. The launch of this Classic Fusion 42mm Elements special edition is yet another important milestone in our shared history and I am only too excited for these watches to don the wrists of our extensive base of Hublotistas in the region." Michael Tay, The Hour Glass Group Managing Director.
Read: Celebrating a 40-Year Partnership Between Hublot & The Hour Glass
The Hublot Classic Fusion 42mm Elements special edition for The Hour Glass is available exclusively at The Hour Glass boutiques in Singapore, Malaysia, Thailand.
The post Hublot Presents the Classic Fusion 42mm Elements Special Edition for The Hour Glass appeared first on The Hour Glass Official.