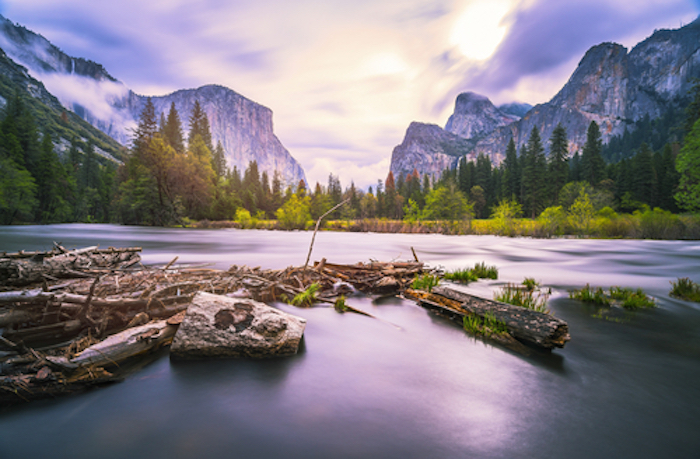 One of the world's most jaw-dropping geological spectacles, Yosemite National Park was carved by glaciers millions of years ago. More than four million visitors descend on the national park and UNESCO World Heritage Site every year for its giant sequoias, iconic granite formations and cascading waterfalls. If you're planning a trip, here are our top tips on how to travel Yosemite National Park.
1. How to get to Yosemite
Most people Yosemite into their itineraries if they're travelling to San Francisco or Los Angeles. The closest airports to the national park are Fresno-Yosemite International, Merced Airport, Oakland International, San Francisco International and San Jose International.
The drive from San Francisco takes between 3-4 hours via the I-580 eastbound and CA-120 east. We recommend stopping at Tunnel View for a postcard-perfect view over the valley floor, Half Dome and El Capitan.
If you're planning on renting a car, check out the best deals here. 
2. Getting the right permit for Yosemite
There are a few different permits for access to Yosemite National Park. The entrance fee costs USD 35 and offers unlimited entry for one vehicle for seven days. If you're travelling by bike or on foot, entrance costs USD.
Those planning to travel to a handful of US National Parks might want to consider purchasing America is Beautiful National Parks Pass too. It costs USD 55 and is valid for one year.
You don't need a special pass for most day hikes, with the exception of Half Dome. Permits cost USD 20 to hike to the top. If you're backpacking, you'll need to purchase a Wilderness Permit for USD 5 too.
3. Where to hike in Yosemite
There are over 1,000 sq. miles of wilderness to explore in Yosemite, so you're always within spitting distance of a brilliant Yosemite hike. Some of the most iconic hikes include the Half Dome Cable Hike, Vernal Fall, Mirror Lake and Meadow and The Mist Trail.
4. Things to do with kids in Yosemite
If the little ones are tired of hiking, hotfoot to Happy Isles. This pair of islands in the Merced River at the east end of the Yosemite Valley is a popular picnicking spot, with ample opportunity to splash about and swim in the water. Or for context, you might like to stop off at Yosemite Museum, which brings Native American tribal traditions to life with storytelling, artefacts and interactive demonstrations.
5. When to visit Yosemite
Summer is the most popular time to visit Yosemite when most roads and trails are open and easily accessible. But it's also the most popular time to visit; campsites fill up quickly and you'll likely be following the crowds on the most famous trails.
Winter is less popular but just as pretty. You'll need to come prepared for snow though and snowshoes are essential. Keen snowers should head to Badger Pass, California's first ski resort established in 1935.
Spring is a beautiful time to visit when the waterfalls peak and the flowers are blooming, while Autumn offers fewer crowds and a more pleasant temperature, albeit with dry waterfalls.
6. Camping in Yosemite
Those looking to sleep under the stars will be happy to know that there are over a dozen campsites peppered across the national park. Reservations for all campgrounds open at 8 am (Pacific Time) each day. There are no first-come, first-served campgrounds, so you'll need to book a reservation in advance.
7. Hotels in and near Yosemite
There are a handful of hotels located inside the park too. Ahwahnee Hotel is the crown jewel of the national park lodges. Built in the 1920s, its dining, decor and architecture blend seamlessly with the natural setting of the park, without compromising on comfort. Curry Village is another popular spot with cash-strapped travellers, as well as the Motel-style Yosemite Valley Lodge.
You'll need to book accommodation well in advance of the trip though. If you've left it too late, there are dozens of reputable hotels located outside the park, such as Tree Top Treasure and Sierra Sky Ranch.
For the best hotel rates, check out our latest deals here.