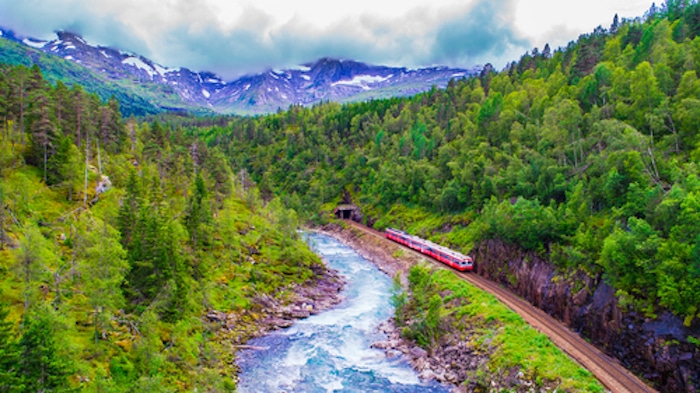 Norway is home to some of Europe's most spectacular landscapes, from glacier-carved fjords to soaring snow-capped mountains to lush green forests, so it follows that you'll want to get out of the city and into the great outdoors for at least part of your trip. If you're headed to Norway, take a look at our tried-and-tested top tips on how to travel around Norway. 
Top tips on how to travel around Norway
1. Taking the train in Norway
All of Norway's superstar cities are connected by government-owned railway routes. Vy (formerly NSB) operates most routes, though there is a sprinkling of privately-owned routes too. Some of these routes are real feats of engineering and worth a trip in their own right, such as the teeny tiny Flåm line and the Bergen Line. The latte, which meanders through mountainscapes from Oslo to Gol and Gelilo and up through the Hallingdal valley towards Finse in the high mountains and along the Hardangerjøkulen glacier, frequently ranks as one of the world's best train journeys too.
However, train tickets are fairly expensive so it's best to book your ticket in advance to get the best rates. Booking opens 90 days in advance of the train journey. You can easily book your journey through the official Vy website. 
2. Hopping on a bus in Norway 
Busses are cheaper and connect almost every corner of the country. Nor-Way Bussekspress runs most services, alongside a local bus network. You can usually buy your ticket on board, though for longer journeys it's often worth booking directly through the website ahead of time. It's a good option for young families too since children aged 4 years go free and children aged 16 years and under can take advantage of heavily discounted prices.
Long-distance bus journeys are extremely comfortable, with plush seats, power outlets and WiFi onboard. It's a great way to get a good view of the country too, as they whizz through mountains and valleys, past waterfalls and through tiny traditional towns.
3. Taking to two wheels in Norway
Given the difficulty of much of its terrain, cycling in Norway isn't for the faint of heart, but it's a pleasant experience for confident cyclists. Norway has a network of long-distance cycling routes along fjords, through forests and valleys and up mountains for those looking for a challenge. Rallarvegan to Flåm is one of the most popular routes, particularly between mid-June and September. Around 25,000 people cycle the gravel roads between Haugastøl near Geiloin Eastern Norway to Flåm in Fjord Norway every year. The 82-km route follows the Bergen and Flåm train lines.
4. Driving in Norway
Driving is a popular route for many travellers, for good reason. As well as offering more flexibility and the chance to explore some of the country's far-flung corners, renting a car is relatively easy too. However, it is expensive and driving in the winter, when ice and snow cover the roads, can be a daunting experience.
For the best rates, check out these local car hire deals. 
5. Boats and ferries in Norway 
Exploring this coastal nation by boat is an excellent idea. Ferries are an essential part of day-to-day life for many citizens, so services are frequent and reliable. Most ferries take cars, foot passengers and cyclists too. The famous Hurtigruten coastal ferry calls at a mammoth 34 ports between Bergen and Kirkenes and takes 11 days.
There are dozens of smaller inland ships that transport passengers and freight across Norway's major lakes and inland fjords too, many of which have been operating since the late 19th century.
6. Taking the plane in Norway
There are more than 50 airports in Norway, with at least one in most major cities and towns. In fact, Norway has the most flights per capita in Europe. The four largest domestic airlines are SAS, Norwegian, Flyr and Widerøe. If you've got your heart set on visiting some of the country's more remote corners, domestic flights are a good alternative to the train. Many even service isolated pockets, such as the Lofoten Islands, the North Cape and Svalbard easily accessible by plane. However, be prepared to change planes to reach your final destination, especially if you go far north.
7. Getting around the big city
Norway's charismatic capital Oslo is easy to navigate by public transport. Ruter operates all T-bane (metro), bus, tram and ferry services, so a ticket will cover all methods of transport. You can buy a single, 24-hour, week-long or 62-day travel pass. An Oslo Pass gives you free entry to museums and includes transport in zones one and two.
The post How to travel around Norway appeared first on Big 7 Travel.