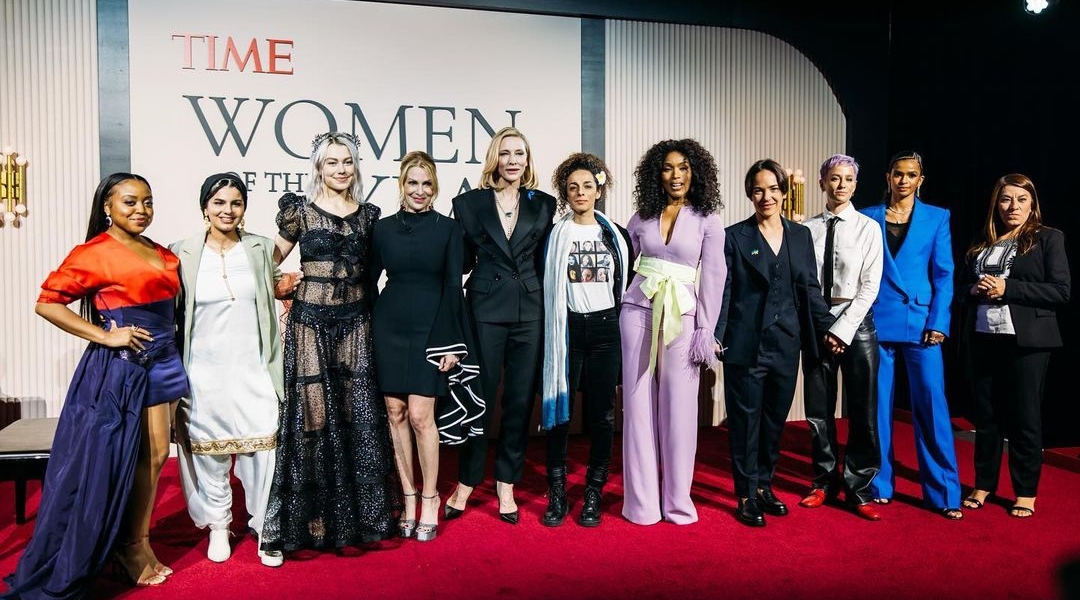 The event honored the 12 individuals featured on the magazine's 2023 Women of the Year list.
Time celebrated International Women's Day in Los Angeles last Tuesday with their second annual gala. Their 12 honorees include women leaders from different fields, all fighting for a more equal world.
Jess Sibley, Time's CEO, opened the event by paying tribute to the women who made their list. "You are all driving change and making history," she said.
READ ALSO: Breaking Barriers: Meet The 12 Women Of The Year
What equality means
During the red carpet, guests and honorees were asked about gender equity and other important issues.
Watch: Red carpet highlights from the TIME Women of the Year Gala pic.twitter.com/HUlgCXLqKo

— TIME (@TIME) March 9, 2023
Olena Shevchenko, co-founder of the nonprofit Insight, said that "being named on the list was a shared honor for all the women in Ukraine." Her organization supports LGBTQI communities, which have become extremely vulnerable during the war.
Amanda Nguyen, a Time 100 honoree, said that while we should be uplifting women, we also need to "encourage the men in our lives to step up to be allies."
Equality and money
Singer Phoebe Bridgers called upon those with privilege to step up for those in need. "It can feel hopeless but I think there are a lot of people out there doing their absolute best and give your money and resources to them," she said.
For boxing champion Ramla Ali and soccer star Megan Rapinoe, the pay disparity in sports between men and women is still a huge issue.
Watch: Megan Rapinoe (@mPinoe) gives a toast at the TIME Women of the Year Gala https://t.co/RM4yVVzvqQ pic.twitter.com/88lMwap1v8

— TIME (@TIME) March 9, 2023
"It's going to be a gradual fight, it's not going to be a fight that happens overnight but slowly, slowly I see changes," Ali shared.
The importance of laughter
Quinta Brunson, creator and star of Abbott Elementary, dedicated a toast to laughter. "Laughter is resilient. Laughter is persistent. Laughter keeps us all going," she said.
Her sitcom features the teachers working in an underprivileged school in Philadelphia. Through their ups and downs, laughter has truly played an integral role in the show.
Actors discuss their craft
Two of this year's Women of the Year, Cate Blanchett and Angela Bassett, are also nominated at the 95th Academy Awards.
Watch: "As women, we feel we need to be in control of everything. What has run home for me tonight is: the only way forward is to try and let go of control."

Cate Blanchett gives a toast at the TIME Women of the Year Gala https://t.co/GXAAYCMKu9 pic.twitter.com/j4x3DfKnaI

— TIME (@TIME) March 9, 2023
Blanchett is nominated for her powerful performance in Tár. "Even though we live in a world of uncertainty that can breed a pessimism that creates a misguided certainty of what will happen next," she said. "In this state of not knowing, I choose to turn that fear into excitement."
Bassett acknowledged the historic significance of her nomination for her moving portrayal of Queen Ramonda in Black Panther: Wakanda Forever.
Watch: @ImAngelaBassett at the TIME Women of the Year Gala https://t.co/q0TZudvIb9 pic.twitter.com/ioWu2GVcSz

— TIME (@TIME) March 9, 2023
"It would be a part of my legacy as a woman, as a Black woman, and as a Black actress who dared to dream that I could continue the journey of the women who came before me in this business, making way for future generations of Black and brown women to one day stand on that stage," she shared.
For the women of Iran
Iranian journalist and activist Masih Alinejad paid tribute to the women of her country who continue to protest against the nation's authoritarian regime.
— TIME (@TIME) March 10, 2023
"The Islamic republic is a gender apartheid regime," Alinejad said. "They did everything to break me. But I am here to break them."
A poem for humanity
Pakistani human rights and climate defender Ayisha Siddiqa shared an original poem for her toast.
— TIME (@TIME) March 10, 2023
Her poem, about making space for hope, reads "If the future leaves without us, the silence that will follow will be an unspeakable nothing. 
"What if we convince her to stay? How rare and beautiful it is that we exist. What if we stun existence one more time?"
Banner image via Instagram @jessicasibley.