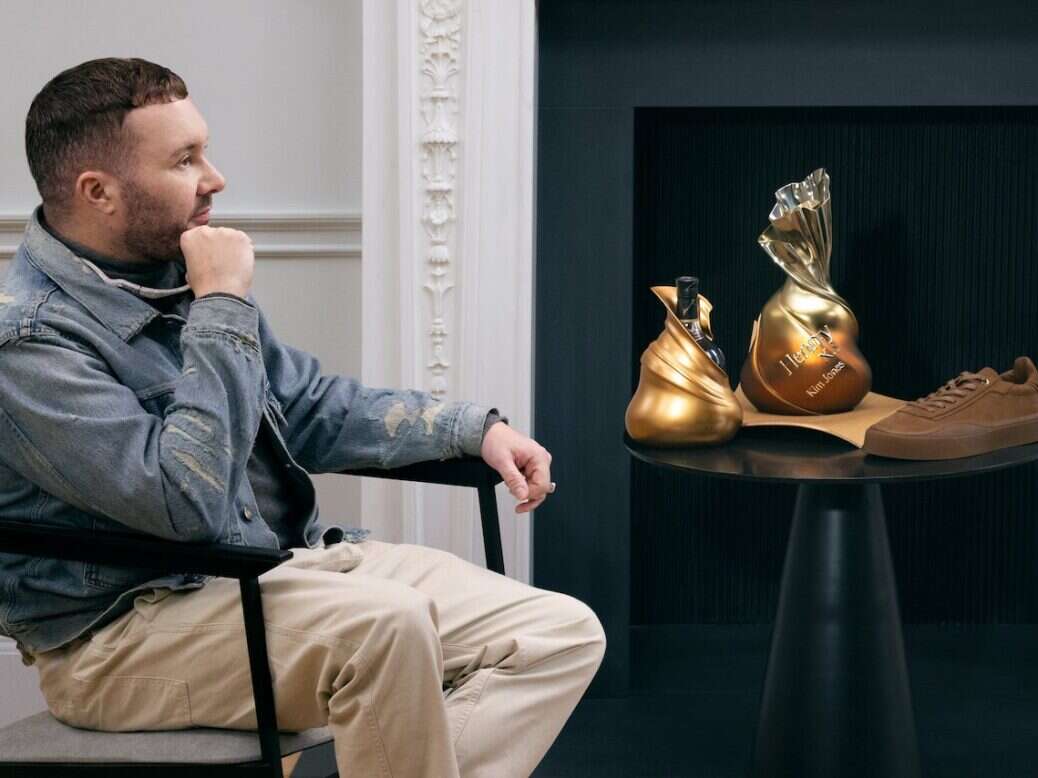 Hennessy is no stranger to luxury collaborations, with the cognac brand having teamed up with the likes of Berluti, Lorenz Bäumer and Yan Pei-Ming in the last year alone. For its latest cross-industry project, LMVH-owned Hennessy has partnered with British designer, Dior creative director and Fendi artistic director Kim Jones.
While collaborations are nothing new for Hennessy, this marks the first time it has worked with a fashion designer, as well as the first time Jones has partnered with a spirits brand. Together, the duo has created an exclusive capsule collection that not only reflects Hennessy's 150-year-old heritage and the time-honored process of cognac making, but also his own design values.
"We are thrilled to embark on a new odyssey blending cognac-making making and couture, with Kim Jones, a creative master of our time," says Hennessy CEO Laurent Boillot. 
"Inspired by the emblematic personality of Hennessy XO, [Jones] has developed a resolutely contemporary collection that is destined to make an impact on culture today and in the future."
[See also: The Best Cognac Brands]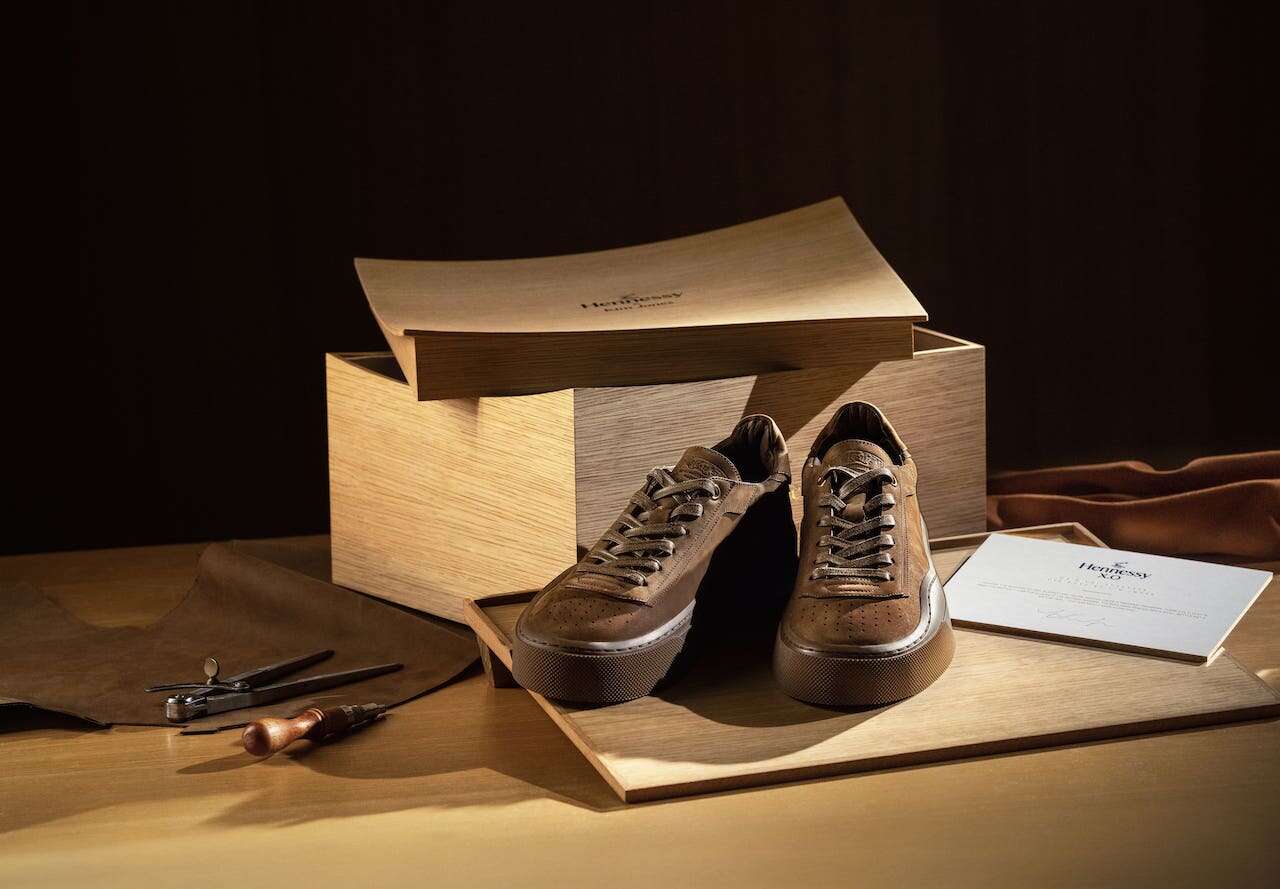 The Hennessy XO x Kim Jones collection will feature three distinct pieces: a pair of sneakers and two bespoke decanters. Each has been meticulously designed by Jones to mark the point where spirit meets art.
The HNY Low by Kim Jones sneakers will be made in an LMVH-owned Italian shoe factory, with the original design inspiration rooted in classic basketball shoes. Each pair is made from cognac-colored leather which over time will take on a patina shine, with a grooved rubber sole featuring the imprint of cognac vines. "It's a glass of cognac in sneaker form," Jones says.
The sneakers will be artfully presented in an oak box, cementing the partnership's status in the upper echelons of luxury.
[See also: Patrón Launches First Ultra-Premium Tequila, Patrón El Alto]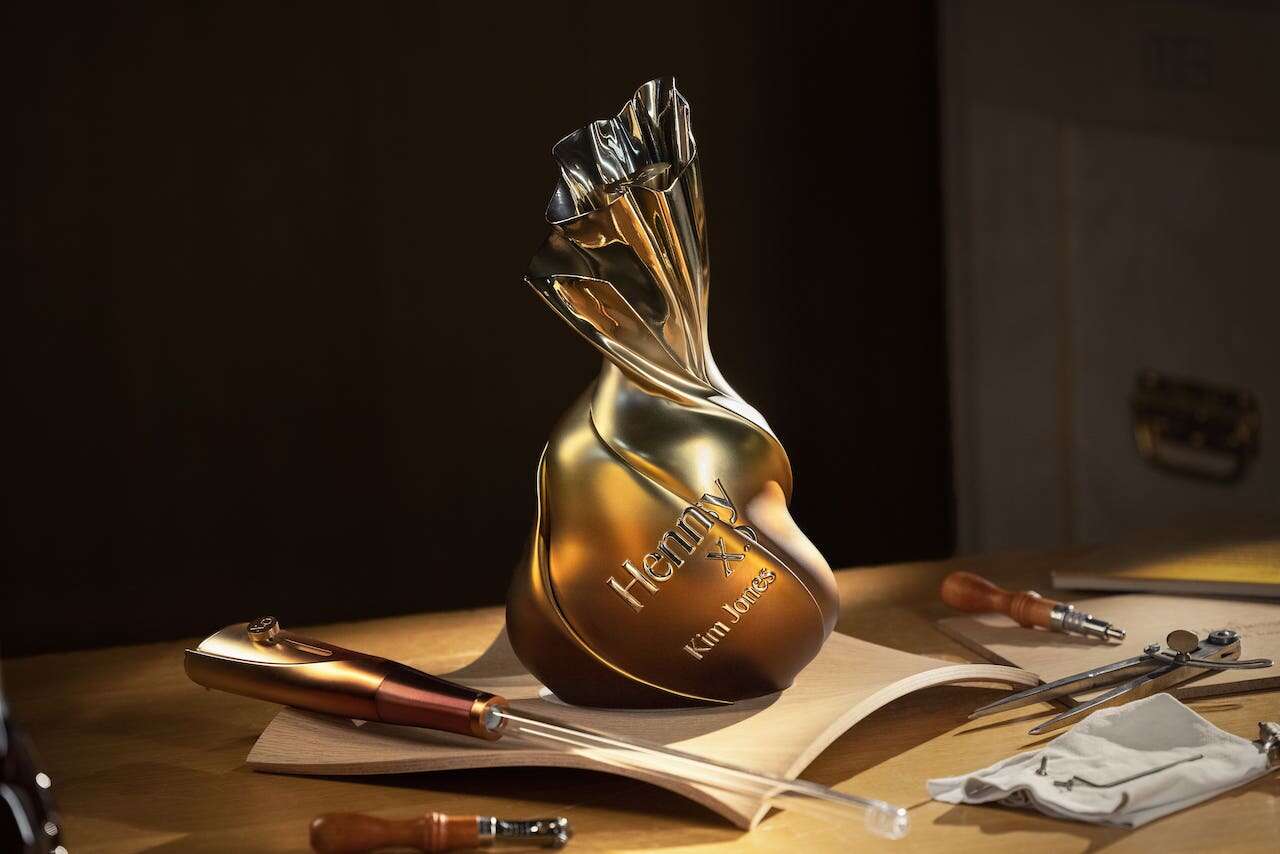 The second piece in the collaboration, a bespoke decanter referred to simply as The Hennessy XO Masterpiece, will be designed by Jones and produced using 3D printing technology. 
"When I saw how the vintage Hennessy bottles were wrapped, it spoke volumes to me about how precious each one is and how they were handled," says Jones. "I was particularly touched by their history, and the sense of how generations have dedicated their time to making each step of the process better and better."
With this in mind, The Hennessy XO Masterpiece draws inspiration from the fragile layers of tissue paper that were once used to protect the bottle's fragile labels, with a skin-like titanium casing that entirely enshrouds the bottle.
[See also: Harrods Opens Interactive The Macallan x James Bond Experience]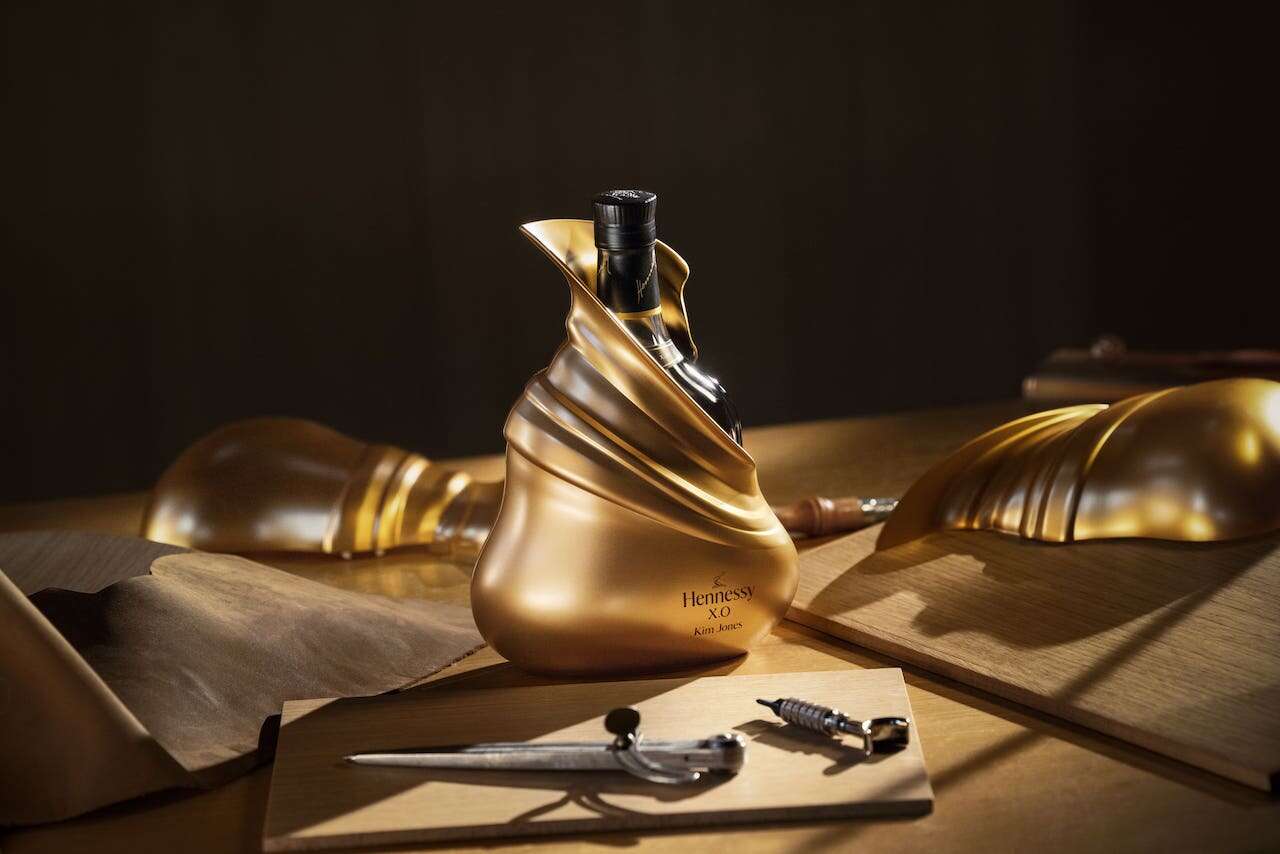 The decanter – which is limited to just 200 examples – is dipped in varying shades of gold in order to reflect the various eaux-de-vie that make up each bottle of Hennessy XO.
Completing the Hennessy XO x Kim Jones collaborative lineup is what the brand describes as a ready-to-wear version of the bespoke decanter. This collectible item is smaller in scope, with an aluminum second skin showcasing the signature bottle shape.
The collection will launch this month at selected global retailers, with futuristic immersive experiences and content – including a video campaign by Blue Désert – inviting customers to enter the world of Hennessy XO x Kim Jones.
[See also: Richard Hennessy Cognac Unveils Striking New Design]